Our Pick of the Best Beaches in Albania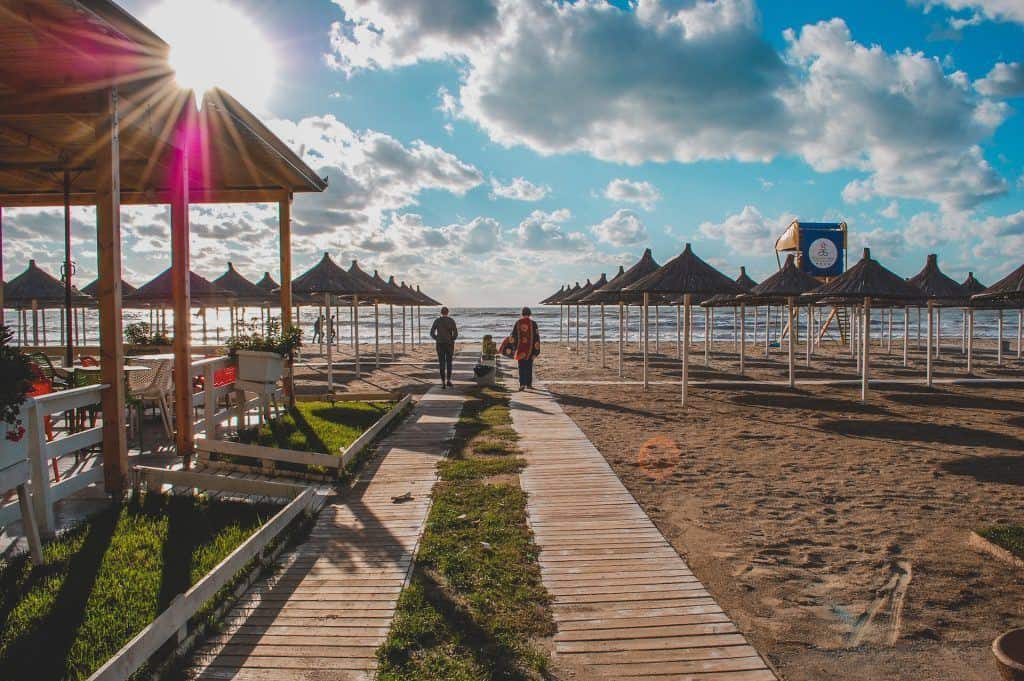 Albania's picturesque coastline along the Ionian and Adriatic Seas offers a hidden paradise for beach lovers. With nearly 300 miles of shoreline dotted with captivating beaches, this Balkan nation provides diverse options for sunbathing, water sports, and serene relaxation against idyllic seascapes. From the famed Albanian Riviera to charming coastal towns, Albania unveils breathtaking beaches and tranquil coves waiting to be discovered. This guide explores the top beach destinations to add to your Albanian adventure.
The Mesmerizing Albanian Riviera
The stretch of coastline comprising the Albanian Riviera in southern Albania enchants visitors with its spectacular beauty. Postcard-worthy beaches dotted with traditional villages and enveloped by mountainous backdrops create a coastal wonderland. Some of Albania's most stunning beaches grace the Riviera, each with its own allure.
Dreamy Ksamil Islands
Just south of Saranda, the Ksamil Islands offer a beach lover's paradise. Three small islands front the coast, accessible by boat or a short swim. The turquoise waters beckon for swimming and snorkeling. On shore, beach chairs and umbrellas line the white sands against a backdrop of lush greenery. With a jetty jutting into the sea and surrounding mountains, Ksamil's scenery astounds.
Remote Gjipe Beach
Beyond the tourist tracks, Gjipe Beach occupies a secluded cove nestled between cliffs. Reaching this pebble beach requires a bit of effort via a walk down a canyon or boat ride. Your payoff is serenity and stunning vistas as you relax surrounded by the natural beauty of Albania's coastline away from crowds.
Tranquil Livadhi Beach
The charming town of Himara on the Riviera provides access to the bay of Livadhi Beach. With fine sand and calm blue waters overlooking olive groves, Livadhi Beach delivers relaxation and tranquility. Beachgoers can alternate between sunbathing and sipping cocktails at seaside bars. Livadhi Beach brings the Riviera's beauty in a peaceful setting.
Captivating Dhermi Beach
On the Albanian Riviera, Dhermi Beach dazzles with its clear blue waters lapping against white pebbles along the shore. The beach stretches several miles, offering many secluded spots despite its popularity in summer. Scenic coves like Drymades dot the coast nearby. With beach clubs, restaurants, and accommodation options, Dhermi provides an excellent coastal base with high-quality sands.
Captivating Albanian Beach Towns
Beyond the Riviera, Albania's coastline harbors vibrant beach towns and ports offering their own allure. Each destination provides access to the sea along with cultural immersion.
Saranda
Saranda represents the unofficial capital of Albania's southern coast. This bustling resort town caters to sun seekers with crystalline waters and a lively ambience. The main Saranda Beach bustles with beachgoers by day, while restaurants and bars create a vibrant nightlife scene. Saranda makes an ideal base for exploring the Riviera and Butrint archaeological site.
Durres
On Albania's western coast, Durres offers an extensive sandy beach dotted with beach clubs and restaurants. The shallow, clear waters make swimming a delight, especially for families. This port city provides good transportation connections and proximity to Tirana. Wander the promenade, soak up the seaside ambience, or try water sports.
Charming Himara
South of Vlora, the coastal town of Himara charms visitors with its idyllic beaches, scenic views, and cozy cafes. Rent a beach chair or visit tranquil bays like Livadhi and Filikuri. Dining options like seafood restaurants and cocktail bars keep evenings lively. With accommodation ranging from campgrounds to hotels, Himara caters to all budgets.
Adventure in Vlora
Vlora on the Albanian Riviera thrills adventure seekers with activities like paragliding above the coastline or exploring offshore Zvernec Island by paddleboard. Relax on beaches like Vlore Riviera Beach or visit secret coves like Shen Pazhani. The wide Vlora Bay provides stunning vistas of the Ionian Sea.
Ksamil's Beauty
Photogenic Ksamil south of Saranda dazzles with islands offshore, colorful houses, and a charming jetty over aquamarine waters. Three small beaches offer white sands with beach bars and rentals. Away from the main beaches, Baja and Ksamilit Islands feel more secluded. Ksamil encapsulates Albania's coastal beauty.
Untouched Jale Beach
Secluded Jale Beach near Albania's traditional seaside village of Jalë provides a serene escape. Far from crowded resort towns, these unspoiled sands attract fewer tourists. Swim, sunbathe, or grab a seafood lunch with tranquil views. For an off-the-beaten-path experience, unwind at Jale.
Borsh, the Longest Beach
Along the central Albanian Riviera, Borsh Beach represents the country's longest contiguous beach. The white pebbles and shoreline framed by mountains stretch over 4 miles, allowing space even on busy days. Green hills sprinkled with lodges, restaurants, and campgrounds sit just beyond the beach. The size and beauty of Borsh make it a prime Riviera destination.
Experiencing Albanian Coastal Culture
Beyond sunbathing and swimming, Albania's coastal towns invite visitors to soak up the local culture and traditions.
Festivals and Events: During summer, Saranda hosts an annual beer and food festival showcasing Albanian cuisine and cultural performances. Meanwhile Vlora's Independence Day celebrations include a vibrant carnival.
Culinary Delights: Albanian coastal towns serve up fresh seafood, local produce, and traditional dishes. Try creamy sautéed eggplant, grilled fish, salads with olive oil, and Albanian white cheese.
Nightlife: Lively clubs, beach bars, and casual pubs line the waterfronts in Durres, Saranda, and Himara. Sip cocktails on sunset-facing terraces.
Watersports: Many beaches offer jet skiing, parasailing, kayaking, paddleboarding, and rafting to enjoy the sea.
By sampling coastal Albanian culture, travelers gain memorable experiences to pair with beach relaxation.
While Albania's main beaches entice, venturing off the beaten path unveils secluded shorelines and serene coves perfect for escaping the crowds.
Paradise Found at Jala Beach
Near remote coastal villages, Jala Beach provides secluded white sands and crystalline blue waters with few other visitors. Relaxation comes easy at this untamed paradise. Rustic accommodation options available.
South of Dhermi, secluded spots like Kroreza Beach, Perivolo Beach, and Alevra Beach offer pebble and rock shorelines with dazzling aquamarine waters. Ideal for getting off the tourist trail and finding beach serenity.
Tranquil Potam Beach
Nestled between mountains near Himara, Potam Beach delights with its calm gray pebbles meeting glassy green waters. Beachgoers can swim, sunbathe, or grab a drink along the quiet shoreline.
Off-the-Radar Bunec
On the way to Saranda, Bunec Beach flies under the radar with its long sandy stretch and peaceful atmosphere. Waves gently lap the shore bordered by mountainous scenery. An idyllic option away from crowds.
Tale Beach in the North
In Lezhe down the coast from Durres, Tale Beach remains largely undiscovered. Pine trees fringe the golden sands and azure waters of this hidden gem. Well worth the journey north for beachcombers seeking unspoiled natural beauty.
Albania's many secret beaches provide the perfect surroundings to experience tranquility by the sea.
Planning Your Albanian Beach Adventure
A beach getaway in Albania offers the chance to relax or indulge in adventures against striking seascapes. Consider these tips for planning your coastal trip:
Best Times to Visit: Late spring and early fall provide warm weather without summer crowds.
Transportation: Renting a car allows flexibility for discovering remote beaches and coves. Furgons (minibuses) connect coastal towns affordably.
Activities: Hiking, boating, snorkeling, and watersports are popular. Or just soak up sun and scenery.
Lodging: Choose beach camping, resorts, seafront hotels, apartments, or guesthouses.
Dining: Don't miss the fresh seafood, Mediterranean flavors, local cheese, breads, and olive oil.
With stunning shorelines from the buzzing Riviera to off-the-grid coves, Albania's coast impresses beach lovers. Let the sparkling Ionian and Adriatic seas beckon you to these once-hidden gems now ready to be discovered.
Must-Visit Beaches in Albania
| Beach | Location | Highlights |
| --- | --- | --- |
| Dhermi Beach | Albanian Riviera | High-quality beach, clear waters |
| Ksamil Islands | Ksamili | Crystal-clear waters, paradise |
| Gjipe Beach | Near Himarë | Serene escape, exotic beauty |
| Livadhi Beach | Himarë | Tranquil, picturesque Himarë bay |
| Sarandë | Sarandë | Famous resort town, stunning beaches |
| Durres | Durres | Sandy beach, shallow and clear waters |
| Himara | Himara | Charming coastal town, pristine beaches |
| Vlorë | Vlorë | Paragliding, lagoon, cave |
| Jale Beach | Near traditional village | Unspoiled beauty, tranquil escape |
| Borsh | Albanian Riviera | Longest beach on the Riviera |
| Tale Beach | Lezhë | Northern region gem, unique beauty |
Things to Do Beyond Sunbathing
Paragliding – Experience breathtaking coastal views from above
Camping – Enjoy the beauty of the beaches under the stars
Exploring Caves – Discover hidden coastal caves and their secrets
Nightlife – Embrace the vibrant nightlife in coastal towns
Cultural Immersion – Engage with local traditions and cuisine
Planning Tips for Your Albanian Beach Adventure
Visit during late spring to early fall for pleasant weather
Choose beachfront lodges, resorts, or guesthouses for accommodation
Rent a car for flexible exploration or use public transport
Indulge in local seafood, Mediterranean cuisine, and traditional dishes
Learn some basic Albanian phrases to enrich your cultural experience
---