Photo by Güldem Üstün, CC BY 
If you're a casino lover and you're fond of the idea of sailing the high seas, then a magical casino cruise just may be for you. Why not have some real fun on some of the world's most entertaining cruise ships? Today, almost all major cruise lines out there have a full casino on board, so you're able to enjoy all of your favorite games and also relax while at sea. Here are some of the best casino cruises to embark on, along with what to expect while aboard.
Norwegian Escape
The Norwegian Escape can hold over 4,200 guests while traveling to the Caribbean and the Bahamas from Miami, Florida. While passengers enjoy sailing away to paradise, there are an outrageous number of things to do on board the ship, and that includes its very own casino.
The Norwegian Escape's casino is called the "Escape Casino", and it offers approximately 318 slot machines and table games, along with its very own VIP area that is reserved for high rollers only. In the casino, you will find an array of casino games, including several penny slot games and multiple table games, such as blackjack, craps, and 3-card poker. Buy-ins range from low to high to ensure that everyone gets a chance at playing.
The VIP room houses three tables that can be changed out to meet guests' likes and expectations, and it really provides guests with a red carpet casino experience. Players can request limits above the $5,000 max that is held on the casino floor, and this is perfect for the high rollers.
The Norwegian Escape offers its casino members a one-of-a-kind rewards program. So, imagine enjoying your day relaxing and soaking up the sun after a successful night at the spinning reels, then spending your winnings at a fancy dinner at one of the ship's 15 restaurants.
Queen Mary 2
Luxury is the name of the game when it comes to Cunard Line's flagship cruiser, the Queen Mary 2. The Queen Mary 2 takes passengers on a sophisticated cruise between Southampton and New York. The casino aboard the Queen Mary is called the "Empire Casino". It offers a glamorous casino that is reminiscent of many casinos you'd find in Monte Carlo, offering 12 gaming tables and 99 slot machines. Limits for the table games range from $3 to a maximum of $500, while the slot machines range from $0.05 to $5 per spin.
Daily lessons are held in the casino for those newbies who are looking to polish up on their blackjack skills. Well-trained croupiers explain the rules of each game, how the games are played, and even how to gain an edge over the house.
The dress code for the Empire Casino is casual; however, it is the perfect opportunity to bring out your little black dinner dress or Italian-cut tuxedo, seeing as how this is a luxury cruise ship.
A perfect evening would be dining on board and then spending the evening playing all the blackjack your heart desires.
Royal Caribbean's Allure of the Seas
Royal Caribbean's Allure of the Seas, an Oasis-class cruise ship, is the second largest ship in the world. This ship is even longer than its sister ship, the Oasis of the Seas. Allure of the Seas can carry up to 5,400 passengers, and the best part about it is its grand casino aboard—the Casino Royale. Casino Royale's game floor is a nice size at 18,000 square feet, and, somewhat like a mini-Vegas at sea, you're able to play most games that you would normally find at a land-based casino. The casino offers multiple machine-operated slots games, as well as blackjack, roulette, and many other games. Guests really feel as if they were in the heart of Vegas, from the decor down to the waiter service that guests receive while playing.
The Vegas experience doesn't stop there, as Allure of the Seas hosts a number of Broadway shows each night for guests' entertainment. What better way to end a good night at the casino than with a drama-filled show or a drink at one of the ship's many bars?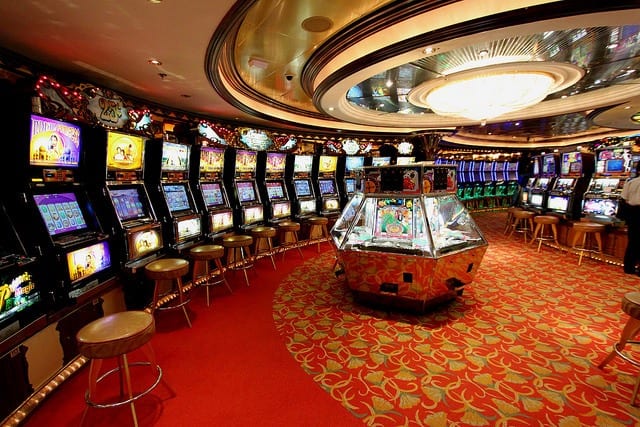 What To Expect On Board a Casino Cruise
You must be of age to visit the casino onboard a cruise. The casino entry age does vary from ship to ship, depending on where the ship is sailing to. However, it is usually 18 years of age for European cruises and 21 for Caribbean cruises.
Expect a plethora of casino games available! There are many casino games available to you on board the ship. Don't expect a vast amount of casino games like those found at various online casinos, such as Omaha hi-lo and Texas Hold'em. However, it's a guarantee that there are enough slots and table games to keep you entertained while vacationing. With wi-fi usually readily-available on board, you can also try new online versions of those games where two completely separate boards are dealt simultaneously.
Looking for tournaments? It is not uncommon to find tournaments onboard casino cruises. Blackjack tournaments and slot tournaments are the most popular; however, the Norwegian Escape also offers a Texas Hold'em tournament.
Lastly, cigarettes are allowed! Most casino cruises do allow smoking on board their ships, given that most land-based casinos allow smoking, and casino cruises aim to mimic the same experience that you'd find in Vegas or Atlantic City.