While we all tend to fly from spot to spot these days to save time and for the convenience, there's also a lot to be said for the romance and enjoyment which can be had from train travel. If you worry that this type of journey will take too long though, keep in mind that there are plenty of truly memorable short trips to choose from around the world. Read on for some of the best you should try at least once.
Rocky Mountaineer in Canada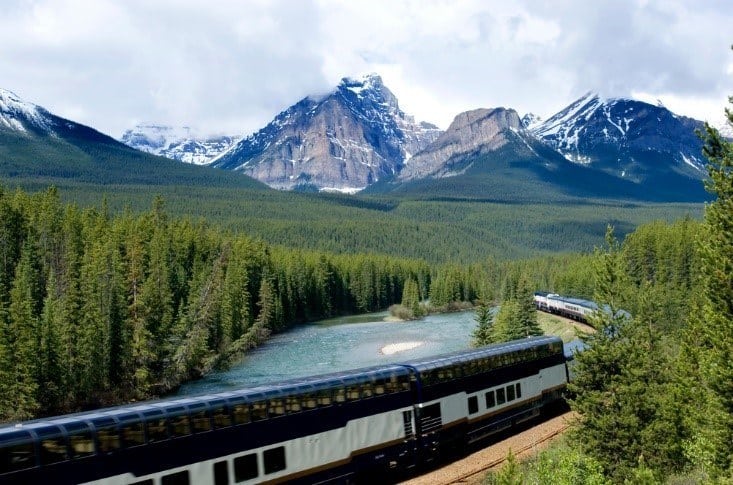 One of the most iconic things to do in Canada has to be ride on the Rocky Mountaineer train. This is one of the most well-regarded rail services in the world, and takes passengers on five-star trips through the stunning scenery of Canada's British Columbia and Alberta provinces. The trains feature large windows on top of the train, as well as on each side, so you can look up as well as out; plus guests get to listen to commentary about the passing sights as the journey progresses, and enjoy top-notch dining options.
There are numerous options to choose from with Rocky Mountaineer. Stops include Whistler, just a couple of hours outside of Vancouver; as well as Banff, Lake Louise, Jasper, and even down to Seattle in the United States. During the trip you'll have the chance to spot animals such as moose and grizzlies, as well as eye-popping natural beauty like glacier-fed lakes, snow-covered mountains, and waterfalls, gorges, and pine forests.
Belmond Hiram Bingham in Peru
For many people, a trip to see Peru's Machu Picchu is a long-held dream that sits at the top of their bucket list. However, while some people like to hike their way through Peru to get to the sacred site, others prefer to arrive in style and comfort. This is where the luxurious Belmond Hiram Bingham (formerly the Orient Express) train comes in.
The full-day, round-trip journey goes between the colonial city of Cusco and the Incan citadel of Machu Picchu, and includes onboard meals, drinks, entertainment, guides, entrance to Machu Picchu, and more. Along the way, take in the memorable views of the Urubamba River valley (particularly wonderful from the open-deck observation car), listen to live music, and feel like you're going back in time in the train's 1920 Pullman-style carriages, which are named after the American explorer who discovered Machu Picchu in 1911.
Kuranda Scenic Railway in Australia
If you're headed 'down under' for a vacation, you may very well end up in the northern Queensland tourist hotspot of Cairns, which is a jumping off point to the Great Barrier Reef. While you're staying in Cairns, hop aboard the Kuranda Scenic Railway.
Over a century old, this historic train takes passengers from Cairns up to the pretty, quaint village of Kuranda, winding through ancient rainforests, ravines, and hand-made tunnels along the way. Kuranda is located around 15 miles northwest of Cairns, and the train journey takes approximately two hours. Once you've arrived, you can spend time exploring the village before you return to Cairns.
Grand Canyon Railway in USA
For something fun in the United States, you might not have heard of, consider the Grand Canyon Railway. If you've always wanted to check out the Grand Canyon, one of the Seven Natural Wonders of the World, add this experience to your itinerary.
Operating since 1901, this train trip takes visitors from Williams right to the South Rim of the Grand Canyon, in lovingly-restored train cars. The journey takes around two hours each way, and gives passengers fantastic views of the popular tourist attraction through the train's observation and dome-car windows. On board, you can pick up refreshments in the café car if needed too.
Talyllyn Railway in Wales
Over in the United Kingdom, the Talyllyn Railway is a not-to-be-missed option for train enthusiasts and other travelers. In particular, if you have kids who adore the Thomas the Tank Engine stories, or if you did yourself as a child, you will be excited to learn that the Talyllyn was what actually inspired the author of the series, Reverend Wilbert Awdry, to write his famous tales.
This approximately 15-mile round-trip train ride journeys through the spectacular mid-Wales countryside. It travels at only nine miles per hour, or less, so will really help you to unwind as it runs from Tywyn to Abergynolwyn and Nant Gwernol. The historic Talyllyn locomotives and carriages date back to 1865 but today, the service is run by volunteers.