I'm not really a gambling man but I'm willing to bet that for most people considering a skiing holiday in Europe the classic destinations of Switzerland, Austria and France are the first to come to mind. Other possibilities would probably include Italy, Bulgaria and perhaps Scandinavia – but very few think of taking a winter sports holiday in Spain. In this article I'm going to try to change that.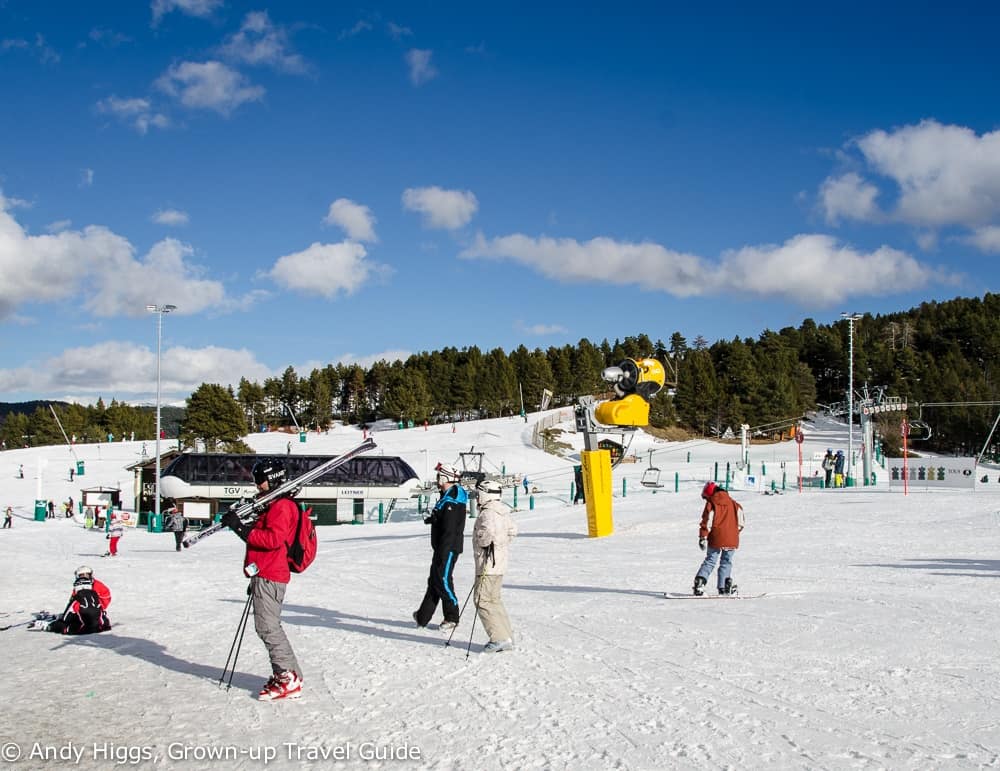 I'll give you a whole list of reasons why Spain – and in this particular case La Molina in the Pyrenees region – could in fact be the best choice for Grown-up Travellers in search of snow-related action. I was lucky enough to be introduced to the many attractions of the mountains and valleys of this area as part of the #InPyrenees blog trip in early February last year and will be publishing several articles based on the experience.
I then spent five days in Saas-Fee in Switzerland which has a comparable ski area and appeals to skiers of a similar level. Where appropriate I will include prices for both destinations to show what great value La Molina can be.
I sense I may have some convincing to do, so here goes…
Why La Molina should be on your radar for your next European skiing holiday
High-altitude snow conditions with a Mediterranean climate
Image (c) Higgs Family Archives
As evidenced by the above photo I was fortunate to be introduced to (downhill) skiing at an early age – at Saas-Fee, in fact – and even luckier to be taken on many ski holidays as a child. These were always during school half-term in February and for that one week a year we got to experience life in the mountains.
Given that we had just six days on the slopes, there were two crucial factors – snow and sun. As well as plenty of the white stuff we hoped for blazing sun too; the perfect scenario was snow during the night to replenish that which had melted in the course of the day. Needless to say this didn't happen every year and sometimes a day's skiing would be lost to really bad weather but I never lost that yearning for both the 's' words during my winter holidays.
This is where La Molina scores big. Often enjoying a longer season than many of the more famous resorts in the Alps, the town and its neighbour Masella make up the Alp 2500 ski area. As the name suggests, these twin resorts are some 2500m above sea level (hence the snow) but are also quite close to it (hence the sun). Put simply, you can enjoy a Mediterranean climate while blasting down that tricky black run. Or while enjoying a cold beer on the terrace of one of the restaurants, for that matter. We'll be considering the entire Alp 2500 area as one for this article with La Molina as our base.
Valleys facing in your favour
Following on from the last point, the Cerdanya valley in which La Molina is located runs from east to west rather than north to south as is the case with many other ski resorts. This translates to more hours of sunshine per day, and who doesn't want that?
An extensive ski area accessible using one lift pass
With one ski pass you can use the whole Alp 2500 lift system and La Molina and Masella are well linked. There are several points where you can easily move from one resort to the other without having to remove your skis and trek between pistes. Alp 2500 may not be the biggest ski area I've visited but 33 lifts serving over 130 km of runs should be enough to keep you occupied.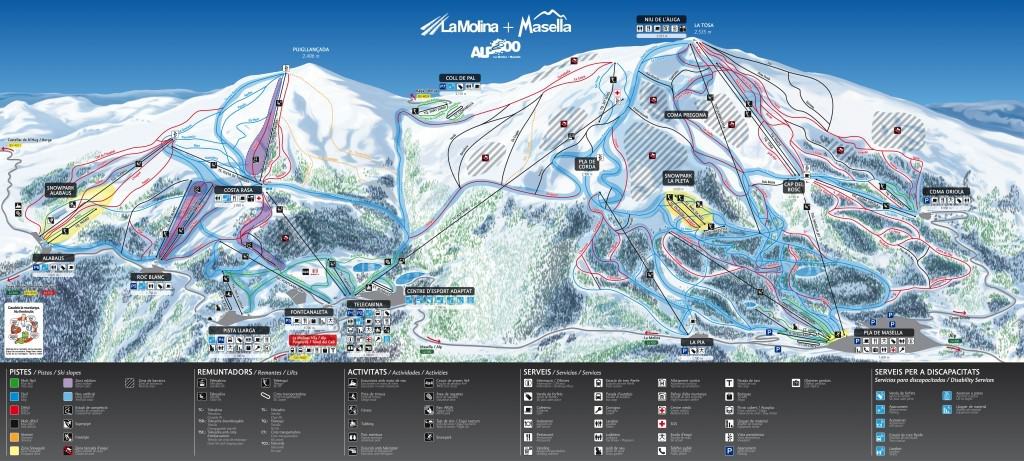 Image (c) Alp2500
La Molina had the first ski lift in Spain and opened to the public in 1943. It has many other claims to fame too, from being fully accessible to wheelchair users to having the largest halfpipe in the Pyrenees in its snowpark. The resort hosted the Snowboard World Championship and is playing a major role in Barcelona's bid for the 2026 Winter Olympics.
Here's a little taste of what to expect:

It's less than 2 hours from Barcelona by car
Most ski resorts are some distance from the airport so you'll need to factor in the time and expense of a transfer. Although you might find a flight to Girona-Costa Brava airport (a few budget airlines land use it) I'll assume most people will fly into Barcelona. Reaching La Molina will take about the same time from either and there is a far greater choice of flights into Barca.
I'm also going to assume most people will hire a car for this journey and collect it at the airport. You'll reach La Molina in well under 2 hours and it's an easy journey. When skiing in Saas-Fee we flew into Milan airport and had a spectacular – if tiring and at times rather nerve-wracking – 4 hour drive over the Simplon Pass into Switzerland. More on this in the upcoming Saas-Fee article.
You can park for free
Whether you plan to use your car during your stay or just for the transfer, you'll have to put it somewhere. Saas-Fee is car-free so you have to leave your vehicle in a huge multi-storey car park on the edge of town and then call your hotel to be collected by electric vehicle. All very environmentally-friendly and efficient in typically Swiss style, but also typically expensive – 15 Euros a day.
In La Molina we drove right to our hotel and parked outside it for free, but garage parking was available for a fee.
Good accommodation at an excellent price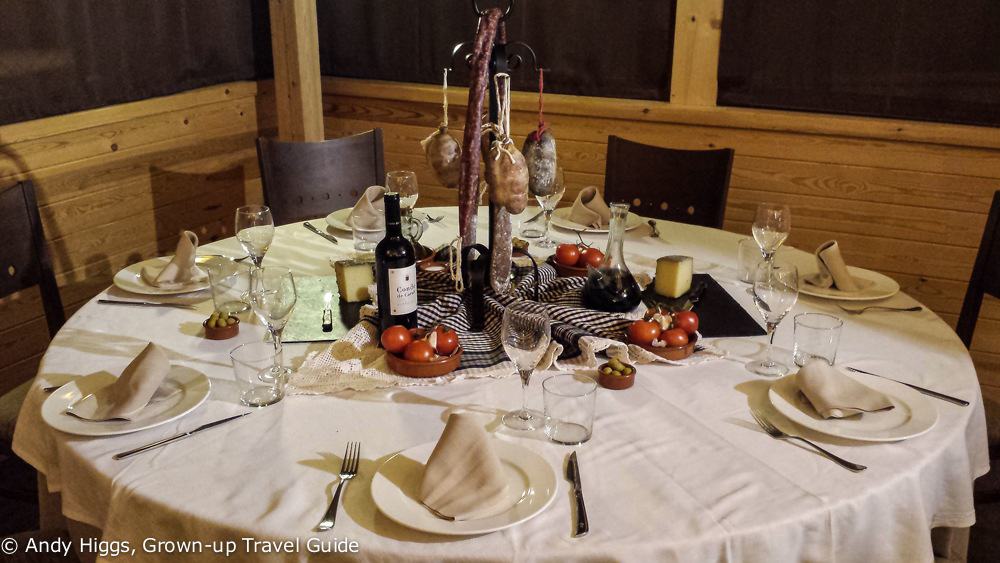 We stayed at the Hotel Solineu which was an easy walk from the ski lifts. I'll be posting a review shortly but the Solineu is a 3-star property with some nice extras like ski lockers, sauna, jacuzzi and fitness room as well as an excellent restaurant (see above) and cozy bar. I'll also publish a review of the place we stayed in Saas-Fee which had very similar features but of course a higher room rate.
There are other options in both places of course but for an average of 115 Euros a night for a double the Hotel Solineu is where I would stay next time too. For a couple or a family accommodation will be your biggest in-resort expense and La Molina will be far easier on your wallet – the Solineu was nearly 100 Euros a night cheaper than our place in Saas-Fee.
A highly-regarded ski school
If you want to improve your technique you'll get plenty of expertise for your Euro in La Molina. There are 9 official ski schools in the La Molina alone and a large operation in Masella. As an example we found one-to-one tuition for around 40 Euros per hour which is already very reasonable but for the best value book a longer period in a small group – you can get 10 hours of instruction during the week for just 105 Euros.
In Saas-Fee we found 15 hours for 200 Euros in a group but it was hard to find private instruction for less than 60 Euros an hour.
Excellent value ski pass and rentals
The ski pass is one of the extra costs that push up the price of a winter holiday and unless you have your own gear you'll need to rent skis, boots, poles and a helmet too. Again La Molina is a lot cheaper than its Swiss, Austrian or French counterparts. Rates fluctuate with the season but for February you can get an Alp 2500 ski pass for 210 Euros for an adult (by way of comparison Saas-Fee charges over 300 Euros).
As for equipment rental, you can get a decent full set of gear for a Grown-up for around 100 Euros in La Molina but you'll struggle to pay less than 170 in Saas-Fee.
Note that rates for children are substantially cheaper in both resorts for passes and equipment rental and that you should ALWAYS check online for discounts and special deals. However Spain is always going to beat Switzerland on costs…
High quality – and affordable – food and drink
I never fail to be amazed how tired and hungry I get after being transported up ski slopes and sliding down them again – so it's important to have good food options within easy reach of the pistes. In La Molina we ate a hearty breakfast at the hotel before making our way to the lifts, but by lunchtime were ready for another big meal.
Rather than the fast food variants that are often on the menu in ski resorts we were treated to some local specialities in the Restaurant Cafeteria Pla de Masella at the base of the lifts in Masella. They have a large outdoor terrace and excellent Catalan sausage for a reasonable price. There are several other options too including cafes higher up the mountain all within easy reach of the slopes.
In the evening you can choose from the restaurants in La Molina itself, including the Hotel Solineu which offers high quality traditional fare and a good selection of wines. And you'd be crazy not to use that hire car to make the short drive to Llivia a couple of times, where serious gourmet experiences await. More on this below…
Night skiing
Masella has pioneered the concept of night skiing – on Fridays and Saturdays 13km of pistes are open and floodlit in the evening and there's a new chill-out area up on the slopes at Costa Rasa should you be in need of a stiff drink before or after the experience.
Even more fun awaits in La Molina. A torchlit descent is something I'd only heard about before but on our visit we got the chance to take part and it's really something for your to-do list.
Here's a video to show you how it went down:

Llivia is an easy drive away
Llivia is an interesting oddity, a Spanish 'exclave' in France. It's basically a town with around 1500 residents city separated from its mother country by a strip of French territory a couple of kilometres wide, like a small Spanish island in a French ocean. In these days of open borders you could almost miss the transition between the countries if it wasn't for the signs in different languages.
A frontier post is still standing although no longer used; today Llivia has become well-known as a foodie's paradise.
I strongly suggest you make several trips here from La Molina if staying a week there; first on your list should be the fabulous Cal Cofa restaurant which  as you can see from this picture of just one of the courses is no place for vegetarians.
This was one of the best meals I've had but I don't want to spoil the surprise by detailing every dish. As most of you know I'm far more interested in eating than photography too (hence the relative lack of food shots on this site) so just take my word for it, you are in for a treat. Oh and don't forget to leave space for dessert – come on, you can ski it off the next day, right?
There are several other places to try with equally good reputations and believe me I can't wait to do so; Can Ventura and La Formatgeria are extremely popular and the legendary (some would say notorious) restaurant of Fabián Martín, the "Pizza World Champion" and ex-boxer famous for using ingredients such as edible gold, such and foie gras on his creations.
Basically there's enough for an entire food article just on Llivia so you can understand why the town's proximity to La Molina is a huge asset…in addition you can visit the oldest pharmacy in Europe which we didn't have time for but is supposed to be very interesting too.
Plenty to see and do in the surrounding area
Another easy trip from the ski area is Puigcerda, the capital of the county of Cerdunya. The town has an interesting past and is now a favourite place for shoppers, with a main drag full of quality stores. The old church tower in the picture above is all that remains of the building and will soon house the new tourist information office.
Have a look at the artificial lake surrounded by large villas built by rich merchants – some of whom still own them – which is a popular place for a stroll or jog in the summer. And don't leave without trying the thick hot chocolate so beloved of the locals in one of the cafes either (which you'll need if you circle the lake in winter).
There are many other potential destinations of interest if you feel like a day off from skiing in the Pyrenees but I'll cover some of these in separate articles.
So what are you waiting for?
While there is a unique appeal to Switzerland and other more well-known ski resorts in the Alps I hope I've managed to convince you that La Molina, Masella and the entire Alp 2500 region just may be the best kept secret winter holiday destination in Europe. If not, you can't have been reading properly so go back and try again! In terms of value for money if you are travelling with a family you can make some serious savings and still have an amazing time on and off the slopes.
Have you been to the Spanish Pyrenees in the winter? Would you consider a ski holiday in La Molina? Let us know what you think!
I was invited to visit Pyrenees by the Costa Brava Tourist Board as part of the #InPyrenees blog trip but as always my opinions are my own. I have already decided to take my family to La Molina to ski next year, so that should be all the proof you need!