After covering Berlin in our first post and Paris in our second, we move on to Stockholm which also has plenty to offer in December; and winter is a great time to visit. The city is beautifully illuminated after the sun sets, which is early at this time of year as the days are short.
Stockholm, Sweden – Christmas markets add to the magic of the Swedish capital in winter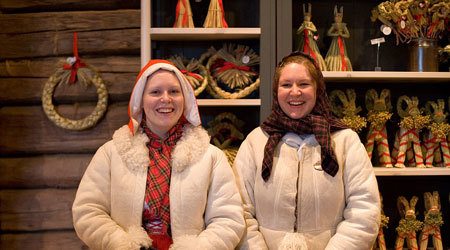 Skansen Christmas Market – Image (c) Anna Yu, Skansen.se
Gamla Stan (Old Town) at Stortorget Square
This is the oldest and most traditional Christmas Market in Stockholm and is open each day from 11am to 6 pm until Dec 23. It's location right in the heart of the Old Town (Gamla Stan) at Stortorget square (close to the Royal Palace) all but ensures the right atmosphere, and you will be able to find Swedish Christmas sweets, reindeer and elk meat, smoked sausage and other delicacies, glögg (mulled wine/Gluhwein) and a variety of Swedish arts and crafts. When you're done at the market make sure you wander through the picture-postcard cobblestone streets of Gamla Stan.
Open from 21 November 2015 to 23 December 2015
Kungstradgården
Here you will find an established Christmas market each day from 11am to 6pm, with wares such as textiles and wooden crafts, gastronomic delights from the forests and seas, warm clothes (a good idea) and other potential gifts. There is also a small stage at one end of the market and a variety of entertainment is on offer at the weekends.
Open from 28 November 2015 to 22 December 2015
Traditional Christmas market at Skansen
The 'living museum' at Skansen offers an old-fashioned Swedish Christmas experience at Bollnäs Square and in the Town Quarter. You will find handicrafts, great food and sweets and an enticing atmosphere. Check out the video below for a taster.
Choirs will be singing Christmas carols and you will be able to learn about Swedish Christmas traditions. Skansen has enough to keep you occupied for the rest of the day too…
Open each weekend from 28 November 2015 to 19 December 2015
Sigtuna Christmas market
35 minutes on the train from downtown Stockholm (and covered by the SL transport card) it's well worth heading out to Sigtuna. Not only does it have these two Christmas markets, it is also the oldest town in Sweden, dating back to 980 AD. The traditional Christmas Market offers Christmas items, handicrafts and traditional Swedish food items as well as live music and naturally a visit from Santa himself. The open-air market is held along the main street and on Main Square and Little Square. The town's cafes, shops and restaurants are all open during market hours too.
Open each Sunday from 29 November 2015 to 20 December 2015
Steninge castle
Sigtuna also hosts the largest indoor Christmas Market in Stockholm in the stone barn at Steninge Castle.
Open daily 14 November 2015 to 23 December 2015