The holy grail of airline travel – Premier Access, Boarding Group 1
If you've ever wondered what kind of difference flying First Class makes over Economy then this article is for you. Let's get a few things straight from the beginning though – first of all we're talking about a long flight. Domestic or short-haul First Class is a whole different ball-game and even less worth paying a premium for. Personally I can handle up to four hours in the cheapest of the cheap seats; but beyond that I'm looking for a little extra comfort.
The next issue is cost – I would never pay the First Class fare (nor would I be able to); by way of comparison I think my Economy ticket came to USD 750 whereas if I'd paid full price for my First Class experience I would have had to shell out USD 12,000 or more. No, that's not a typo. Also bear in mind that I got 7 different flights, a stopover and a connection to El Salvador and back from my home airport for my airline points, whereas that USD 12,000 is just for the Europe-USA return on United First Class.
Yet even cheapskates like myself (who had never flown in anything but economy until this year) can get some First Class action by collecting frequent flyer points. Read our series starting here and you'll soon get the picture – the premium for the better cabins seems steep but can be a bargain. To use my example, I would have needed 60,000 US Airways Dividend Miles to travel Europe-USA in Economy, 100,000 for Business Class while First Class comes in at 125,000. But collecting – or in my case collecting and buying – a little over twice as many points needn't cost you the earth if you exploit all the tips and tricks you can find. Worst case scenario would be buying 125,000 points during one of the regular promotions run by US Airways (or other airline) where points come out at around USD 1.87 each, i.e. to buy the points you'd be looking at about USD 2337 or a fraction of the actual ticket price.
But fret not; there are so many ways to maximize your points that it's unlikely you'll have to shell out so much cash. If you can plan a year ahead, you should have plenty of time to accrue a whole bunch of those points – US Airways has a great promotion called 'Grand Slam' towards the end of each year in which even us in Norway can earn 20-30,000 points for little cash outlay through transfers from other schemes and buying small items from partner websites.
Keep an eye on sites like www.flyertalk.com for extensive coverage and tips on the cheapest ways to earn points. Of course, if you are eligible for a credit card with a sign-up bonus then you'll be even closer to your dream trip.
So what really are the differences?
In this post I'll compare my experiences travelling from Europe to the USA.
Last year I flew British Airways economy from Oslo to New York JFK via London, and this year I was in First Class on United from Frankfurt to Chicago.
Welcome to London! I did nothing but queue in Terminal 5; from the moment I landed to boarding my transfer flight
Here's my take how the two flights stack up…
Booking the seat
For British Airways the entire booking process was carried out via the airline website without any real problems. BA know how to charge you extra for the good stuff – from reserving seats to extra baggage, and after a quick look on SeatGuru.com I decided on one of the two places at the back of the plane marked as a 'good seat'. I would then only have one neighbour and get a view out of the window as well.
For United the process was different as I enlisted the help of Ben (a.k.a. Lucky at One Mile at a Time) at Pointspros.com to find the flights I needed using my points. They charge $150 for this service but it's worth it if you have a complicated route, which mine certainly was. Normally you can do this part yourself, you need to find space on a flight then call the airline whose frequent flyer scheme you are using. More details can be found in our series on such programmes which starts with the introduction here. As mentioned, your connecting flights are included in zone-to-zone award travel which can be a big saving assuming you don't live next door to a major hub airport and plan to go as far as you can for your points.
The check-in
On British Airways it's time to get in line, as usual the desks are chronically under-staffed so you're looking at a long wait. Use the time to guess the weigh of your fellow passengers' baggage, contemplate their suspicious appearance and become over-familiar with the guy in front's back.
See that tiny queue? That's where I'm headed. That other one stretches far across the terminal building
Look, that United 'Premier Access' actually means something here. You get your own check-in desk and at Frankfurt you even get your own airbridge to the front of the plane. Which I missed, but then enjoyed being told I could turn left on entering the plane and leave the rest of the passengers behind…
The baggage situation
A ticket in BA Economy, or 'World Traveller' as they call it in a valiant attempt to disguise the fact that it's the cheap seats, permits you to take 23kg of baggage with you and one item of hand luggage. When I flew with them I took a big rolling photo equipment bag without any issues, and BA are not know for measuring (or worse, weighing) hand baggage. Yet.
A ticket in United First Class would be a good help if you were moving to another country, as you can check 3 bags each weighing up to 31 kg (70 lbs, in fact). Be careful of maxing this out if you have a non-First Class connection as the next airline will rub their hands in glee at the thought of those excess baggage fees…
The lounge access
British Airways Economy passengers get to wait in the departure lounge. You can sometimes buy one-off access or use a system like Priority Pass (sometimes for free, sometimes for a fairly hefty charge).
Get some peace and quiet (as well as free food and drink) in the lounge, another perk of flying First Class
If you're a United First Class passenger you can while away the time in the tranquility of one of the airport lounges. There you'll have free food and drink (including booze) and Wi-Fi access, as well as newspapers, comfy chairs and televisions to watch. Note that if you fly Lufthansa First Class out of Frankfurt, not only do you get access to a First Class lounge (as distinct from Business Class), they actually have their own terminal. With a limo to and from the plane. I am seriously not making this up…
The boarding process
It's one big crush to get on the bus at Heathrow
BA – Wait your turn! You'll be one of the last groups to be called up, so settle back in that plastic chair while the others go onboard before you and fill up the overhead lockers.
First Class passengers have their own desk and even their own airbridge at Frankfurt
United – Boarding group 1, so you're first up. You also have your own boarding pass control desk just to add to the feeling of smug superiority. A little pointless, but never mind.
The arrival in the seat
That is one big plane – the 747 from London to New York
British Airways – Well at least I got there first. It was tough to find space in the overheads but I managed it in the end and squeezed into my place
View from the back of Economy on BA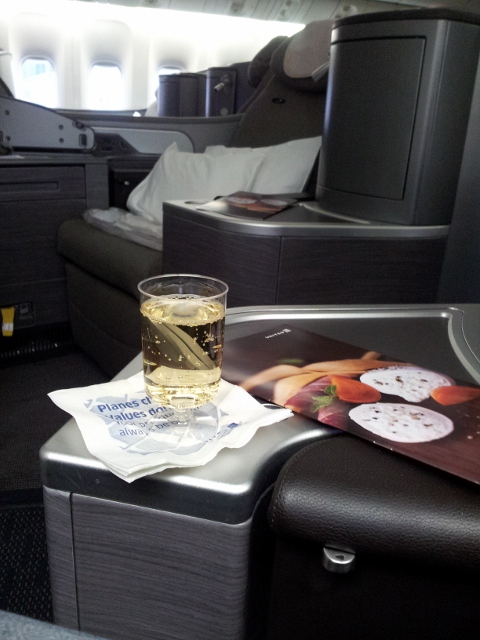 Champagne before breakfast? Oh go on then…
On United I was greeted by my first name, introduced to 'my' steward (James) and offered a champagne before take-off/breakfast. Well, really!
The seat
Shocking lack of legroom on the Jumbo
On BA the legroom was appalling, actually far worse than a domestic Norwegian flight with a budget carrier. I was soon hemmed in by a middle-aged German lady who proceeded to sleep the entire flight meaning that I had to wake her each time I wanted to use the toilet. This was the point at which I stopped booking window seats – lesson learned.
All that space just for me?
With United there was so much space that I struggled to fill it. A seat that converted to a fully-flat bed with luggage bins everywhere, a decent sized TV screen and wired remote for easy zapping. Oh and a coat hook, which is always good… Although on Business and First they make a big deal of taking your jacket and stowing it in a closet in the corridor, so it remained unused.
The freebies
On British Airways, er, the magazine was free; and I guess you could nick the sick bag. Not a lot else to take home as a souvenir, that's for sure.
A nice amenity kit on United, from socks and a night mask to toothpaste and mouthwash
United also offers a decent amenity kit which is a nice momento (I always remember my Dad bringing these home when I was younger, I had quite a collection back in the day).
The toilet facilities
Another downside to my British Airways seat choice was its proximity to the toilets, which began to smell nasty after a couple of hours. I was expecting the staff to clear up a bit but they didn't go near, so we had to put up with it for the rest of the trip.
Your own toilets in First Class (of course) and a few extra lotions and potions
In United First Class you have your own toilets with a few extra toiletries. These are off-limits to the other passengers so remain fragrant and empty so you don't need to queue.
The fellow passengers
BA's flight was full, there wasn't a single empty seat in Economy. A huge group of French schoolchildren added 'colour'.
United First Class only has a handful of seats and just three were occupied, so it was almost eerily quiet up there.
The service
I'd been advised by a friend to use British Airways for my first journey to the USA as apparently the American airlines no longer give out free alcohol. Thankfully BA does although you'll have to keep calling for a refill and they give you 'that look' if you keep doing so. Otherwise the staff kept to themselves but were pleasant enough.
The level of service on United First was a world apart, and I don't think my glass ever became empty. Discreet and professional, the crew knew how to maintain that service/privacy balance.
The food
The usual foil-wrapped plastic dish contained chicken and rice this time on BA; thoroughly unremarkable and with the usual plastic cutlery and cup. Free booze though.
The breakfast menu
United – plenty of choice and fabulous food; I really struggled to understand how they managed to produce such quality at 30,000 feet. It was nice to be trusted with silverware and glass again and the wine, beer and cognac flowed freely. It was probably the most I'd eaten in a brief period of time since Christmas…

And the breakfast
Hmm, what to have for dinner?
A nice selection of wines to accompany the excellent food
The entertainment system
Better than expected, British Airways provided seat-back screens and a good variety of films and TV shows to watch on demand, meaning that it was possible to pause, rewind etc. A huge leap from having to watch a film you didn't really want to see at a specific time.
Nice big TV, pillows, duvet and a seat that electronically reclines to the fully-flat position
United took the concept further with a good size screen and a mass of movies and programmes to surf through. A big plus for having up-to-date TV series which hadn't been shown in Europe too.
A little light entertainment (Mission Impossible 4)
The (hardly unexpected) conclusion
So that's it – no surprise to learn that First Class beats Economy hands-down. It really is an experience that everyone deserves to enjoy at least once and it's not difficult to do using frequent flyer points. Indeed at the time of publication US Airways is running 50% bonus promotion for buying points until the end of June (effectively meaning half-price points). These campaigns come round all the time too so don't worry if you can't get in on this one.
It may make it a little harder to go back to Economy afterwards but that's a small price to pay for luxury in the sky (and indeed on the ground too).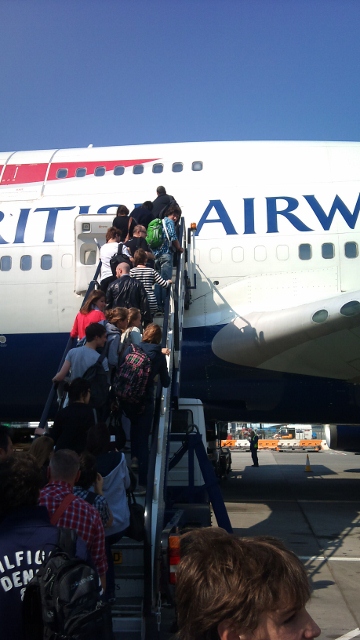 So how many economy passengers can you fit in a 747? A lot…
So what are your thoughts about flying First Class? Is it on your bucket list or could you not care less?
Let us know by adding your comments below!