This article is part twenty of the series "Trip diary: Three weeks on the road in Florida"
Teaser: New series starts this week
Introduction: A three week road trip around Florida
Hotel review: Park Inn Oslo Airport
Flight report: Lufthansa New Business Class Frankfurt to Miami
First impressions – a Limey driving in the USA
Hotel review: Hilton Miami Downtown
First impressions – an Anglo-Nordic family in Miami
Hotel review: Sheraton Vistana Resort Villas, Orlando
Three theme parks in three days – Day 1: Walt Disney World
Three theme parks in three days – Day 2: Wet 'n Wild
Three theme parks in three days – Day 3: Universal Orlando Resort
Hotel review: St. George Inn, St Augustine
Historical Florida – St Augustine
Hotel review: Hampton Inn & Suites Amelia Island
Amelia Island – the destination for relaxation in northeast Florida
Hotel review: Cedar Key Bed & Breakfast
Old Florida – Cedar Key
Hotel review: The Birchwood, St. Petersburg
Our favourite city in Florida – St. Petersburg
Hotel review: Island Inn, Sanibel
Cruising to Cabbage Key
Great road trips of the world – Highway 1 Hotel review: Orchid Key Inn, Key West The other Florida – Key West Hotel review: South Beach Z Ocean Hotel, Miami Beach  
While staying at the Island Inn in Sanibel we were lucky enough to be offered tickets for a boat trip from nearby Captiva with lunch on the famous – and famously isolated – Cabbage Key.
Unfortunately the rest of the gang were not feeling up to it and given that the cruise demanded an early start it was left up to me to act as our representative. Leaving the Island Inn while most residents were sleeping (ok, it wasn't that early but it was vacation time) I jumped in the car for for the short journey to Captiva Island.
You can't go far wrong as long as you drive north from Sanibel as there's only one road to Captiva – and very scenic it is too, hugging the coastline most of the way.
My trip with Captiva Cruises departed from the harbour of the South Seas Resort – a huge vacation home and timeshare complex dominating the northern tip of Captiva. Leave yourself enough time to get a pass from the security guard and to pay for parking (USD 5 per car).
I made it just in time to board and we set off at 10 a.m. sharp for the cruise to Cabbage Key.
For our outbound journey the boat was small but comfortable enough, and with plenty of seating on the deck, which was just as well as it was another hot Florida morning. The same rule applies here as applies everywhere in the state – don't go anywhere without applying suncream first.
For those passengers who want to avoid the sun entirely a shaded area was available too.
The staff gave us a safety briefing and told us more about the timings for the trip.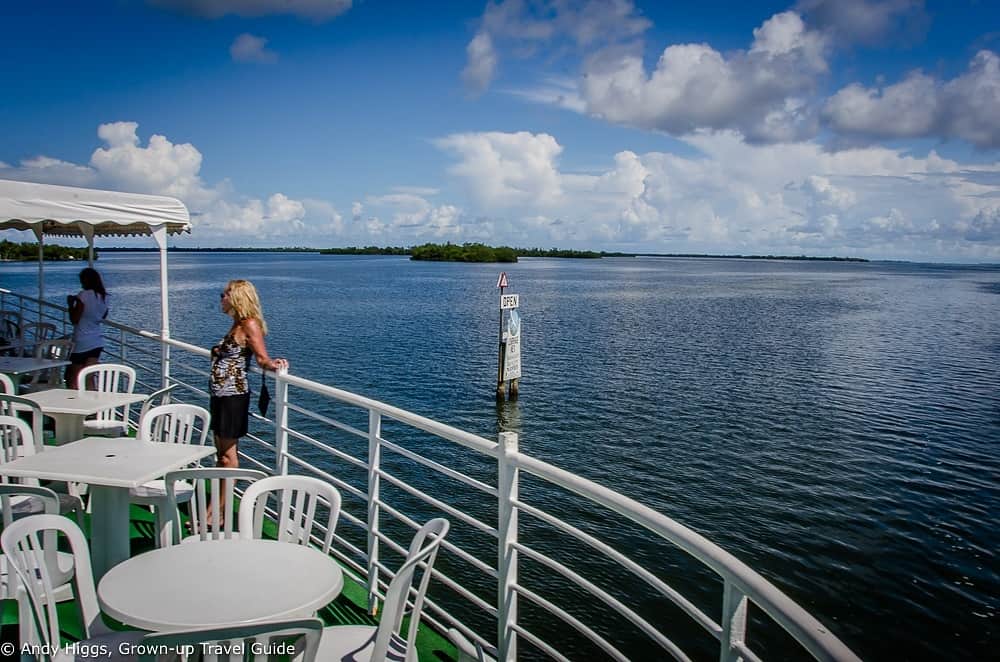 It would take about an hour to reach the island and a commentary would be provided en route. The company all but guarantees that its passengers will see dolphins while cruising – or at least they say that they are seen on 95% of trips.
We were encouraged to keep our eyes peeled as we entered open water as dolphins love to follow boats and show off to visitors.
Along with at least 95% of the rest of the passengers I daydreamed about living in one of these magnificent waterfront houses as we passed – this one was actually for sale but I think it's fair to say it's a little out of my price range.
In fact the whole of the Captiva and Sanibel area is a bit of a playground for the wealthy; the days when newcomers could snap up a beach shack for a fistful of dollars are long, long gone.
But no matter, it's still a great place to visit and within fifteen minutes of leaving harbour we spotted something in the water coming up alongside the boat.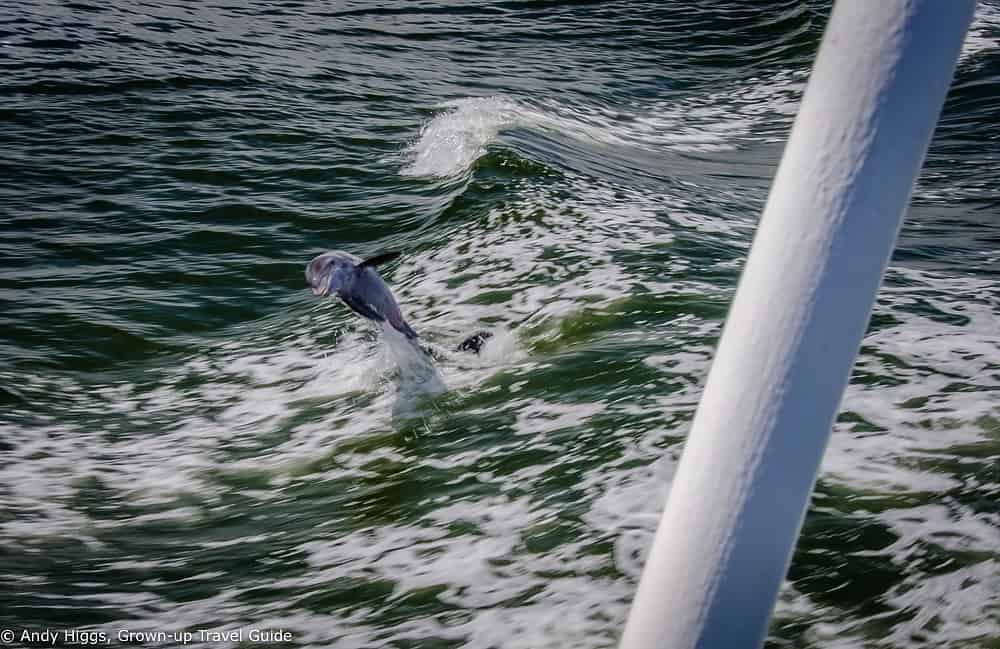 Bingo – the entertainment had arrived.
This fella really seemed to be having fun chasing us and leaping into the air – it was a joy to watch, too.
Other dolphin joined in and accompanied us for most of the way to Cabbage Key – which came into view just before 11 o'clock.
Cabbage Key is a tiny island only reachable from the water. This only adds to its appeal, and the laid-back restaurant and bar is extremely popular with visitors arriving in their own boats or on cruises like us.
You can also stay here – there are several lovely rooms and cottages for rent and it must be a fantastic place to (almost) leave the modern world behind for a while.
With a couple of hours to explore, the first thing I did was to climb the water tower for views over the bay.
Said views were a little restricted, it has to be said – but then 40 steps was not exactly the Eiffel Tower, either.
Afterwards I wandered one of the nature trails through the woods – if you do the same take insect repellant as the mosquitos can be fierce.
The trails are dotted with informative signs so you can learn about the flora and fauna as you walk.
But soon it was time for a cold one and something to eat – I headed for the bar.
There are a few things that make this place unique – the most obvious being the fact that the walls are covered in autographed dollar bills – yes, that's real money.
Apparently it all started back when the bar opened when a fisherman stuck a note on the wall to guarantee that his bar tab would be kept open for his next visit.
Nowadays it's custom to follow suit – but don't expect credit…
The owners estimate that there is around 30 grand up there at any time – and about USD 10,000 falls off each year and given to charity.
Assuming that Cabbage Key was the birthplace of this custom then it certainly kicked off a trend – these days you can find dollar-bills on the walls of dozens of bars in Florida all the way down to Key West.
Another legend is that the Floridian country and western hero Jimmy Buffett wrote his "Cheeseburger in Paradise" ditty about this place – although I know several other bars who make the same claim in the Keys…
Anyway, the cheeseburger is good and the beer is cold, so who cares?
Despite its isolation, Cabbage Key offers a good menu of comfort food and drinks. Note that if you are going to stay here you will need to bring all supplies with you as there is no store on the island.
It's also worth pointing out that there are no beaches here for swimming.
All too soon our two hours were over and I made my way back to the jetty – capturing this stowaway scene on the way.
The cruise back was just as leisurely as the outward stage and again we were treated to some marine entertainment.
Here's a video of the trip – the cute dolphin action is at the end, if you were wondering:

This time the menacing fin of a shark appeared not far away…
Alright, it was a dolphin again. Sorry.
We did catch a glimpse of how the residents of these islands get their supplies – several do have roads but vehicles have to be shipped in.
We also passed these amazing houses on stilts – the story here is that it was a ruse to avoid paying taxes as duty was demanded for land.
Our boat arrived back at the South Seas Resort about five hours after leaving and I returned to Sanibel – having thoroughly enjoyed my half-day getaway and my cheeseburger in paradise. I highly recommend you do the same when in the area.
I was a guest of Captiva Cruises – the company offers departures from both McCarthy's Marina and South Seas Island Resort.
See the website for full details – www.captivacruises.com
The four-hour Cabbage Key Cruise costs USD 40 for adults and USD 25 for children up to 12 years of age