Okay – first of all, I sincerely apologise for the crappy title, but I just couldn't resist it.
With that out of the way, let me get on with the story. Last month I took part in the inaugural Nordic TB Summit – a gathering of the best travel bloggers from the Nordic TB collective. I may be slightly biased, but on the other hand, we had to pay our way to get to Stockholm and back so if you are serious enough to put your hand in your pocket to be part of this shindig, that puts you above the cheapskates you aren't, quite clearly.
For the record, this trip was part of the #nordictbsummit campaign and a collaboration with Nordic TB, Tallink, Magnetic Latvia and Live Riga
As always, my opinions are mine and mine alone.
This was a summit with a difference. Sensibly avoiding the obvious temptation of holding the conference atop a mountain in order to make an amusing point, the powers at be at NTB arranged for it to take place at sea (check my rhyme!). Yes, this is arguably also rather weird but stick with me here. We would be sailing from Stockholm to Riga, Tallinn on M/S Romantika, one of the Tallink fleet, utilising the extensive conference facilities on board as the setting for presentations, meetings and other activities.
Upon arrival in Riga – some 40 hours later – we would go ashore and split into groups to get a guided taste of what the Latvian capital has to offer for half a day or so, before returning to the ship for the journey back to Stockholm.
Sounds fun, right? It was indeed – and a new experience for me to spend so long on a boat. In order to kick things off in the right style, I elected to spend a night in Stockholm in a ship hotel (albeit one moored to the dock) rather than have to leave home ridiculously early for the only flight to Sweden from Trondheim that would get me to M/S Romantika in time for departure.
M/S Birger Jarl Hotel and Hostel, Stockholm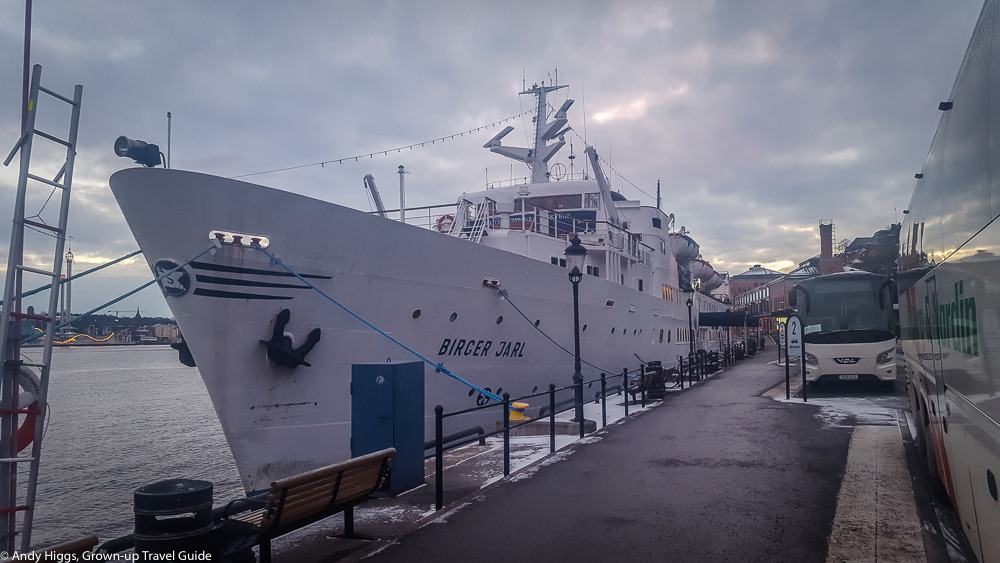 This has to be the best value accommodation in the Swedish capital – but you do get what you pay for. For me, the location was unbeatable and knowing that I would arrive late in the evening and leave early in the morning made it a no-brainer. There are various categories of room/cabin, from the cheapest – which I opted for – with a bunk bed, barely enough room to swing a cat or open a suitcase, no window and with shared toilets and showers down the hall. There was a basin in the room, at least.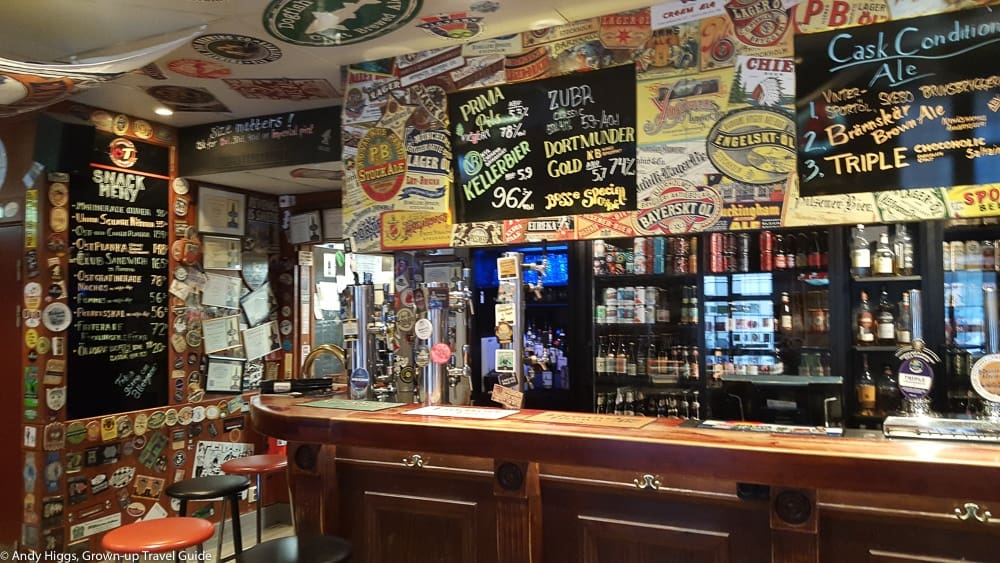 But for SEK 345 including a reasonable breakfast and a location just ten minutes walk from two of Stockholm's finest pubs for beer lovers – Akkurat and Oliver Twist (the latter is pictured above), and less than that from Slussen station, you can't really go wrong.
And if you pay a bit more you get a better cabin – indeed some of them are quite fancy, presumably this is the division between the hostel and hotel part.
All in all M/S Birger Jarl comes highly recommended for a cheap night in a great location, but do make sure you know what you are getting.
I slept like a log and was up and jogging at 7 a.m. in freezing conditions, so that says something, too.
M/S Birger Jarl, Stadsgårdskajen 156, 116 45 Stockholm
Cruising to Riga – Tallink M/S Romantika
The next two nights of my trip were quite a step up. I was lucky enough to be allocated a Premium cabin at the front of the ship with amazing views in the direction of travel – rather than to the side which is far more common.
The ship is modern but does have a bit of a 1980s style to it – or even a bit of The Shining style in the corridors if your imagination is as active as mine.
The cabin was very comfortable, however – spacious, with an excellent double bed and small but functional bathroom.
All the amenities you would expect from a hotel room were present and correct – television, telephone, desk, etc.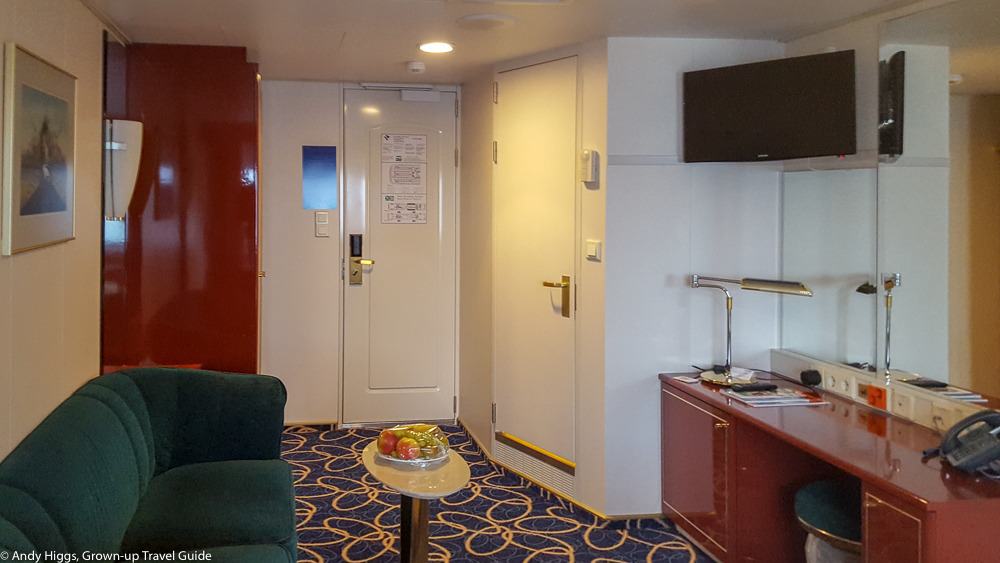 I slept well here too, although the movement of the ship on the first night took some getting used to. But it certainly opened my eyes to the appeal of cruises for many people. They are still not my first choice of holiday style, but a short trip like this is definitely a viable and interesting alternative to flying. It is usually a lot cheaper, too, but of course if time is of the essence hopping on a plane wins.
Tallink English language booking website
Riga in 6 hours
After the first part of the NTB Summit on board M/S Romantika we docked in Riga the next morning. Our group was given a walking tour of the old town and visited several well-known and a few lesser-known attractions in the city. 6 hours is never going to be enough, but it did make me want to return for longer, which is kind of the point. Here are just two of the highlights from that 6 hours…
St Peter's Church
I always like to get an overview of a new city and the best place to do so in Riga is the church tower. There is actually a lift to get you to the top, which helps too.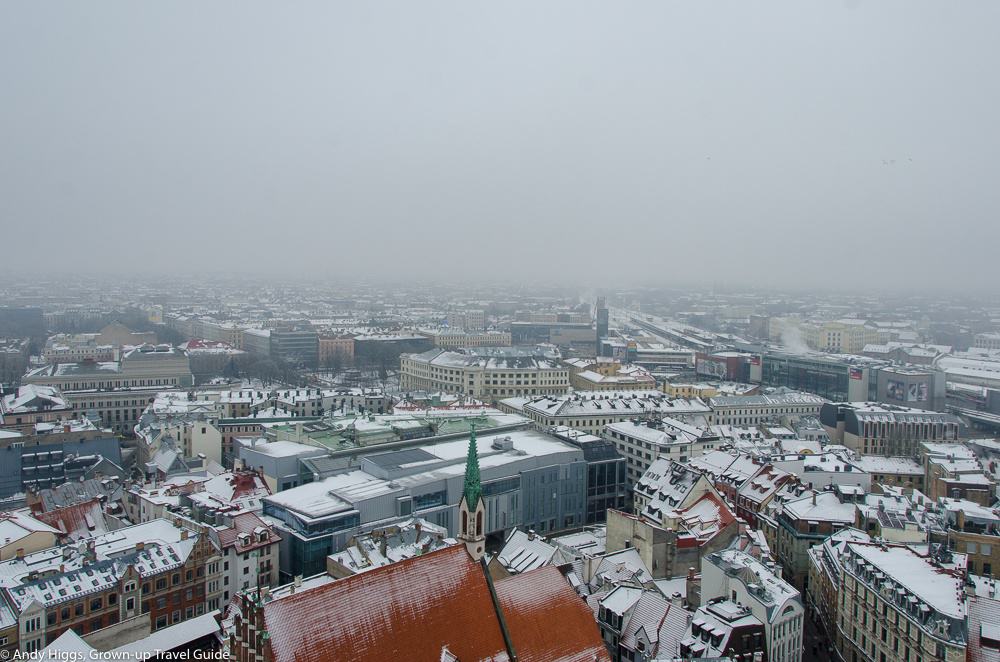 At 72 metres, the 360 degree views from the gallery are wonderful but it is open to the elements and we visited on one of the coldest days of the winter, so I think I did well to hold out long enough to get some pictures and video, no?
St Peter's Church, Reformācijas laukums 1, Rīga, LV-1050
Alkimikis Brewery
And then it was time for my kind of religion – the pursuit of the holy grail of great beer. Riga has a growing and exciting craft beer scene and one of the best of a great bunch is the Alkimikis Brewery and pub.
Very much a microbrewery, its American founder and his team have been producing excellent ales and lagers in small quantities for several years now.
Their enthusiasm is infectious and we had a whale of a time, indeed we all wished we could have stayed longer.
Paired with yummy Latvian snacks, we tasted chili porters, black saisons and more and were shown around the small but perfectly formed brewhouse.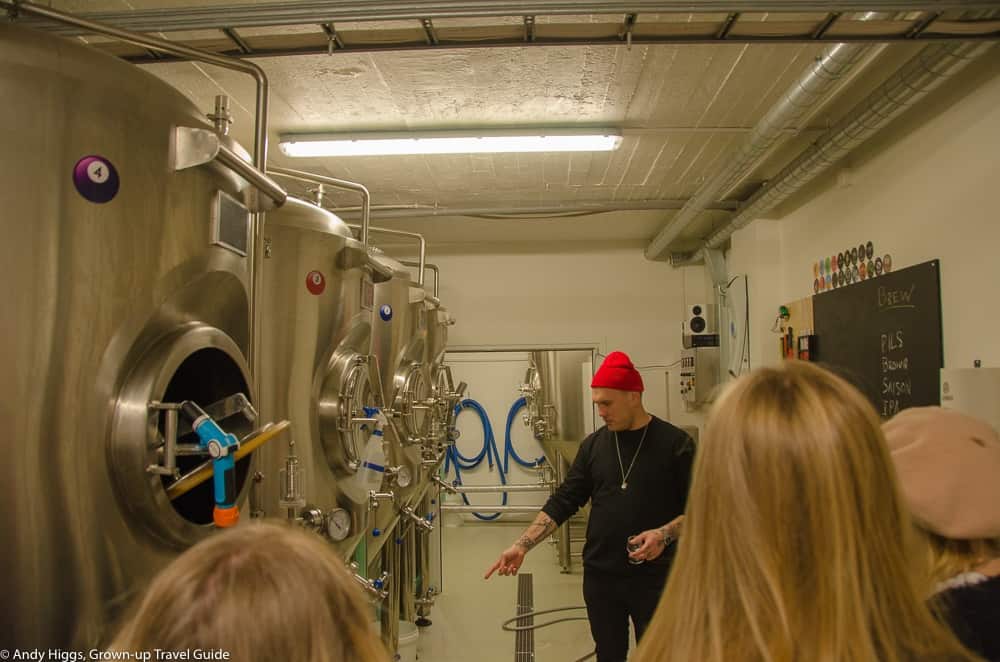 I would go as far as to say that Alkimikis is reason enough to visit Latvia, and given that their beer is only available on tap or in bottles at the pub and a few locations in Riga, you will have to visit in order to see what I am talking about.
Alkimikis, Lāčplēša iela 12, Centra rajons, Rīga, LV-1010, Latvia
And there you have it – a short working break that was a lot of fun and made me very keen to spend more time in Riga and Latvia in general. And of course you know I love Latvia already, don't you – I mean you must remember the Latvia Road Trip?