Thomas Wolf, www.foto-tw.de [CC BY-SA 3.0 de], via Wikimedia Commons
A trip to Vegas is something that everyone has to do at least once in their life. Whether it's to hit the tables and slots or to take in one of the many shows, it's a great city to visit for a weekend. But with so much to do and an awful lot of conflicting info out there, how do you plan for your trip?
We've put together a list of quick and easy to follow tips that will help your Vegas trip go off without a hitch.
While everything looks conveniently close on the tourist maps, you'll be hard pushed to walk to all the local hotspots during your trip. The strip itself is actually four miles long, so the fact that two buildings are on the strip means nothing in terms of how close they are to each other.
The best way to get around is on the Las Vegas Monorail which stops at some of the city's biggest tourist attractions. But if walking really is your thing then walk in air-conditioned comfort by using the casinos' walkways.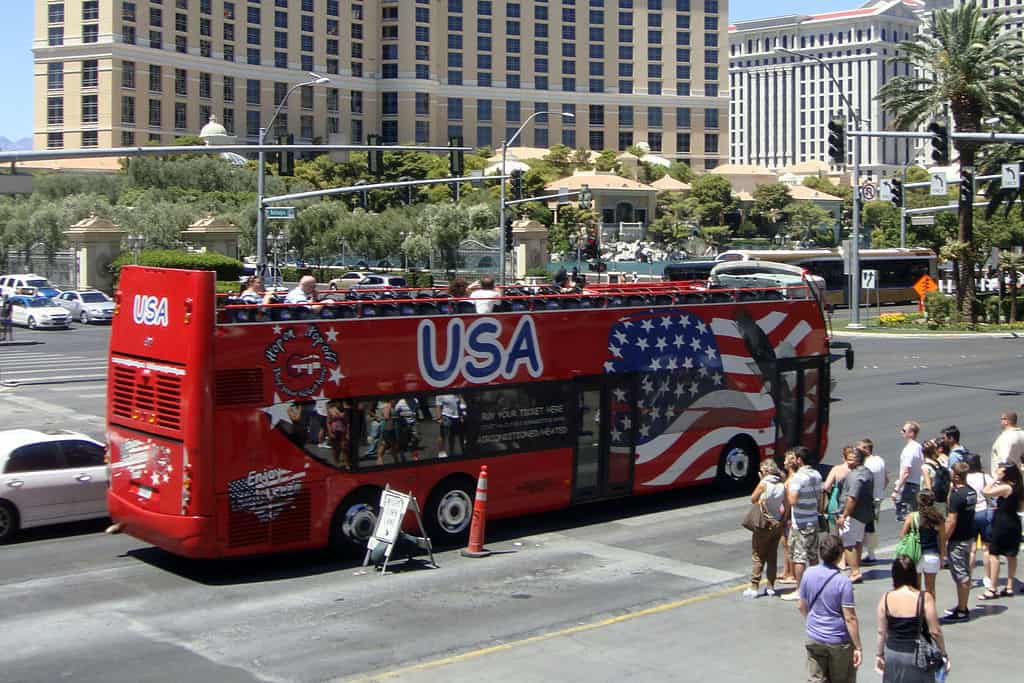 By Mariordo (Mario Roberto Duran Ortiz) (Own work) [CC BY-SA 3.0], via Wikimedia Commons
Making a plan is important. Some travelers feel that schedules take the fun out a holiday but trust us, there's so much to see in this city that you really will need to make a plan of some sort. Taking the 'let's see what happens' approach could mean that you spend a lot of time in one or two locations and miss out on some of the best sights. Arrange a time to take an open top bus tour that will take you to the most notable sights in town and give you a better idea of where you want to spend your time.
What? A jacket in the Nevada heat? Yes, that's right. While you'll need a lot of sunscreen and a good pair of shades for your outdoor time, when you walk into the casinos you'll find the AC cranked to Arctic! A light jacket that you can fold into your bag will be the best idea you've ever had.
There are quite a few people that make a living dressing up as various celebrities in Vegas. They spend most of their time hanging around the strip, usually by the places where most tourists want to take a few snaps. What many folks don't understand is that these people are working and expect you to pay for any pictures you take with them. Have a chat with them first and agree on a price before you take any photos.
Taxi lines in Vegas can be long and tiresome, but the best way to beat them is by talking to the people waiting and sharing a cab. Some places such as hotels and casinos will even help out with this and arrange shuttles instead of taxis so you can all share the cost and save a bit of cash, speaking of which.
There's no two ways about it, from the casinos to the wild nightlife, Vegas is a budget-busting holiday destination. It's the kind of place where no matter how well you plan ahead, you're going to spend more money than you thought possible. So with that in mind take a look at these great tips for saving money on your Vegas trip and avoid maxing out your credit cards.
We know that they say what happens in Vegas stays in Vegas, but we prefer to document our travels with tons of snaps so provided you're not up to anything the likes of The Hangover guys got up to, then make sure to pack that camera and make plenty of memories.