Last year I experienced Zimbabwe for the first time – and I thoroughly recommend you do the same…
Introduction
As this picture of the bar area suggests, Gorges Lodge is no ordinary hotel. When I looked through my notes, video footage and photographs I realized that a regular hotel review would not do the place justice and have therefore taken a different approach in this article. As well as the actual accommodation I've included details of the activities which are available and touched upon the work of Imvelo Safari Lodges who manage the property – but expect much more on the latter in future articles.
Arrival
The descent into Victoria Falls airport was spectacular even though I was on the wrong side of the aircraft to get much of a view of the Falls themselves.
At this distance it's hard to imagine what lies beneath that mist – but I'd be finding out the next day.
For an international airport, Victoria Falls is tiny but well organized and after obtaining my visa on arrival – for which UK citizens pay more than most but for some reason less than Canadians – I waited for my case. Instead of a carousel the baggage from the South African Airways flight was brought into the arrivals area by hand and all I needed to do was find a trolley.
The first thing that struck me was the complete lack of hassle. By which I mean that nobody was trying to make a quick buck by carrying cases, offering to guide me to a taxi or any of the myriad of schemes that new arrivals often get exposed to in other countries.
I had to send my luggage through a scanner and then load it back on the trolley before leaving the arrivals hall. I was met by Richman, a friendly driver from Gorges Lodge who was evidently experienced enough to ask if I wanted to use the bathroom before the journey that he expected to take about 40 minutes. A small touch, but a nice one.
After loading my gear into the pick-up we were soon on our way and the excitement of being back in Africa for the first time in 20 years was intense. Richman and I talked at length about my time in Ghana et. al. back in the day and his life in present-day Zimbabwe.
Soon we left the asphalt that continues to the town of Victoria Falls for a dirt road that was in a fairly rough state after the prolonged rains this year. But Richman knew the route well and expertly steered round the worst of the pot holes. During the dry season the road will be graded once more which will cut the journey time, but the slow pace gave me the opportunity to take in the countryside.
Now and again we got a glimpse of the mist from the Falls on the horizon which looked more like smoke from a huge fire. Homesteads and small but extremely well-kept villages dotted the landscape before we reached the sign for Gorges Lodge and turned onto the final sandy stretch leading to the outer gate.
Checking in
After closing the gate behind us Richman jumped back in and a few minutes later the reception building came into view. Debbie, who manages Gorges Lodge with her husband Chris, came to greet me and I was given a cold towel. I received the key to chalet number two after check-in formalities were completed, my bags were unloaded from the vehicle and would be taken to my room – but first I was invited to have a cold drink at the bar.
Walking through the reception block and following a stone path through the beautiful gardens we entered the restaurant building to emerge at the bar. For once, the actual experience surpassed the pictures on the website or promotional material – it was far better.
Perched 250 metres above the Zambezi on the edge of the Batoka Gorge, it's surely impossible not to have your breath taken away by the view. If you look really closely here you'll see some white-water rafters nearing the end of their journey from Victoria Falls down there, as yet unaware of the climb that awaits them to reach the road…
Suitably refreshed by both the drink and the cool breeze in the bar, I was shown to my cottage by Debbie and had a few hours to relax after my long journey. Clearly any sensible person would have got some sleep but I was a little too fired up to doze.
The chalet
Chalet number 2 was large and comfortable, with a high thatched ceiling and fans to keep the temperature manageable. Sure enough, my bags awaited me in the room and to celebrate my safe arrival (any excuse, right?) I opened a cold beer from the mini-bar and went out onto the veranda to drink in the view.
Eventually it was time to unpack and have a good look round my chalet – and I took the opportunity to film a walkthrough which you can see here:

A major refurbishment project is nearing completion and I was lucky enough to stay in one of the renovated chalets – although it had no wardrobe as the supplier had not yet delivered. I had no problem living out of my case for the two nights I was staying there and by the time you read this all ten cottages are likely to be fully fitted and redesigned.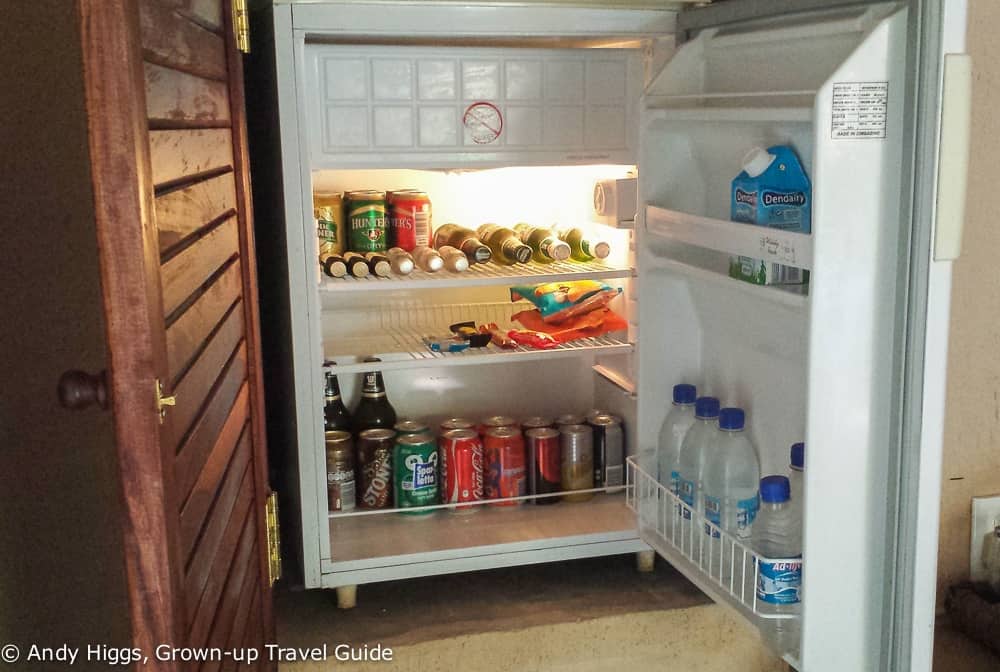 The bedroom featured two large double beds with mosquito nets, a seating area and small table, well-stocked mini-bar and fridge built into the wall, remotely controlled ceiling fans, tea and coffee making equipment and ample power sockets.
The large bathroom contained a huge double-head shower (although the water pressure wasn't great, but adequate), double washbasins and toiletries including insect repellant which is a good touch. There is a separate toilet and the bathroom has a ceiling fan too.
I should probably point out that Gorges Lodge has electricity 24 hours a day as well as hot and cold running water and excellent Wi-Fi in the main bar area. I found it harder to get a cellphone signal, but this is the sort of place where being off the grid is a real plus point, rather than a drawback.
Moving back into the bedroom, the veranda is accessible through the screened doors where a view like no other awaits. With a table and seating area all you need to add is a good book and a cold beer for the ultimate relaxation to the soundtrack of the mighty river below.
In terms of the standard of the cottage accommodation, it was excellent although there were a few minor niggles which I'm sure the management will address. The mosquito screening on the doors and windows needed replacement as there were many large holes and a few in the nets over the beds.
The door out to the balcony was hard to keep closed – the magnetic fastening was clearly worn. This also encourages insects to enter the room, of course. I think the bedroom would benefit from being a little brighter – nothing that a lick of paint, some attention to the lighting and just a few colourful objects wouldn't fix.
But this really is nit-picking. Gorges Lodge is fantastic value and the all-round experience pushes the property high into the luxury bracket. Luxury is of course subjective; in my opinion it is not about exclusive wines or spa treatments. Both are nice, but real luxury comes from enjoying unforgettable experience with a good level of comfort rather than a pillow menu or imported chantilly cream.
Eagle spotting
Unpacked and ready for action, I made my way to the reception area where I met up with Debbie's daughter, Carrie and was introduced to a couple of other guests. I clambered on the bench seats on the back of the Lodge's Land Rover together with Martin, one half of an English couple who had arrived that day.
His wife joined Carrie in the cab and we set off for Dibu-Dibu, another part of the Gorges property where wine, nibbles and eagle-watching awaited.
On arrival at the viewing area where we were joined by another guest from Brazil and Carrie explained what was going to happen. Debbie would out put some meat further up the gorge near her house and hopefully attract a black eagle that called this area home. We could watch this all from a safe distance with a glass of wine in hand.
Sure enough, soon we saw a huge bird swoop past us on its way up the gorge and feed from the fence at the bottom of Debbie's garden.
As an introduction to the wildlife of Zimbabwe, it was a great start. As night fell and the wine flowed, our small group got to know each other and swapped stories as the stars began to shine upon us from the clear night sky.
It's a cliche, but it's true: the night sky in Africa is stunning. We even saw the International Space Station shoot past – Martin had checked online and let us know when to expect it and it turned up on cue.
A couple of glasses later it was time to return to the Lodge as a local dance troupe was going to entertain us before dinner.
Entertainment
Returning to the reception area once more we found a row of chairs set up for us and the darkness broken by a rack of powerful lights trained on what would be the 'stage'. A few minutes later the Chisuma Gorge Boys appeared and began their show, led by the irrepressible Sebenze.
I've seen a lot of dance troupes over the years in Africa and the experience is always great, but these guys really excelled and having front-row seats was a privilege. I captured some of their performance on film as you can see below. Caution: contains white people dancing…

Yes, I did shake my stuff too but we'll leave that to the imagination. I am in the process of ensuring that any footage recorded by the other guests is permanently destroyed…
Dinner – barbecue under the stars
When the show drew to a close we were shown to the lawn by the swimming pool where dinner was ready. A barbecue buffet of wholesome and tasty food accompanied by wine and more importantly great company.
I was seated at a long table with Debbie and her extended family (she had some relatives visiting) and as the evening progressed I realised that life really doesn't get much better than this. Good food, meeting new people, telling and hearing stories accompanied by freely-flowing wine and beer – all of this under the stars on a warm African night. This is luxury.
Returning to my chalet with a torch-wielding escort I reflected on the fact that this would be the first overnight stay in Africa for nearly twenty years – what on earth was I thinking? For true Grown-up Travel, no other continent comes close.
Breakfast on the edge
Waking at dawn I caught the beautiful sunrise and packed for visit to Victoria Falls town. It looked like a perfect morning for my helicopter trip and I needed to get moving early. A transfer vehicle would meet me at 0730 to allow plenty of time to get to the Shearwater offices in town and I was the first and only guest at breakfast.
With a good selection of both hot and cold food I was set up for the day and I can say for certain that I'd never enjoyed bacon and eggs in such a spectacular location before…
Activities offered at Gorges Lodge
All of the experiences I enjoyed at Victoria Falls can be booked through Gorges Lodge, who also use Shearwater as their company of choice. Imvelo offers a range of packages with accommodation and activities included in the price, as well as a transfer to and from the town.
Full details of the adventures I had can be found in two articles here on Grown-up Travel Guide; there was so much to do I had to split the day into the morning and the afternoon.
There are plenty of other activities they can arrange with Shearwater too; white-water rafting, game drives and even a day trip into Botswana.
At the lodge itself you can visit the local village, take part in a guided walk along the Gorge and enjoy the aforementioned eagle-watching. There are plenty of other birds and wildlife in the immediate area too and if you're lucky you may see baboons and monkeys in the lodge grounds.
I would have liked to stay another day at Gorges Lodge just to chill out, take in the views and swim in the pool and I'll definitely book three nights on my next trip and would strongly suggest this as a minimum when visiting.
Exploring the grounds
On my final morning I went for a pre-breakfast walk round the property. Gorges Lodge has ten of these stone cottages, four of which are larger than the one I stayed in. These have two floors and an extra room and are thus well-suited to families.
All have been built on the edge of the Batoka Gorge and have their own private garden area and covered veranda. I liked the fact that the chalets are set well apart from each other which increases the feeling of privacy. The orientation of each cottage helps too so you can laze on your porch watching the sun set over the Zambezi without intrusion.
The heart of the lodge itself with the bar, dining room, lounge, reception block and outdoor pool area is sited in the middle of the grounds with cottages on either side. All are connected by pathways and the edge of the gorge is dotted with viewpoints. Here's a film clip from my early-morning wanderings:
Village visit
Before leaving Gorges Lodge for the next stop on my trip, Bomani Tented Lodge on the edge of Hwange National Park, one more treat awaited. Accompanied by Beatrice, the receptionist at Gorges, I visited the village of Chisuma. Beatrice and many of the other staff at Gorges Lodge hail from Chisuma – and have a long journey to and from work each day. But the village benefits hugely from tourism and visiting should be a mandatory part of any stay at Gorges Lodge. The money you spend with Imvelo really makes a difference in this marginalised part of Zimbabwe – politics, tribalism and history have left Matabeleland with a far inferior infrastructure than for example Shonaland.
More on specific projects in future articles – at this stage I'll let Imvelo explain the basics:
"Our lodges are part of Zimbabwe's CAMPFIRE project, a community-based natural resource management project aimed at local community involvement in tourism and wildlife conservation. CAMPFIRE is the acronym for Communal Area Management Program for Indigenous Resources. The philosophy underlying the CAMPFIRE project is that people living with natural resources are best placed to manage them and that they should receive direct benefits as an incentive for looking after the resources.
The role of Gorges Lodge in Hwange Communal Land's CAMPFIRE project involves conservation and non-consumptive utilisation of wildlife and other natural resources for the benefit of local communities. 

Gorges Lodge is a showpiece for a community-based tourism project. Having been involved with Hwange district's CAMPFIRE program since 1993, Gorges Lodge is particularly successful in its tourism development due to its proximity to Victoria Falls. Since the inception of CAMPFIRE in Hwange district over US$ 1,600,000.00 has been paid to District Council & local communities through bed night levies, leasing of the land on which the lodge is built, and charges to tourists visiting the local villages, wages and development.
The money is used for infrastructure development (classrooms, clinics, water supplies and agriculture), wildlife conservation programmes, and conservation education. Establishment of telephone and electricity to the area has benefited local schools and clinics who have been able to connect to the services.

Communities are actively involved in wildlife conservation through game scouts and village wildlife committees. These local institutions protect wildlife from illegal use. A unique conservation feature around Gorges lodge is the involvement of local people in the conservation of the wide variety of birds of prey found in the Batoka Gorge.
These include the rare Taita and Peregrine falcons, Bat hawks and several species of eagle.

A sustainable and long-term revenue-earning venture has been developed through Gorges Lodge for Hwange Rural District. Because of the permanent development and infrastructure, local communities will carry on accruing revenue through tourism long into the future. Finally, involvement of local communities in tourism and conservation has provided an incentive for the people to protect and manage their natural resources."
Regardless of your views on who is to blame and who should take responsibility, these people (and the animals we come to see) need help now. You get the experience of a lifetime in one of the most beautiful and friendly countries on the planet, the local communities get the assistance that they otherwise may have to wait years for and the wildlife in the parks gets protection. What's not to like?
Since I was in town on a Saturday I was unable to visit the school to which Imvelo has given huge support over the years but I did get to experience real life in rural Zimbabwe at a family homestead. Conditions are very basic but the Nambyan people here in Chisuma are justifiably proud of their traditional way of life. After viewing the kitchen and cooking area as well as the bedrooms (boys in one hut, girls in another, parents with their own) I got to see a small part of the long and exhausting process of pounding and processing maize into nzema, the staple food of the area.

This rhythmic production process is the soundtrack to rural life all over Africa; it may go under many names but the basic concept is the same.
Conclusion
Sadly it was soon time to return to the lodge and grab my bags. Staying at Gorges Lodge had been an amazing experience and I was already planning my return – next time with my family. Imvelo's property has one of the most spectacular settings in Africa, superb service and comfortable accommodation – and as if that wasn't enough one of the true wonders of the natural world is just up the road.
There are activities for everyone both at the Lodge and in town and most importantly of all you can enjoy yourself knowing that your tourism spend is making a real difference. Not a single day has passed since I left Gorges without me dreaming about being back there – I think that says it all.
Need to know
Gorges Lodge – Victoria Falls
Dinner, Bed and Breakfast USD 350 per person sharing, USD 455 single use
Rate includes accommodation, meals as stated and one return shuttle to town per paying night
Shuttles/Transfers: Airport or town USD 28 single
Thanks to Gorges Lodge for hosting my stay – as always my opinions are my own