This article is the final part of the series "Exploring Poland's Tricity Area"
Exploring Poland's Tricity Area – Sopot
Exploring Poland's Tricity Area – Gdynia
Exploring Poland's Tricity Area – Gdansk
This #PomorskieAdventures and #LifestylePolen campaign was masterminded by the Nordic Travel Bloggers collective working together with the Pomorskie (aka Pomerania) Regional Tourist Organisation.
Full disclosure: my trip was sponsored by the Pomorskie Regional Tourist Organisation s well as its service providers – but as I never tire of telling you, all opinions are always my own.
After spending a day in Sopot and one in Gdynia, we had a full two days in the most well-known part of the Tricity area – Gdansk.
There was a lot to cover, and much of Gdansk has been done to death in other travel media, so I choose here to focus on the parts that were new to me and offer something a little special – particularly for readers who have visited this beautiful city before and may be looking for some tips for their next trip.
Gdansk
Gdansk doesn't need much introduction to many a Grown-up Traveller I'm sure, but for the others, here is a quick briefing: known as the City of Freedom for its open attitudes, Gdansk features one of the most stunning squares in Europe (the Long Market) with gorgeously decorated houses throughout the old centre.
Like the old part of Warsaw, however, almost all of this was rebuilt after being destroyed in the Second World War, though you would be forgiven for not noticing that it wasn't original, such is the care that was taken.
Containing more than ten centuries of history and culture, this is a place that rewards multiple visits as there is simply too much to take in during a long weekend.
We started with a walking tour around the city.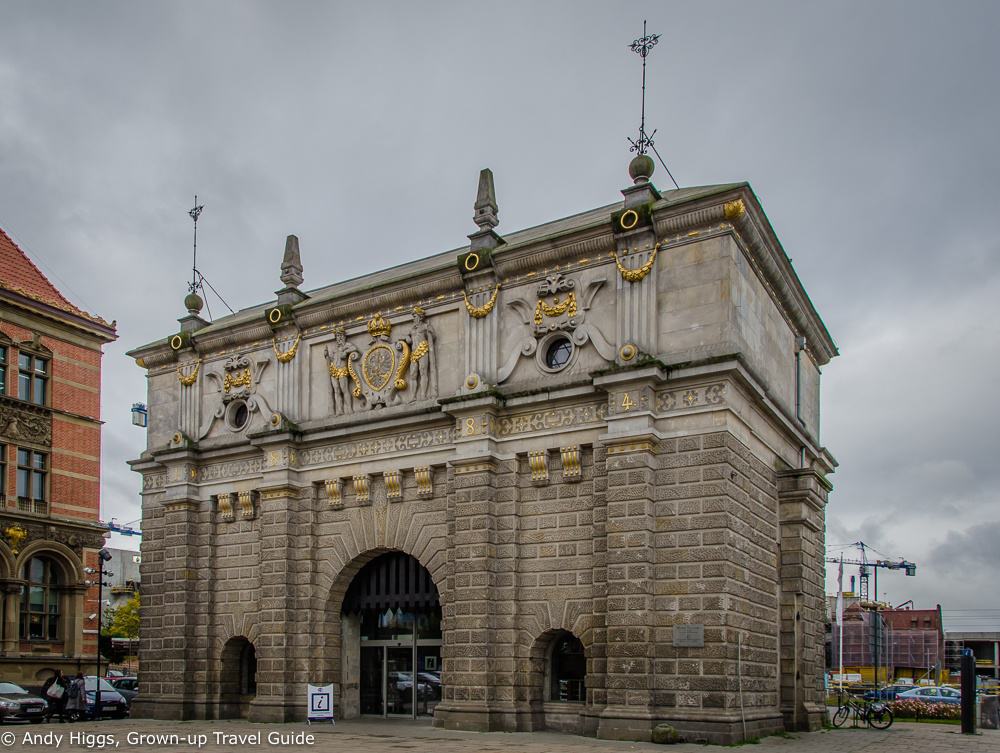 The tourist information office for the Pomorskie Region is located inside the Upland Gate which was once the entrance to Gdansk itself. Not a bad place to have an office, I would imagine.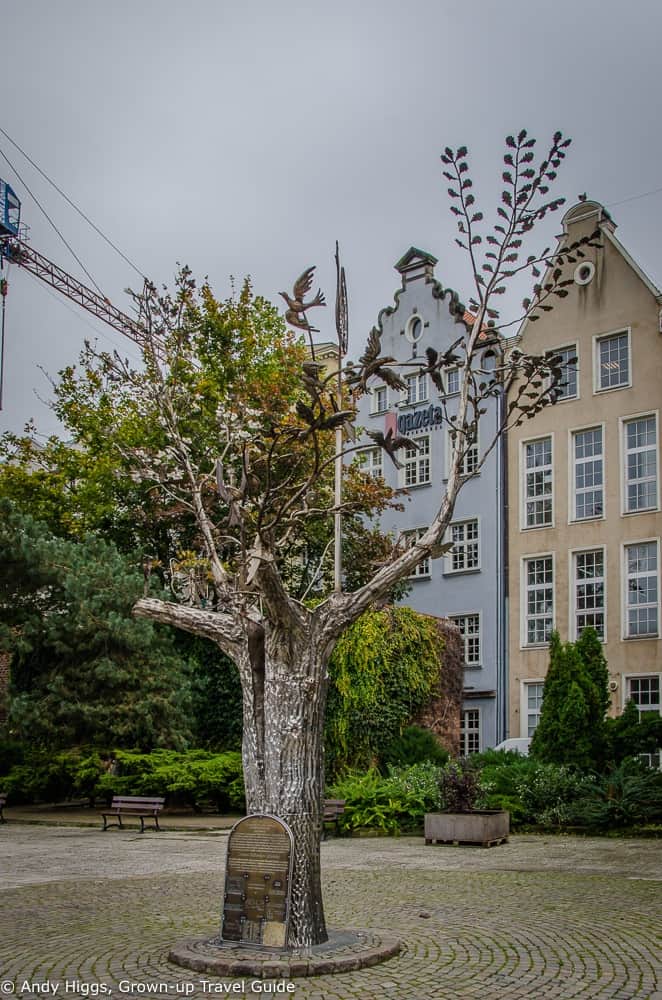 Gdansk is not just about history, there are plenty of modern touches including this rather bizarre tree.
Long Street Gate is where the real touristic centre of the city begins, and a fine welcome it is too. Long Market is home to many of the main sights such as the Neptune Fountain, Main Town Hall and so on and ends at the equally impressive Green Gate.
But we had other plans today, namely the enormous St Mary's Church.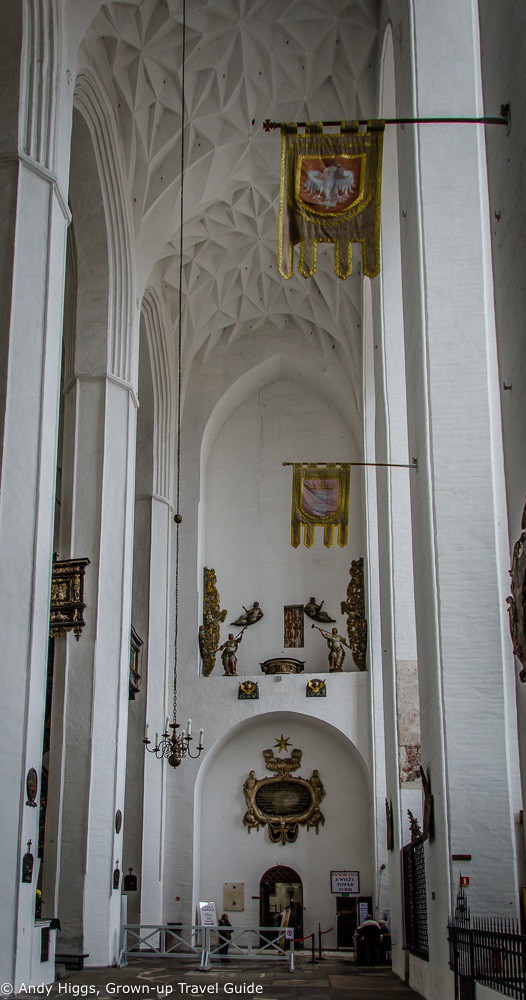 Now I wouldn't normally visit a church by choice, but this one changed my mind about being so set in my ways. First of all, it is massive, and has a huge tower offering great views of the city. But more on that later.
Even more interesting was the fact that the church contains the graves of long-dead rich and important people – inside the church.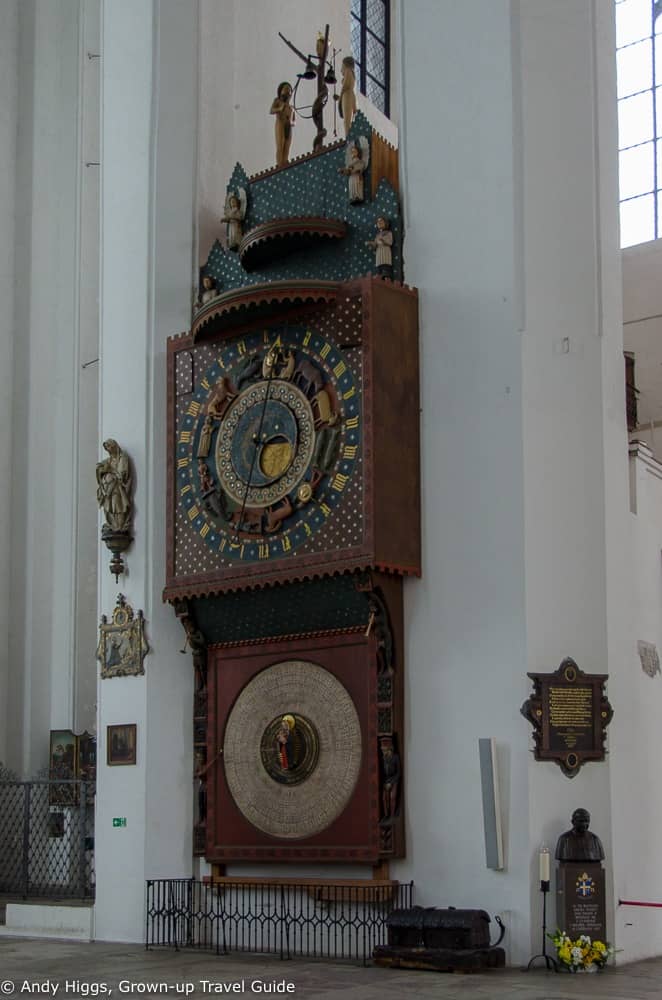 It is also the home of the famous astronomical clock made by Hans Duringer.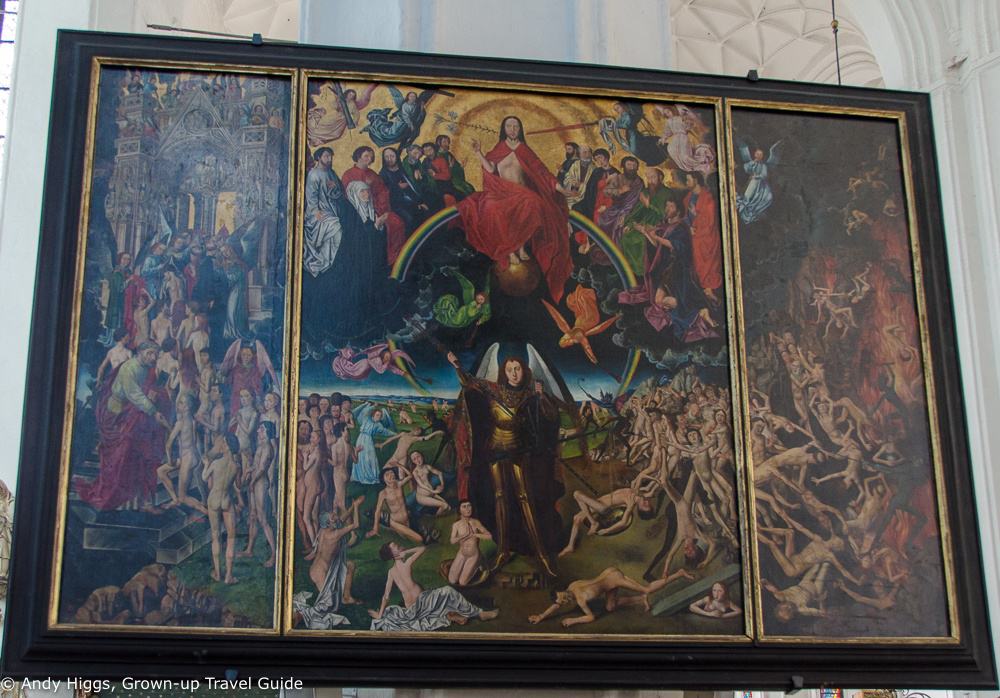 As well as a suitably terrifying copy of "The Last Judgement" triptych to scare the non-believers into believing.
More recent additions include a memorial to the former Polish President Lech Kaczyński and the 95 others who were killed in that fateful plane crash on 10 April 2010.
The gold-plated altar is something else, too.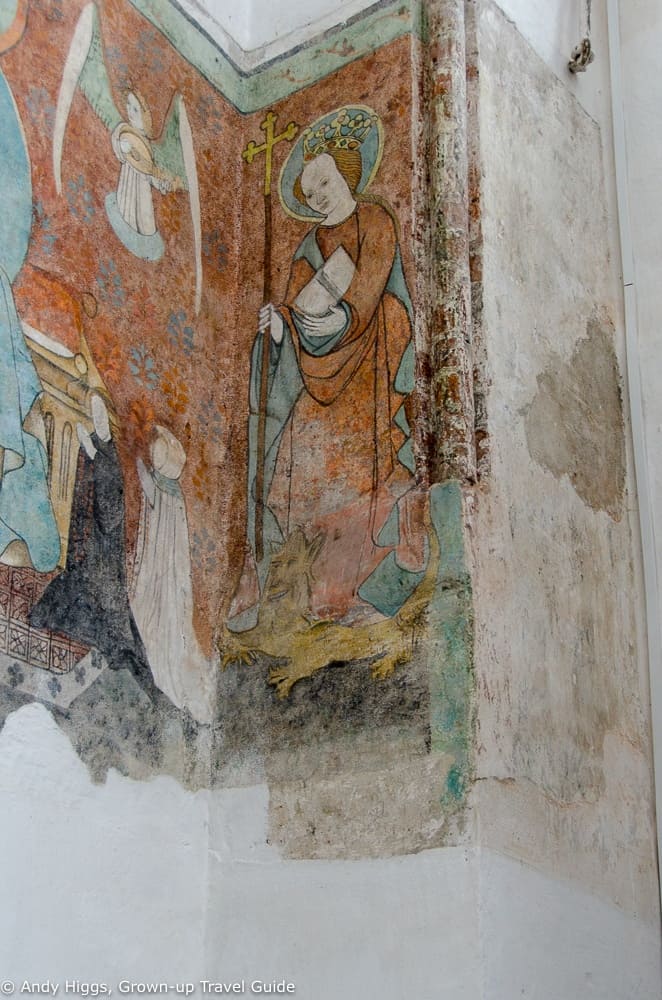 When cleaning away the plaster, old frescoes had been discovered and are gradually being restored.
Don't forget to look up…
…and down.
So, that tower. Yes, it is a long way up and there is no lift – 78 metres in fact.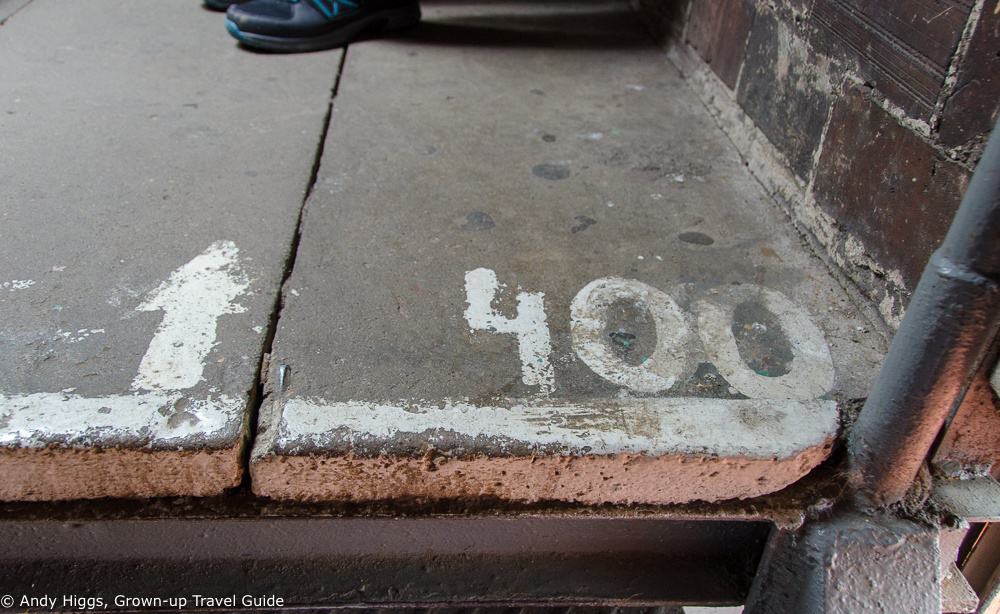 That means over 400 steps, and only two of the three of us dared (I mention no names).
But it is worth it, as these pictures show.
Gdansk really is a lovely city.
The panorama is a virtually uninterrupted 360 degrees from up here.
Lunch – Restauracja Piwna 47
It was definitely time for food and a stiff drink after all that exercise, which we enjoyed at the very hip Piwna 47, right outside the exit from the tower.
Very modern on the inside, yet housed in a very traditional style building, Piwna is very popular with the in-crowd and serves traditional Polish fare with a modern twist. It also boasts an excellent wine list and a very cosy upstairs bar.
Restauracja Piwna 47, Piwna 47, Gdansk
BATYCKI Bags and Accessories
Another day, another bag designer! BATYCKI has been a household name in Poland for decades for both men and women, and is now making its name abroad too.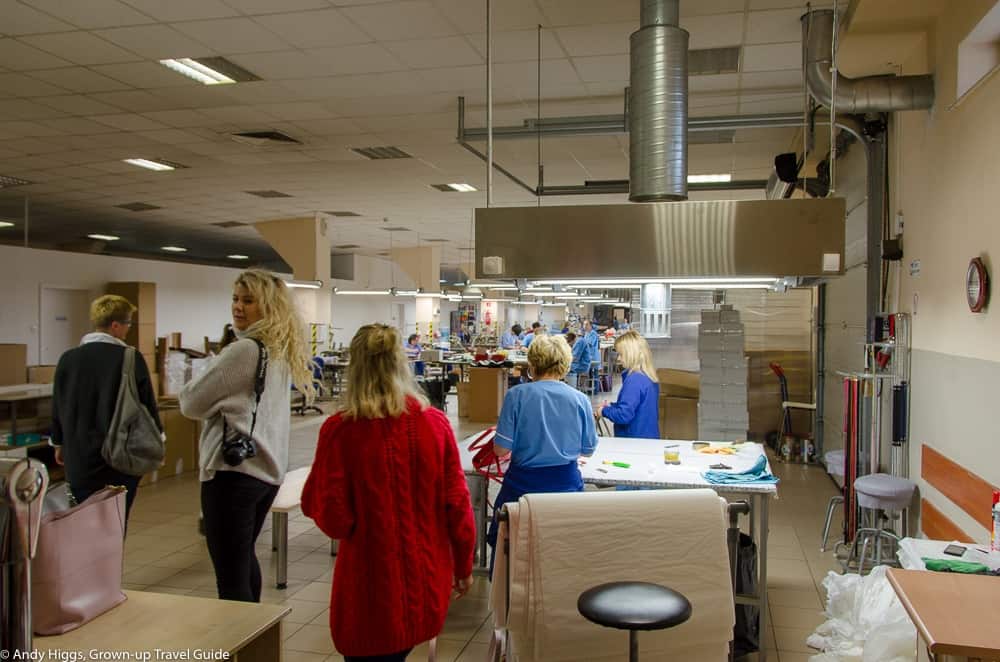 Its factory in Gdansk is a hive of activity, and yet another great example of Polish entrepreneurship.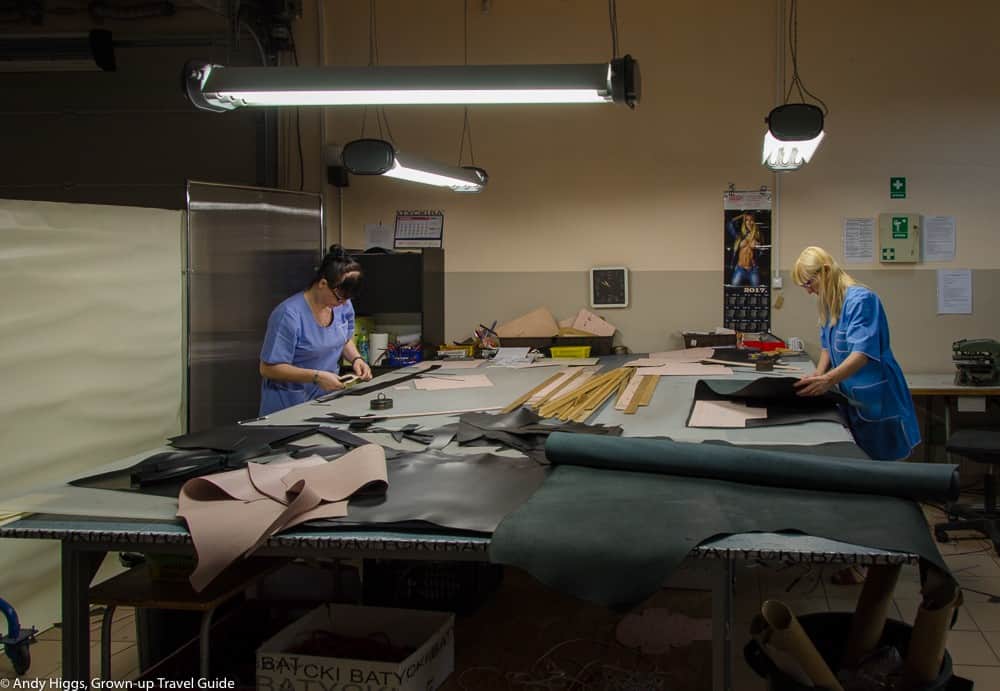 This is mass production on a micro scale – these ladies (and a couple of men, granted) work fast but it is still very much hands-on craftwork.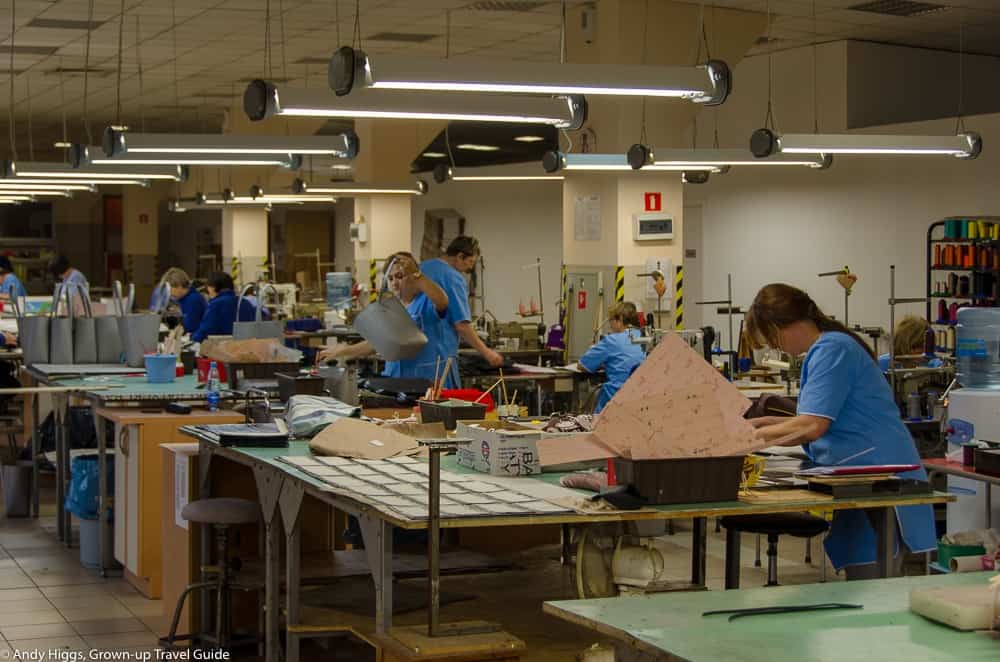 BATYCKI employs a lot of people in design as well as manufacture and sales, and one aspect that makes its products unique is that each and every one incorporates amber.
Again, BATYCKI is using modern marketing methods and a slick website to sell to the world, and my colleagues told me that they have not seen such high quality at such low prices before. So now you know, go check out their online store…
BATYCKI, ul. Litewska 12 80-719 Gdansk
Brovarnia Brewery, Hotel Gdansk
Yes, I agree. The itinerary was a little bit female-leaning up to this point. Happily, balance was restored with a visit to the Hotel Gdansk, or to be more precise the micro-brewery in its cellar.
In fact this brewery can claim to have the best beer in Poland, having received such accolades on may occasions including at the prestigious Beer Contest in Zywiec.
We were treated to a quick tour of what is a very tiny brewhouse by the manager himself, and of course we got to taste several of the very tasty unfiltered beers.
All the beers are made using natural ingredients without preservatives and are a million miles from the industrial, mass-produced stuff, and are reason enough to visit the hotel bar.
Having said that, the food is excellent here too and the hotel is top-notch, so there are two more reasons. Check it out!
Brovarnia Gdansk, Hotel Gdansk, ul. Szafarnia 9, 80-755 Gdansk
Gdansk Shipyard
Surely the most famous shipyard in the world? I would imagine so, at least to those over a certain age.
I have to admit to being pleasantly surprised to find that it was still in operation, albeit at a much smaller scale than in its prime.
Ships are still built here, and many of its cranes are in daily use.
Others stand idle. Of course it is history that brings visitors here these days, rather than the actual shipbuilding.
Monument to the Fallen Shipyard Workers
These three massive crosses represent hope and are a memorial to the victims of the tragedy that took place here in 1970 when shipyard workers were killed while protesting.
The erection of the monument was in fact one of the 21 main demands of the workers who went on strike in 1980.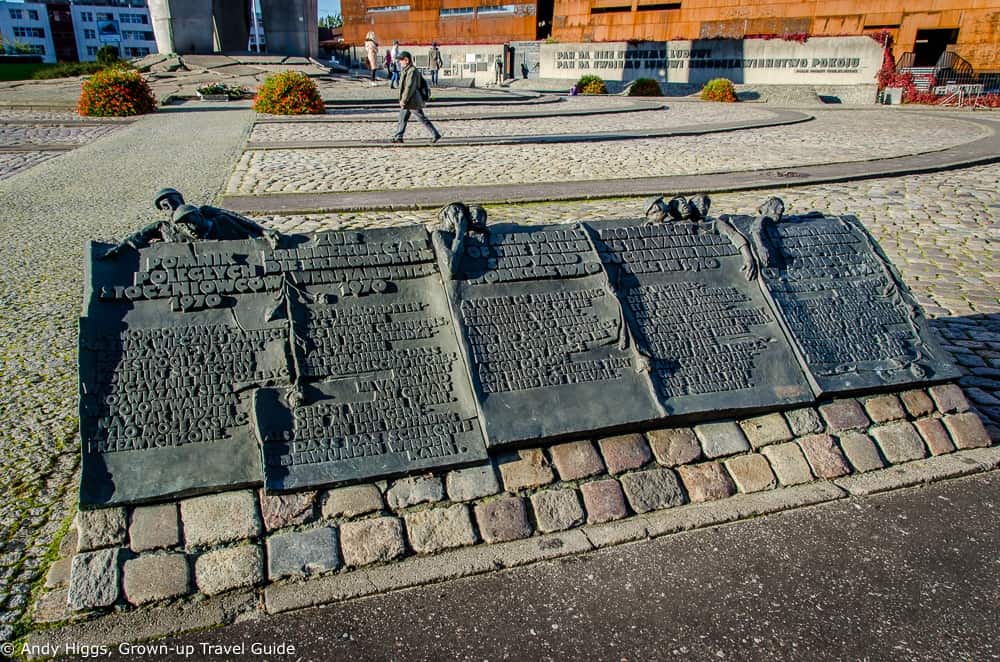 The crosses were made at the shipyard and are some 42 metres high.
John Paul II played an important part in the strike and its resolution, and his visit to the monument is recorded here too.
The former Pope's footprints.
It's a moving place, and a good introduction to the European Solidarity Centre beyond the gates.
And those gates will be familiar to everyone who watched the television news in 1980.
As will the now-iconic Solidarity logo.
European Solidarity Centre
Inside the gates is the incredible structure of the European Solidarity Centre, designed as a rusting boat.
Before entering the main building, we took a look at the building across the road which was were the strikers' demands were finally agreed to.
As it says, this is where the August Accords were signed and the road to full independence for Poland began.
A place of real history.
Inside is an in-depth exhibition of the process and history behind the strikes, as well as some excellent models.
This one grabbed my attention. The "Lenin" part of the name was removed with the fall of communism.
And this is where it happened. If you look closely you can see the demand for "21 x yes" – there would be no agreement without the government conceding to all 21 demands.
We headed to the main building and into the ECS proper.
It's an incredible multi-purpose building, and was voted the best museum in Europe a couple of years ago.
A slightly larger version of the already huge "comedy" pen that Lech Walesa used to sign the accords.
Yes, that is a real picture (colour added later though, obviously)
The permanent exhibition is found on the first and second floors and covers almost 3000 square metres.
But I recommend going up to the roof first, especially if the weather is as good as it was when we visited.
There are great views of the gates from up here.
And those cranes again…
Then we went to the exhibition. I have no desire to spoil it for you, suffice to say that it is one of the most moving presentations of modern history I have ever experienced, and if you make it through with dry eyes you may need to get help.
The sacrifices these workers and their families made is something that most of us will never fully understand or be able to relate to, and the extreme brutality of the communist government is still hard to believe. But there is enough evidence here, despite the crackdown the media faced.
You will need a few hours here and do not plan to do much afterwards – for example don't even think of visiting the ECS and the WWII museum on the same day, it will be too much.
But make sure you visit both – we missed out on the latter as it was not fully open yet – when you are in the Tricity area. History like this needs to be known by every generation.
European Solidarity Centre, pl. Solidarnosci 1, Gdansk
Westerplatte – where the Second World War broke out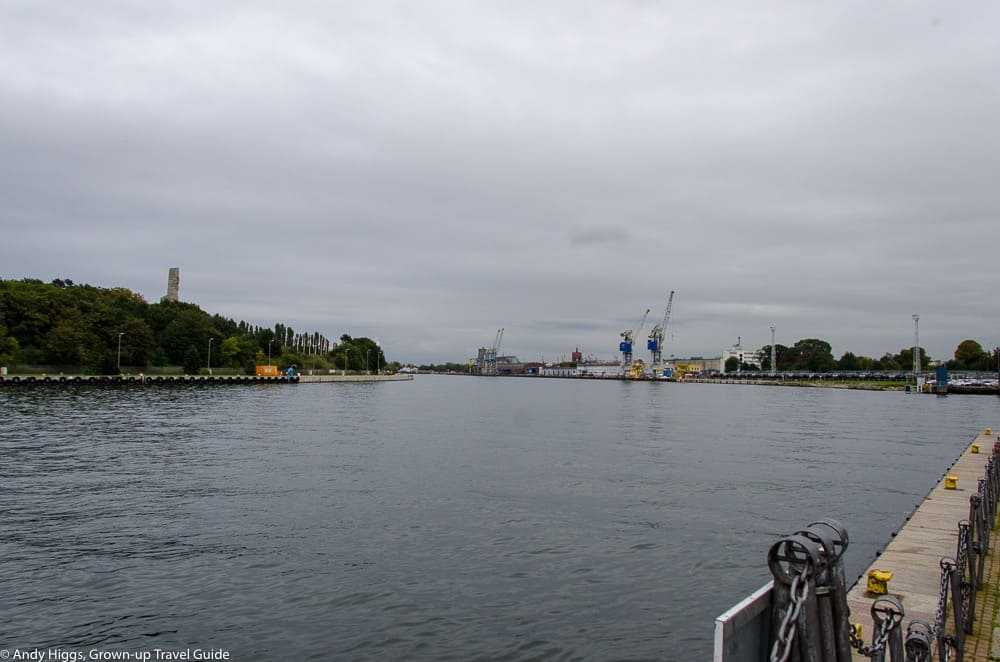 Our last stop in Gdansk was another site of major historical significance. Around dawn on 1 September 1939 the German battleship Schleswig-Holstein began shelling the Polish Ammunition Depot on the Westerplatte Peninsula. Thus World War II began, and just 200 Polish soldiers defended the Depot while being outnumbered at least twenty to one.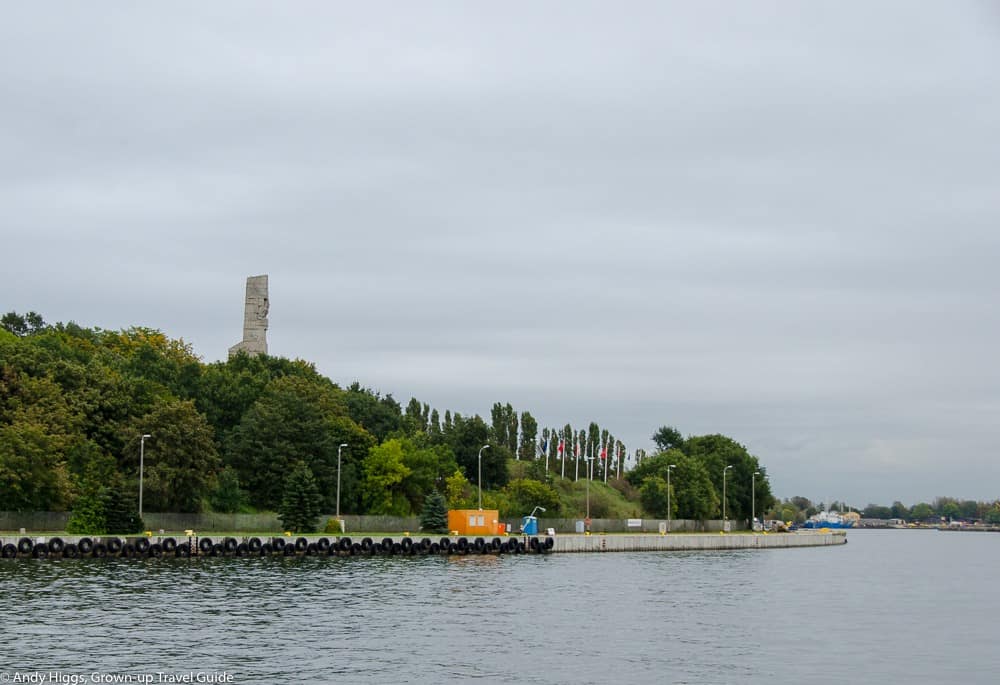 Westerplatte became the symbol of Polish resistance against the German aggressors and the stone monument is a memorial both to the Westerplatte soldiers and all the other Poles who were killed defending the coastline.
And with that, our time in the Tricity area was over. I hope that these three articles have given you the inspiration necessary to visit this enticing part of Poland, where first class food and drink, exciting history and relaxing spa treatments await – but most of all you should visit for the wonderful hospitality of its friendly and welcoming people, which is the main takeaway I have from a great short break.
I will be back in August, and probably before too 🙂