This article is part one of the series "Exploring Poland's Tricity Area"
Exploring Poland's Tricity Area – Sopot
Exploring Poland's Tricity Area – Gdynia
Exploring Poland's Tricity Area – Gdansk
This #PomorskieAdventures and #LifestylePolen campaign was masterminded by the Nordic Travel Bloggers collective working together with the Pomorskie (aka Pomerania) Regional Tourist Organisation.
The remit of this particular trip was to explore the Tricity area (Gdansk, Gdynia and Sopot) and its culture, with an emphasis on food and drink, wellness, local design and shopping. Not a bad emphasis, I'm sure you'll agree.
I travelled with two lovely ladies, Maria who blogs at Reisetid and Christina who runs Cava For Lunch. At times, being a male travel blogger can be a struggle, eh? It's a tough job, but I manage.
We all flew into Gdansk airport at different times and met up at the Sopot Marriott Resort & Spa, which would be our base for the entire stay – a real luxury to be able to have one hotel for four whole nights and not to be moving from place to place.
After dumping our bags we met our guide – who would also accompany us for the duration – Agnieszka Syroka. Again, having one expert with us for our time in Poland was a real bonus – we got to know each other well and Agnieszka was the best guide I have had the pleasure of working with.
First on our to-do list was to explore Sopot itself.
Full disclosure: my trip was sponsored by the Pomorskie Regional Tourist Organisation as well as its service providers – but as I never tire of telling you, all opinions are always my own.
Sopot
Built as a summer getaway by the rich folk of Gdansk, Sopot is well-known as one of the most beautiful beach resorts in all of Europe, and while it is at its busiest in summer, there is plenty to do all year round. In fact, visiting outside the main summer season is highly recommended as it can get a bit crazy – and much more expensive – in July.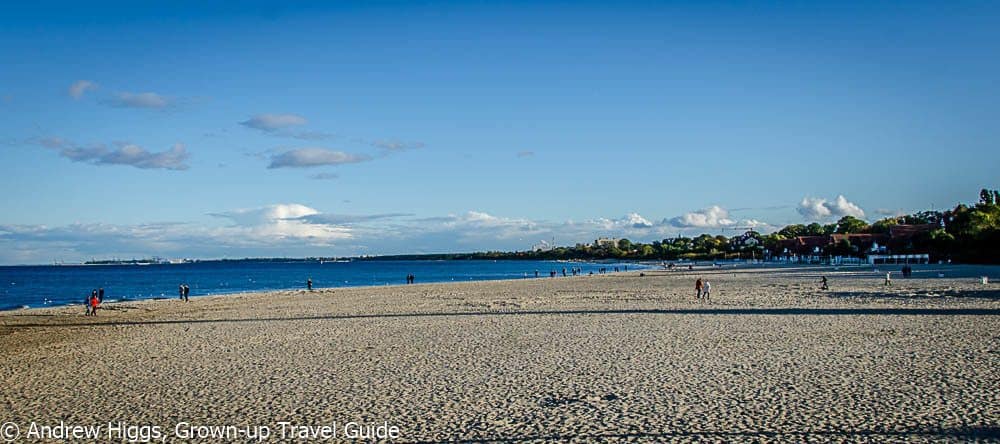 In September the weather is more changeable but we saw plenty of sunshine. And the sandy beach is lovely, as you can see.
Sopot is very popular with Polish tourists but also with those from other countries who can fly into Gdansk and then get here in under an hour from the well-connected airport.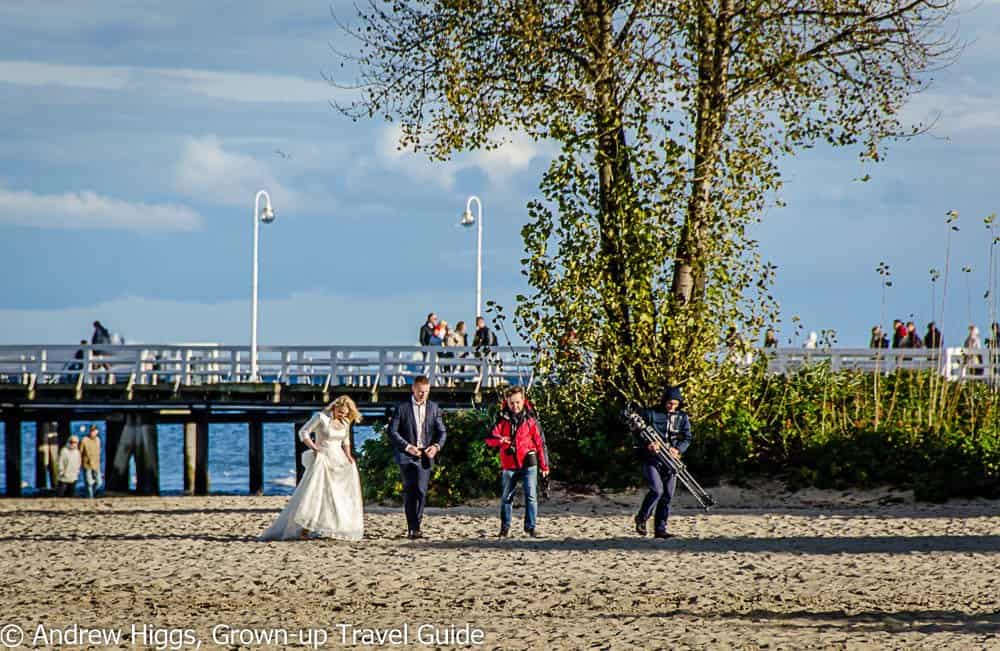 It is also a popular place to get married, as we witnessed. This couple got lucky with the weather for their photographs…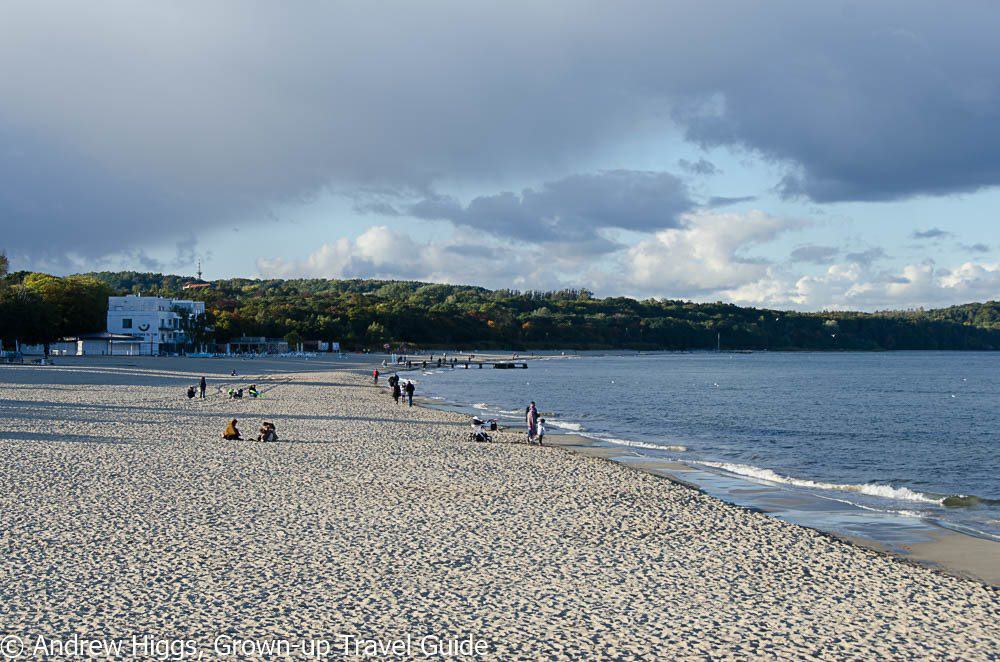 You won't get quite as much space to yourself on the sand in the height of summer, of course.
And some brave souls were undeterred by the cold Baltic sea.
Sopot's most famous sight is its pier – at 511 metres the longest wooden one in Europe. In summer you have to pay to walk here but it was free to all when we were there in mid-September.
It is also an excellent place for an early morning run, as I found out the next day.
Everyone who walks the pier is expected to go all the way to the end and touch this mast-like thing. I believe it is for luck, but am not quite sure. I did it every time anyway.
As we turned back there were some ominous clouds moving in towards the spectacular former Kasino Hotel (now the Grand Hotel) to which we were headed.
Built in 1927, it was one of the most luxurious hotels of its time, boasting running and sea water in the bathrooms. The Red Army caused a huge amount of damage when they invaded in 1945, but it was repaired and continued to attract politicians and famous international musicians who stay for the Sopot Music Festival.
These days it is run by the Sofitel group, and still the most prestigious place to overnight in the city.
The front entrance is as imposing as you would expect for such a legendary property.
The gardens in front of the hotel are beautiful too.
One of the bars is decorated with photos of famous guests – recognise any?
I would hope you recognise at least one of these four, anyway.
Other old photographs give an impression of the lifestyle of the rich back in the day.
Sofitel Grand Sopot Hotel, Powstańców Warszawy 12/14, Sopot
Monte Cassino
Next we walked to the Monte Cassino (or "Monciak") promenade, which runs from the beach up to St George's Church and is THE party street in Sopot in summer. Filled with cafes, bars, clubs and restaurants, there is enough here to keep you busy for a week or more without having to visit places more than once.
It also has its architectural gem in the form of the Crooked House. Dating from 2004 and listed as one of the 50 strangest buildings in the world, its stated aim is to show that no dreams are impossible.
The Crooked House somehow fits in with the older buildings and contains cafes, restaurants and clubs, as you would expect on this street…
We then had a wander around some of the side streets in Sopot and a quick trip to the tourist office, from where there is a good view of the waterfront – yes, that does say 8.5 degrees Celsius…
In fact one of the best things to do in Sopot – and something I do in every town – is to just head off the main drag and just explore.
Sopot makes this particularly rewarding with its mix of buildings and styles.
Soon it was time for dinner – which we enjoyed at a place right on the beach just a few hundred metres from the pier.
Dinner – Bulaj Restaurant & Pub
A laid-back pub with a fabulous menu – you can't go far wrong with that in my book. And indeed Bulaj turned out to be a real gourmet treat as well as a friendly and relaxed place to kick back after sightseeing.
How cosy is that?
When the weather is warmer, Bulaj has a lovely terrace leading onto the sands.
We were treated to a tasting menu with wine, and as usual I will share the few pictures I took rather than try to describe how delicious it was.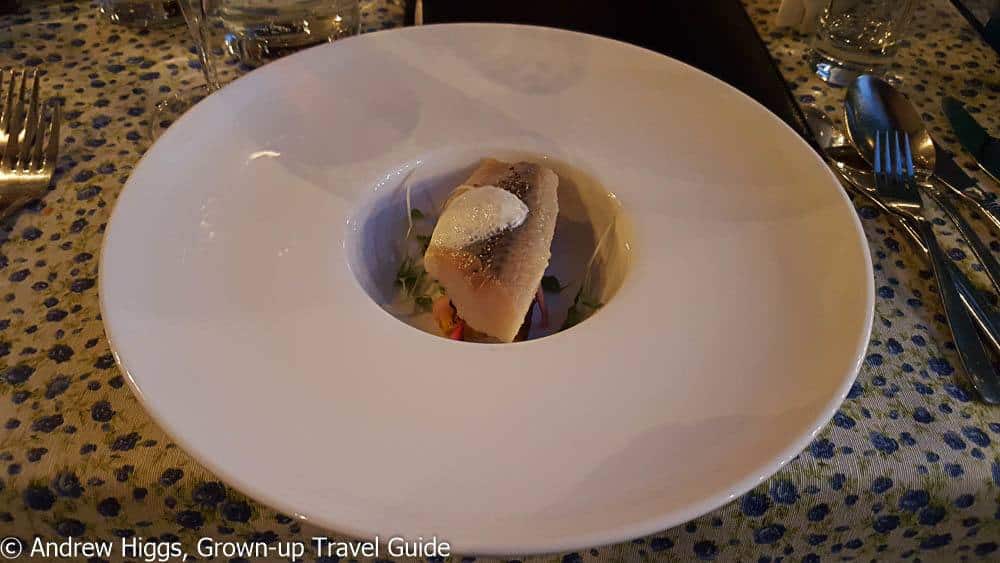 I mean, I am no restaurant critic but you get a good idea of the quality from these often blurry pictures, I would imagine?
This was not all, either – I forgot to snap at least one course.
Dessert was pure delight. You will not go hungry in Poland unless you simply refuse to eat. And that would be a very silly thing to do.
After dinner we were dropped off back at our hotel to check out the pool and sauna facilities and get an early night for a change.
Bulaj Restaurant & Pub, Aleja Franciszka Mamuszki 22, Sopot
Sopot Marriott Resort & SPA
I may as well say this right at the beginning – the Sopot Marriott Hotel & Spa is one of the best hotels I have every stayed in. And it deserves a full review of its own, which I will write in due course.
For now, you can savour some of the pictures I took and take my word for it, okay? This is the front of the hotel, which until recently was the Mera Spa Hotel (some locals will still call it this.)
The rear of the property leads straight onto the beach over the promenade.
The bed was pure heaven.
A well-stocked mini-bar is still a good thing in my opinion, even though many hotels are removing them.
A well-designed and functional bathroom.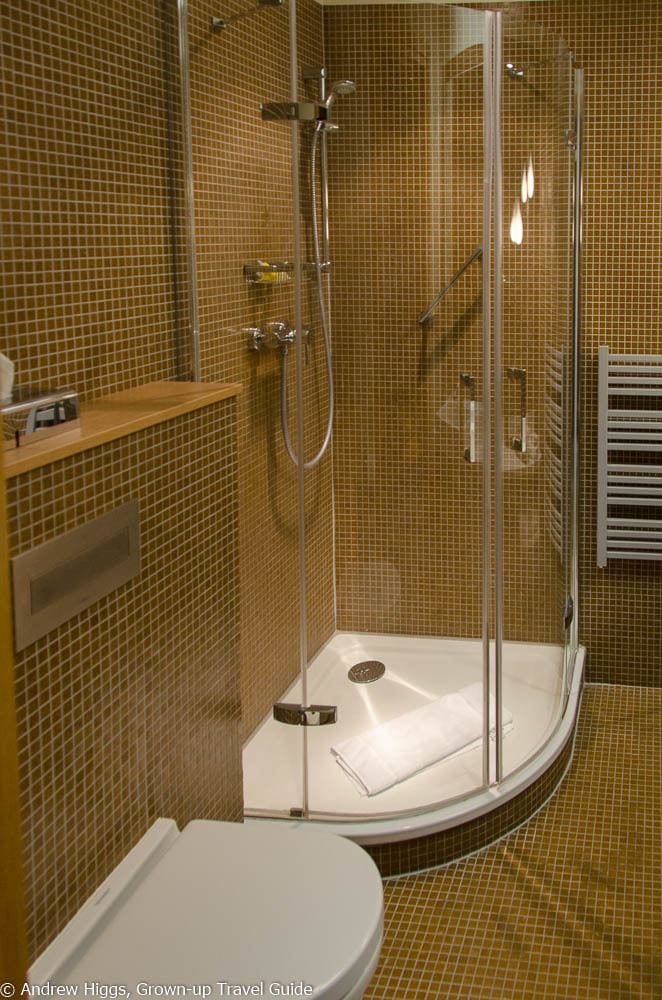 With – believe it or not – a shower that doesn't leak gallons of water onto the floor.
The toiletries provided are of high quality, too.
Here is a video of my room:
I haven't even mentioned the amazing spa area with 35 treatment rooms (the largest hotel spa in the region by far) meaning that you don't have to book a year in advance for a massage – although reservations are needed in high summer.
There is also a huge wellness zone with multiple pools, indoor and outdoor jacuzzis and several saunas (including an entire naked sauna section so that you know what you are getting if you go in that part).
There is even a rooftop pool, although this closes in September.
So for all that, come back for the full-scale review in a separate article in the near future.
But if you are going to stay in the Tricity area, this is a perfect base within easy reach of all three cities and offers and amazing all-round experience. Trust me. I am already going back in a few months on my own dime.
Sopot Marriott Hotel & SPA, Bitwy Pod Plowcami 59, Sopot, Poland