Photo credit: brianfagan IMG_2062 via photopin (license)
Who said that only kids deserve to have fun and recharge batteries during the Spring break? Grown-ups too deserve the same! Now that Spring is here and that warm, sunny summer days will flood our calendars soon, we've catered some amazing travel destinations that you can add to your travel bucket list. And would you like to know what is the most attractive thing about them? That they are interesting and enjoyable whether you are looking for a romantic couple retreat or a family fun adventure.
Many of them are great to explore by car as they have so many interesting attractions to visit or scenic views to enjoy that is definitely advantageous to be able to discover them at your own pace instead of having to depend on public transport. Whether you are driving your car or you'll rely on a rented vehicle, it is advisable that you have your car insurance in place. If you have worked with car rental agencies or rented a car before, you probably know how pushy they can be when trying to convince you to rent a better vehicle, accept an offer or buy the car rental insurance they offer. To avoid that as well as the limited coverage that many credit card  companies offer, your best move is to rely on a trustworthy, independent provider of insurance for rental vehicles such as Bonzah.
To make it easier for you to choose the best destination to match your needs and expectations, we have classified them according to whether they are great for couples, families and/or adventurous spirits!
Great Trip Suggestions For Couples
Saint Lucia, The Caribbean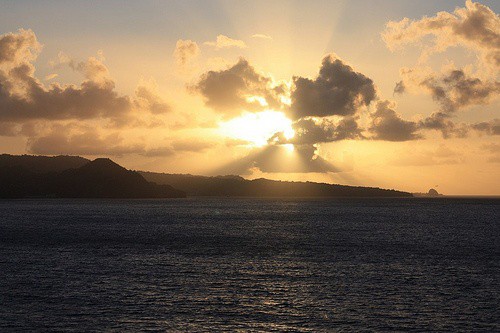 Photo credit: Martin Wippel Karibik-Kreuzfahrt 2012 via photopin (license)
Undoubtedly romantic and absolutely unique, the island of Saint Lucia is one of the most beautiful destinations on earth. Its luscious and ever-verdant vegetation, its ultra comfortable and luxurious retreats that overlook the Caribbean Sea make it a perfect destination for couples seeking a romantic vacation, a second honeymoon or a lovely getaway.
Saint Lucia is splendorous and travellers usually experience different emotions as they discover the many attractions that the island offers. From adventure seekers that embrace and adrenaline rush as they run down a canopy or those seeking for a relaxing moment by the pool, Saint Lucia will offer you something to inspire you and catch you. There are daily international flights from the US and weekly flights from Europe and Canada and various regional flights are also at hand.
Santa Barbara, California
Known by many as the American Riviera, the city of Santa Barbara, in California surprises couples with lots of sunshine, lovely beaches and a sophisticated atmosphere. With its Mediterranean climate, you are bound to have a great time. There are quite a few interesting and affordable hotels  where you can stay, many of them with a chic decor and a classic Spanish Colonial architecture, outdoor pools and beautiful gardens. Wine lovers will definitely enjoy the close proximity to the local's finest vintners. For a romantic, relaxed evening or afternoon, there's nothing better than taking a stroll down State Street.
Charleston, South Carolina
Charleston is a sophisticated and charming city that strikes the right balance between rich historic past and warm hospitality. It's a trendy city with some interesting new-age offerings that you may be interested in. April and May are a great time of the year where to visit Charleston in South Carolina. Since many students are away, tourists can explore it more at ease and temperatures are just perfect.
Walk down The Battery, a stunning walking path lined with mansions in a Southern style and views of Charleston Harbor. King Street is the place to go if you want to indulge in some serious shopping. There are plenty of high-end boutiques and recognizable retail stores.
Spring Travel Ideas For Families
Grand Cayman, Cayman Islands
Grand Cayman is one of those travel destinations that have something for everyone. Amongst the multiple attractions they offer we can mention: a turtle farm, forested trails, more than 200 dive sites, underground caves, a stunning botanical garden, attractive shopping experiences and many worth visiting museums. Besides, its Seven Mile Beach is considered one of the best in the world.
From adventure lovers to those that just adore lying on the beach or being in close contact with nature, you'll definitely have fun in Grand Cayman.
Québec, Canada
Photo credit: Hub☺ Shore via photopin (license)
Who said that you can only visit sunny, warm places during the Spring break? For those who love the cold or simply want to avoid the usual travel spots, Quebec, in Canada is waiting for them.  The National Museum of Fine Arts (MNBAQ) houses more than 38,000 pieces of work of Quebec art from the 17th century to the present day.
Another must-see attraction is the Sainte-Anne-de-Beaupré Shrine as it invites you to admire its stunning stained glass, amazing paintings, mosaics and wooden sculptures that adorn the basilica.  Adrenaline-seekers will definitely enjoy Valcartier Vacation Village. It's a gigantic complex with a huge outdoor and indoor waterpark.
The Aquarium du Québec is also one of those attractions you can't miss. It is located overlooking the St Lawrence River. Don't forget to visit the Awesome Ocean Discovery tunnel to discover the creatures that live in the depths of the Pacific and learn about life in Québec's streams and rivers. It's one of those experiences your children will cherish for ages!
Toronto, Canada
Even though the Canadian city of Toronto is usually considered a perfect destination for solo travelers, you can rest assured that it has plenty to offer for families as well. A visit to the CN Tower to take in the view from the LookOut level at 346 is definitely an activity you'll all enjoy. You'll have the chance to take panoramic views of the city.
The Royal Ontario Museum has a stunning exhibition of natural history and world culture galleries. They always have interesting temporary and permanent exhibitions and they usually offer special activities for younger children. If there are sports lovers in the family and specially a hockey fan, make sure to include a visit to the Hockey Hall of Fame. They'll love it!
The Toronto Zoo is a fantastic attraction for children! With 5000 animals from 450 different species, all organized in different geographical regions, the youngest members of the family will learn a lot while amusing themselves.