As well as the myriad music festivals taking place around the world, there are some more unusual events that provide you the Grown-up Traveller with a good excuse for a quick break or extended stay. We've compiled a short list of some of the more obscure and fun-sounding festivals here – do let us know if you have any more suggestions too.
Up Helly Aa – Viking and Fire Festival
Lerwick, Shetland – last Tuesday in January each year

Photo credit: Martin Deutsch via photopin cc
No matter what the weather – and late January in Shetland is never going to be great – Europe's largest fire festival lights up the sky and marks the end of the Yule season.  Up Helly Aa is a celebration of influence of the Scandinavian Vikings on these islands and was first held in 1870. Only those who have lived in Shetland for at least five years get to take part; the local men dress up as Vikings and carry out a spectacular procession through the town before throwing their flaming torches into a wooden longship.
The Battle of the Oranges
Ivrea, Italy — February/March 
Hundreds of years ago the good people of Ivrea in Italy rose up against an evil count who was abusing local women. He lost his head to the mob and his guards were stoned to death. Nowadays this is celebrated by a battle in which stones are replaced with oranges – a handy was for the town to dispose of its surplus of the fruit which it is obliged to do under EU agricultural regulations. The guards have now become clowns on chariots but nobody is complaining about the lack of historical accuracy – tens of thousands of visitors enjoy the spectacle every year while trying to avoid being hit – not an easy task even though the battle is supposed to be between the two teams…
Cheese-Rolling At Copper's Hill
Coopers Hill, Gloucestershire – Spring Bank Holiday Monday (end of May)
My favourite for its mix of typical English wackiness and a real danger of getting hurt. The concept is that contestants have to chase a huge round chunk of cheese down the very steep and always muddy Coopers Hill in Gloucestershire. Just beat the cheese to win. The course is 30 yards in length and the Double Gloucester cheeses weigh about 4 kilos each. Add in the angle and the mud to which I previously alluded and you can tell the odds are against the participants who do their best, 20 of them at a time. Nobody knows or remembers how this madness started but countless bones have been broken along the way. If by some miracle you beat the cheese, you keep it. Don't get your hopes up though…
Sapporo snow festival
Sapporo, Japan – February
Every February the Japanese city of Sapporo attracts around two million visitors to its celebration of winter. Stunning snow and ice sculptures transform Odori Park, the grounds of the Community Dome Tsudome and the main street in Susukino. It's a dreamlike place during the week-long festival with over 300 such creations, many of which are themed on local food delicacies like crab and squid.
Wife Carrying World Championships
Sonkajärvi, Finland – July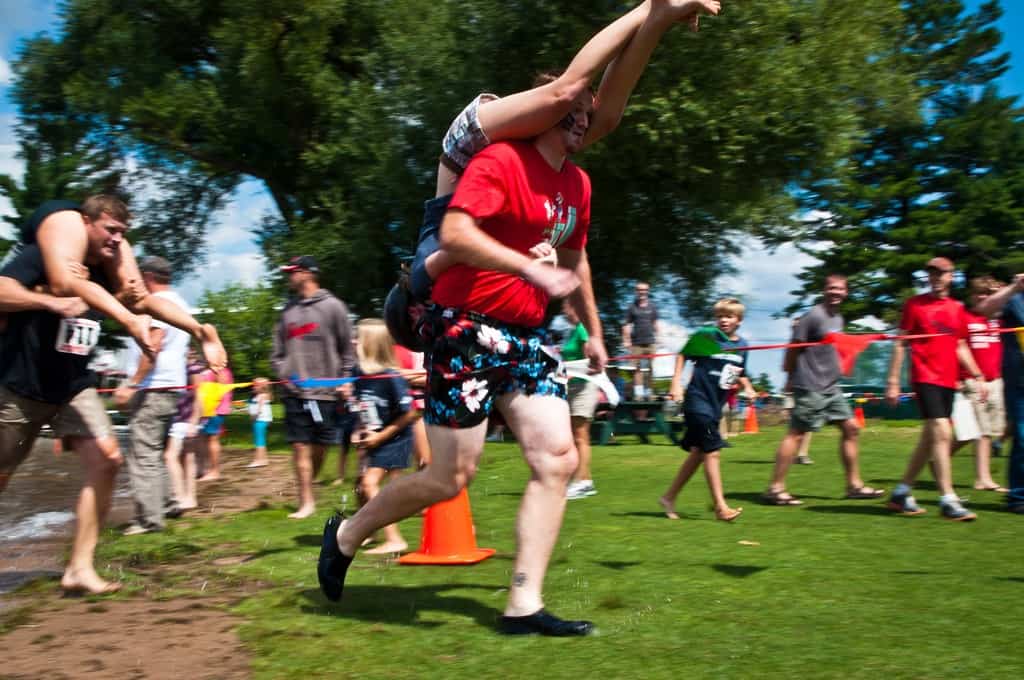 Photo credit: santheo via photopin cc
Last but not least we could hardly leave this one out. In typically direct Finnish style the name tells you what you need to know. Contestants take part in a race while carrying their wives, with the prize for the winner being his wife's weight in beer. It's as straightforward – and slightly nuts – as that. Of course they make it more fun by the fact that instead of a simple racetrack the couples have to negotiate a 250 metre long obstacle course with a water jump. The recipe for a long-lasting marriage, surely?
Wherever you decide to to make sure you have insurance coverage – it might not cover wife-carrying or cheese rolling but ensure you talk to the best travel insurance provider you can find before you go.
Author Bio: Greg is an avid travel writer who enjoys trips around Europe. One of his favourite places to visit is the west of Ireland and especially the county of Mayo with its rugged scenery and great coasts.