There is something special, almost magical about Las Vegas. Few places on the planet come close to matching Vegas' scorching hot, sunny weather, bustling nightlife, and a wide variety of activities and excursions.
Flying into McCarran International Airport, especially at night, is a sight to behold. In the middle of the desert, there are neon lights as far as the eye can see. You will find so much to do once you are on the ground that you will not know where to start. You will begin by checking out these five Las Vegas attractions.
The Famous Las Vegas Strip
No trip to Las Vegas is complete without frequenting the famous Las Vegas Strip. You have to head to The Strip, especially at night, even if you have no intention of entering a casino. Many of the world's largest hotels are located on the 6.8km strip, along with some of the best restaurants and eateries. You may even bump into some UFC fighters if you head there in late March 2021.
Head to 5100 Las Vegas Boulevard South if you want to have your photograph taken in front of the famous "Welcome to Las Vegas" sign. Have you ever been to Vegas if you do not do this?
The Strip can be pretty intense. Jump in a cab or take "The Deuce" bus to Downtown Las Vegas if you want a change of pace or want to discover what Vegas used to be like before the big corporations jumped onboard.
"Las Vegas Strip" by Wikimedia is licensed under CC BY 3.0
High Roller
The High Roller is one attraction you literally cannot fail to see. It is a massive Ferris wheel that measures 550-feet tall at its summit and is 520-feet wide. You have to see this thing to believe it; it is an engineering marvel.
Hurry and book your tickets if you want to lay claim to riding the most enormous Ferris wheel in the world. The High Roller holds that title now, but the Ain Dubai is due to open in 2021, and it measures 689-feet tall.
The Mob Museum
The Mob Museum is exactly what it sounds like: a museum dedicated to the Mafia and mobsters. Its official title is the National Museum of Organized Crime and Law Enforcement, but everyone calls it by its shorter, catchier name.
It opened on Valentine's Day in 2012 and is housed in the former Las Vegas Post Office and Courthouse at 300 E Stewart Avenue and is a truly fascinating experience, one that comes highly recommended.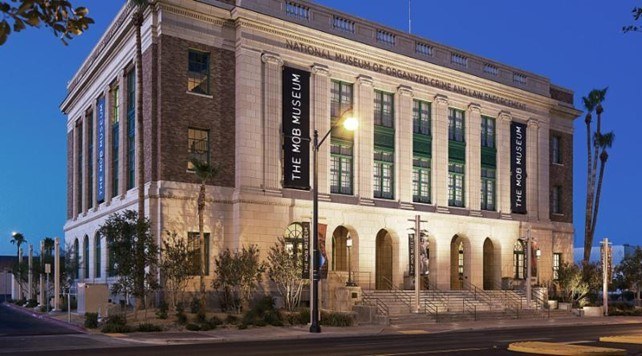 "The Mob Museum" by GetAmericans is licensed under CC BY 3.0
Cirque du Soleil Shows
You have to take in one of Las Vegas' famous shows when you are in town. There are dozens to choose from, but make sure you secure tickets for a Cirque du Soleil show if you only get the chance to see one.
There are five such shows in Vegas at the time of writing. Mystere is at Treasure Island, the fantastic Ka is at MGM Grand, and the Michael Jackson ONE is at Mandalay Bay Resort & Casino. Head to the Bellagio Hotel & Casino to watch "O" or The Mirage for The Beatles LOVE.
Cirque du Soleil is the pinnacle of shows; they are masterpieces.
Red Rock Canyon National Conservation Area
You are probably ready for some quiet time if you have ticked off the four Vegas attractions above. If so, a short journey to the beautiful Red Rock Canyon National Conservation Area could be what you are looking for.
Plenty of tours take you to the site, which is located in Clark Country, Nevada. There you find large red rock formations, sandstone peaks, and walls, some of which measure 3,000-feet high—these peaks formed by thrust vaults, including the Keystone Thrust.
It is a stunning section of land, and it is hard to believe the hustle-bustle of Vegas is right around the corner.
Those of you who love a natural setting can also consider the 40-minute or so journey to Lake Mead. The Grand Canyon is approximately a two-hour drive away from Vegas, although helicopter trips are also available.