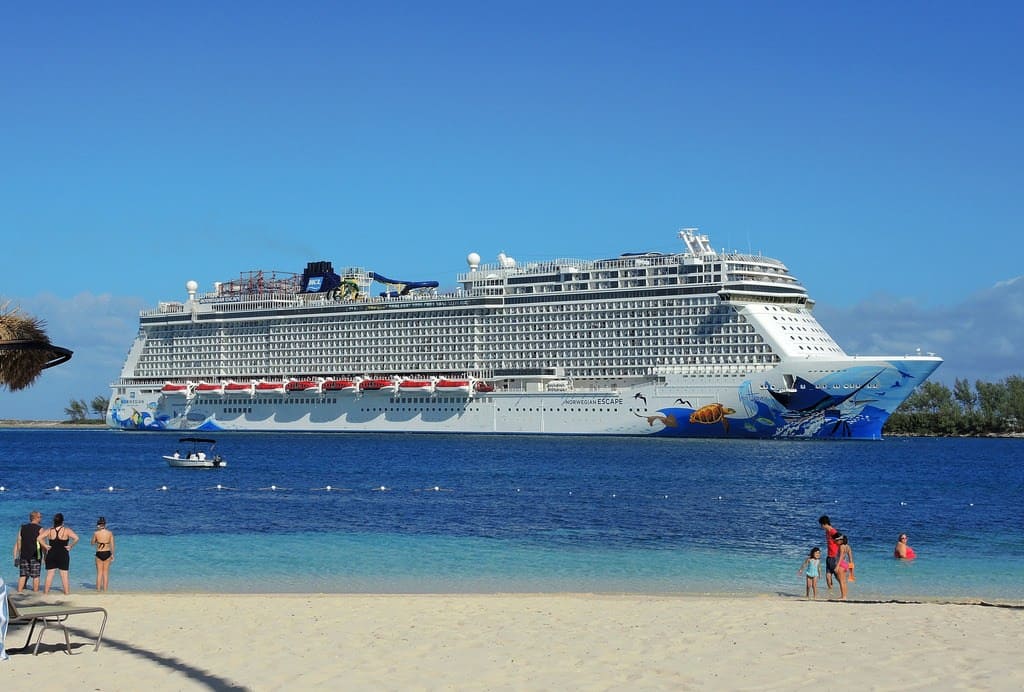 Photo credit: ustung Bahamas (Nassau) Norwegian Escape welcomes to Nassau Port via photopin (license)
I know what you may be thinking – cruises are for pensioners, right? Think again. If you'll pardon the pun, in recent decades there has been a sea change in the cruise industry. I'm sorry about that one.
But it's true – cruises have changed and so have the people who take them. So much so, that a cruise can be a great option for just about any kind of holidaymaker, with the possible exception of those with serious seasickness. For the rest of us, here are five good reasons why you really should think about a cruise for your next vacation.
1. Cruises offer exceptional value
Just think for a moment about what you spent on your last holiday. As well as flights and accommodation, you had to shell out for each meal, coffee and cocktail. These things really add up and most of us end up spending about twice what we planned to on a family trip.
Then consider the cruise: almost everything you need is included in the price – food, accommodation, entertainment and transportation between travel destinations. It is not difficult to find deals on the big cruise lines for under $100 per person, per night, which you would struggle to beat on land in most places offering similar comfort and standards.
There is a full range of cabins to suit your budget and taste, but it is the quality and choice of food and drink that can really make the difference. Ranging from cafe snacks and poolside burgers to the best in fine dining, you won't go hungry no matter what time of day you are looking to eat. On most cruises there will be some formal evenings but you can drop these if you wish and stick to the more casual restaurants.
Often the more luxurious the cruise, the more is included in the price – many upscale lines include alcoholic beverages and soft drinks, gratuities, shore tours, onboard spending credits, and even flights in the base price.
2. Visit multiple destinations but only unpack once
This is something that most people don't think about but should – once you have unpacked your suitcase and filled the wardrobe in your cabin, you don't have to even think about repacking until your last day on board. Since a cruise ship is essentially a hotel on the water, you can wake up each morning in a new city or country without having to check out at 11am and haul your suitcase across town to your new accommodation.
A cruise is also an easy way to visit some of the most exotic and different places without having to worry about being alone and with no-one to show you the highlights. The itinerary will already include the best attractions, so you don't need to spend time deciding where to go and joining a ship's tour with English-speaking guides will make sure you learn as much as you want to. You can also tag along with more experienced travellers you meet onboard or go it alone, all depending on how comfortable you feel in the particular environment.
Check out this article for some ideas for top cruise destinations.
3. Cruises are perfect for the whole family
A cruise offers something for all ages. Those readers with several children spanning from tots to teenagers will know how hard it can be to keep them all amused at the same time, and still be able to do adults stuff too.
Cruise ships figured this out years ago and offer facilities for different age groups. The youngest can play in a supervised kids area while the teens swim or play video games and the parents relax in the sun. Then the family comes together for dinner or onshore excursions. Not only are there are so many activities for children that they won't get bored, they can easily make new friends in a safe and secure environment.
It is also an excellent way to introduce young children to culture. Kids are much more interested in history and cultural experiences when they are offered in small doses. But if they prefer to stay onboard now and again they can be left in the care of the children's club where they can enjoy hanging out with their friends.
4. The sheer variety of experiences – both onboard and onshore
With regard to the itinerary itself, there will always be something new to see even if you go on a cruise each year. The companies are creative in reinventing and expanding their offerings and themed cruises are another option. You can enjoy a wine cruises, a grand prix cruise or even a tour with your favourite band – or Disney characters.
Cruise lines currently visit over 2,000 destinations from the islands of the Caribbean to the fjords of Norway, from the Mediterranean to the Baltic, from Northern Europe to New Zealand.
Then there are the facilities on the ships themselves. There are swimming pools, wave machines, gyms, ice rinks, climbing walls,, putting greens, basket ball courts, dance classes, table tennis and fitness classes. Entertainment includes spectacular shows, rock bands, a cappella groups, string quartets and cinemas.
There are spas, hair salons and luxury retail stores for those who like to be pampered. There are art and photography classes as well as historic lectures for those who like to learn something new. There are wine tastings, vodka tastings, cocktail bars, karaoke competitions, dance parties, casinos and nightclubs for those who like to be entertained into the early hours. It is of course entirely possible – and acceptable – to do nothing at all if that is what you prefer.
You won't need to feel isolated at sea, either. Today's vessels have Wi-Fi, mobile phone service and satellite TV so you can stay in touch with the real world during your cruise, should you so desire. Medical centres can provide medicine or a doctor's services if needed, and laundry facilities let you wash your clothes mid-cruise so you don't need to over-pack.
5. You can meet interesting people from all over the world
With the large ships holding 3 000 people or more, you can be assured that your fellow passengers will be a diverse bunch. You can keep to yourself if you want to, but if you are travelling alone or feeling sociable then a cruise is a great way to met new people and make new friends from all over the globe.
Even before you step aboard the vessel you can connect with cruisers using online forums and discuss forming a group for independent excursions. Onboard, you'll get talking to new people at your dinner table, at the bar or by the pool. Kids will doubtless find playmates their own age during youth activities, so they can break free of adults or their siblings.
We could keep going and these 5 reasons only scratch the surface, but should have given you ample reason to choose a cruise for your next holiday. Enjoy!