STOP PRESS: FOR A LIMITED TIME EMIRATES HAS A SPECIAL OFFER WITH FARES AS LOW AS NOK 2670 RETURN FROM OSLO-DUBAI IN ECONOMY AND NOK 13 125 IN BUSINESS CLASS! BOOK BY 5 MARCH 2015 – CLICK HERE FOR MORE INFORMATION
Photo credit: Emirates Airlines 777 via photopin (license)
Introduction
If you've read my other flight reports – including the latest one from my experience flying First Class with Thai Airways – you'll be well aware how much I love flying at the front of the plane. I mean, who wouldn't, right?
It's not that long ago since I first flew anything other than regular Economy – I hadn't even had the dubious thrill of 'Premium Economy' or whatever the latest term is these days in my first 40 years of travelling by air.
That all changed when I discovered the frequent flyer game. Or rather, when I discovered how to play the frequent flyer game properly…
But there is still a cost involved, even if it can be less than a regular ticket, and it's not always easy to find availability for an award redemption. As I've stated before, I can't really see myself ever paying cash for a First Class seat but in the right circumstances a splurge on Business Class is definitely justifiable. Airlines often run campaigns with discounted premium tickets that can make such decisions even easier.
A question I've been asked several times is which airline would I choose if I absolutely had to fly in Economy on a long-haul route – and the answer is Emirates. A package tour to Mauritius a couple of years ago included flights from London to the island via Dubai and all three of us were hugely impressed with the service.
I've been keen to fly Emirates ever since but since the airline is not a member of one of the major alliances it is not easy to redeem points for flights. However, I had already begun planning travel to Africa where Emirates has an extensive network and fares are very reasonable.
All of a sudden, fate lent a helping hand – I was contacted late last year by a travel blogger colleague who had in turn been contacted by Emirates. The airline wanted to contact bloggers based in Norway for a press trip to Dubai to raise the profile of the company in Scandinavia and beyond. Naturally I was very keen to take part but it would be up to Emirates to decide who they wanted to invite.
Well, I must be doing something right I guess because they decided that Grown-up Travel Guide was the right match for their target market – a conclusion with which I wholeheartedly agree.
And so it was that on the second day of February I arrived at Oslo airport to meet the five other chosen bloggers and the PR representative for Emirates in Norway. We had an intensive programme planned for four days in Dubai before our return at the end of the week – but the icing on this already very tasty cake was that we had been upgraded to Business Class on the outbound journey…
So here, dear reader, are my impressions of the Emirates Business Class experience. As mentioned the flights were provided free of charge, but my opinions are my own – including whether the service is worth the considerable extra cost.
The route
Emirates began flying from Oslo to Dubai on the 2nd of September 2014 and received a lot of attention for being the first airline to offer First Class out of the Norwegian capital.
Whilst it's true that in a lot of cases all all publicity is good publicity, in retrospect the main impression communicated by the media was that this was a rich man's airline – I don't think I read a single article where the price of a First Class ticket wasn't mentioned within the first couple of paragraphs.
It's rare for an airline to fill its First Class cabin and Emirates is no exception; but Business Class seats on this route sell like hot cakes. It's not hard to see why…
The damage
It won't come as a surprise to learn that there is a major price premium to pay for Business over Economy. As an example, a quick search found return flights OSL-DXB-OSL for NOK 2871 in Economy.
The fact that this is such an amazing price does make the jump up to Business even more extreme, but in any case for the same flights Business Class came in at NOK 13 712. By way of comparison, First Class would set you back NOK 30 212…
On the ground – Fast Track
With a Business Class ticket, the perks begin at home. If you live within 60km of Oslo Gardermoen, Emirates will provide a free chauffeur service to pick you up and drive you to the airport. They'll also pick you up and drive you home on the way back.
This service is available in most big cities and is, it has to be said, rather amazing. I didn't get the chance to try it out as I was coming from Trondheim – and more importantly on a complimentary ticket – but in Norway at least that is an extra with real financial value right there.
Anyway, the special treatment continues at the check-in desk. First of all, you can take a rather staggering 40kg of checked baggage (Economy is an already hefty 30kg and First Class is a frankly almost ridiculous 50kg). If you are planning on doing a LOT of shopping, have a pathological aversion to travelling light or are moving house this might be worth remembering.
In all seriousness though, it is quite easy to tip over the 20kg or 23kg limit and if this happens it can prove expensive – so factor this in when considering ticket prices.
You of course get to skip the lines at check-in, too – the Business Class desk rarely has a queue and after receiving your boarding pass and saying adieu to your massive suitcase you can speed through the fast track lane at security too. The regular queues were quite lengthy when it was my turn so I appreciated this bonus.
On the ground – OSL Lounge
I've written slightly disparagingly about the lounges at Oslo Airport before, but they're actually not bad and a whole lot better than sitting at the gate if you have time to kill before your flight. This was my first time in the OSL Lounge which is used by several airlines at Gardermoen. I have visited the SAS/Star Alliance one several times before – and the OSL was actually a little nicer than its main rival.
There was a reasonable range of snacks and drinks but as with most lounges (at least in Europe) it's not the place to come if you are starving hungry. It was peaceful, the chairs were comfortable and WiFi was free and fast – so it ticked the right boxes.
I couldn't help feeling that Emirates would probably like to be able to offer something better themselves – and I wouldn't be at all surprised if open their own lounge in the future.
Boarding
Our representative had arranged for us to board early in order to take some photos and have a sneak peek at First Class before the rest of the passengers arrived, so we headed to the gate with plenty of time to spare.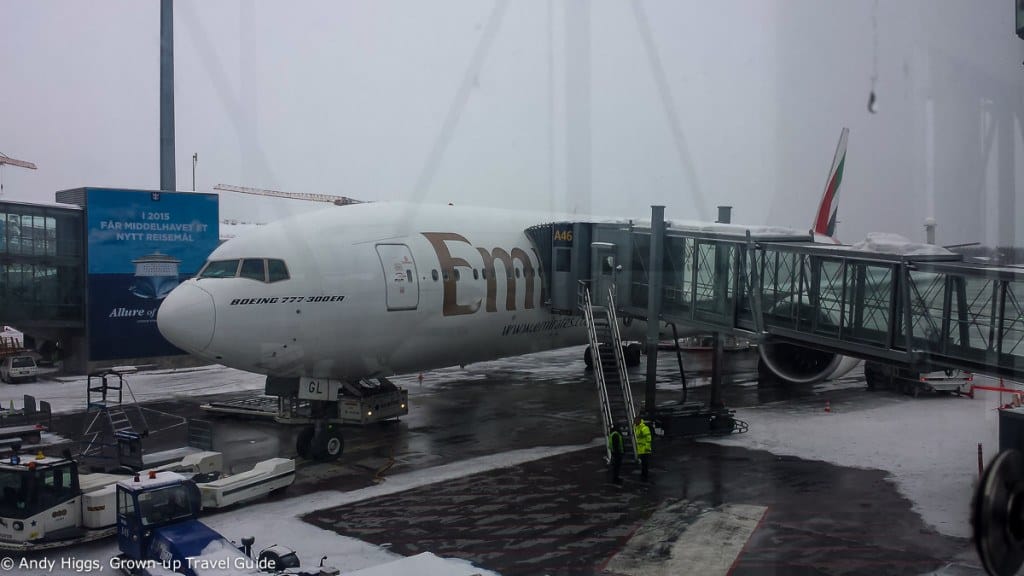 The 777-300ER was waiting to take us from the snow of Norway to the sands of Dubai – and we could hardly wait to get on board.
Since I flew Business Class it seems wrong to post photos of First Class here as we were only in the cabin to have a poke around, but suffice to say it looked pretty incredible. Self-contained suites with sliding doors for maximum privacy, huge TV screens and your own minibar? I could live with that.
Rest assured if I ever get the chance to experience it, you will be the first to hear about it – but let me tell you about my time in seat 6B…
The seat
Like I said, we had a few minutes to shoot some video and photos and this is what I put together to give you an overview of the Business Class cabin:
Not too shabby, eh?
I had the seat on the left in the picture above.
For an overview of the layout of the Emirates Boeing 777-300ER see the seat map here at SeatGuru.com.
The seat was very comfortable and more than wide enough for a 45-year old English guy with a steadily expanding waistline.
Is there any more appealing control button for an airline seat than one showing a bed? These are in fact just the one-touch controls for three positions, fine adjustments can be made using the extremely snazzy wireless, touchscreen controller docked in the opposite armrest. More on that later.
When you want to relax the seat converts to an angle-flat bed. This is my first niggle – a flat bed is always great, but it's a LOT better to sleep in a fully horizontal position. I do understand that there are space considerations here and I am being very demanding in wanting a fully-flat bed in Business Class, but it certainly would be wonderful. But that's just one reason for the price differential up to First Class, I guess.
Now don't get me wrong – this is a whole different proposition to Economy Class and it's not difficult to sleep at a slight angle. But since Emirates over-deliver in so many other areas, it's probably only a matter of time before they provide fully-flat beds in Business.
 A basic amenity packet is provided with eyeshade, earplugs and socks and a bottle of water can be found in the seat pocket. A pillow and blanket are also waiting for you. 
Within a few minutes of getting comfy our hostess introduced herself, explained the functions of the seat and monitor and offered a pre take-off drink. Champers, natch.
Due to the freezing weather in Oslo we had to have the plane de-iced before we could set off for Dubai, so we left a little later than scheduled.
The entertainment
Each seat has its own 20″ LCD screen operated with a wireless touchscreen controller. On several occasions the connection to the controller dropped out and I had to put it back into the dock. I seem to have been unlucky here as nobody else had this issue.
Anyway you can also use the older wired controller or indeed touch the monitor itself.
Emirates has one of the best entertainment systems I've had the pleasure of zapping through – with an incredible 2000 channels it's going to take one hell of a difficult passenger to not find something to their taste.
The seats have AC and USB power outlets for powering up devices and it is possible to raise the dividing screen which is about head height if you want extra privacy from your neighbour.
The food and drink
We were presented with a menu from which to choose; here are some of the most important parts:
As this was a daytime flight we would be served lunch then a snack before arrival:
That's more of a full dinner than a lunch in my book, but no complaints 🙂
Obviously it would be rude not to have dessert, too.
The lamb was excellent, as was everything we were served…
…right down to the coffee, cognac and chocolate.
After dinner I settled down for some relaxing entertainment.
If you haven't seen it yet, I'll not spoil it but suffice it to say that it managed to scare the **** out of me – and indeed alarm my neighbour, who struggled not to watch out of the corner of her eye…
I lightened things up with 'The Trip to Italy' and a few episodes of 'Modern Family' before a quick nap. When I woke it was time for more food, believe it or not – and then we began our descent into Dubai at least five hours before I really wanted to. What I'm trying to say here is yes, I enjoyed it. A lot.
The conclusion
So there you have it – Emirates Business Class is an excellent product and for longer flights it is genuinely worth considering the extra outlay. As you may know I have a personal limit of about 7 hours before I start to lose it in Economy (much less if it's a bad airline, of course) so Oslo to Dubai is bearable. On the return journey we flew in the back of the plane and it confirmed my previous view that Emirates is way ahead of the pack here.
If, like me, you believe that a holiday begins when you leave the house and the flight is just as important as the hotel room, or if you need to arrive refreshed at your destination, or perhaps have to drive as soon as you land or are travelling with someone who isn't great on planes – you have all the excuse you need.
Well done Emirates – not only do you rule the skies when it comes to Economy Class, you're right up there for Business Class too. Now all I need to do is find a way to test First Class…
Flight report – vital statistics
Type of aircraft: Boeing 777-300ER
Emirates Flight 160 Oslo Gardermoen (OSL) – Dubai International (DXB) on Monday February 2, 2015
Class flown: Business
Departure time: 14:05 
Arrival time: 23:45
Duration: 6 hours, 40 minutes
Business Class configuration: 42 seats in 2-3-2 layout. 
On board-internet: No
Type of seat: Angle-flat
Seat width: 20.5″
Monitor size: 20″