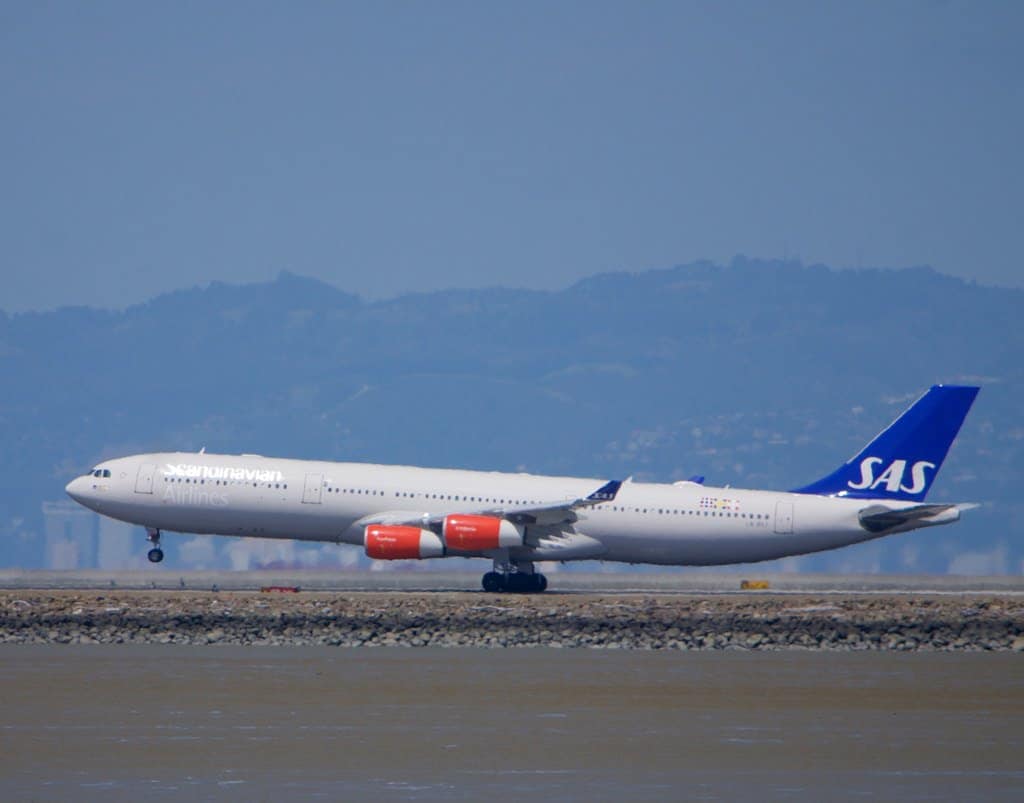 Photo credit: wbaiv SAS Airbus A-340 touchdown SFO DSC_0737 (1) via photopin (license)
I know, you were probably thinking that it had been blissfully quiet on the Business Class bragging front recently but I'm afraid this post is going to shatter the peace. After being banished to the rear of the plane for an eternity (well, a little over six months) this year's EuroBonus splurge finally came around.
Frequent flyer scheme addicts like myself living in Europe complain constantly – and justifiably – about the limited offers available on this side of the pond. Not for us the juicy credit card sign-up bonuses enjoyed by our American cousins; we have to scratch and scrape together points as best we can and most of us actually earn our miles through (gasp!) flying.
However, there are a few bright spots in this bleak outlook. For those of us living in Norway, SAS EuroBonus is about as good as it gets. Although the scheme has been savaged on a regular basis over the years, those short-hop flights can add up and Silver status is easily attained. And there's more – American Express has a EuroBonus branded card which allows you to earn points on your regular spending. Now it is true that Amex is not widely accepted in grocery stores here but for online shopping and major purchases like holidays and flights you are should be fine.
As is usual with such schemes, you need to get hold of the most expensive version (Platinum, in this case) which will cost more in annual fees but awards you more points for your Kroner. Try to apply during one of their campaigns where you are given a 20,000 point bonus when you first use the card.
But this is only half the story – if you achieve an annual spend of more than NOK 100,000 you will be sent a Companion Ticket. This offers you either 2-for-1 award redemption where two people fly using the points normally required for one passenger or a 'half-price' redemption for one person. The added bonus of the Companion Ticket for Platinum cardholders here is that you can use it on any Star Alliance airline rather than just on SAS; but you will have to pay some hefty charges whereas these are minimal on SAS.
I always look for the best value when redeeming points, which basically means long-haul Business Class with the longest haul possible. First Class is a dying breed and great if you can get it, but generally it is far harder to find availability as airlines often restrict the use of points in their premium cabin.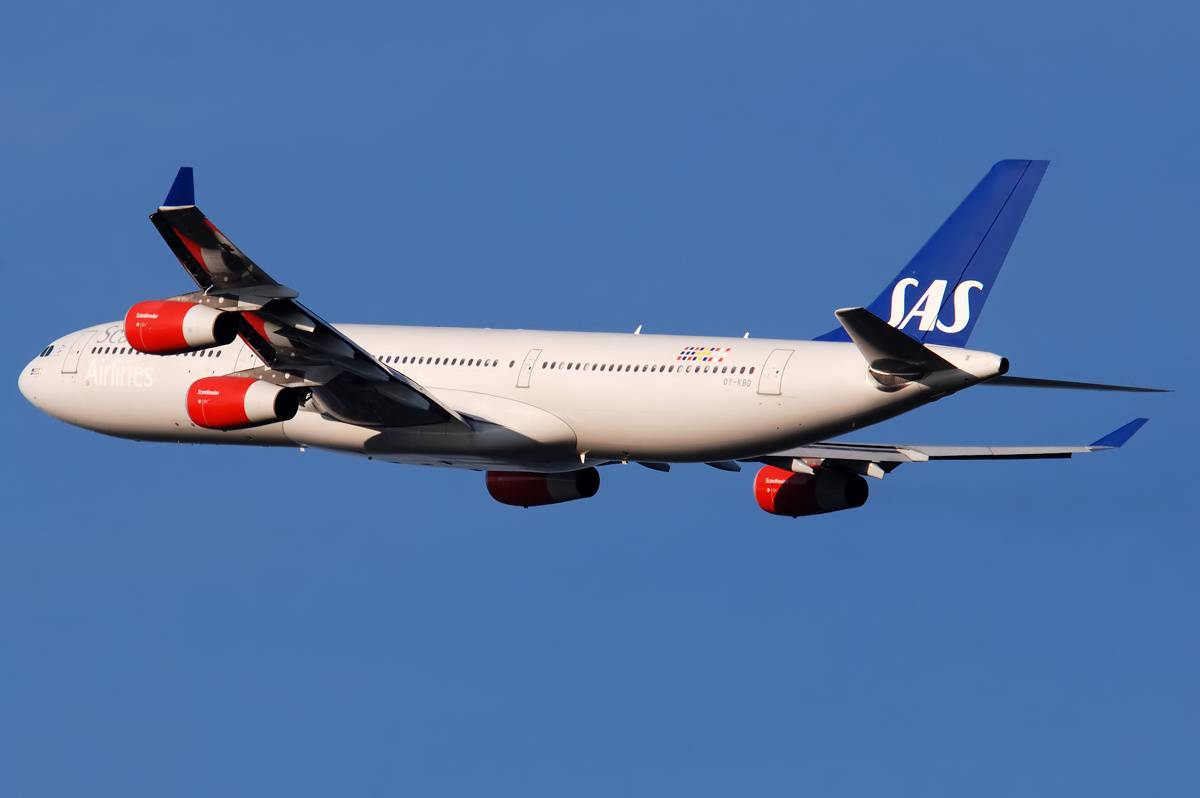 Photo credit: Drewski2112 SAS OY-KBD via photopin (license)
Ever since SAS completed the refurbishment of its fleet with new Business Class seats I had been itching to give it a try. Looking for the longest flights on its route network, Tokyo, Los Angeles and San Francisco were the most appealing options and of course I would fly to Chicago at the drop of a hat, even if it does mean a few hours less in a fully flat seat.
I had to redeem the Companion Ticket before the end of 2016 and was running out of time, so after finding availability from Trondheim to Chicago I settled on that. Just 50,000 EuroBonus points for the entire trip from Trondheim to my favourite city in the world was a no-brainer, clearly.
A couple of months later, however, my plans changed – I didn't want to say no to a road trip in Latvia, so I went online to find an alternative redemption. One of the great features of EuroBonus awards is that you can change them without penalty, and I began looking for my dream destinations again. Imagine my surprise when I found availability to San Francisco! I have wanted to visit the city as long as I can remember and while I was only able to secure Business Class on the outbound leg of the trip at least I would be able to test it out for 11 hours or so.
If you think that was a but of luck, just wait. As the departure date approached I went online to check if any seats had opened up for Business Class on the return – the most important part, as it's a night flight and being able to sleep is a huge bonus. A dreary Wednesday morning in October was instantly transformed into the best day of the week when said seat appeared and I managed to change my route again to snatch it. Business Class all the way, baby!
This rather convoluted story explains how I was able to spend a total of about 22 hours in the new SAS cabin to find out if the Scandinavian airline could finally match its rivals like Lufthansa, Emirates and Etihad.
This article covers both flights with SAS; the daytime journey to the States and the red-eye back again, as well as some details on the lounges available to passengers flying Business Class on this itinerary.
The route
The entire route was relatively straightforward: Trondheim – Oslo – Copenhagen – San Francisco – Copenhagen – Oslo – Trondheim. SAS doesn't have Business Class on its short-haul routes so those flying on such an award redemption get the best they have to offer for those sections, which is SAS Plus. It's basically Economy with free food and drinks (including booze) which makes it a step up, at least.
You also get Business Class check-in and the higher baggage allowance (an extra case in the hold) as well as Fast Track through security and lounge access where available.
The damage
As mentioned I used a Companion Ticket so that I only needed to scrape together half the regular number of points – 50,000 instead of 100,000 – and fees came to a total of just NOK 698.
That's quite a difference from around NOK 5,000 that you can be charged in fees for flying on Lufthansa with a EuroBonus award…
On the ground – the SAS lounge, Trondheim Airport
My home airport has recently added a basic lounge at airside for those with such access, and being able to use the Fast Track lane (another fairly new innovation) shaves a little off your total time spent getting through to the gate.
There is a very small selection of food but free coffee and cold drinks, so it's a reasonable place to kill half an hour or so. The whole airport has free and fast wifi so you don't need to go to the lounge for that – but I would say the coffee is the biggest draw.
On the ground – the SAS lounge, Oslo Airport
Much the same can be said about the lounge at Oslo Gardermoen Airport too, although it is more spacious and has alcoholic drinks as well as a slightly more extensive food selection. But it does offer a peaceful place to pass the time away from the noise of the main departure area and somewhere to get some work done.
Boarding – Copenhagen Airport
On the outward journey I had no time to pop into the lounge at Copenhagen – the San Francisco flight was already showing as "Boarding" on the information screen when I stepped off the plane from Oslo.
Luckily Kastrup is one airport where short transit times are usually okay and I made it with time to spare. This was also due to the fact that the flight wasn't boarding anyway. This has happened to me a few times recently and I suspect they airports are making the announcements early to encourage passengers to get a move on to the gate.
Those of us at the front of the plane boarded after those with small children and needing assistance, along with an irate Danish guy who refused to wait when others were let on, even though he was in Economy.
The seat
As usual I tried to find the best seat possible by reading reviews and checking Seatguru.com. The SAS Business Class cabin on this aircraft (and probably others) is the same as that used by Etihad in that the window seats are staggered; this means that only every other seat is actually next to the window. You can see this in the photograph below.
This means that for maximum privacy and to avoid being disturbed by people using the aisle, you should aim for an even-numbered seat.
I managed to bag seat 4H when online check-in opened and I was very pleased to have done so.
First impressions were great. I loved the colour scheme and general design. The high "wall" adds to the privacy and makes you almost feel like being in one of those fancy suites. There was a good amount of storage space at the side of the seat along with a handy shelf.
There are also no less than three power points (a regular one that accepted most standard plug types and two USB versions, one of which was in the TV screen). The overhead locker was spacious and shoes etc. could easily be placed beside the seat itself on the floor.
Legroom was very good and the fully-flat seat was both long and wide enough to enable a good night's sleep for most people. I liked the 'mood lighting' feature and the fact that the firmness of the seat/mattress was adjustable.
A massage function is always welcome and the controls for the seat were conveniently positioned and easy to understand.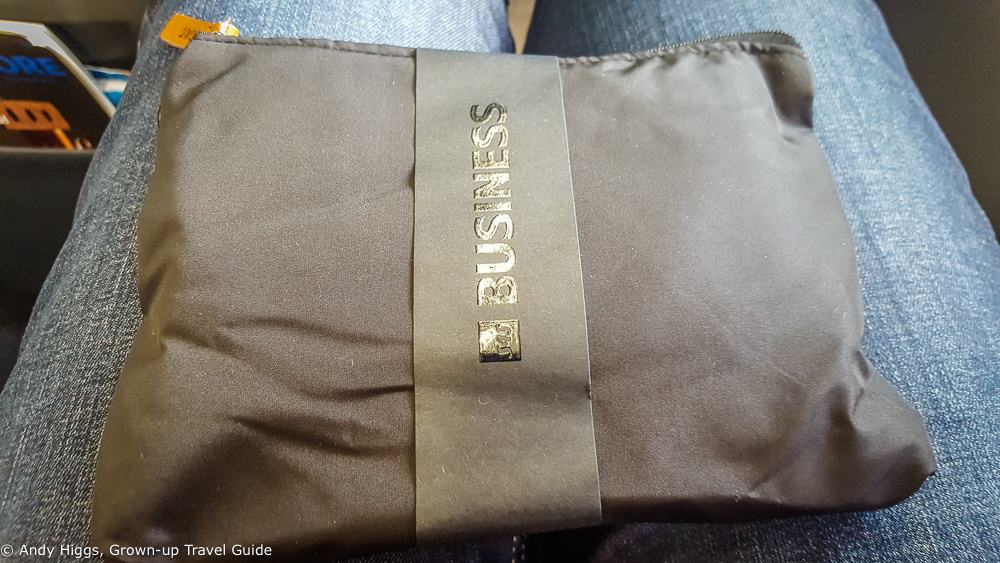 The amenity kit was a standard affair but nicely presented, containing eye shades, socks, a toothbrush and toothpaste, hand cream, ear plugs and headphone covers.
A pillow and soft, thick duvet/blanket were also provided. A decent set of noise-cancelling headphones were waiting for me too.
The entertainment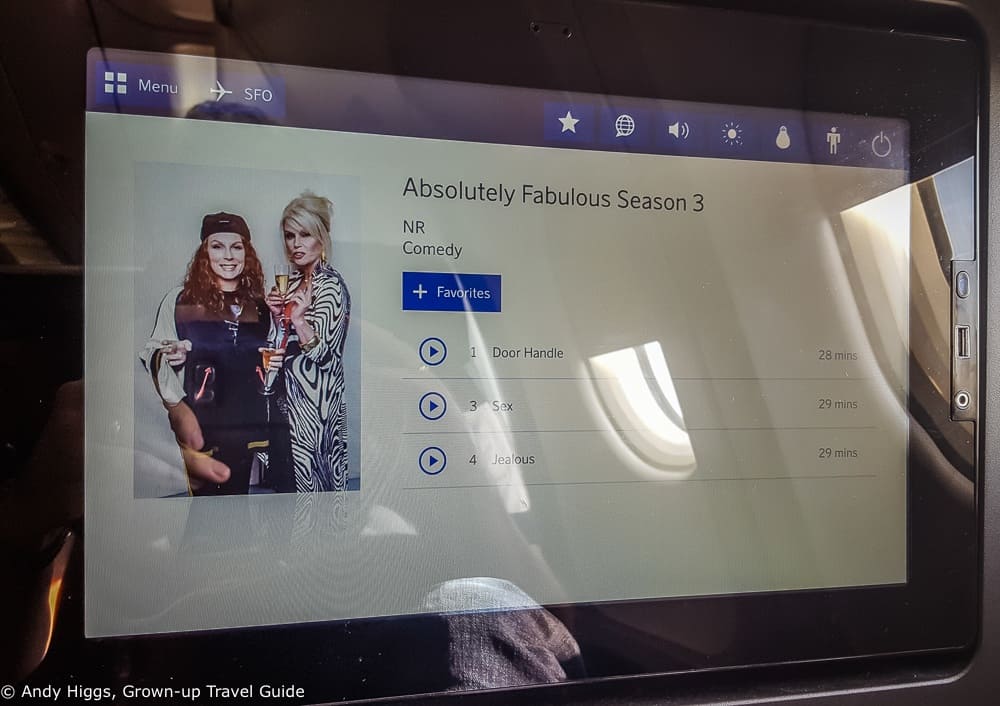 Each seat has its own 15.4 inch LCD monitor, operated via a wired handset or by using the touch screen functionality.
Entertainment is an area SAS could work on. I found the range of films and TV series to be very limited compared to other airlines, and the fact that only a couple of episodes was offered from most series was a let-down.
That said, I did find enough to keep me occupied but I think that was more because I hadn't been to the cinema (or flown long-haul) in months.
I think it's time for a quick video from the flight, don't you?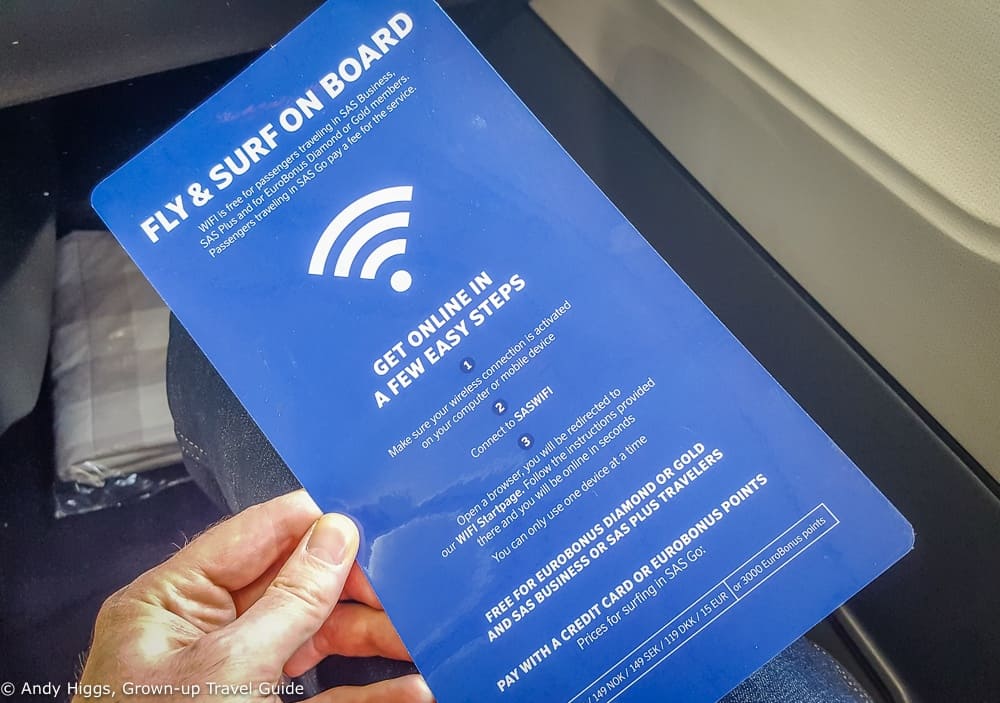 Another option for passing the time is to make use of the onboard wifi, which is free to Business Class customers. It worked well, too and was fast enough to be a viable option for working or entertainment purposes.
We were warned that there would be a 'dead zone' over Greenland where no internet would be available, and this indeed proved to be the case but only lasted an hour or two.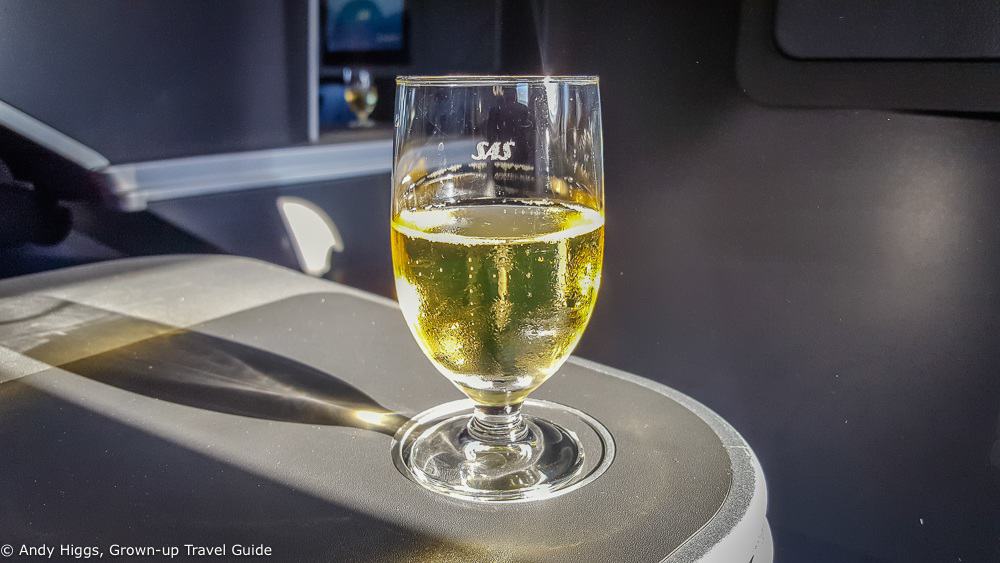 I was soon offered a hot towel and pre-departure drink. Champagne? Check.
The food and drink
SAS has clearly put a lot of thought into its inflight menu and service.
As well as a great selection of food, the airline has its own cocktails and a line of beer specially produced by Mikkeler of Denmark – all of which have been developed to taste better at altitude.
I suppose you could call it a gimmick but it's a neat one, and I had no complaints over the quality.
For the daytime, outbound flight to San Francisco there was a three/four course dinner served after take-off and a snack bar was available in the galley through the flight with snacks and drinks to which passengers could help themselves.
There was an excellent choice of drinks, too including very good coffee.
I enjoyed the Pale Ale with some peanuts as a pre-dinner tipple.
With my 'table' set, I ordered the red wine and food service began. The sourdough bread was delicious.
One aspect I really liked was the way the crew put together salads to order on the trolley; it almost gave the whole experience the feel of being in a restaurant. Well, almost. In any case I thought it was a nice touch.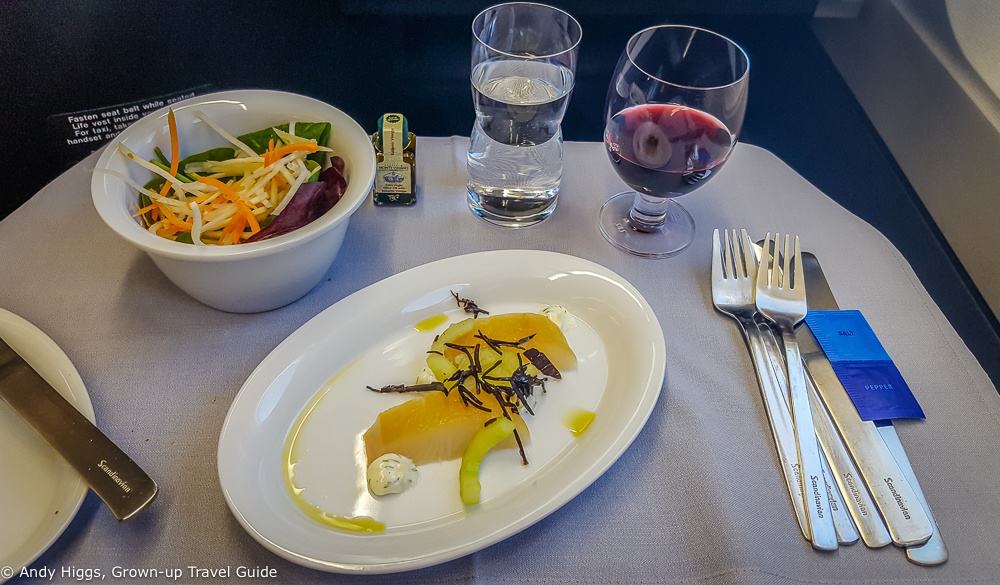 I took the halibut as a starter, which was very tasty.
The pork shank was tender and perfectly seasoned and served with mushrooms and French beans.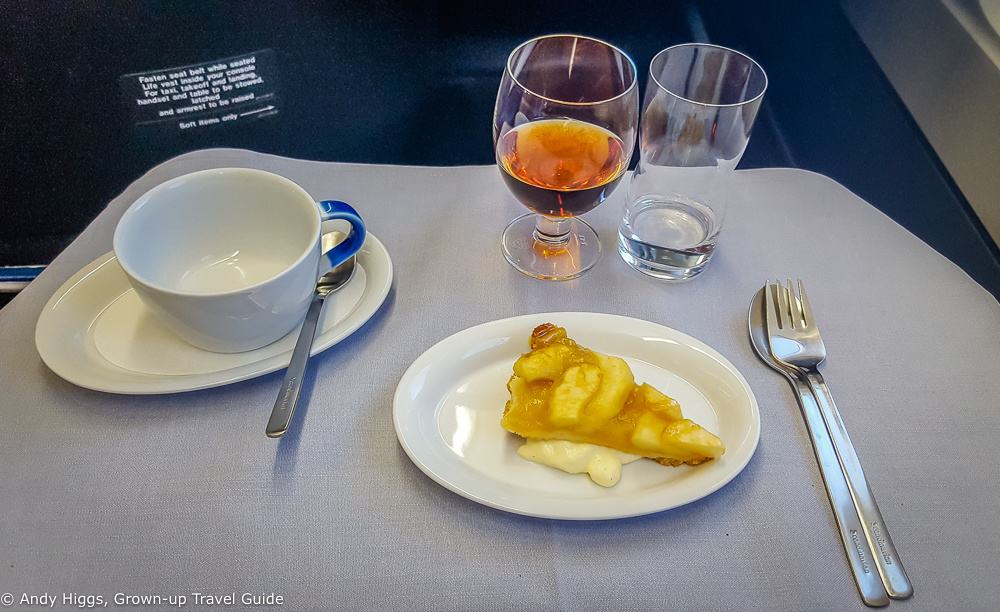 There was no faulting the organic apple tart dessert either – on the contrary it was lovely.
Shortly before landing the second meal was served, which consisted of perfect Nordic salmon with a custom-made salad put together by the flight attendant.
The menu was different on my return flight: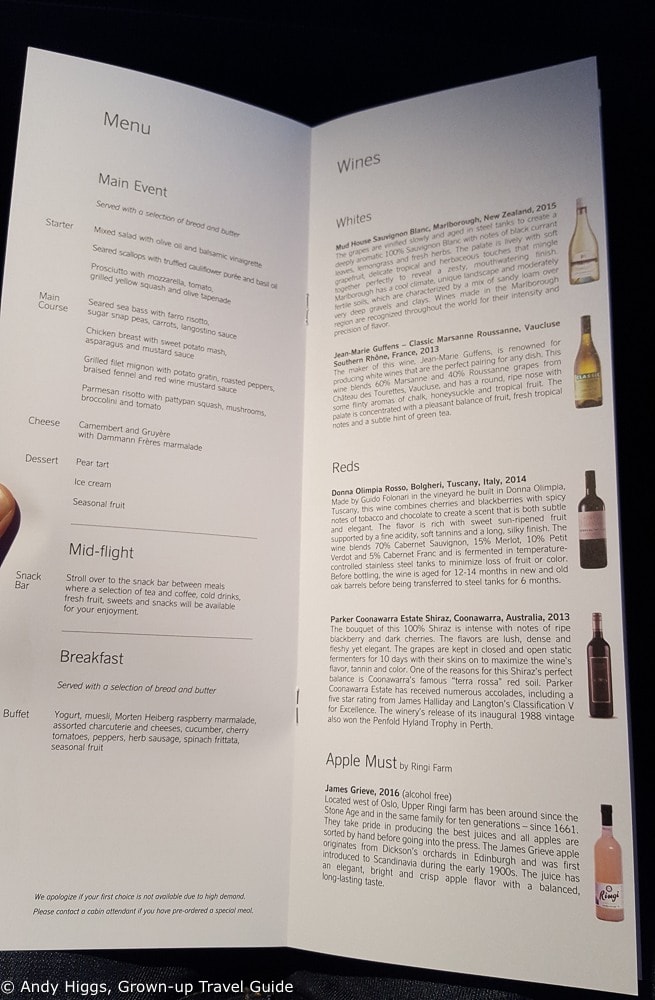 Being late in the evening I decided on a cocktail to start.
The 'Take Off' is made up of gin, Cointreau and bitter lemon and be warned – they serve 'em strong.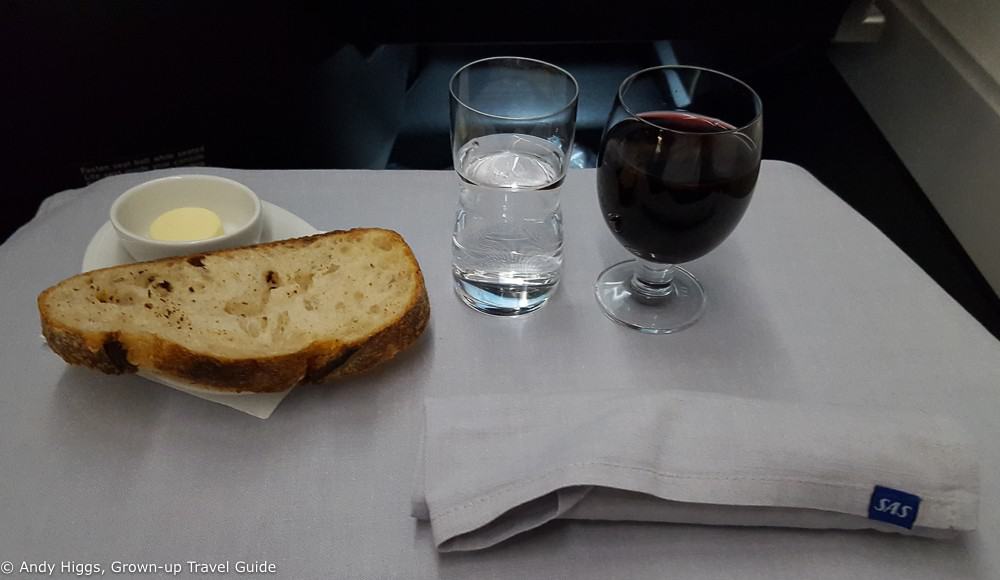 Again dinner was served not long after take-off and began with bread and a salad.
I had red wine with my meal, which started with scallops – very nice too.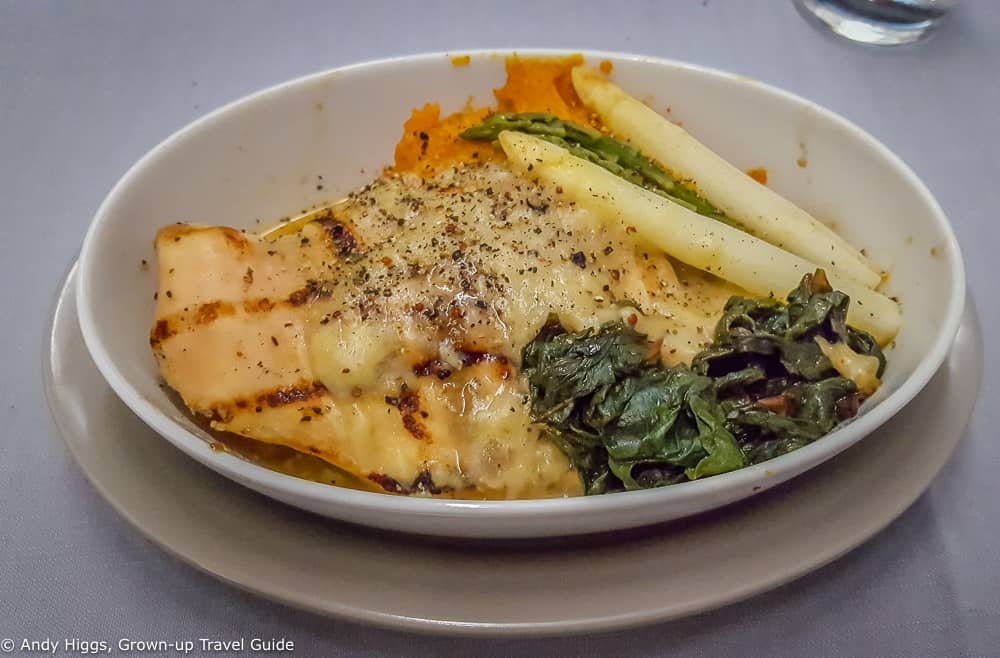 For my main course I chose the chicken breast with sweet potato mash, and didn't regret it.
I chose a fairly light breakfast the next morning and reached the conclusion that SAS offers some of the best in-flight dining that I have experienced in its Business Class – I was very impressed.
The flight
We took off on time and service was excellent; the attendants were attentive and friendly.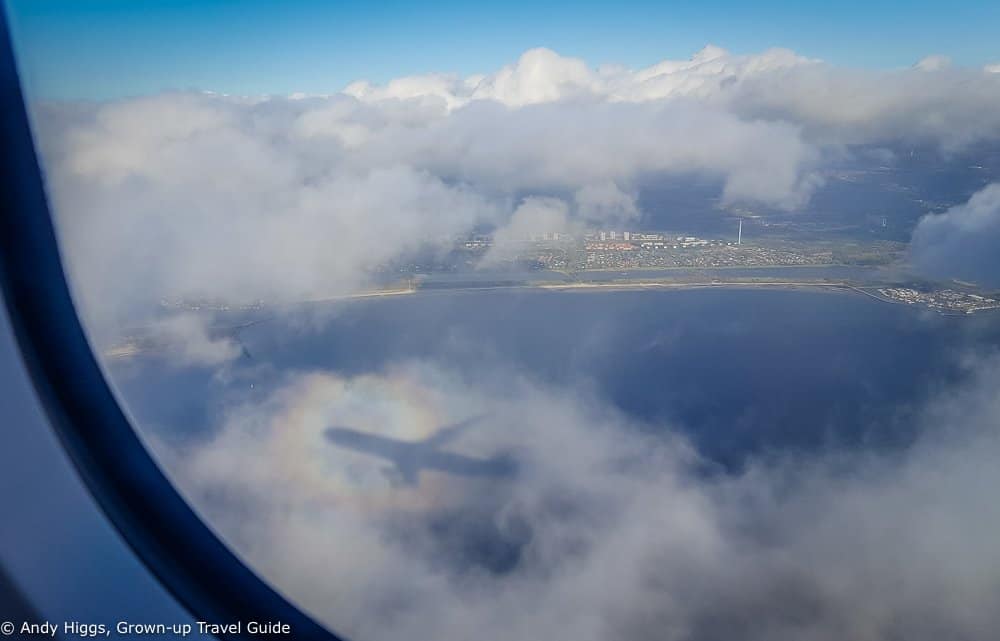 As we left Copenhagen I managed to get a well-timed photograph…
I managed to sleep for several hours on the way back from America – I found the seat and bedding to be comfortable and the cabin temperature and lighting made it easy to doze off.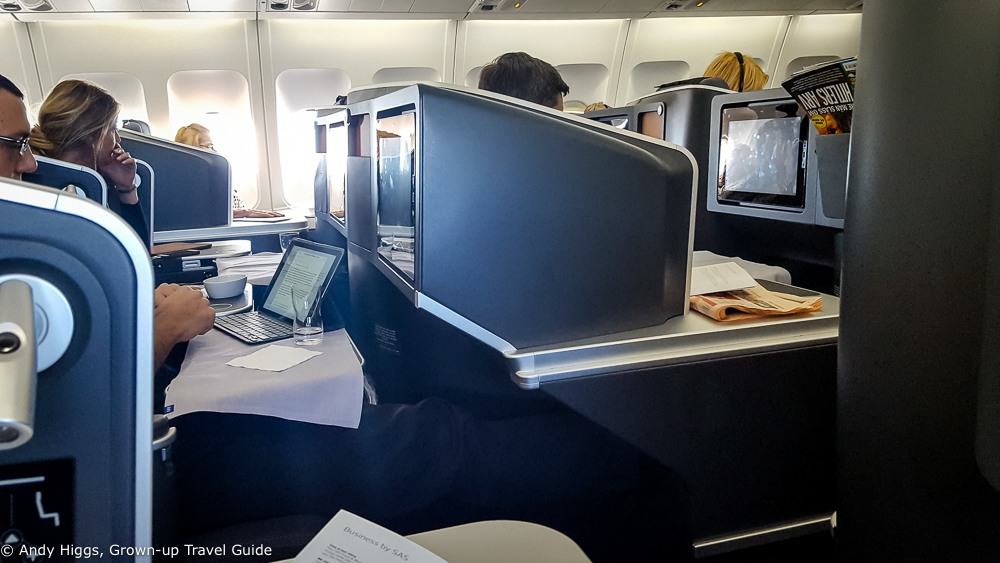 I actually did some work in the air too – the onboard wifi was a bonus and the spacious seat with plenty of power sockets helped too.
Flying over Greenland – it looks cold down there!
As we neared San Francisco my excitement level rose even higher as I was really looking forward to my first visit to the city – and indeed my first time on the west coast of the USA.
The weather was characteristically grey and overcast – but warm – when we landed and I was prepared for the usual long wait in immigration.
So imagine my surprise when I was at baggage reclaim before my case – a situation I have never been in before on arriving in the US. It took me 9 minutes from leaving the plane to sail through immigration, where there was practically no queue.
I'm guessing that (a) I was extremely lucky (b) being one of the first off the plane helped and (c) our plane was the only one arriving at that time. Whatever the reasons, it was an almost surreal moment.
I collected my bag and headed out to find a shared van to my hotel, the San Remo – a full review is coming soon.
Boarding – San Francisco Airport
I arrived in good time for my return flight as I wanted to check out the lounge facilities at San Francisco airport.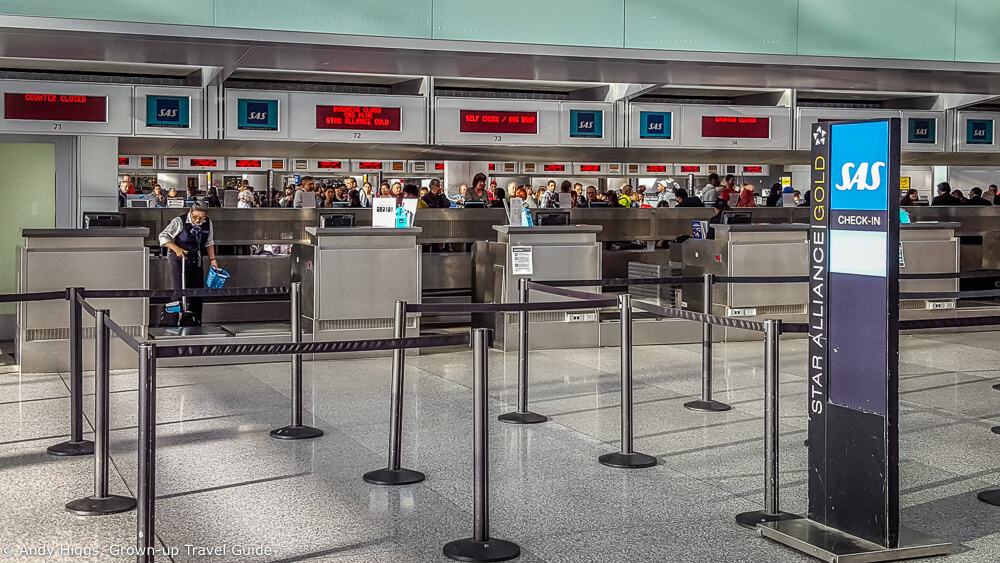 Check-in was a breeze as there was no queue at the Business Class counter and I was also able to use the Fast Track lane at security.
On the ground – United Club Lounge – San Francisco Airport Terminal 3
Those travelling on Star Alliance with lounge access can choose between two United Club lounges in Terminal 3, both of which seem essentially identical in terms of facilities.
The one I visited was very large (spread over two areas divided by a lobby with escalators from the ground floor) with a bar and a limited range of hot and cold food.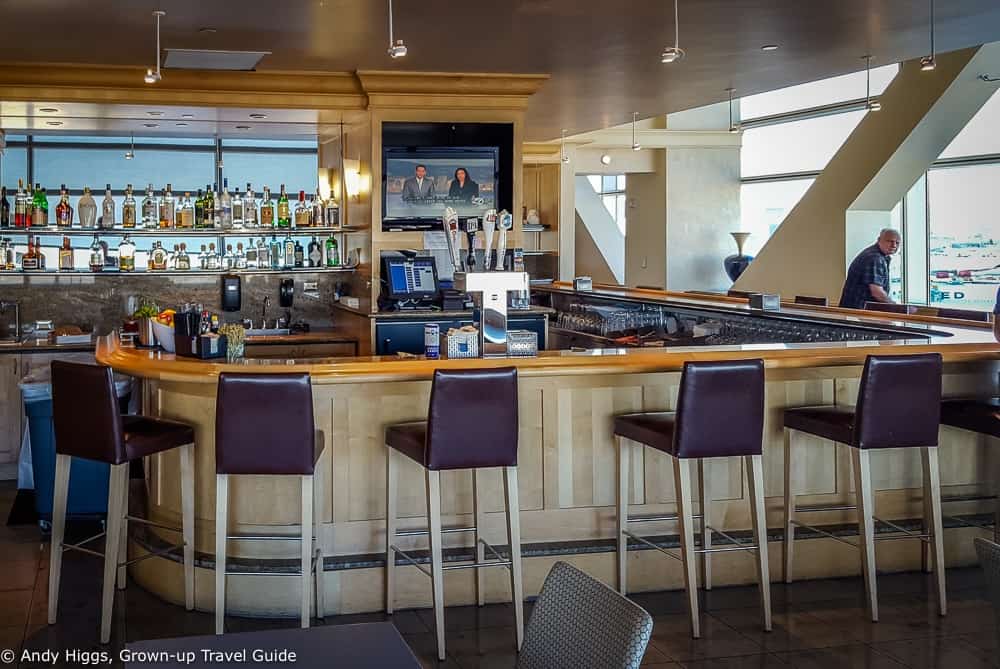 Naturally I hit the bar first, and was pleasantly surprised to find a couple of craft beers on tap and in bottles. Unfortunately these are not free; the only free beer is the usual nasty industrial stuff – you have to pay for anything drinkable.
I went for (free) red wine instead.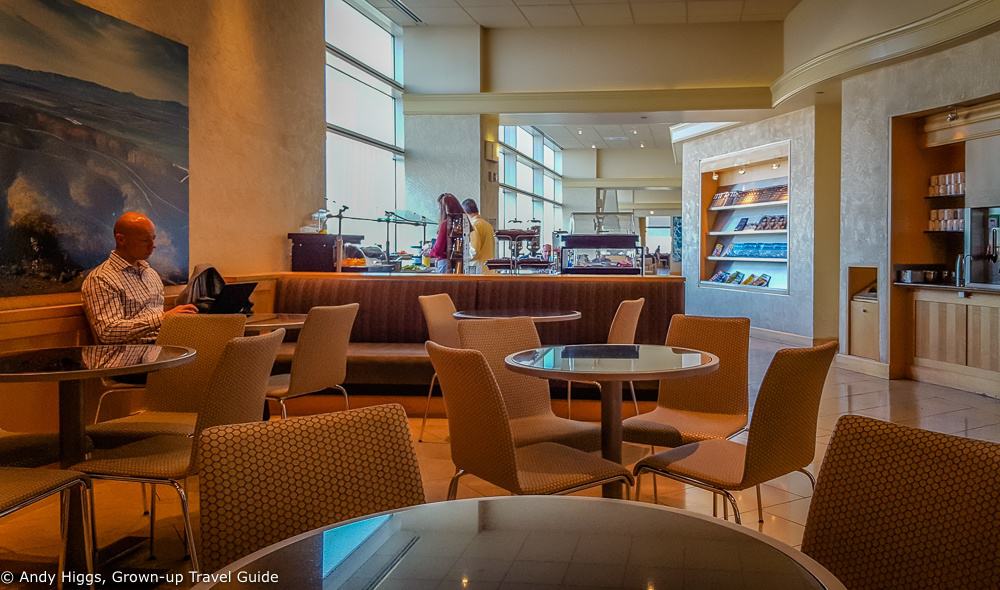 The lounge offers some respite from the noise of the departure area but no showers or anything that makes it stand out from the competition.
On the ground – the SAS lounge, Copenhagen Airport
I had 45 minutes in Copenhagen on the way home after almost 11 hours of flying so headed straight for the SAS Business Class lounge. This is another level up from the one at Oslo, with yet more space, food, drinks and best of all – showers.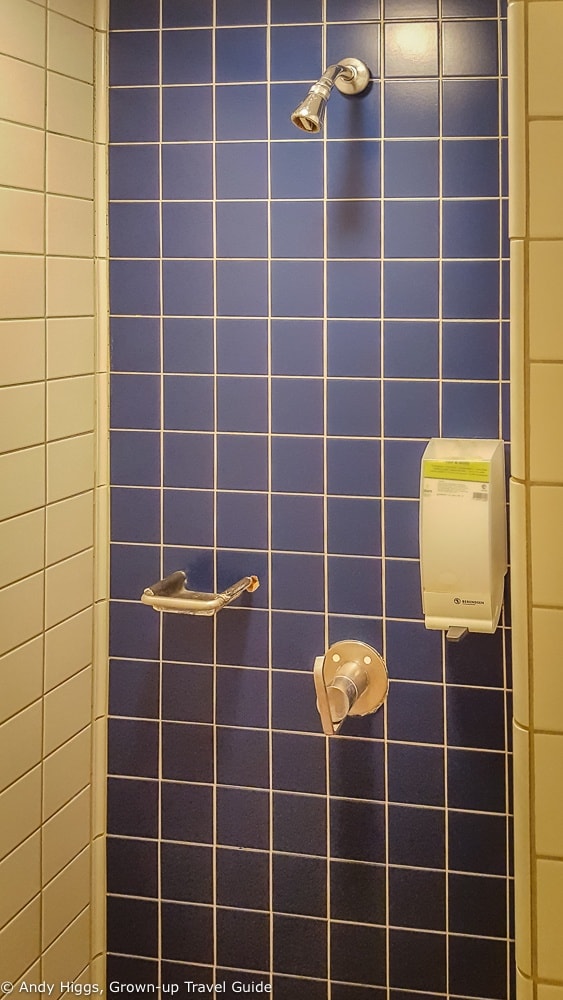 You rarely have to wait long for an available bathroom and as long as you remember to pack a change of clothes in your hand baggage, having a warm shower after a long haul flight is a godsend.
I did this on the way back following a night in the air and it made a huge difference to my enjoyment of the return leg. Towels, shower gel and shampoo/conditioner are all provided.
The conclusion
This was a superb experience – I was a little unsure whether SAS would be able to meet my high expectations after having flown several other airlines in Business Class, but with their new cabin they have a world-class product.
The seat is wonderful and very comfortable even for tall folk such as myself. The catering is excellent too and the service can't be faulted. In flight wifi and exclusive cocktails and beer are nice extras that help the airline stand out from the competition.
The only area in need of improvement is the range of entertainment offered – so I hope they work on that in the future.
I can heartily recommend SAS Business Class when flying long-haul – I just wish they would start a few African routes and then I'd have no reason to choose another airline.
So start saving those EuroBonus points – or those pennies – you won't find a much better use for them.
Flight report – vital statistics
SAS Flight 935 Copenhagen (CPH) – San Francisco (SFO) on Thursday October 27, 2016
Airbus A340-400
Departure time: 12:25 
Arrival time: 14:45 Local time
Duration: 11 hours, 20 minutes
SAS Flight 936 San Francisco (SFO) – Copenhagen (CPH) on Tuesday November 1, 2016
Airbus A340-400
Departure time: 18:30 
Arrival time: 13:20 Local time
Duration: 10 hours, 50 minutes
Business Class configuration: 40 seats in 1-2-1 layout
On board-internet: Yes (free in Business Class)
Type of seat: 180 degree fully-flat
Seat width: 20″ (upright) 23″ (fully flat)
Lie-flat seat length: 6′ 4″ (1.96 metres)
Monitor size: 15.4″