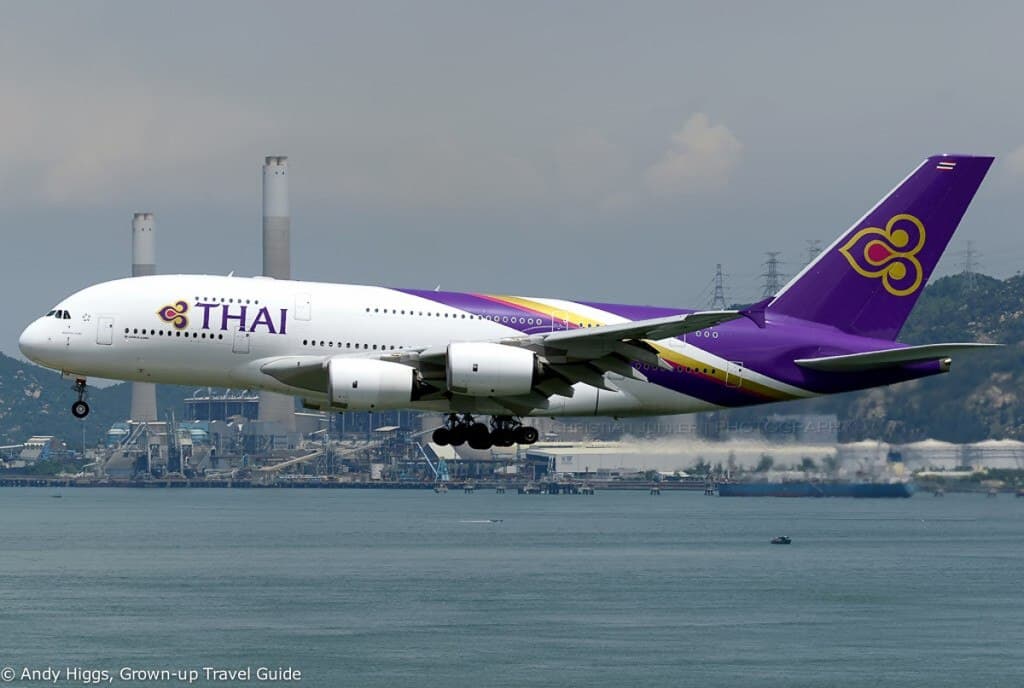 Photo credit: Christian Junker – AHKGAP via photopin cc
Introduction
A word of warning before we go any further here; this particular flight report is almost guaranteed to be divisive. Readers will be divided into those who find my tales of excess deeply irritating and those who find my tales of excess deeply irritating but are simultaneously curious as to how they too could enjoy such luxury without selling a kidney or similarly valuable body part.
I can't do much about the first group but can at least point the second to our series on frequent flyer programmes and how to get the most bang for your buck. It is true that the method I used on this particular occasion is no longer an option; but there are plenty of other ways to achieve the same result.
As you may remember I had my second-ever experience of First Class back in 2013 which was also with Thai Airways but in one of their older aircraft. It was nevertheless an amazing flight and I was pampered to a degree I hadn't realised was possible in a flying metal tube 30,000 feet up in the sky. It was also a nice step up from my maiden voyage in the front cabin with United back in 2011.
And so the pattern continues: I've been fortunate in that each First Class flight has managed to exceed the previous one and yet all three were fantastic. But then they should be, right?
When I was planning my third trip to Bangkok last year US Airways was on its way out of Star Alliance and into OneWorld due to the merger with American. Whilst the airlines had in fact become one the frequent flyer programmes remained separate and there was a transitional period during which award tickets could still be obtained under the 'old' rules. Now there will be a lot of amazing redemptions possible using US Airways miles on OneWorld airlines but Thai Airways isn't going to be one of them as they are of course staying put in Star Alliance.
So, armed as I was with a large number of US Airways miles bought at a huge discount (under half price) I decided that rather than banking them for the future I'd blow most of them on one last splurge. It had to be First Class – and it had to be the A380. I knew how good Thai service was from my previous outing in the premium cabin; now I wanted to check out the facilities on their very new monster plane.
With no First Class on their routes from Norway I needed to hunt for the best – and longest – route on which I could find available seats. It took an hour or two but I found space on the Paris – Bangkok route and back in to Frankfurt. Sweet.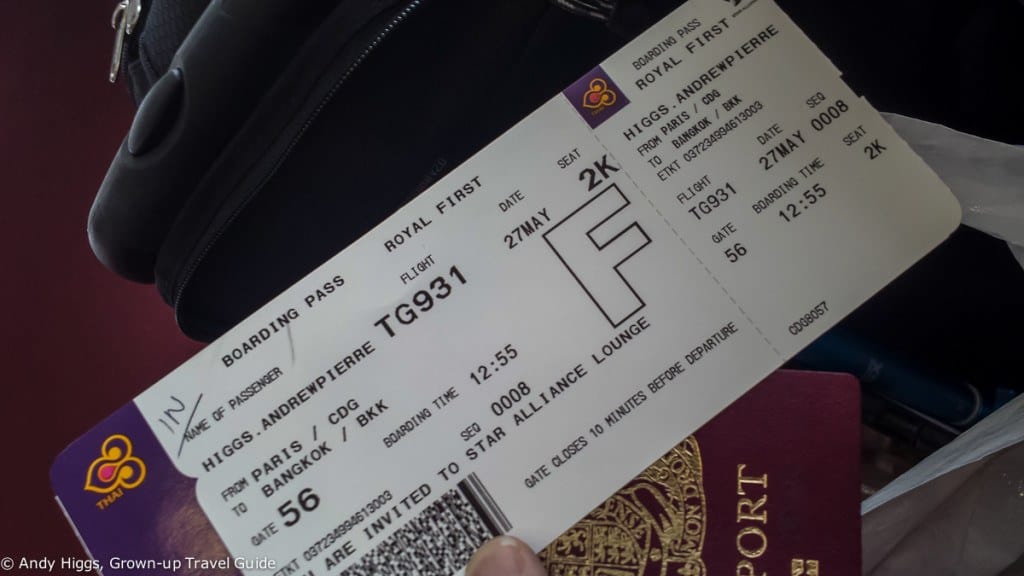 I duly called the US Airways reservation centre in the US and as before I presented the entire routing with flight numbers to the operator on the other end of the line. I wasn't quite as lucky as in 2013 as this guy priced it correctly; but I can hardly complain about that. For 90,000 miles and USD 151.79 in fees, I got my confirmation.
All in all I paid a total of around USD 1700 and when offered the option of keeping my miles and paying cash the entire journey was quoted at over USD 10,000. Yes, really.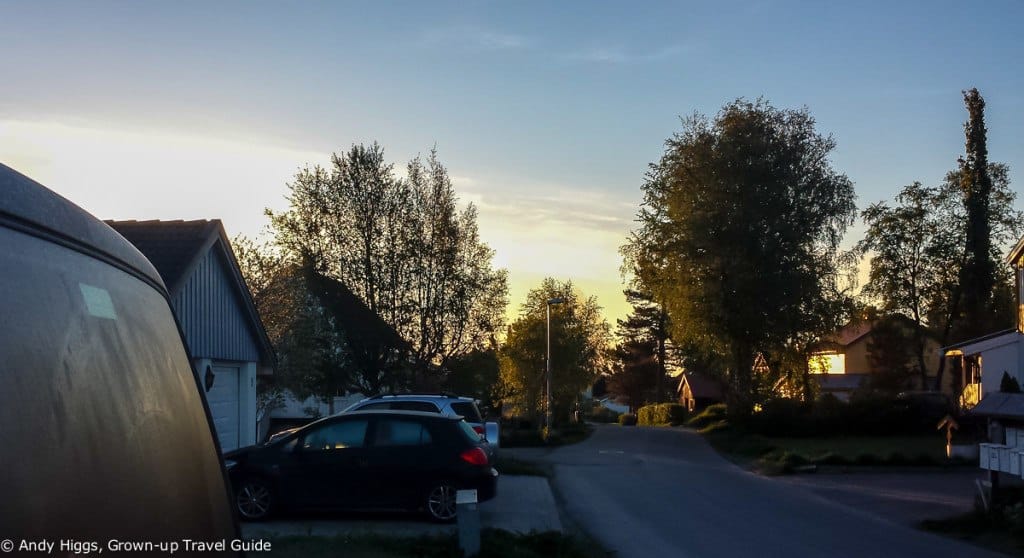 It did entail a rather early start. Lovely sunrise, but remember that this is Norway in the early summer – so what do you reckon the time is in this photo?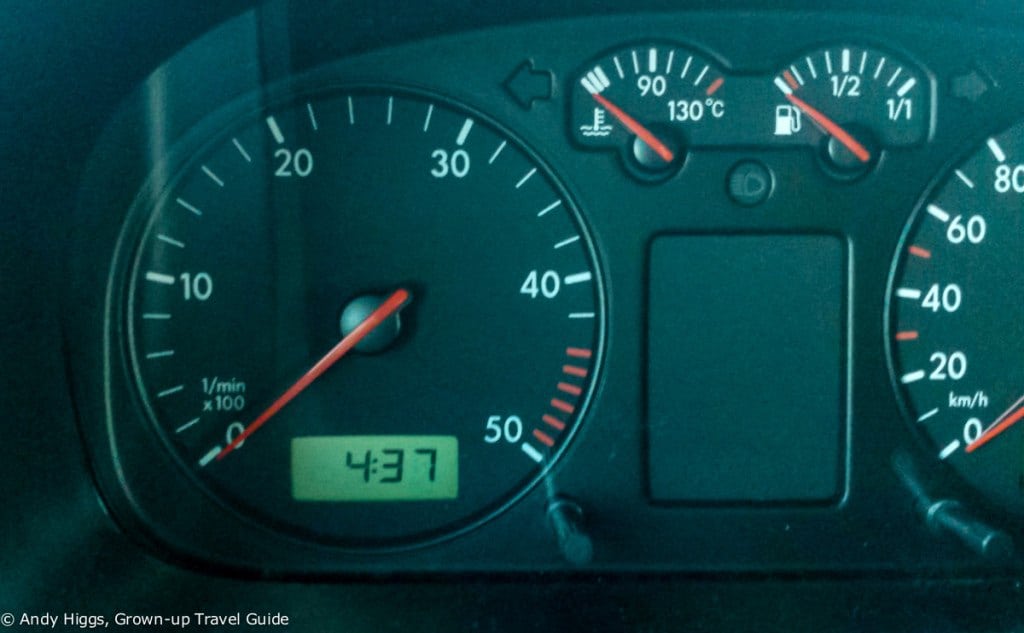 Yes, that.
The route
Thai Airways has direct flights between both Paris and Frankfurt and Bangkok so I just needed to add connections. My final route was as follows: Trondheim – Oslo – Paris – Bangkok – Frankfurt – Copenhagen – Trondheim. Both the long-haul segments would clock in at 11 hours and 15 minutes each – plenty of time to make the most of it.
The damage
For this part the story is the same as for the previous award redemption so I'm copying in most of the details. As mentioned my flights were an amazing bargain for USD 1700. It is unlikely I would ever choose to fly this particular route from Trondheim to Bangkok if I was paying cash as there are cheaper and more direct routes. Thai Airways flies from Oslo to Bangkok as does Norwegian, who offer a limited number of seats at extremely low prices if you are flexible and book ahead. But neither airline has First Class and Norwegian only has 'premium' which is not Business, either.
So for comparison purposes I searched for the cheapest Business Class seat from Trondheim to Bangkok at about the same time of year and it came out at around USD 2800. The long-haul section was with Air China – I have no idea how their Business Class service rates and even Norwegian wanted USD 2800 for their Premium ticket.
You get the point – First Class was cheaper.
So the bad news is that we can't do this anymore. US Airways still sells cheap miles – they still have half-price offers too – but they can't be used on Thai Airways. Yet there are other Star Alliance partners of course; SAS being an example for many of us. They won't be as cheap, but if you can earn, buy or share miles in a Star Alliance programme you too can enjoy what I am about to describe…
Outbound: France – Thailand
On the ground – fast track
One of the benefits of flying in First Class is fast track access at each airport on your route. A lot of airports lack this facility but due to a minor miracle it was introduced even at Trondheim not long before my journey began. The security queues are seldom that long but of course I made use of the shortcut anyway.
Oslo has a lounge but I didn't have time to use it with only 55 minutes between landing and taking off for Paris. It's not great anyway so I hardly felt like I was missing out. SAS were taking me to France after transporting me to the Norwegian capital from my adopted hometown; there's no First Class on board SAS these days but on a redemption like this you are seated in the best section available. SAS Plus is hardly luxury but you do get a bit more legroom and free food, so that's something.
But the fun really started in Paris. I had a couple of hours to kill and knew just the place to do it…
On the ground – Star Alliance First Class Lounge, Paris Charles de Gaulle Airport
Those travelling on a First Class ticket get this lounge to themselves. With a good – if not amazing – selection of snacks and a better selection of drinks as well as an open-air garden it's a good place to relax before a long flight or get some work done. There's free and fast Wi-Fi and a decent working area with desks and power sockets. You can also shower here if you need to freshen up; I was more interested in having a nice glass of wine and putting my feet up.
I was alone apart from a group of Americans who exacerbated my simmering feeling of being slightly outside my comfort zone by discussing the ins and outs of minimizing inheritance tax by giving shares in their companies to family members. Let's just say I overheard figures in the millions being bandied about after which they debated the relative advantages of the latest Ferrari versus the Porsche. I had another wine and left them to it.
Time flew and before I knew it I needed to get to gate 55.
Boarding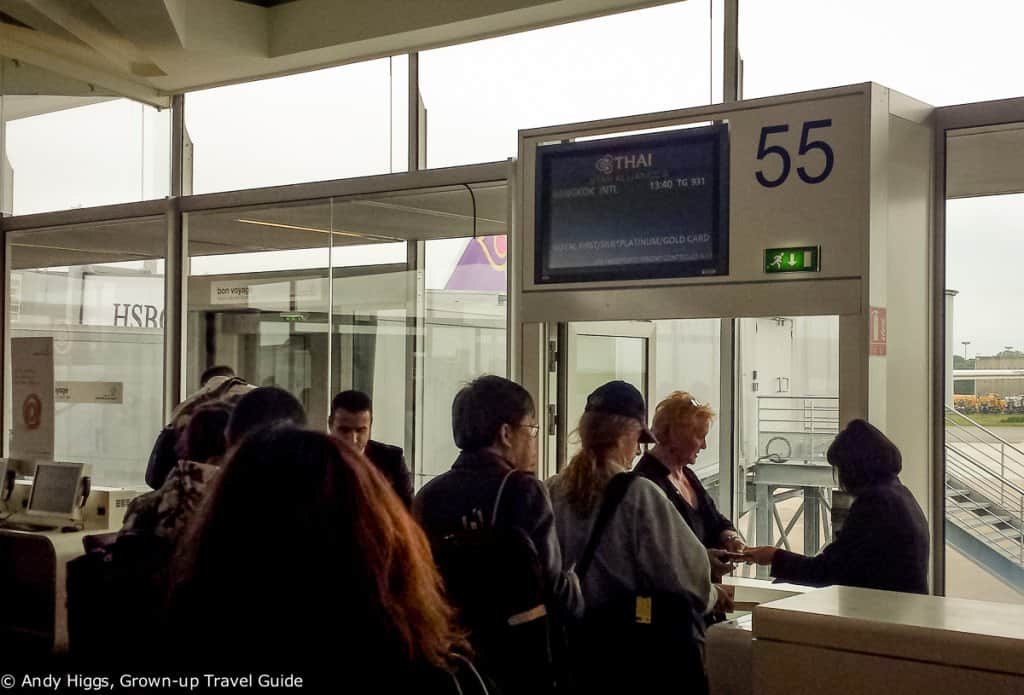 By the vast number of passengers waiting to board it seemed the A380 would be quite full. The staff called for Business and First Class passengers first and I was on my way towards the gleaming giant of an airplane waiting for us.
Paris – Bangkok
Here's a video I put together of the outbound leg of my journey from France to Thailand:

As you can see, it was pretty amazing – here are the details:
I had picked seat 2K – at the window on the right side of the cabin, second row. These are stock photos as I didn't take pictures of my seat, but you can see it in the background there.
For an overview of the layout of the Thai Airways Airbus A380 see the seat map here at SeatGuru.com – this is how I chose my place, too.
The seat was amazing. A semi-private, semi-suite I guess you could call it. There was plenty of storage space and I liked the modern design in Thai Airways's colour scheme. It was very comfortable, too.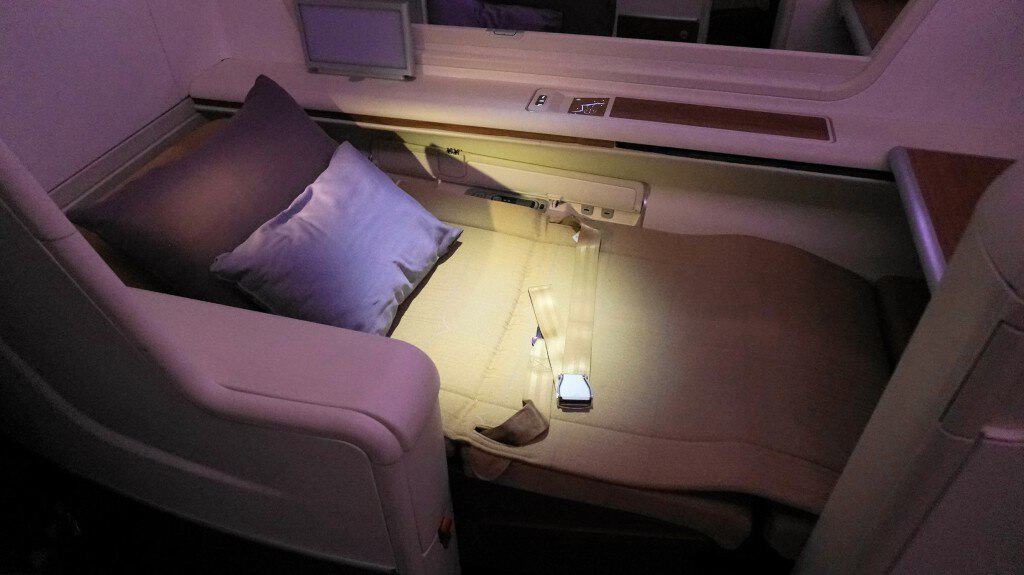 The seats convert to fully-flat, 7 foot long beds as you'll see from the other stock picture above. Everything is controlled by an intuitive panel in the armrest. Oh and by the staff, who make your bed for you. Perish the thought that First Class passengers would have to make their own beds. I mean really!
I soon found the amenity kit which was contained in a very nice Rowena branded hard case. The contents were fairly standard with eye shades, a toothbrush, toothpaste and mouthwash, socks, hand cream and headphone covers. A pillow and blanket were also provided. 
Service was fabulous and believe it or not one of the hostesses actually remembered me from the Milan flight last year! She probably thought I fly First Class on a regular basis and I didn't bother telling her anything to the contrary…
Instead I accepted her kind offer of a glass of champagne before take-off and settled down to see what I could watch on the 23 inch (yes, 23 inch) monitor.
The entertainment
Each seat has its own huge LCD screen operated with a wired handset. Thai Airways offers a good number of films and TV shows and I found more than enough to keep me occupied.
Just as before the Thai censors had gone to town on all forms of media and if I remember rightly "The Wolf of Wall Street" was a full half hour shorter than the regular version…
The seats have AC and USB power outlets for powering up devices and the table slides closer for use during meals. There is also some kind of relaxing light which I never really understood but might be to help with jetlag. Or not, I must find out some day.
The food and drink
You know how I'm always saying I don't take pictures of my food? Well I cracked a little on this trip. I started with the menus:
The plan was to leave it at that, with perhaps a caviar shot or something as a 'braggie'.
But when service started, I found it impossible to resist…
Just look at the canapes!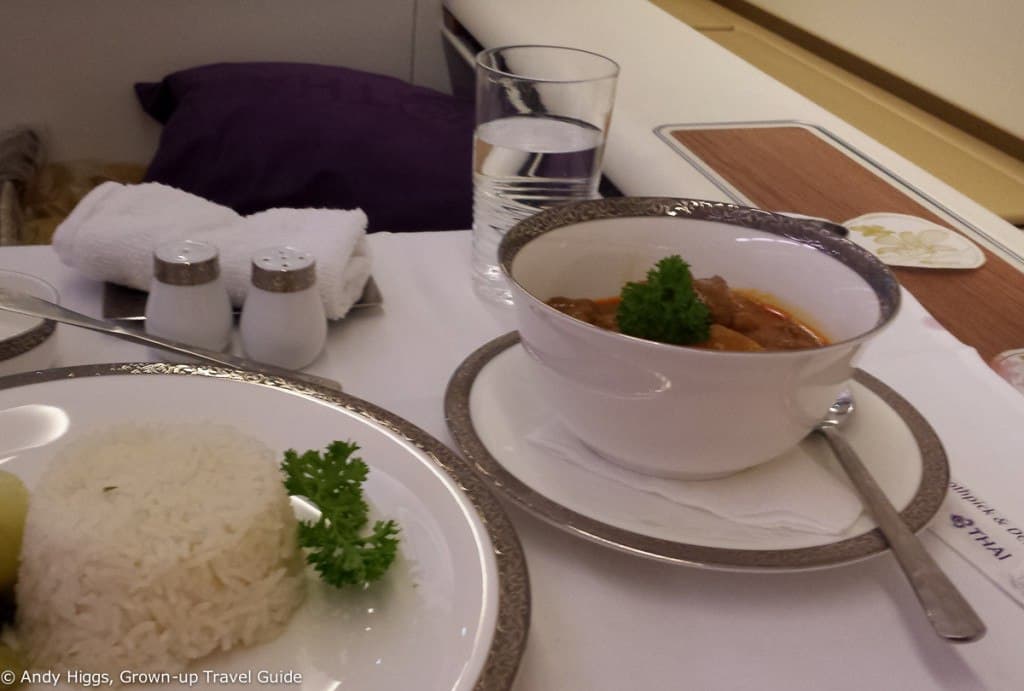 I plumped for Massaman curry as it's a bit of a favourite and finished off with dessert and a (very) early nightcap.
The flight
Flight 931 took off right on time and apart from a little turbulence on a couple of occasions there were no problems up in the sky. Turbulence has to be pretty damn strong to rock a plane this size, after all.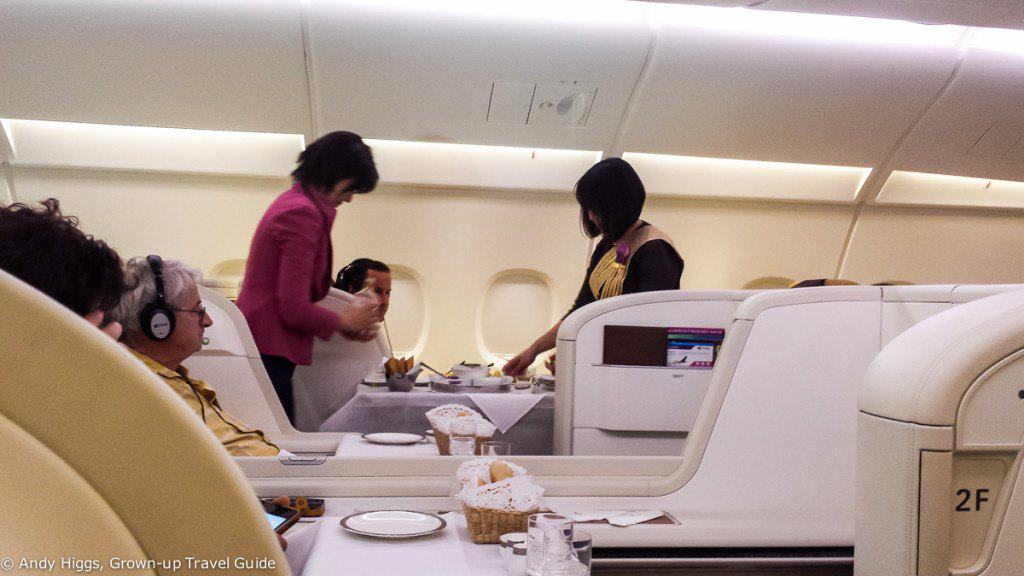 The excellent service was maintained throughout the journey – as before, attentive without being intrusive. I was a little more relaxed this time as it wasn't quite so 'foreign' to me anymore. But it was even more luxurious, don't get me wrong 🙂
Once dinner was over and the cabin lights were dimmed I made for the HUGE bathroom to change into my Thai pyjamas, passing the neat but unused lounge area at the front of the First Class cabin.
Seriously, the bathroom here was the size of a small bedsit or a Hong Kong apartment. Okay, I'm exaggerating a touch but with a proper changing area, a place to sit and relax (as you do in the bathroom, clearly…?) and a separate area with toilet and washbasin, this is not your average airborne little boys' room.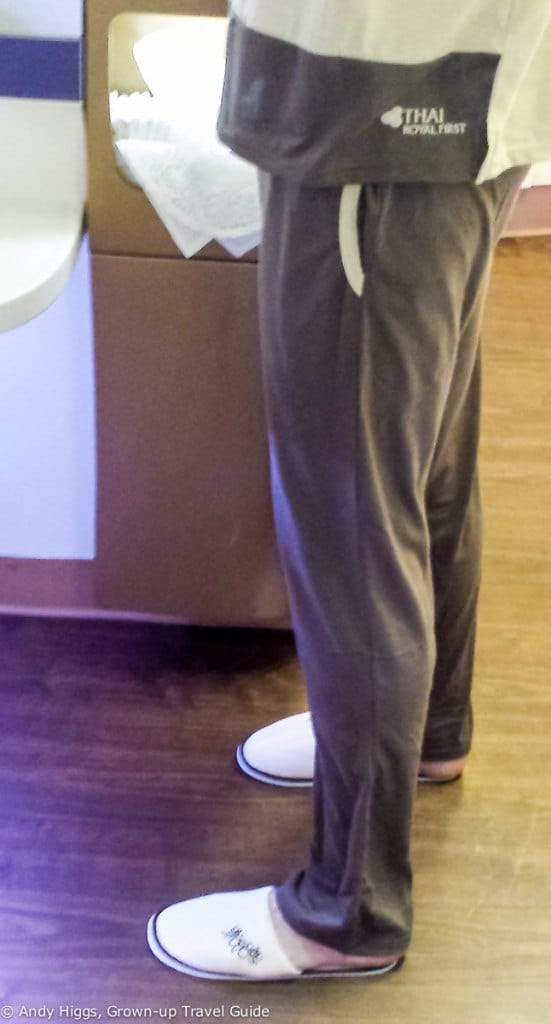 Oh dear lord.
Much as expected I spent too much time watching movies when I could have been sleeping, but given the sheer length of the flight I did rack up a decent number of hours of shut-eye in total. The A380 is really quiet and smooth in the air – especially considering the enormous size of the thing – which helped, as did the superb seat/bed and cosy bed linen and pillow.
On the ground – Thai Airways arrivals service
This time I didn't repeat the errors of 2013. After a smooth landing at Suvarnabhumi I was escorted with the other First Class passengers to enjoy Thai's 'arrivals service'. This entailed being transported by golf cart through the airport terminal to baggage reclaim, where my bags had already arrived on the belt. I was then taken through fast track security and customs and was out on the kerb meeting the driver from the Marriott within fifteen minutes of those big wheels coming to a halt on the tarmac. Now that's service!
Inbound: Thailand to Germany
On the ground – Thai Airways terminal
Now the arrivals service is all well and good but Thai Airways really pulls out the stops for departing First Class passengers too.
After being dropped at our own part of the terminal a porter took my bags and showed me to the check-in area. Well, relaxing area would be closer to the truth – I sat back with a cold drink while Thai staff took care of everything.
My bags were checked in, passport stamped, boarding pass issued all without me needing to lift a finger.
Formalities complete, I was escorted through an extremely fast fast track lane down an elevator to a waiting golf cart. And then, dear reader, I was driven through the terminal, past the Business Class lounge with plenty of time to wave at my fellow passengers (don't worry, I didn't. Really).
Eventually I arrived at the oasis of calm that is the First Class Lounge. At the reception desk, I arranged my complimentary one-hour massage. Oh, didn't you know? Thai Airways have their own full spa at the airport and First Class passengers get a free hour of proper Thai massage. Even lowly business class types get a half hour session. Nice perk, huh?
On the ground – Thai Airways Royal Orchid Spa
The spa is not just a room in the lounge, it is a proper facility with multiple treatment and relaxation rooms bigger than most in the city…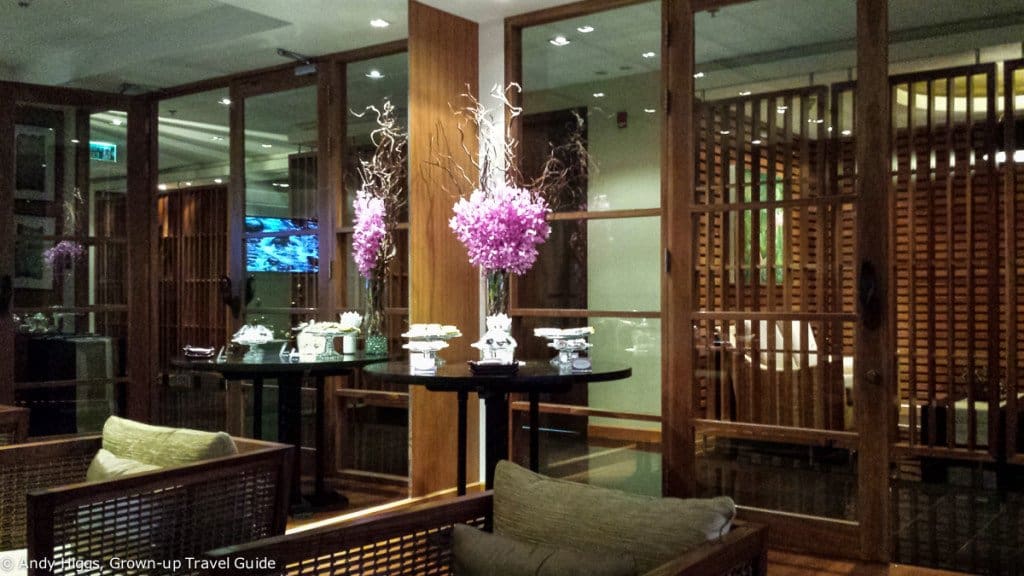 After a fabulous massage I was served tea in the chill-out area (above).
I felt perfectly relaxed for my flight  back to Europe – and the massage definitely helped me break my record for the longest sleep ever on an airplane (in a sober state). I managed 7 hours!
On the ground – Thai Airways Royal First Class Lounge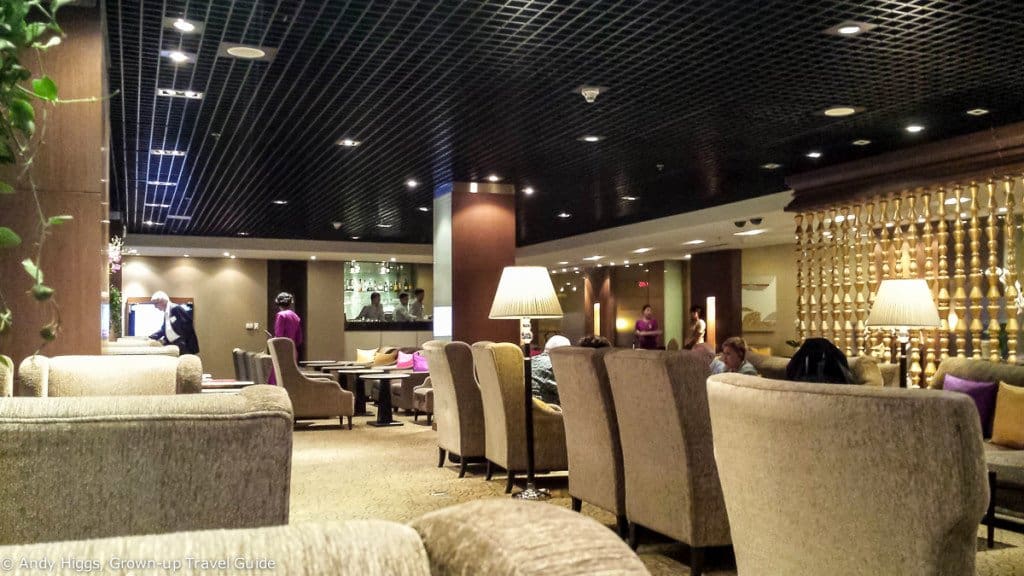 I was driven back to the First Class Lounge and ordered a light meal. No need to queue at a buffet for cold cuts here, you get served at your seat.
The food was good, too – by far the best airport lounge catering I've experienced.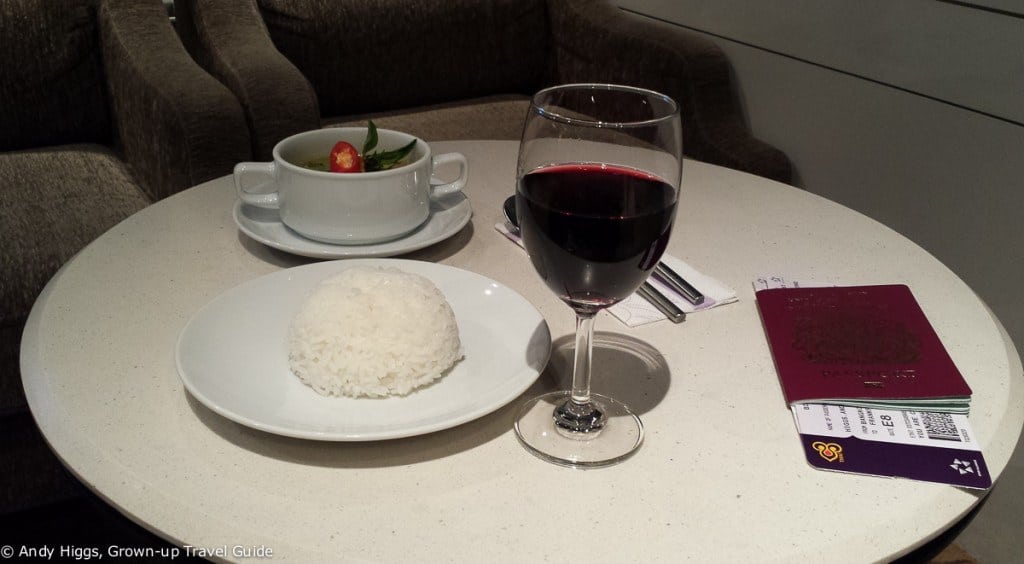 It seemed rude not to have "one for the road" as well.
Sadly all good things must come to an end and my flight was on time, too…
Bangkok to Frankfurt
Naturally I was driven to the gate and greeted as enthusiastically as ever. Knowing this would likely be the last time in First Class for a very, very long time barring a lottery win or some very clever use of miles, I settled in seat 3K this time and made the most of each sip of chilled champagne.
We took off on time once again and after the lights of Bangkok disappeared on the horizon it was caviar time.
The menu was similar to that served on the outbound flight, and equally delicious.
Now that's what I call a hearty breakfast…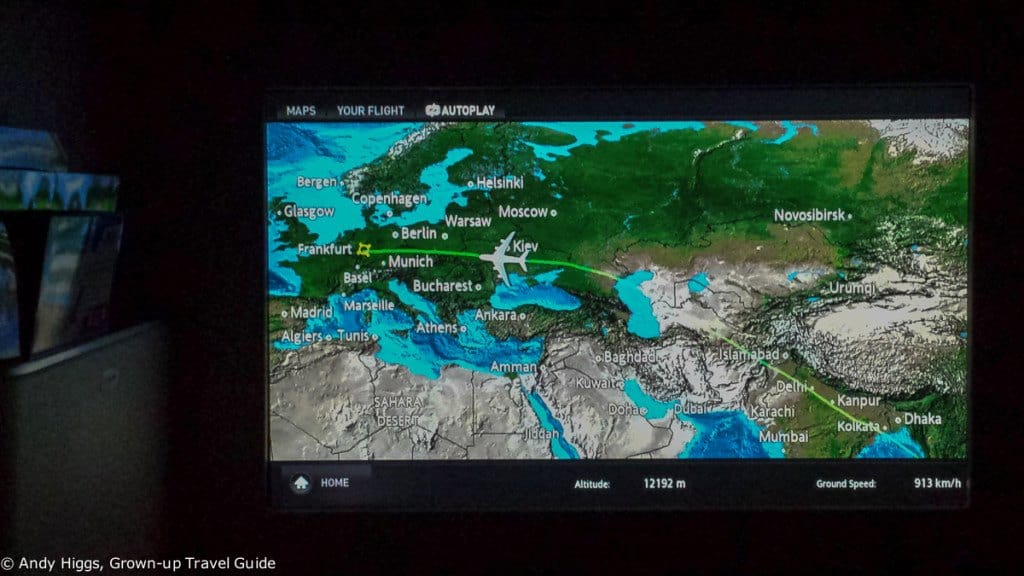 I woke at one point not far from Kiev and after taking this snap was convinced I'd not be getting any more sleep. But either the massage or the wine – or quite possibly both – worked a treat and I nodded off again. The next time I opened my eyes breakfast was on its way.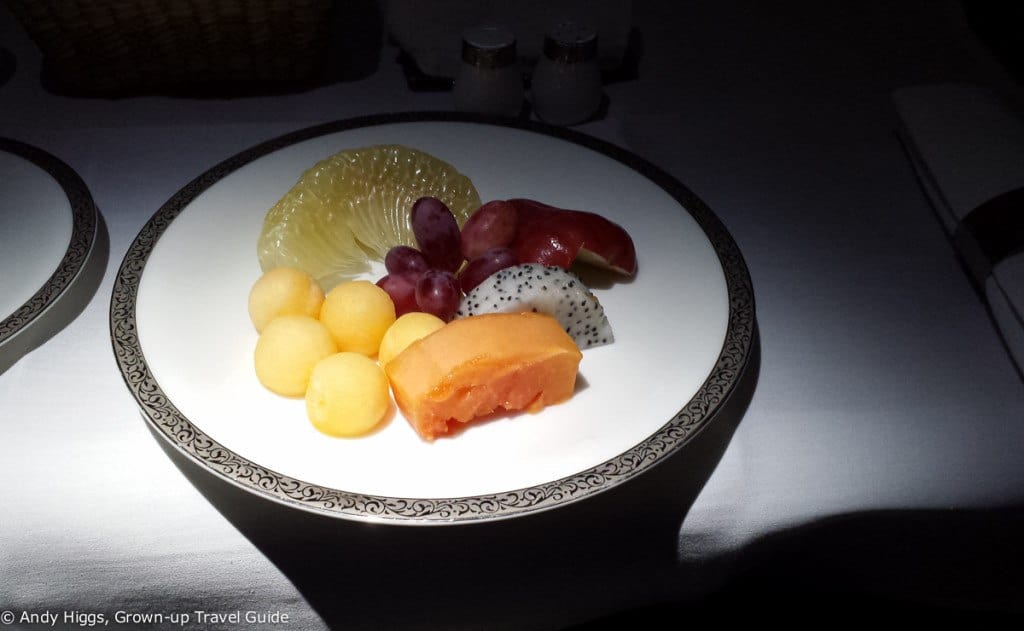 Start with something healthy. That's a good way to begin.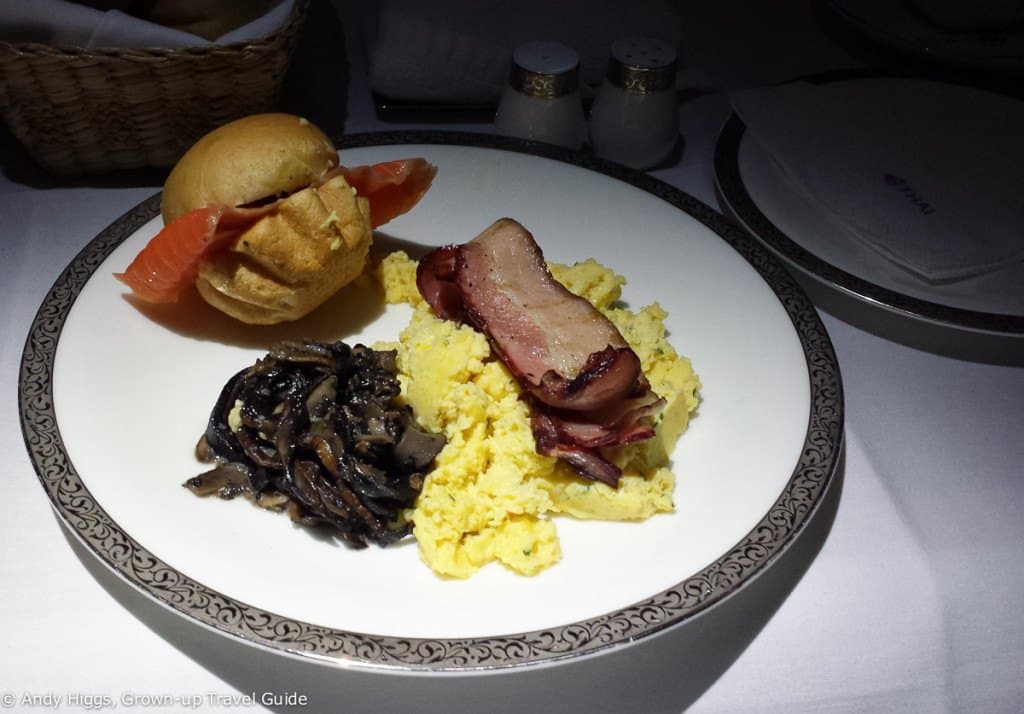 Er, yes. Well the portions were modest, at least.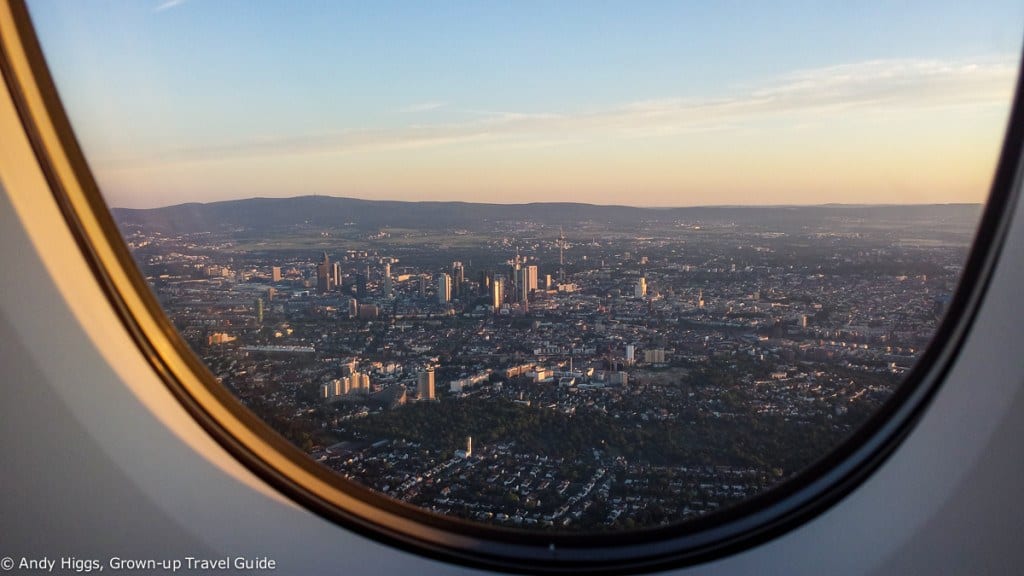 Damn you Frankfurt! Yes, you look rather lovely in the sunrise but it was still a letdown to see you again so soon…
The conclusion
Best. Trip. Ever. That's hardly a surprise, is it? It's not as easy as it once was to swing this, but do what you can. It's worth it. Now I just have to discover how to repeat the experience – putting every daily expense on an SAS branded credit card and using the points for a Star Alliance redemption? Sounds like a plan…
Flight report – vital statistics
Type of aircraft: Airbus A380
Outbound: Thai Airways Flight 931 Paris Charles de Gaulle (CDG) – Bangkok Suvarnabhumi (BKK) on Tuesday May 27, 2014
Inbound: Thai Airways Flight 920 Bangkok Suvarnabhumi (BKK) – Frankfurt (FRA) on Thursday June 5, 2014
Class flown: Thai Airways Royal First Class
Outbound – departure time: 13:40 
Arrival time: 05:55
Inbound – departure time: 23:45 
Arrival time: 06:00
Duration: 11 hours, 15 minutes (outbound) 11 hours, 15 minutes (inbound)
First Class configuration: 12 seats in 1-2-1 layout. 
On board-internet: Yes (extra charge)
Type of seat: 180 degree lie-flat bed
Seat width: 26.5″
Monitor size: 23″