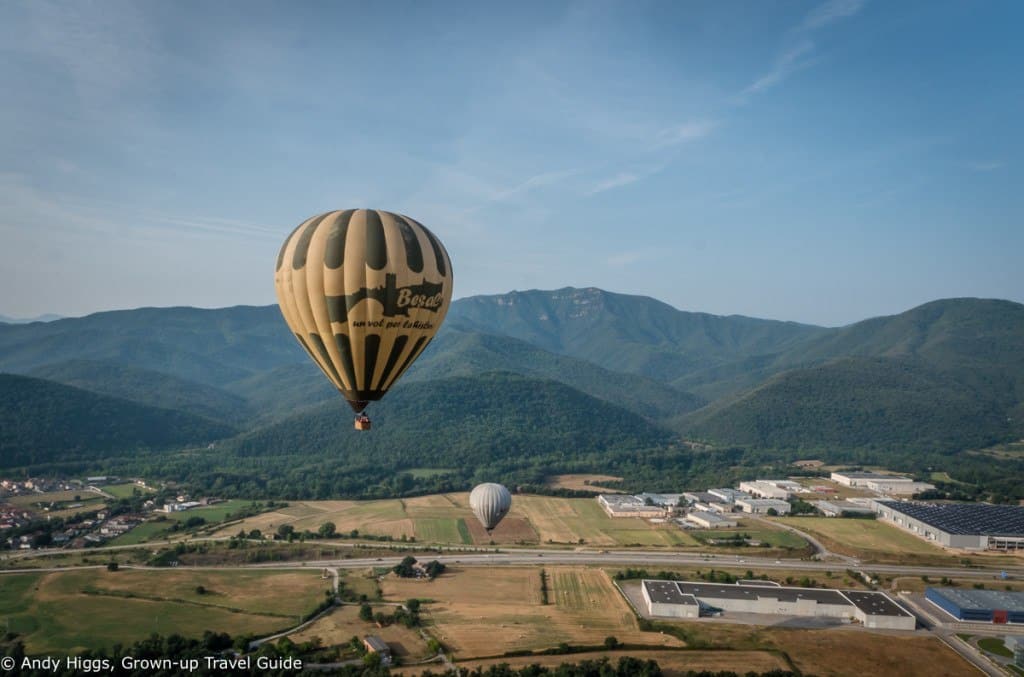 Let's start by getting one thing straight – if you've yet to experience a hot-air balloon ride, you are missing out. Granted, it's not for absolutely everyone (vertigo sufferers get a pass) but it is a magical experience.
Yet all balloon rides are not created equal – as well as the pilot and ground staff a major factor is the location you'll be flying over. In my opinion La Garrotxa has to be one of the most spectacular places to soar above in Europe – and Vol de Coloms should be your company of choice.
In the interest of full disclosure I should say that I have flown with Vol de Coloms before; the first time was in the middle of winter last year which was a very different but equally memorable trip.
I put together a video of the experience which you can see right here:

It's perhaps worth pointing out that this was one of my first ever 'proper' videos and is rather long, not wonderfully edited and has a soundtrack that I would not have chosen now, but nevertheless there's some good footage in there.
That ride was part of the #InPyrenees blog trip I took part in last January and was courtesy of the Girona Pyrenees tourist board.
In July of this year we were in the area for our family summer holiday, staying at the lovely La Rectoria. The guest house is a perfect base for many activities in the La Garrotxa volcanic park, including this one. An early start is essential to enjoy the best weather for ballooning and staying only half an hour away by car means that you only need to wake up at a silly time, rather than a ridiculous one.
This time we paid our way although they did give us a discounted rate.
The Vol de Coloms base is situated near the town of Santa Pau and is signposted from the road – although it's easy to miss the sign when you're half asleep as I did so keep your eyes open.
On arrival our names were checked against the bookings list and we were assigned our balloon and pilot. Whereas in the winter we had been the only balloon in the air on this occasion four others would be airborne at the same time.
It's understandably a very popular activity in the height of summer with flights every day so booking ahead is recommended.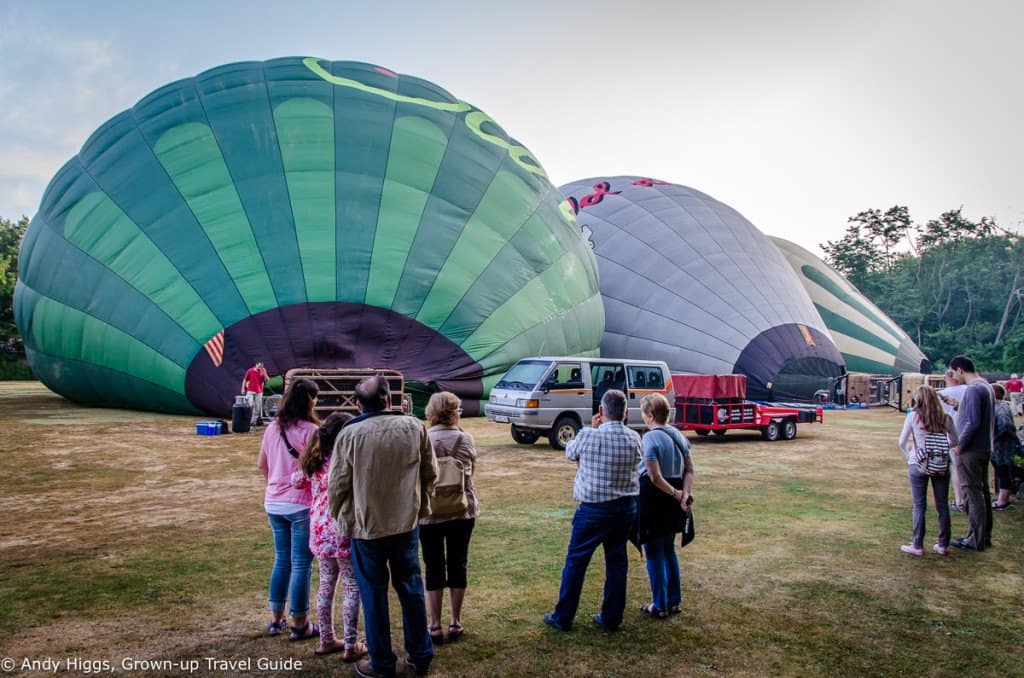 Plenty of guests had already arrived and the balloons were being filled with air as we parked the car.
It takes a lot of air to fill that thing but the process is surprisingly quick.
A combination of a large fan/wind machine…
and the 'hot air' in 'hot air balloon' is used to get our mode of transport ready.
While waiting guests can get a complimentary coffee and snack in the cafe. It's a nice touch and a warm drink was welcome on a slightly chilly morning. The sun had barely risen so it would take another thirty minutes or so for the temperature to rise to a more normal level for July.
Soon it was time to climb aboard – one side of the basket has a door to allow wheelchair users to enjoy the flight which also makes access easy for other passengers. Otherwise you need to climb over and take position in the basket which is divided into several sections with space for two or three people.
When everyone was in our pilot Xeni administered a few blasts of hot air and we had lift-off. It's an amazing feeling, silently gliding upwards. The hot-air balloon is in fact the oldest successful method of flight for carrying humans, having started in 1783. Not a great deal has changed since then although better technology has improved the engines and fabrics used.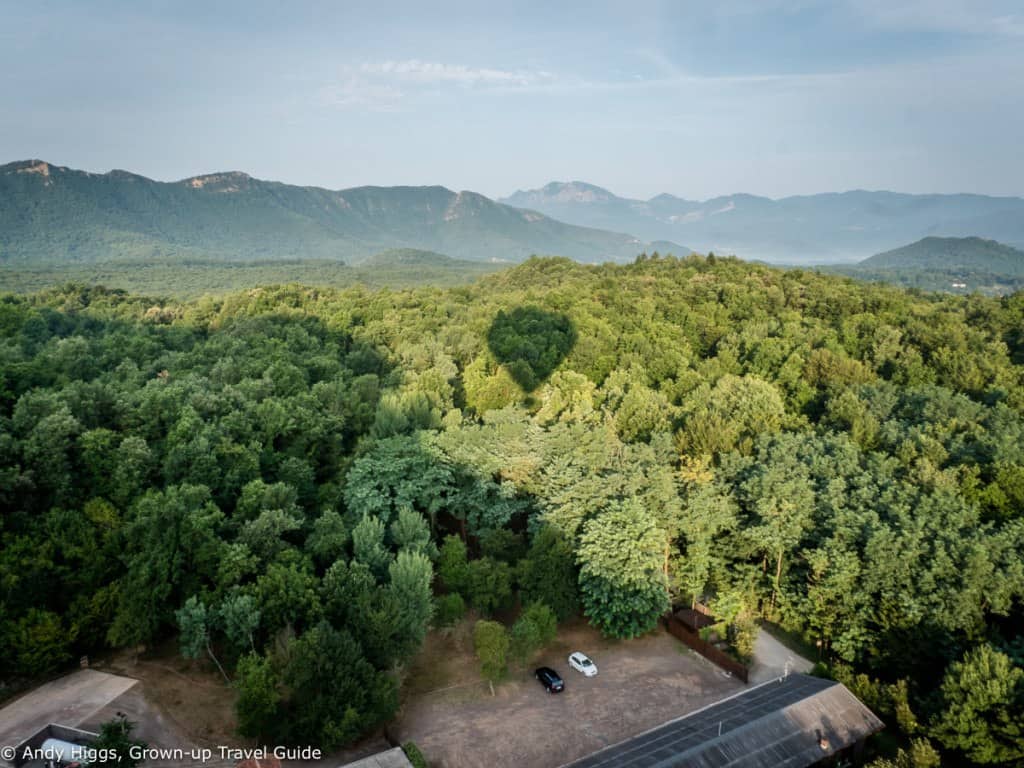 Before long we were drifting high in the almost cloudless sky, leaving the take-off area for destinations unknown. Literally – there is no way of steering a hot air balloon so it's up to the wind to decide where we are headed.
This makes every flight unique and no two working days are alike for the pilots. The only variable that can be controlled is height, the rest is up to mother nature.
With a GPS, altimeter and radio communication with Girona airport (which is a safe distance away) the pilot does at least know exactly where he is at all times.
During our flight we actually climbed to over 2000 metres, allowing stunning views of the volcanic landscape of La Garrotxa and glimpses of the coast. It's only from the air that you can really see the craters and cones – and there are plenty.
It's about time to show you the video, right?

There is even a crater with a church built inside – something you couldn't ever see from the road.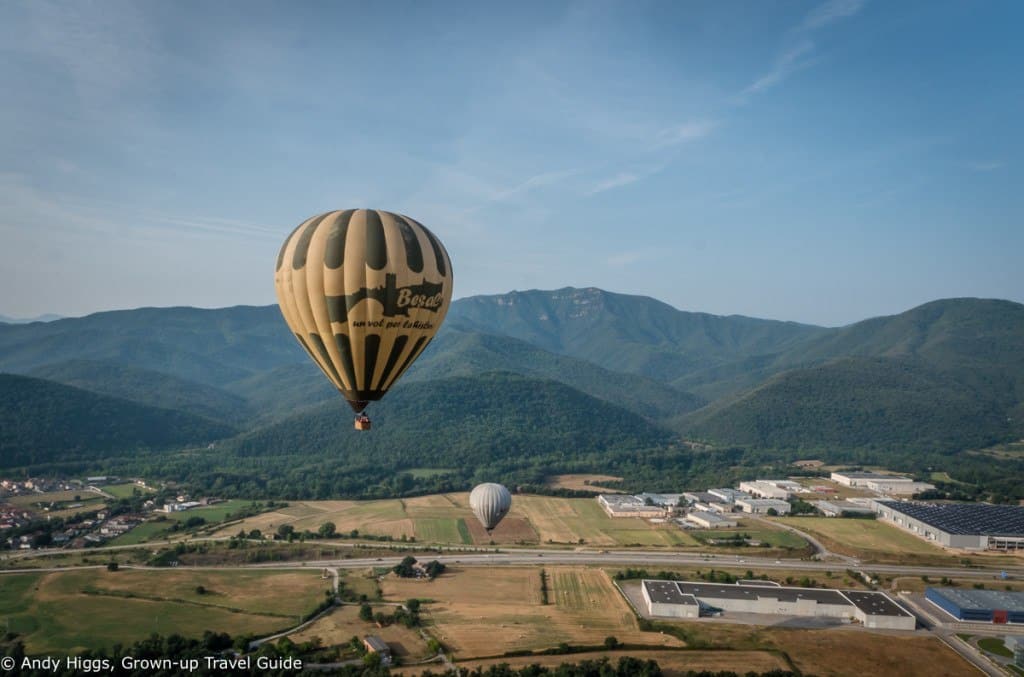 Most of the time the other balloons were within sight.
It's certainly good to have clear visibility but a cloudy day also brings rewards – the effect of our shadow on the clouds last year was quite cool:
And flying above the clouds also resulted in some amazing shots:
It really is silent up in the air – apart from the sound of dogs barking. Apparently they hear the noise of the balloon and react by warning other dogs in the area of impending danger.
Otherwise there is no sound except our chatter and the pop of the Cava cork when it was time for mid-air refreshments.
There's nothing quite like a glass of bubbly 2000m up in the blue sky – it makes an exhilarating experience even better 🙂
The ride lasts at least an hour and when we were descending to find a suitable landing area Xeni played with us a little – flying so close to the woods that we were able to pluck leaves from the trees. We always felt that we were in safe hands but it was a tad nerve-wracking…
All good fun though, and complemented by an absolutely perfect landing that we barely felt.
It's important for the company to maintain a good relationship with landowners in the area so the balloons are deflated, packed and removed quickly. Obviously the pilots choose areas where crops won't be damaged, too.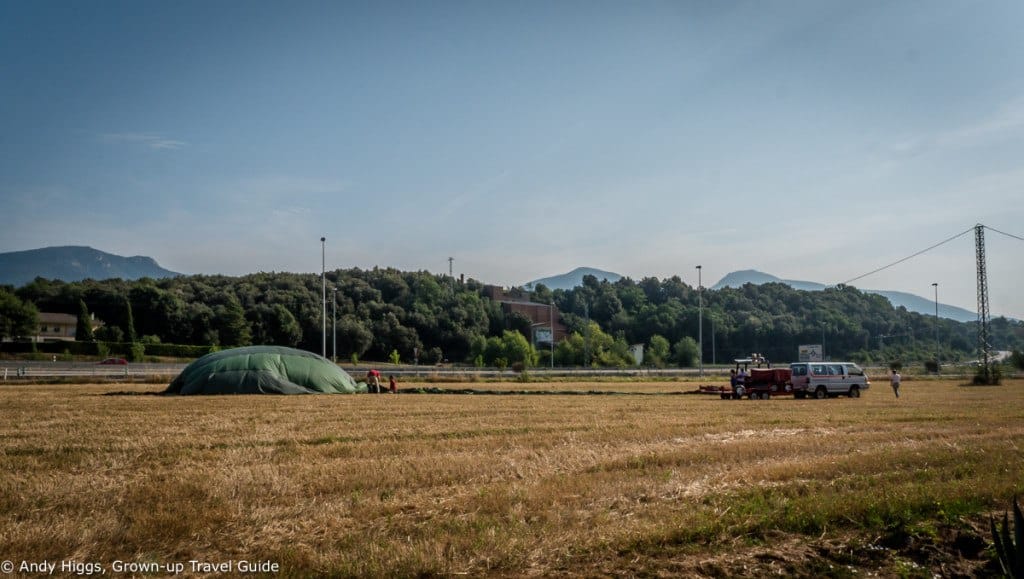 It didn't take long before everything was packed into the trailer and we were ready to drive back to where we started – we had travelled just under 17km up in the sky.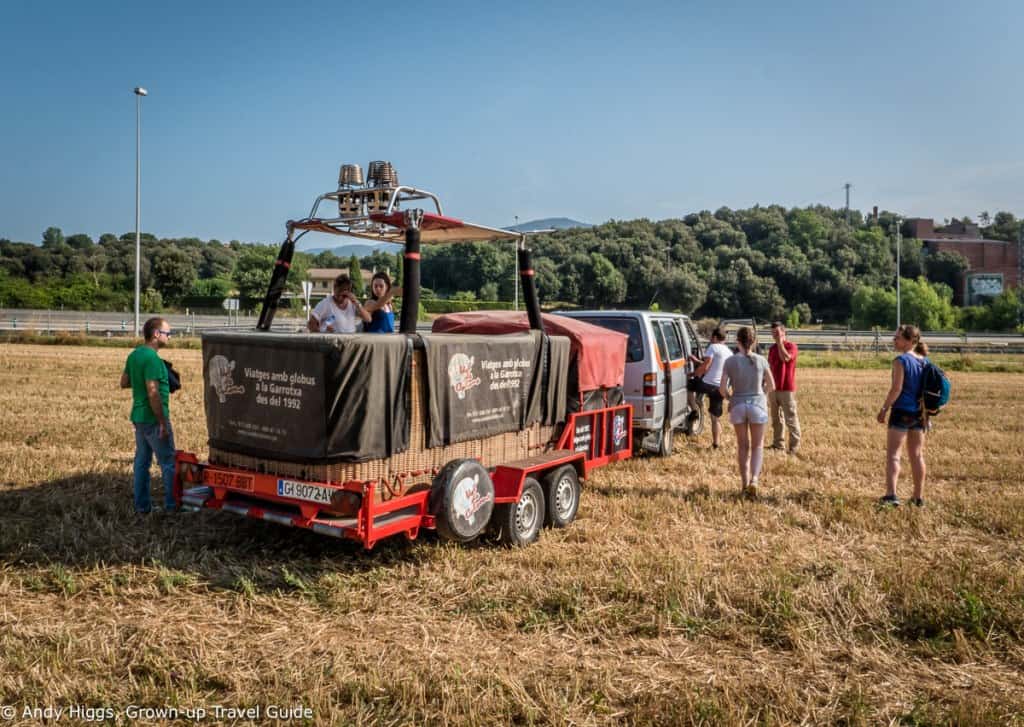 Last year I had to leave immediately in order to make my flight home from Barcelona so I missed out on a really good part of the Vol de Coloms experience – brunch.
It's a fine opportunity t get to know the pilots and your fellow passengers over a hearty Catalan meal. We really enjoyed this part and it added a lot to our morning's adventure. This being Catalonia, the food was of course excellent with fresh bread, meats and cheeses as well wine for those who wanted to indulge.
All in all, a hot air balloon ride is something everybody should try – and I believe that La Garrotxa is perhaps the ideal place to do so. Vol de Coloms are extremely professional and their staff are friendly and experienced – so look no further.
Vol de Coloms, Afores, s/n, 17811 Santa Pau, Girona, Girona, Spain
Website: http://www.voldecoloms.cat/en/
Hot air balloon flights start at EUR 170 per person, package deals available