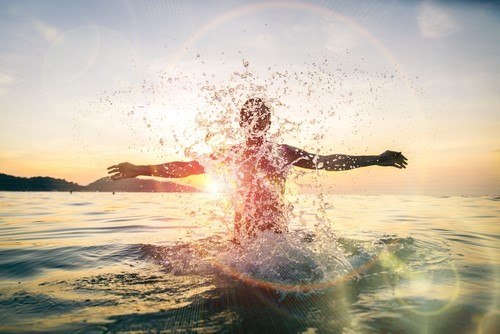 Travelling is filled with adventure and new experiences, but it is also a time when you can become so caught up in the moment that your health is no longer a top priority.
Whether you are worried about overeating due to the delicious cuisine available or overindulging on alcohol and greasy food, there are a few simple things you can do to look after yourself while on the road.
Read on for our top tips for keeping healthy on the go:
Make Time to Exercise
When you are travelling, exercise can feel like a chore. However, you don't have to spend hours in the gym pumping iron, as there are other ways to add some movement into your day. Mix up the way you get around—try walking or cycling instead of other forms of transport, and choose activities that get the blood flowing such as rock climbing or canoeing. Some of the most unique scenery can be enjoyed by following hiking trails, and you get the added benefit of working up a sweat.
You can even choose accommodation with a pool to help you cool off and bust out a few laps. Need some motivation? Arm yourself with an activity counter like a Fitbit or Garmin Vivofit that will encourage you to keep active.
A Moment to Recharge
Jet lag and a lack of sleep can cause havoc on your body clock, which makes it important to take time out of your busy schedule to relax and unwind. Stretch regularly and do those little things that help your body get back in balance. Meditation, long hot baths and the occasional early night will keep you grounded while traveling.
Long periods of time spent on the plane can be broken up with a stopover. If you're flying direct, try not to sit in the same position for too long.
Boost Your Immune System
If you have caught the travel bug, you will know a change of environment and climate can leave your body feeling rundown. You don't want to spend your travels stuck in bed, so give yourself the best chance by boosting your immune system.
Fresh fruit and vegetables are essential for good health, but aren't always readily available so a supplement may be required.
When choosing supplements and vitamins, ensure they are from a high-quality brand. For example, Amway has a range of products that are suitable for traveling, and the company's Instagram page will give you inspiration and ideas for your next trip.
The Right Body Fuel
While travelling you will likely try new and exotic foods, but to keep healthy try to stick to regular portions and stop before you need to undo those jeans!
Water will keep you hydrated, and ensure your body is running efficiently, so carry a bottle wherever you go. Depending on your destination, you may need to boil your water before drinking it.
The Final Say…
Before you leave, schedule a health check with your doctor and make sure you are up-to-date with any medications. Investing in travel insurance is recommended, because if you are unfortunate enough to become ill you will be grateful you have it.
Remember, just because you are on the go doesn't mean your health has to suffer. Set reminders for yourself and make a conscious effort to move a little more, get enough sleep, take your vitamins and drink plenty of water. Many people experience better mental health while travelling, as adventure goes hand in hand with happiness.
Happy travels!