If you find yourself frustrated during road trips, we recommend installing Kodi with Android as a solution. By utilizing Kodi, you can enhance your family trip experience.
Android serves as a unique platform suitable for the installation of Kodi for recreational purposes. When we talk about Kodi for travel entertainment, we can mean different things.
Kodi can be installed on a smartphone and enjoyed during flights, on an in-flight multimedia system in a car, or a computer. However, most often we are talking about streaming in your hotel room.
We will offer several options for portable entertainment so that you simply do not have time to get bored.
How to set up Kodi on a hotel TV?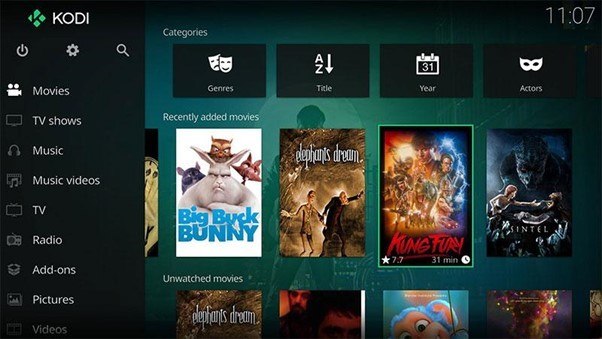 Add-ons offer the best option, and installing them is incredibly simple. Some add-ons may require a subscription to the streaming service, while others, such as Cheddar, BBC iPlayer, Pluto TV, and Comet, are completely free.
If you're subscribed to services like Playstation Vue, MLB TV, DAZN, Fox Sports Go, or USTV Now, you can easily find and install add-ons on Kodi.
To begin, open Kodi, which will take you to the main menu of the Kodi interface. Look to the left and select Add-ons.
Under the Add-ons heading, select Download at the bottom of the list of tabs.
Scroll down and click Video Add-ons.
Scroll through the list until you find the desired add-on, then select it.
Kodi will take you to a page dedicated to your chosen add-on. At the bottom, select Dependencies to see the additional software required for the add-on to function properly. After reviewing, select Cancel to go back.
Back on the add-on page, select Install to start the installation process. Kodi will display the dependencies again. Select OK to proceed.
Kodi will now download and install the add-on along with all necessary dependencies. You'll receive notifications for each successful installation, and the final message will confirm the complete installation of your add-on.
Go back to the Kodi Add-ons page. This time, select the Video add-ons tab. Your newly downloaded add-on will appear in the main window. Select it to launch.
You should know this! With a high probability, you will not be able to continue watching your favorite series abroad. To watch movies on Kodi freely, you will need an additional tool that will allow you to navigate the world.
We're talking about a VPN, such as VeePN. Let's say the film is available in the UK, but you're on holiday in Cyprus. The film is not available there, but if you connect to a server in the UK, you can bypass the system filters and continue watching films.
How to download entertainment on the road?
Among all the travel-friendly Kodi tips, this one is the most valuable, as it allows you to organize streaming on the go. Yes, it will be playing offline content, but that's even better because you won't have to spend expensive traffic. Follow these step-by-step instructions:
Open the menu and go to Videos.
Click on Files.
Choose the option to Add videos.
Select Browse and pick the video you want.
Click OK to complete the process.
You can even download movies from another region. Just check here VPN and switch to where more movies are available. This is especially useful if you have already reviewed most of the content available in your country.
Best Kodi add-ons
By default, Kodi is an empty platform. Its greatness lies in the abundance of add-ons it offers. These add-ons are indispensable for various activities, such as streaming movies, listening to music, podcasts, and more.
Navigating through the vast sea of add-ons can be exhausting, but we are here to simplify your life. Below, you'll find a list of popular Kodi add-ons, all of which are free and legal, in no particular order.
You can install them all from the official Kodi Add-on Repository.
The streaming service PopcornFlix provides an official add-on focused on feature films created by independent filmmakers. It offers a diverse selection of categories, such as "Blinding Me with Sci-Fi," "Westerns," "Crime Time," "Adventure Hour," "Animation," "Zombies," "Unconventional Comedies," "Sports Corner, " and more.
FilmRise acquires film and TV licenses and hosts the content online for free. With this Kodi add-on, you can gather all your favorite content in one place. FilmRise emphasizes classic movies, although it also offers some TV shows. You will find more than 7,500 classic movies spanning various categories like Crime, Horror, Kids, British Drama, and Comedy.
Crackle is a fantastic addition to your movie and TV show collection. You can easily browse through numerous categories, such as action, adventure, crime, and drama, to have an enjoyable movie night. Explore a wide range of shows and movies licensed by Sony, including both classics and recent releases from the '80s, '90s, and beyond.
Conclusion
Kodi is a huge service with a lot of content, provided you set it up properly. You may be afraid or lazy to do this while traveling, but it doesn't require much effort.
The first time the procedure will take 5 minutes, and in the future – 2-3 minutes. But you can spend an evening in a new country in the company of your favorite characters and films.