The sun is shining, there's not a cloud in the sky. Or perhaps it's just not raining – whatever the reason, the time has come to discover the city's outdoor attractions.
Sounds good, but you're not talking about jogging are you? You know I don't do jogging...
Relax. We've got a couple of healthy options but we made up for those with a beer garden and a beach bar.
Oh good. Thanks for the consideration.
My pleasure. Amsterdam is at its best when the weather is good; there's plenty to from the obvious (such as getting down to Vondelpark or taking a guided canal tour of the canals) to the less well-known (enjoying a cold drink on top of the science centre at NEMO which is the largest roof terrace in the country, trivia fans). We've found five other ideas for you in the first of this new series of articles on outdoor activities in the great cities of the world. Get out there and enjoy the sunshine!
The boat rental company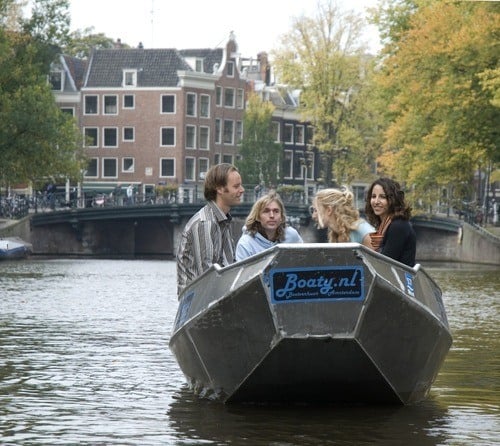 Image (c) Boaty.nl
Sure, you could take the aforementioned guided boat trip on the canals, but this is a step up. Renting your own vessel gives you the freedom to explore the waterways with or without friends (up to 6 people per boat) at your own pace. You could, for example, stop off to pick up a takeaway pizza as detailed in Been there, haven't done that – 5 things you shouldn't miss in Amsterdam or perhaps take a break at one of the waterfront cafes and bars. Don't worry; you don't need a licence and you'll all be given free life jackets. Oh, and instruction in how to drive your electrically powered, silent and emission-free boat. A map including suggested routes and highlights is also provided. The boats are recharged each night with enough juice for a day's boating. They are also very stable and described as 'unsinkable'. Presumably more so than the most famous ship to be called that.
Boaty Rent a Boat, Jozef Israëlskade next to hotel Okura. Tram to Scheldestraat
http://www.amsterdamrentaboat.com/#URI=Rent_boat_Amsterdam%2C_canal_rental_boats
The city beach at Strandzuid
Image (c) Unlimited Label
It's perhaps not the most obvious place to find a beach, yet hidden behind a convention centre in the Old South neighbourhood is one of Amsterdam's hottest summer hangouts. Strand Zuid ("Beach South") is a city beach along the lines of those in Berlin, Copenhagen and elsewhere. It's also a very trendy place to spend a warm afternoon on its sandy premises; this is one of the most affluent parts of the city. Strand Zuid is half restaurant and half sandy beach, but note that swimming is not allowed (and is probably not all that advisable either) and covers an area of more than 2,000 m². During the summer the restaurant serves breakfast, lunch and dinner on the terrace or in the lounge thus allowing you to spend the whole day here catching some sun if you so desire.
Europaplein 22. Tram to Europaplein
http://www.unlimitedlabel.com/Array/strandzuid/sz-welcome/
The secret fitness centre in Rembrandtpark
Image (c) The Guardian
Missing the gym while on your travels? Feeling a serious sense of emptiness because you can't work out every day? Ignore the fact that you are obviously a bit weird and take heart – Amsterdam has you covered. If your hotel doesn't have any facilities and you can't get a day pass to one of the city's fitness studios, get over to Rembrandtpark (you'll probably want to jog there…) Rather than being blasted by bad music over the sound system you can pump iron to the sound of birdsong in this peaceful park. There is a free outdoor gym with weights and a range of painful looking machinery for you to tackle which you'll find by asking a local – it's difficult to adequately describe the route here.
The outdoor pool in Flevopark
Image obtained from Flickr.com under Creative Commons (c) Charles Roffey
When it really does get warm in Amsterdam what could be better than a refreshing plunge in the city's best (possibly only) outdoor pool? Flevopark is worth a visit in itself and is a great place for a picnic, but it also contains the Flevopark Swimming Pool. There are several options – a 50-metre pool for the confident swimmers, a shallow one with a play island for kids and also a toddlers' pool. There's plenty of seating around the swimming area and the large park provides ample space for sunbathing. The outdoor swimming pools are open from the end of April to beginning of September, daily from 1000 to 1730 with last entry permitted at 1700.
Flevoparkbad, Insulindeweg 1002. Tram to Flevopark.
http://www.oost.amsterdam.nl/vrije_tijd_en_sport/accomodaties/flevoparkbad/#KeurmerkVeiligenSchoon
The beer garden at Cafe Soundgarden
Image (c) Stephan Stegeman via FourSquare
Finally, to restore a little sanity, we have of course included a beer garden. And not just any old beer garden either; Cafe Soundgarden (as you may guess from the name) is an old rockers popular with musos, journos, winos and anyone else for whom growing up is anathema. Sip on a cold beer from a decent selection and enjoy the canalside terrace while listening to a soundtrack of classic alternative pop and rock that'll take you back to the 1990s. DJs and live bands regularly perform here too, usually accompanied by inebriated punters showing off their latest moves to everyone else's amusement. If you are piloting your own vessel (see above) then you can moor it right by the beer garden. You can also have a game of pool or play pinball to complete the retro feel.
Have you tried any of these suggestions? Do you have other ideas for outdoor activities in Amsterdam? Do let us know by adding a comment below and don't forget to sign up for email updates so that you never miss an article on Grown-up Travel Guide!