Vienna. Image source
Austria's capital Vienna is famous for its rich heritage, Imperial palaces and cosy coffee houses. The city is well known for its high quality of life. It has been selected among the most livable cities in the world a number of times!
The luxury and unique charm of Vienna makes it the perfect holiday destination. Why not plan a trip to the city for your next vacation?
What are your goals for the trip?
As with any trip, consider that your time spent in Vienna is going to be limited. A city as big as this has got so much to offer that prioritizing is inevitable. How many days are you planning to stay for?
For a shorter trip, you might want focus on specific attractions or most famous monuments. A few days in Vienna is the perfect choice for a romantic getaway weekend. Though, if you want to get to know the city and feel its unique charm, take at least a week.
From a variety of architectural styles to cultural heritage, Vienna has got something for every tourist's taste.
Getting around the city
Do yourself a favour and spend some time getting familiar with the capital's transportation system. It is much more pleasant to explore the city when you are sure about how you are getting back to your hotel.
Vienna has got well-developed transportation links. The system consists of underground, tram, train and bus services. The capital's main airport Flughafen Wien has got links to the centre of the city via Metro line. Tickets are available at local ticket machines and underground stations.
However, once you reach the Old Town, you will rarely need to use the underground. Buses are the better choice as you can enjoy the scenery through the window as well.
Staying in Vienna
Whether you are planning a budget trip or luxury one, the capital has got options available for different needs. If you are looking for the best kind of experience, choose a hotel in Vienna, preferably located in the Old Town.
Enjoy the luxury of seeing the city scenery from your balcony. It also provides you with the opportunity to experience Vienna's nightlife just footsteps away from your hotel.
Looking for a cheaper option? Choose from hotels located just outside the city. Pick the one with an underground station nearby. Vienna is also known to be a safe city in spite of its size. Thus, no need to fear to travel outside the central areas.
What to see?
The Old Town Walk is a must when visiting Vienna. Start with it. Then, consider visiting Schönbrunn Palace to enjoy Rococo style architectural gems. Baroque fans are going to be amazed by the Belvedere Palace's beauty.
Do you love visiting museums? A Ringstrasse Tram Tour could be the right choice for you. It includes visiting some of the famous city's museums. If you enjoy cycling, consider Viennese cycle tours. Splendid views of the city are sure to be the highlight your day. Remember to take your camera to capture some amazing memories!
For evening and night activities, Vienna's State Opera is one of the most recommended attractions. No surprise due to Vienna's rich music history, it offers an exquisite musical experience.
In case classical music is not your number one choice, try visiting Fluc and Fluc Wanne. It is loved by experimental electronic music fans.
By now you have enjoyed the architectural heritage, visited museums and listened to some fantastic music. What next? The best way to feel the city's unique charm is to explore its streets, visit the local cafes and talk to Viennese people.
Food & Drinks
Let's start with the fact that Vienna's coffee drinking rituals are recognized by UNESCO as a unique cultural heritage. A special coffee and pastry ritual takes place at 3 PM every day. Thus, mark the time and indulge in a cup of Viennese coffee.
You will see that Italians are not the only ones with great coffee traditions in Europe! For lunch, we recommend trying Vienna's specialty – Wiener schnitzel.
To end the day or the trip? What could be better than a glass of wine in one of the capital's famous taverns?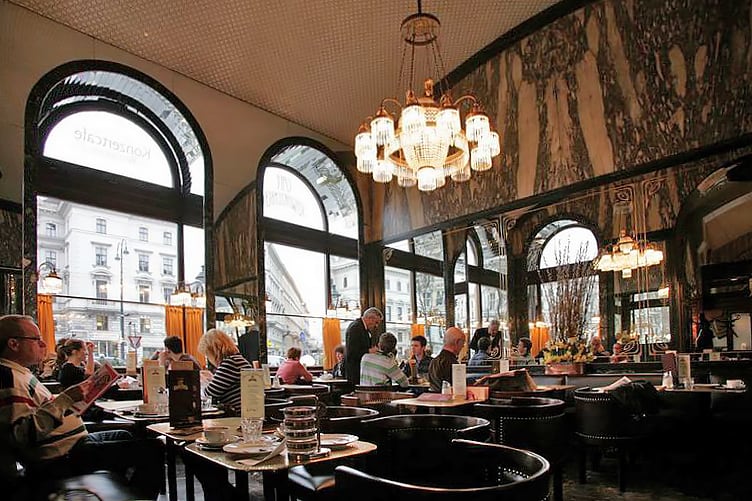 Viennese coffee house. Image source