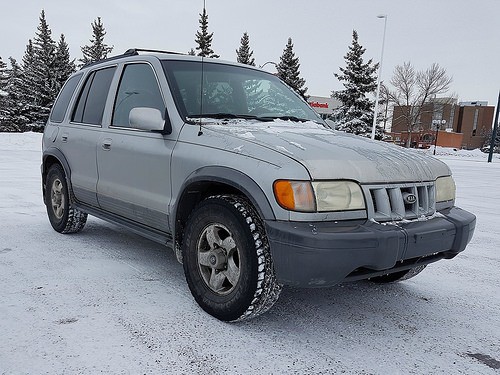 Photo credit: dave_7 Kia Sportage via photopin (license)
So, you're ready to take your truck out onto the open road and see what it's really capable of, but you still don't think it has been upgraded to its full potential? Road trips don't have to be fast and furious, but ideally, they should at least be enjoyable and entertaining. Accessorizing your truck is a great way to improve its appearance and functionality without having to invest a ton of money in performance upgrades and automotive parts. With that said, here are five truck accessory upgrades that can make your road trip more fun and convenient.
1.      Bike Racks
During the course of your trip you're bound to encounter some trails and scenic areas that are just begging to be explored but getting around on foot can be slow and anti-climactic. To make sure there's still a decent amount of time left in the day when you get done with your trail adventures, it's best to bring a bike. Of course, unless you want your bike sliding around in the back of your truck and scraping up the bed floor, it would be best to install a truck bed bike rack. If you need help making your selection, GlobalGarage.org is a good source of reviews for truck bike racks and other accessories.
2.      Truck Bed Covers
You'll probably wind up using your truck bed space to carry some of your belongings and given the distance you'll be covering, there's a chance that some nefarious individuals could steal something out of the back of your truck. Even if no thieves come along, you don't want the weather raining on your stuff, so a truck bed cover is definitely in order.
3.      LED Light Bars
Standard headlights are sufficient in most scenarios, but when you're embarking on a road trip and plan on visiting random place, you never know when a bit of extra lighting could come in handy. The extra illumination from an LED headlight bar can be particularly helpful when you're traversing those beautiful back roads after the sun has gone down.
4.      Durable Seat Covers
When you're on a road trip you'll probably be doing quite a bit of jumping in and out of your vehicle as you explore different spots. To preserve the value of your truck and protect your seats from the elements, it would be best to go ahead and install some heavy-duty seat covers before departure.
5.      Power Converter
Every road trip is better when you have your handheld devices fully charged and ready to be used. A cigarette lighter power converter will ensure that you can charge your laptop, tablet, or smartphone regardless of where you're at.
Other Worthwhile Accessory and Upgrade Considerations
Aside from the above, you may also want to invest in a better suspension system for your truck, especially if there's a possibility you might be doing some off-roading or back road adventures. Likewise, no road trip is complete without a big cooler to keep your drinks and snacks cold and fresh.