Christmas is rapidly approaching – perhaps you need ideas for that perfect gift for a Grown-up Traveller? Then you've come to the right place. After the success of last year's series we've updated the list for 2012 so that a larger audience can now benefit. This time we'll give you two ideas each time; usually one slightly crazy and one rather more sensible piece of festive inspiration for what to buy your travel-inclined friend/partner/spouse/relative etc…
Travel-related gift idea #1 – pilot the British Airways Flight Simulator
Wow! I mean Microsoft Flight Simulator was fun back in the day, so tell me more!
This is the real deal. You know, the real size moving cockpit and all that. And you could buy a top-notch PC and the latest version of the Microsoft program for the price of a 3-hour flight on a 747-400 and still have change for an in-flight snack or two.
That's not the point though really, is it – this is one of those 'bucket list' type things…
Exactly. And it's fairly unlikely that the recipient will get any closer to flying a 747 for real (unless you are contemplating buying this for a pilot friend, which would be like buying a stethoscope for a doctor buddy). Also you can opt for a one-hour session which is considerably cheaper but nevertheless a serious statement of your affection for the lucky person on the receiving end. Or a once in a lifetime treat for yourself? You can bring a guest…
This could be you…
Image (c) British Airways
Gift vouchers for a British Airways Flight Simulator Experiences range from a 1-hour flight on a Boeing 737-400 (£399) all the way up to £1,347 for a 3-hour flight on a 747-400.
What about the 767-300?
Stop reading over my shoulder and trying to sound like an expert…yes the other options include the 757-200, 767-300 and 777-200. The price includes a 30 minute pre-flight briefing covering flight deck instruments, systems and controls. After you complete the training you are in charge from take-off to landing – all under the supervision and instruction of a British Airways pilot, so no mucking about. You can even pick which route to fly provided it's a BA route.
This is in London I suppose?
Yes, in fact the simulator is located just over the road from Heathrow Airport. Now that would be a fun way to pass the time on a stopover… visit the British Airways Flight Training website for more information or to book (or just to dream a little…)
Travel-related gift idea #2 – PopOut maps
I figured it was time to get a little more down-to-earth so here is a suggestion in a somewhat different price range.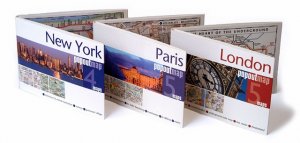 Image © copyright Compass Maps Ltd
Today's item is the Berlitz PopOut map – I swear by these myself when travelling as they slip easily into a back pocket but contain enough detail to navigate with.
Er, you haven't heard of Google Maps?
Er, you haven't heard of roaming data charges? A few days in New York using your mobile with GPS etc. can easily end up costing you more than your hotel room. Unless you can get a local SIM card or otherwise benefit from cheap data charges (which we will address in a separate article) then this is the next best thing – and indeed a better option in places where you don't want to flash your mobile around.
Good point. Then there's coverage and all that…
Exactly. And these self-folding pop-up maps are neat and a bit less conspicuous than full-sized ones.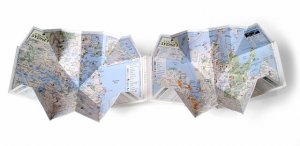 Image © copyright Compass Maps Ltd
The covers are laminated and the maps are durable – I've yet to knacker one. They contain a detailed map of the city centre with smaller maps of tourist areas, transportation etc.
So where do I get them from?
Amazon
are usually the cheapest (if they have them in stock) and they fall under books so for us in Norway there's no duty to pay on them either. If you spend over £25 on books you get free delivery from the UK store, and there's enough good stuff to choose from to make this easy. The PopOut website provides more details and also lists further stockists – you may have to hunt around a bit for some of the cities covered and prices vary, but they start around £3 so are a complete bargain.