Barcelona has become an urban tourist hotspot and attracts millions of visitors year on year. As it gets more and more popular, the prices of staying there get bigger.
So how can you save money and still stay comfortably in this city? In terms of accommodation in Barcelona specifically, the choices are mainly hostels, hotels, and vacation rentals. If you're a follower of Grown-up Travel Guide you'll know that we're past recommending accommodation like shared hostels, because we're less about the rough and much more about the smooth, so that really leaves you with a decision; a hotel or an apartment?
Hotel or apartment?
This has been covered briefly before on Grown-up Travel Guide and you can take a look at that in the 'Accommodation options for your city break' article. To summarize the argument though, hotels are the unadventurous and safe option; not a bad choice if you're a couple or solo traveller. However, vacation rentals offer more space and you can split these costs amongst friends or family, plus you can save money with self-catering if you want.
If this is the accommodation choice for you, then you can either use a global agency, e.g. HouseTrip and airbnb, or even better a local agency in Barcelona that you can visit the office if there is a problem or simply if you have questions about what to ask about the city, e.g. OK Apartment (they call themselves the Barcelona specialists for this reason).
Where to stay?
Once you know the type of accommodation you want to stay in, the next choice would be in which area you want to stay. The pre-Grown-up option is usually to stay in a cheap place in a non-central neighbourhood like Gracia or Sagrada Familia, or in the city centre the Raval zone. The smarter and option suited for more mature travellers would be to stay in an area like Poble Sec, which is a peaceful and residential area that's next to the city centre.
If you're looking for a holiday by the beach, many younger travellers want to stay in Barceloneta, which is a rather crowded and touristic area that can get a little rowdy at night. The better choice would be to stay in a more high-end maritime area like Vila Olimpica, or further out in Poble Nou and Diagonal Mar.
Get the facilities you need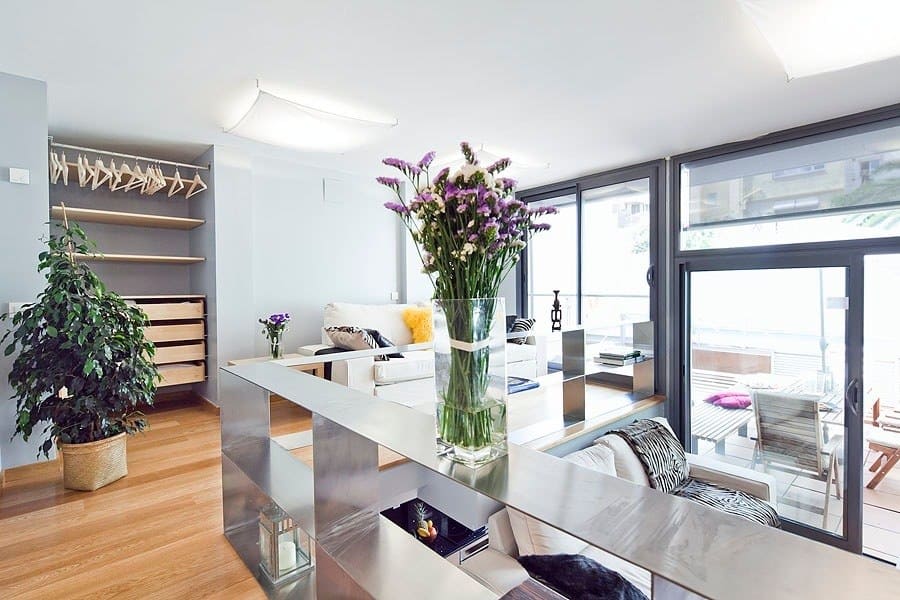 If you decide to stay in and around the city centre, one thing you need to be aware of when it comes to vacation rentals (and this may just be specific to Barcelona) is that many of the older buildings do not have elevators. The website you book on should say whether there is elevator access in the building (the aforementioned OK Apartment website does this).
Some city centre apartments can be small, so check the square footage of the apartment – another option that is essential and should be shown when you look for a place to stay here. A larger apartment generally has a bigger and better equipped kitchen, with small apartments having the opposite. Weigh up the sort of place that you want to stay and decide on that.
Finally, consider the extras you want, like a swimming pool or private terrace. WiFi access is never usually a problem, as practically all places will have this as a standard. There are hundreds of registered tourist flats in the city, so it's quite probable that you will be able to find a place to meet all your requirements, sometimes you may have to make a compromise though.
That's it! When you have those three points down, you're ready to find your perfect place to stay in the ever popular Catalan capital.