At the beginning of March I was back in Berlin for the annual craziness that is ITB – the world's biggest travel trade fair. Despite being all-to-aware of the situation I spectacularly failed to arrange accommodation far in advance and thus it came to pass that I was without a place to sleep for the busiest week of the year in the German capital – two weeks before my flight there.
Let's brush over the stupid factor and look instead at how I solved the problem. First of all, hoteliers, restaurant owners – in fact basically everyone dealing with incoming visitors; they all know about ITB. You can try booking a room yourself for next year, you'll see prices double from the weeks before and after the event. Having said that, you will definitely get the best rates by booking early and some places do offer discounts which will bring rates slightly closer to the norm. There is a tiny possibility that you can get lucky with a last-minute deal if for some bizarre reasons there are rooms available, too – but don't count on it.
But back to my story. I wanted to stay in a central location – preferably in old West Berlin centre rather than Mitte; this was not only because the trade fair site is much closer to Zoo Station than Alexanderplatz, but also because I wanted to visit some of my favourite bars, cafes and restaurants and see how the area was developing, As you may remember from my review of the 25hours Hotel Bikini, there is a lot happening in this part of town again.
I didn't need luxury – believe it or not I even checked the hostels for private rooms but prices were on a level with a hotel and all were located in the east of the city. I also checked various apartment letting services but there was nothing that offered good value in a decent location.
It then occurred to me to look for award availability using hotel points – and finally I got somewhere. Not only did Club Carlson have reasonable redemption rates at a couple of its mid-range properties which meant I had enough for 3 free nights, they were also running a special offer which meant that I would earn an extra 15,000 points for paying for two nights. With five nights to cover, blowing points for three and paying for two as part of a "mattress run" (staying with the primary purpose of amassing points) meant that in cash terms I would end up without burning quite as huge a hole in my pocket as I had feared.
The first two nights, Sunday and Monday, I booked the art'otel Kudamm Berlin here and for the three night redemption I moved 650m around the corner to another property of the same chain, art'otel City Center (sic) West which will be reviewed soon.
Anyway, here we go:
art'otel berlin kudamm, Joachimstaler Strasse 28-29 10719 Berlin, Germany (49) 30 88447 0
When?
Early March 2015.
Vital stats:
Three stars. Opened 1990, renovated 2006. 133 rooms over 7 floors.
Location, location, location?
This is the hotel's real draw – whilst not actually on the Kudamm, you can see the Kudamm when you go out the front door (in the picture above if you see the C&A sign – that's where it is.)
You should also be able to make out the blue U-bahn sign about half-way along; this means that you can be out of the hotel and on an underground train in ten minutes or so. Flying in to Tegel (which you should if at all possible) enables guests staying here to be checking in about 20 minutes after hopping in a taxi at the airport – if you fly into Schonefeld you know what you're getting yourself into…
What about parking?
Berlin's famously superb public transport system means you won't need a car. If you insist of having one anyway there is a private car park for EUR 14 a day.
Why choose this place?
Primarily for the location and price – as you know I am not a big believer in the "who cares about the hotel, I'm only going to be sleeping there" philosophy as I want to enjoy every minute of my trips. Also I often have to get some work done and I need to have a reasonable environment in which to do so.
However I do understand the desire to get good value for money too and to find a hotel almost literally within spitting distance of the Kudamm and the Kranzler (I didn't try) for less than EUR 60 a night is kind of amazing. It did make me a little apprehensive as to what I would find when I arrived…
In case you were wondering, the art in art'otel is the fact that over 200 pieces by Wolf Vostell are on show throughout the hotel and tours are available if you want to learn more about his work. It does help differentiate the property from a standard chain hotel.
Room
There are three categories of room: artroom xs, artroom and artroom xl. I was allocated an xs, the smallest type available.
Here's a video overview so you get the full picture:

Unfortunately my first impression was not great – a nasty smell met me as soon as I opened the door – the window was open and the room was cold so efforts had clearly been made to improve the situation, but it hadn't worked. Thankfully it did get better over time but if I was the manager I wouldn't consider the room to be ready for use when the keycard was given to me.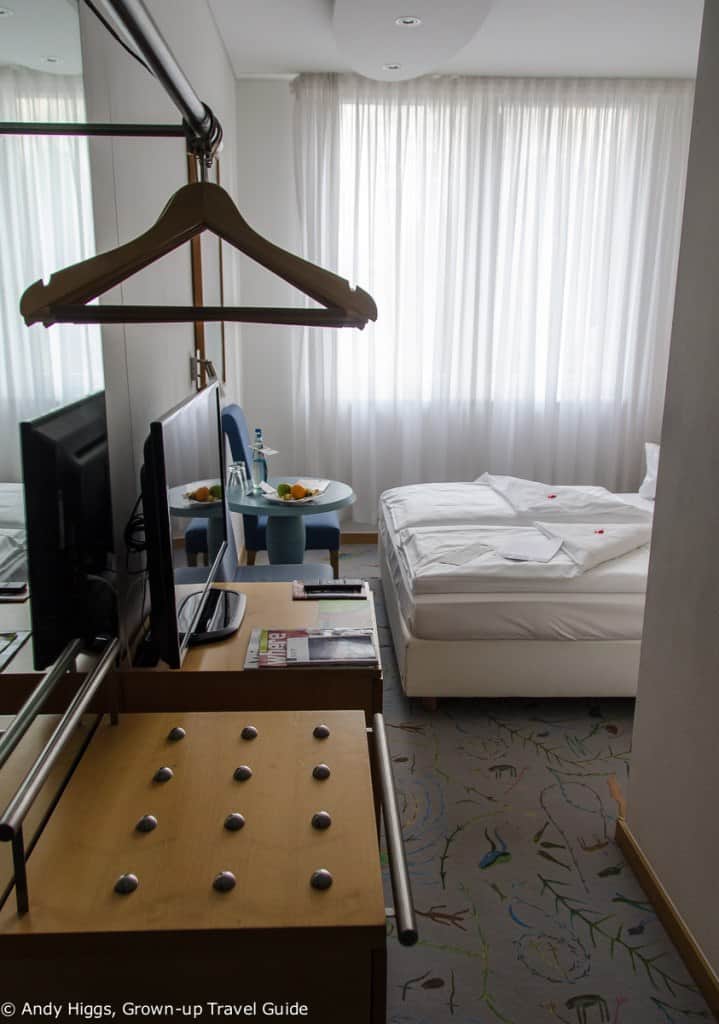 My second impression was that this was not a place where cats could be swung.
The designers had certainly done what they could with the space available, and apart from a lack of storage – and floor – space the room had everything I needed. It was a little claustrophobic but I think it was the bad smell as much as the compact size that made me feel that way.
The room was dominated by a good-sized double bed and a welcome letter awaited – always a good idea to make guests feel welcome.
The bed was very comfortable and the room was quiet at night being at the rear of the building.
The TV was a flat-screen – probably more out of necessity than planning as there's no space for a CRT. The signal was good, though, and there were plenty of (cable) channels. No work area to speak of, though, and you'd hardly want to sit for long on those chairs without being able to stretch out your legs…
A dated but working coffee maker by the bed was a bonus and the chocolates on the bed each time the room was cleaned was a nice touch.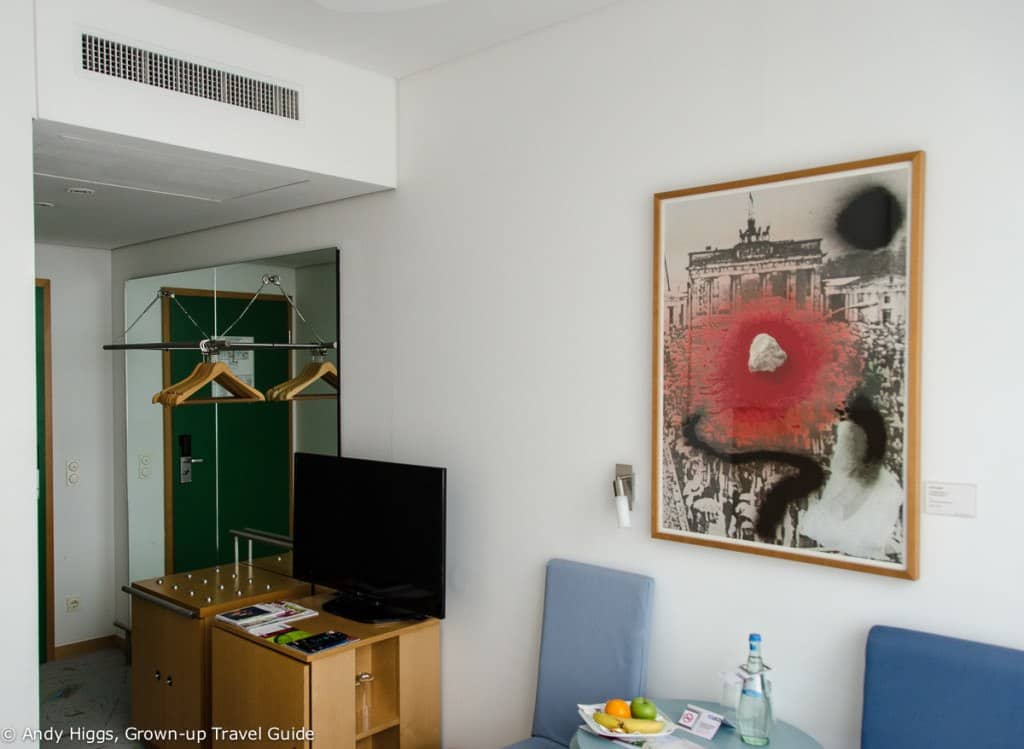 The art on the walls was interesting, at any rate.
Have you seen what's missing yet?
Yes, you're right -no wardrobe. You have to be packing seriously light to be able to get by with just coat hangers and half of a cupboard (the other half being taken up by the safe). It's not like there's a lot of space to put your case and live out of that, either…
Carpets?
Yes – and they really were outdated. If they are only able to make one change to this room, I hope this is what they use the money on. Rip out these stained and nasty carpets and either put laminate or plain coloured, hard-wearing carpets down. I'm pretty sure the carpets were the source of the nasty smell – there were a few suspect discolourations – but I didn't really want to investigate further.
Bathroom
The bathroom was as tiny as you'd expect given the bedroom but had everything I needed and was functional enough.
There was a slight smell from the open drain in the shower area which is really typical of Berlin hotels – they generally have open drains so perhaps a blast of air freshener after running the water would be a good idea when cleaning?
The shower had good water pressure (which is definitely not always the case in Berlin) and the floor sloped properly to the drain so I didn't end up with water all over the floor. The small size of the bathroom did mean that it was strictly a one-at-a-time kind of deal. The basin was large and I suppose stylish, but there was nowhere to put the soap except for on the glass shelf beneath it which was a bit silly.
Good quality toiletries from Elemis are provided along with a bathrobe, slippers and hair dryer.
Free internet I hope?
Yes, and decent quality all over the hotel if a little slow. You also have the option of paying for faster access but I didn't feel this was necessary.
Bar and restaurant?
There is a rather forlorn looking bar next to the lobby and whilst I didn't try it (despite having a voucher for a free drink, which was a nice touch) it didn't look like the kind of place you visit Berlin to hang out in.
Pool, sauna?
Neither, actually, but guests can make use of a nearby fitness centre for EUR 10 a day, which seems reasonable.
The breakfast was included, right?
Breakfast is not included in the cheapest rates or in award redemptions. There are so many cafes in the area this will not be an issue for most but you can always pay for the buffet at the hotel if you want to stay in. I didn't try it so can't tell you what you get for your money.
Service
Service was friendly and efficient from check-in to check-out although I only really met the reception team as I didn't eat breakfast in the restaurant or drink in the bar.
Any points/miles to earn?
Yes, art'otel is a Park Plaza brand which in turn is part of the Club Carlson network. This is a good loyalty scheme for Europe and I have both earned and burned a lot of points over the years by staying at Radisson, Park Inn and Park Plaza properties. Join it if you haven't already.
Can they look after your bags after you check out?
Yes, they are happy to do so.
The Damage
Rates start at around EUR 55 per night. Berlin imposes a 5% tax on hotel rooms but if you are staying on business and can prove it you can get this taken off – I've never bothered but will probably do this next ITB when in town for the whole week and paying for it.
As mentioned prices do jump somewhat drastically during ITB, the Berlin Film Festival and the other big events taking place in town. Plan and book ahead or you might be struggling to feel you are getting value for money when paying over EUR 150 for the same basic room…
The verdict please your honour...
The Good
Practically unbeatable location for exploring City West. Very good rates (apart from during the middle of ITB week, when they can actually triple and are not worth it for the room type I had)
The Bad
The room was really small. The lack of a working area will irritate some and the inadequate storage space will irritate everyone.
The Ugly
The smell in the room was the biggest turn-off, but it did diminish over time. But never disappeared…
Closing comments:
It's difficult to be too harsh on the art'otel kudamm given its location and price, but the room I had wasn't really up to scratch. You get the feeling they are coasting a little precisely due to the location and price whereas I'd happily pay more for a refurbished, fresher room. Unless you really are concerned about every Euro I'd recommend splashing a little more cash here to avoid the 'xs' rooms – the larger versions look a lot more liveable.
But when all is said and done, for a hotel room a stone's throw from the heart of City West it's not easy to get better for the money even if you end up in the smallest one they offer.
Travelling to Berlin? Check out these strange observations before you go…