The Swedish capital is absolutely one of our favorite Grown-up destinations and we never tire of singing its praises. It is of course not cheap; and finding good mid-range accommodation can be a challenge.
You're not one to shirk from a challenge though, are you now?
Certainly not, and the last time I visited I stayed at the Best Western Time Hotel and found that it ticks most of the right boxes.
Okay, let's have the low-down then…
Coming right up:
Best Western Time Hotel

Vanadisvagen 12, Stockholm 11346 SWEDEN +46 (0)8 545 473 00
Email: info@timehotel.se
When?
Mid-September 2011
Vital stats:
Four stars. Built in 2007. 144 rooms over 7 floors
Location, location, location?
The hotel is located in the mostly residential Vasastaden district of Stockholm. It is a little way from the city centre and the nearest metro stop is about a 10-15 minute walk, but there are regular buses that stop close by. During the warmer months you can (and should) make use of the city bike scheme and there is a cycle stand just round the corner from the hotel.
What about parking?
There is a garage under the hotel.
Why choose this place?
I was arriving on a Monday and found a deal online through a third-party site – Stockholm mid-week can be a real killer, so it pays to hunt around on a weekday. Best Western claims it will match and beat any rates but as with most of these guarantees there is a lot of small print. But read our tips page and try calling the hotel directly. So it was the combination of a reasonable rate along with modern facilities that swung it for me.
Room
Five different types of room – Standard, Superior, Executive, Terrace and Junior Suite as well as studio apartments. I booked a Superior room but got a complimentary bump up to Executive on arrival, which was nice. Pretty stylish and modern with trendy colour schemes.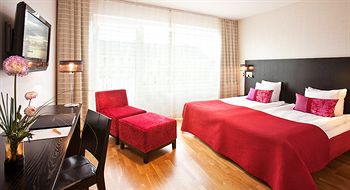 LCD TV, work desk,  hairdryer, parquet flooring, complementary wireless internet access. All rooms are non-smoking rooms.
Carpets?
Nope. Lovely clean wooden floors. I cannot stand grimy carpets in hotel rooms, and I don't understand why every hotel doesn't go with parquet instead – not least for hygiene and allergy reasons.
Bathroom
Modern bathrooms with underfloor heating and the usual complimentary toiletries. My executive room had a bath (which is the main step up from Superior) but it was clearly designed for those at least 30% shorter than myself, so wasn't such a great perk. Hair-dryer provided.
Free internet I hope?
Yes, but it was excruciatingly slow in my room at least, so I ended up using my mobile internet USB stick. Clearly the hotel needs to boost its signal in some areas.
Bar and restaurant?
A small bar in the lobby. No restaurant.
Pool, sauna?
Sauna and relaxation room on site, pool and fitness facilities can be used at a local gym at reduced rates for hotel guests. A better option for swimming is the art-deco wonder of Centralbadet in the city centre. Or you could jump in the fjords like the locals do – in the summer.
The breakfast was included, right?
It was, but wasn't great. Next time I would probably head out to one of the many excellent cafes instead. That said, it sated my hunger but included those powdered scrambled eggs which are another pet hate. Could do better…
Service
Very friendly reception staff. Super-fast check-in. Aforementioned upgrade came out of the blue (it was a quiet time). Super-fast and efficient check-out too, which was good as I was running late for the airport…
Any points/miles to earn?
If you book through the hotel you can earn Best Western Reward Points. Make sure you join up if you are not already a member, the loyalty scheme is quite a good one and BW do have a lot of hotels.
Can they look after your bags after you check out?
They can indeed. They have a spacious and secure baggage room and are happy to help out.
Green or mean?
The hotel has impressive green credentials, having been certified with the Nordic Ecolabel in Febuary 2010. The Nordic Ecolabel is a guarantee that the hotel has met the highest standards regarding environmental, health, functionality and quality requirements. The Best Western Time Hotel reduces its environmental impact covering such factors as lower energy and water usage to recycling and minimizing the use of chemical products.
The Damage
My bill for two nights came to SEK 3280. Rates are substantially cheaper at the weekend.
Click here for video footage and images of the hotel courtesy of TVTrip.com.
The verdict please your honour…
The Good
Clean room, quiet, nice size (executive room). Plenty of power sockets. No carpets. No smoking. Relaxed atmosphere, friendly service.
The Bad
No mini-bar – most people probably wouldn't miss this but an ice cold beer on arrival is a treat our spies often don't mind paying for. Also no mini-bar means no fridge, and the supermarket in the same building sells only WARM beer. Really, what are they thinking? I ended up filling the sink with cold water and dunking some cans in there but it's not the same…there is of course a small bar area in the hotel itself if you so desire, but I can be rather unsociable folk when I've just arrived after a long journey.
The Ugly
Bad design in the bathroom led to water running over when showering. It seems that finding a functional shower curtain/door is quite a common problem in the hotel industry but at least there was a drain to channel the excess away quick enough.
Closing comments:
I really enjoyed this place; I'm not one of those who believes that hotels don't matter when on a break as "you're only going to be sleeping there anyway". I like to have somewhere I can relax, maybe do some work and generally add to the experience. The Best Western Time hotel was pretty much everything I wanted. The only minor let-down was the breakfast and I would definitely recommend the hotel to my friends. Indeed I have done, and I will be returning. So far the best all-round hotel in Stockholm.
Final score: 5/6
Images (c) Best Western Time Hotel
Please note: The author travelled as a regular tourist – no mention was made of the fact that a review would be written, the establishment was not informed of the author's intentions and no special discounts were enjoyed.