So the time has finally come. After all that nagging you've decided to give in and finally take your daughter to Legoland in Windsor, England.
You mean after all these years she's developed enough interest in Lego to justify the trip YOU have been waiting for?
Well, there's a bit of that in the mix, yes. But that was more about the real Legoland for us of a certain age – the one in Denmark. Having made the journey there in the summer we had already planned a holiday during the autumn half-term, and it was her that wanted to check out the UK version. Honestly.
You were easily persuaded though...
That's true enough. I mean who doesn't dig Lego? We've shown our love for the plastic bricks by covering the London Christmas Tree, Underground map and Big Ben on this very site, so assuming we could sort out the practicalities of course I was keen.
Like a place to stay?
Right. After doing a little surfing I found this place which wasn't far from Legoland and had a pool (those were essentially the criteria). We'd already booked a hire car so would be independent – which is pretty much essential given the location. But more on that in a mo'; here's our unbiased review.
Crowne Plaza Hotel Marlow

Fieldhouse Lane, Buckinghamshire, SL7 1GJ
ENGLAND +44 (0)1628 496 800
When?
Early October 2011
Vital stats:
Four stars. Built in 2002. 168 rooms over 3 floors
Location, location, location?
Not its strong point. You basically need a car, and to reach the hotel you have to drive through an industrial estate (the unattractive walk from Marlow centre will take you at least 30 minutes) but things improve when you finally reach the property as it is located in pleasant surroundings with a lake behind the main building. A taxi would be your other option – a very expensive one.
What about parking?
There is plenty of free parking here, which is just as well as I would imagine that every guest has a car.
Why choose this place?
As stated above it was the short driving distance to Legoland that was the main appeal. We wanted a place with a pool as there would't be much else to do in the evenings without a journey and the price was competitive given the criteria – this was a "Book Early and Save including Breakfast" rate, payable upfront. Make sure you try all the usual tricks to secure the best rate you can – see our Grown-up Travel Tips category for the low-down. Note that the hotel also offers Legoland packages including accommodation and entrance tickets but these may not be the cheapest option.
Room
Three different types of room – Guest Rooms, Executive Club Level Rooms and Suites. We booked a regular Guest Room and had two comfortable double beds. Executive Club Level grants access to the (otherwise locked) Club Lounge, which has some food an drinks but was completely dead whenever we passed it. Our room was clean and comfortable but rather dated – I mean an old style CRT television in a wooden cabinet? The TV signal was bad too.
CRT TV(!), work desk,  tea/coffee making facilities, mini bar, small fridge space, safe, iron, ironing board. The majority of rooms are listed as non-smoking rooms – I didn't realize you could still smoke in a hotel room in the UK but it may be that the information provided was out of date.
Carpets?
Unfortunately, yes. They were clean enough in our room but a little worn. Regular readers will be aware of my dislike of carpets in hotel rooms, but it is rare to find anything else in an English hotel. Or an English house, for that matter.
Bathroom
Images (c) Andy Higgs, Grown-up Travel Guide
The bathroom was fine and a bathrobe was provided. Always a plus to have both a bathtub and a shower cabinet. Hair-dryer provided.
Free internet I hope?
There was supposed to be a free 30 minute period but the connection was unusable in our room. This is a major flaw for a four-star hotel in this day and age and even if you could get online the charges after this initial period were also excessive, with an 'initial charge' of GBP 14.95.
Bar and restaurant?
Both – in fact the bar also serves food too. We ate at the restaurant and enjoyed the food, although on the first night one of our starters was forgotten. The prices were relatively high and service was slow but pleasant. The hotel is popular with groups and there was a rowdy but good-natured gang of ladies on a hen night at another table – the staff apologized for the noise but it hadn't been an issue for us. The bar is very expensive and it's easy to get the impression that the hotel exploits its isolated location to up the prices.
Pool, sauna?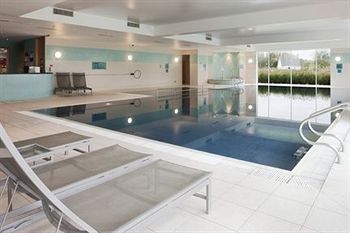 An excellent pool, a little larger than expected with hot tubs both indoors and outdoors. Other facilities include a sauna, steam room and gym. Children can only use the pool from 0800-1100 and 1400-1800 (last entry 1700 – which is worth remembering after a long day out.)
The breakfast was included, right?
It certainly was, and was excellent. Wide variety, fresh ingredients and good service when needed. The buffet was restocked until it closed, so late arrivals could choose from the entire selection.
Service
Friendly and efficient reception staff and smooth check-in. Receptionist printed a map for us to find our way to Legoland and explained the quickest way to get there. Quick and efficient check-out.
Any points/miles to earn?
If you book through the hotel you can earn Priority Club points. As ever, make sure you join up if you are not already a member. Priority Club is one of the better loyalty schemes.
Can they look after your bags after you check out?
Yes, they have plenty of space if you so desire.
Green or mean?
The hotel website informs readers that it was named BDL Green Hotel of the Year 2010 for the 3rd year in a row but doesn't explain what this is. However BDL is the company responsible for "brand management" for the Crowne Plaza chain and that was where I nodded off. Anyway I'm giving them the benefit of the doubt and assuming that this means the hotel has a good environmental policy.
The Damage
The bill for two nights came to GBP 150.00. Rates – as usual – drop sharply at the weekend.
The verdict please your honour...
The Good
Clean, quiet and spacious room. Bathtub and shower cubicle. Plenty of power sockets. No smoking. Friendly service. Excellent pool facilities. Good food in the restaurant.
The Bad
The location means that this is not a place to stay without your own transport, but it is handy for Legoland and Marlow itself is an attractive town.
The Ugly
Non-functional internet access – even if it had worked the rates were far too expensive. The bar prices were also very high (even from a Norwegian perspective…)
Closing comments:
We enjoyed our stay here and I would have no hesitation in recommending this place as a base for visiting Legoland or Windsor and its castle; just map sure you have wheels. If you are planning on using a GPS to find it check the website as this has caused problems for drivers in the past; they provide an alternative post code for use in navigation systems.
Final score: 4/6
Images (c) Crowne Plaze Hotel Marlow except where stated otherwise
Please note: The author travelled as a regular tourist – no mention was made of the fact that a review would be written, the establishment was not informed of the author's intentions and no special discounts were enjoyed. This is a vital part of our aim to provide impartial and comprehensive advice.