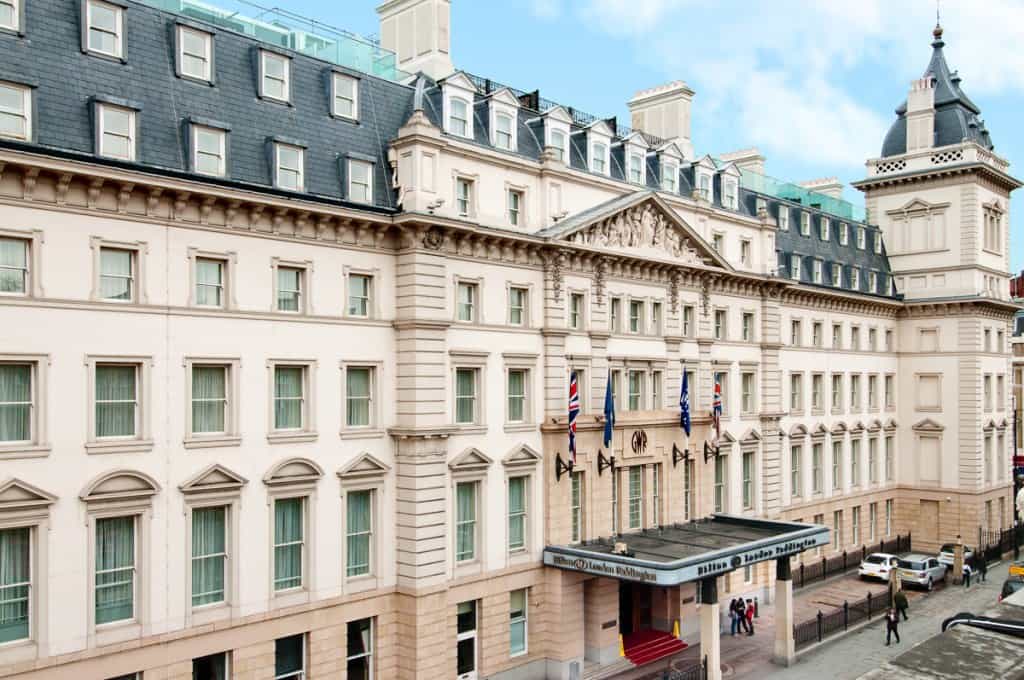 Image (c) 2015 Hilton Hotels & Resorts
As you'll know if you read the 'teaser' for our latest trip to London, one of the purposes of this long weekend was to test a couple of hotels in the capital. We are slowly working our way towards our unwritten, unstated and ultimately completely unrealistic goal of staying in every one of the over 1000 properties the Big Smoke has to offer.
Okay, that's not going to happen, but we do at least intend to cover as many of the best value hotels in London as we can. By concentrating on our niche of affordable luxury, we should in fact be able to review a large proportion of places that you ought to consider next time you plan to visit. It's not a problem to find a luxury hotel in London – finding one that is affordable is not quite as easy. Prices have risen substantially in recent years and demand shows no sign of slowing.
After doing some research I settled on the Hilton London Paddington, a property that had been on my list for some time. Despite the fact that we could only stay one night on this occasion it fit in well with our plans and I went ahead and made the booking.
To say the Hilton London Paddington is historic is something of an understatement. When it originally opened in 1854 as the Great Western Royal it was the first grand terminus hotel in the world. It was an integral part of the overall plan of Isambard Kingdom Brunel when he designed Paddington station and to this day constitutes its main facade – an Art Deco Victorian palace towering over the tracks.
I'd passed by (and occasionally through) the hotel several times back when living in the UK and travelling via Paddington; these days it's especially handy for the Heathrow Express which ends up a few hundred yards from the lobby after the 15 minute journey.
Finally I got the opportunity to stay overnight – so read on to see how the Hilton London Paddington fared…
Hilton London Paddington, 146 Praed Street, London W2 1EE, England +44 [0] 20 7850 0500
Email: reservations.paddington@hilton.com
When?
Mid-May 2015.
Vital stats:
Opened 1854(!), last renovated 2002. 419 rooms including 56 rooms in the GWR Tower Wing over 6 floors.
Location, location, location?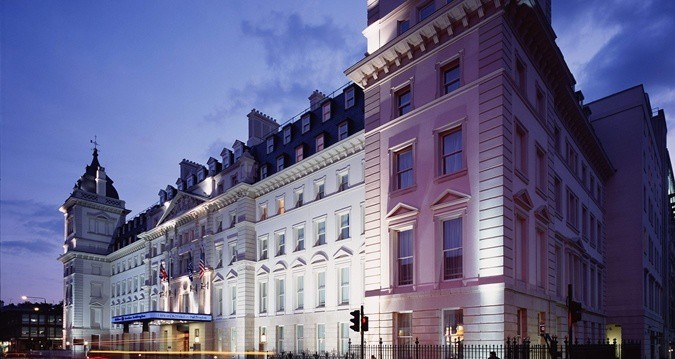 Image (c) 2015 Hilton Hotels & Resorts
Forming part of Paddington Station itself with direct access from the ground floor, the Hilton is hard to beat in terms of transport links. No fewer than four Tube lines connect here – the District, Circle, Hammersmith & City and Bakerloo. Add to that the overground trains servicing the south and west of England as well as buses passing the front entrance and you'll understand that you'll see what I mean.
But that's not all – many of the capital's most popular sights are within easy reach and some you can walk to; in the latter category I highly recommend the ten-minute stroll required to reach Little Venice, one of London's most surprising highlights.
What about parking?
The Hilton does not have its own car park but if you are unfortunate enough to be driving in London let me give you an excellent tip: there is a little-known car park at Paddington Station which charges just GBP 25 for 24 hours (yes, this is good value here) and substantially less at the weekend – I belive as low as GBP 10.
The entrance is in Bishops Bridge Road and is easily missed so keep your eyes out or use a map. Run by APCOA, it's a "pay and display" so you have to pay in advance and put the ticket in sight of attendants, but it's covered, guarded and open 24 hours a day.
Image (c) 2015 Hilton Hotels & Resorts
When you leave your car you exit via the station platform and can then enter the Hilton through the rear entrance shown above.
Another bonus is that the car park is outside the Congestion Zone so you won't get stung for the GBP 11.50 charge on weekdays. We were driving ourselves this time, so it was great to know that our rental ride from Sixt was safely parked off the street for a reasonable price.
Why choose this place?
As well as the hotel's historic appeal and its location, a lot of guests choose this property because of Hilton's reputation for high standards. If you are travelling with a child the family rooms are a good size – especially for London.
Image (c) 2015 Hilton Hotels & Resorts
As you can see the lobby is stunning – we did have to wait a little longer than seemed necessary on arrival as there were a large number of guests waiting at reception and only two staff dealing with the disorderly queue. They did their best, though, and it gave us the opportunity to take in the decor.
Image (c) 2015 Hilton Hotels & Resorts
After collecting our keycard we made our way to the lift past the impressive lounge beside the equally impressive staircase.On the first floor is a remarkable Art Deco painting which you can just glimpse in the photograph above and is well worth appreciating.
Room
The Hilton London Paddington has four main types of accommodation – Guest rooms, Deluxe rooms, Family rooms and Executive rooms – as well as Suites. In addition, there is a newly-opened section of the hotel called the GWR Tower with 56 Premium rooms and the exclusive Tower Lounge.
We were upgraded to an Executive room on the fifth floor and were immediately impressed – the double bed was huge and the extra rollaway wasn't much smaller either.
I liked the Art Deco style and muted colour scheme which gave the room a cosy feel – and there was plenty of space, too.
Executive rooms and Suites offer complimentary access to the Executive Lounge which serves continental breakfast and refreshments all day and is an excellent place to work undisturbed.
Here's a video overview of room number 504 so you get the full picture:

All rooms feature a flat screen TV with movies on demand, air conditioning, in-room safe, tea and coffee making facilities, work desk, iron and ironing board and clock radio.
The Executive rooms add a filter coffee machine, bathrobe and slippers, complimentary water on arrival and upgraded bathroom products.
Carpets?
Yes – this is England, second only to America in its love of carpets and disdain for wooden floors in the hotel industry. Okay, I exaggerate – and in any case the carpets were in perfect condition so no complaints there.
Bathroom
The marble bathroom was very stylish too, with a full range of toiletries and plenty of towels provided.
It was also a decent size a with both a shower and separate bathtub.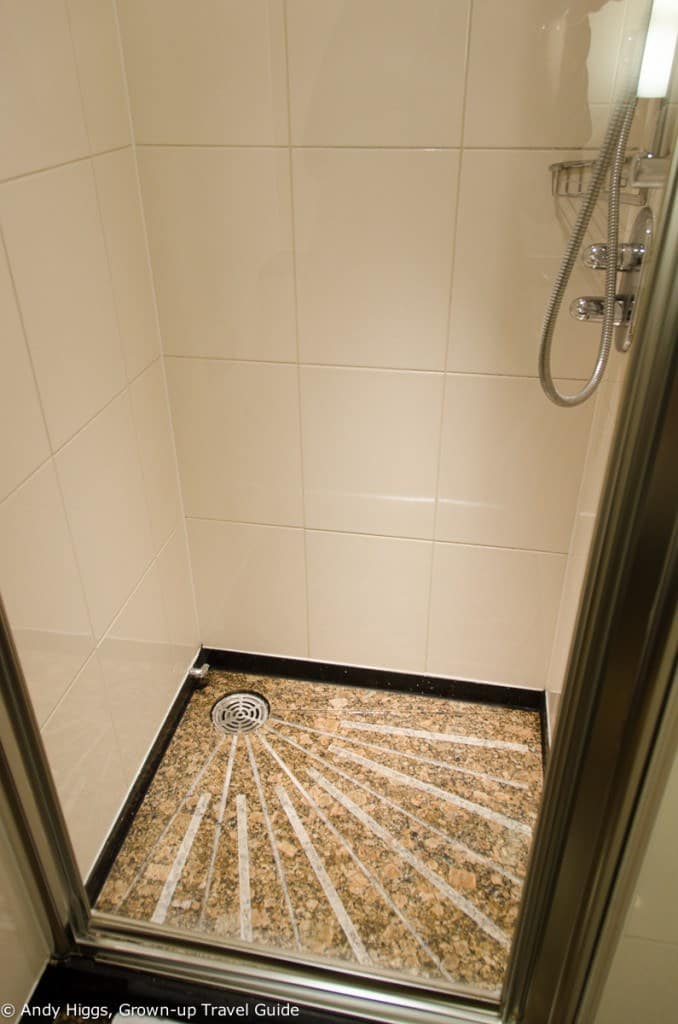 The shower was good; water pressure could have been better but it wasn't a major issue. I liked the floor decor as well.
Extra points for the proper-sized, deep bath.
Free internet I hope?
Yes and no. This is the biggest black mark against the hotel but something that is in fact changing as I write this (I actually read a press release today). When we visited, wi-fi was only free in the lobby – and you still needed to collect a code from reception. If you wanted to use wi-fi in your room, you were supposed to accept paying GBP14.99 a day. The only guests who could get free wi-fi were those with Gold and Diamond status in the Hilton HHonors loyalty scheme.
This is clearly outrageous but Hilton has got the message; you will now benefit from free wi-fi all over the property if you book via the official website.
I must admit I grudgingly respect this ruse to discourage using third party sites but it is a bit cheeky – it may only be a matter of time before the company gives in and joins most of the competition in offering universal free wi-fi to its guests. Here's hoping…
Bar and restaurant?
Image (c) 2015 Hilton Hotels & Resorts
Both – I had a beer in the Steam Bar which is a very modern space on the ground floor but ended up taking it through to the Lounge as there was nobody else there. You can also order drinks in the Lounge itself and its a nice area to relax.
Image (c) 2015 Hilton Hotels & Resorts
I didn't get a chance to try the Brasserie restaurant on this occasion but the menu, which promises English fare with an Asian influence, looked good.
Pool, sauna?
There's no pool but the Hotel has a well-equipped fitness centre. If you are dead set on getting some exercise I suggest bringing your running shoes so you can go for a jog in Hyde Park – it's very close by and a beautiful place to burn some calories. Assuming the weather is on your side, of course…
The breakfast was included, right?
Room only rates do not include breakfast; the buffet was wonderful so I would definitely recommend you pay a little extra to have it included. You can of course pay on the day but it costs a little more. The cooked breakfast was superb and the choice of cold options extensive.
Service
We experienced great service throughout our stay, from the front desk to the concierge, bar and breakfast staff.
Any points/miles to earn?
Yes, the Hilton HHonors scheme is a good one so join if you're not already a member and you'll gain points for the money you spend in the hotel – not just the room rate but food and drink too.
Can they look after your bags after you check out?
Yes, you can safely leave your luggage here while you explore London.
The Damage
Room rates start at GBP 239 per night for a deluxe room with breakfast; you can save by booking in advance or taking advantage of one of the many packages offered by the hotel. For the location, standard and facilities I feel the hotel offers good value – and for the three of us, the total full price was similar or lower than many other comparable properties.
The verdict please your honour...
The Good
The location, the level of comfort, the stylish decor, the breakfast, the size of the bedroom and the bathroom.
The Bad
An extra person on duty at reception during the 'rush hour' would have helped.
The Ugly
Nothing to add here.
Closing comments:
The Hilton London Paddington is a beautiful luxury hotel offering good value for a superb location. With fantastic transport connections and a range of spacious rooms, it's an ideal place to stay and explore the big city. We'll be back!