Note: My stay was hosted by the Costa Brava Tourist Board as part of a press trip. Opinions are, as always, my own.
If you read my review of the amazing Sant Pere del Bosc restaurant recently you'll know that our group stayed the night in Lloret de Mar on the first day of our Costa Brava press trip last autumn. If you haven't read it, I strongly suggest you do as it will give you one reason to visit right away, and there are plenty more.
However we didn't get any time to see the actual town but did stay in a very nice five star hotel, which I can highly recommend using as a base in Lloret.
This is what I thought of the place…
Hotel Guitart Monterrey, Avda Villa de Tossa 27, 17310 Lloret de Mar, Catalonia, SPAIN (34) 972 347 305
When?
Early September 2015.
Vital stats:
Five stars. Opened 1958, last renovated 2008, 200 rooms over 7 floors.
Location, location, location?
The Hotel Guitart Monterrey is a couple of kilometres from the seafront in a built-up part of Lloret with plenty of shops, cafes, bars and restaurants close by.
There are good bus connections outside the property and a free shuttle bus to the main beach is a nice bonus. You can borrow towels to take with you and even charge food and drink at one of the restaurants to your room (don't forget your check-in card).
This service needs to be pre-booked at reception and only runs during high season.
What about parking?
The hotel boasts a covered car park but charges for its use on a first-come, first-served basis. Parking costs EUR 18 per day.
Why choose this place?
The location is far enough away from the beachfront to be quiet and laid-back and being set in 50,000 square metres of gardens adds extra serenity. Yet there is plenty to do in the local area and the free shuttle and good bus connections make it easy to reach the rest of Lloret.
There is also a large casino in the hotel if that appeals, too.
Room
There are four categories of room: comfort, superior, deluxe and family as well as two kinds of suite.
I stayed in a deluxe room with a balcony and a sea view.
The room was compact but there was more than enough space for a couple.
Here's a video overview so you get the full picture:

As you can see the room was light, modern and perfectly clean. The (twin) bed was also extremely comfortable.
There were plenty of power sockets in sensible positions, making all that recharging rigmarole easy.
The desk was a proper size with a very comfy chair so if you need to work from here you're well sorted.
The weather could have been better but I enjoyed the balcony with a cold beer despite the drizzle. I can hardly blame the hotel for the rain, but of course the view would have been better with blue sky in the background.
Other room amenities include a safe, mini-bar, satellite TV, hair dryer and telephone.
Carpets?
No! Lovely wooden/laminate instead. No, I can't really tell the difference, but in any case thumbs way up for the flooring.
Bathroom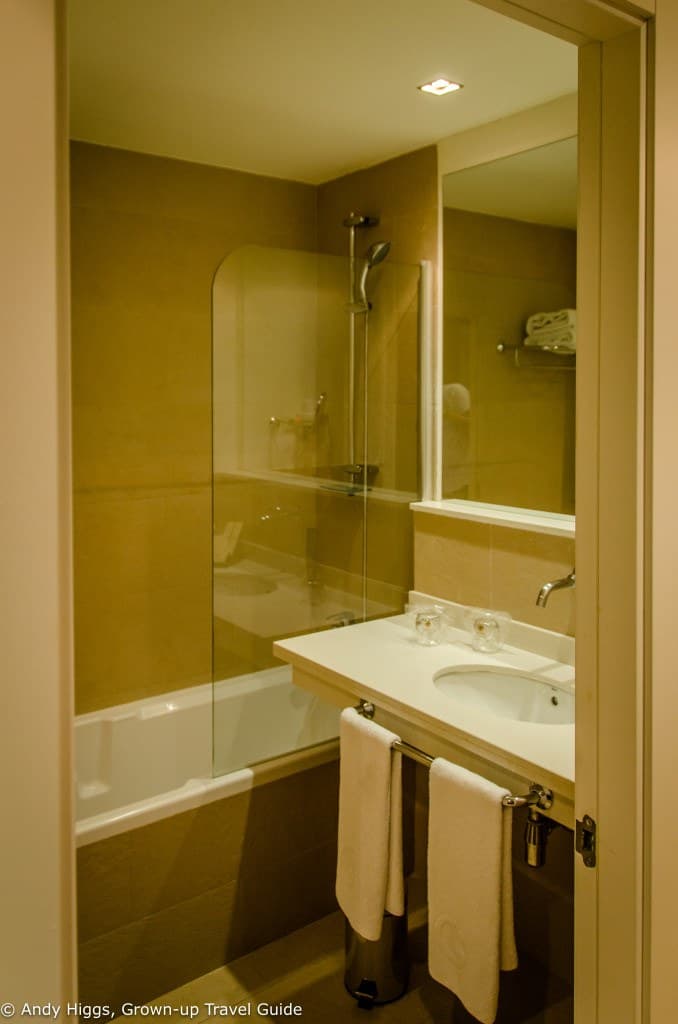 The bathroom was also compact but well designed with a proper sized bathtub as well as a shower.
The obligatory emergency telephone was present, in case disaster strikes while you, well, you know…
The toiletries were good quality and everything I needed was provided.
A shower curtain or wider glass screen would have stopped quite so much water spraying onto the floor, so that is (as usual) something that could be improved.
Free internet I hope?
Yes, free and and high quality wi-fi is available all over the property.
Bar and restaurant?
The hotel has several bars and restaurants. We didn't get to try these, unfortunately, although we ate breakfast in one of them in the morning.
Pool, sauna?
Yes- there is an impressive-looking outdoor pool with a separate children's section. The hotel also has an extensive spa but entrance costs extra.
The breakfast was included, right?
Breakfast is generally included in the rate, and half and full board options can also be booked in advance.
The breakfast buffet was very good with an excellent selection of hot and cold dishes, with local specialities.
Service
Service was excellent – friendly and efficient in all meetings with staff; although we only really interacted with reception and breakfast personnel.
Any points/miles to earn?
No. Guitart is a chain but does not seem to have a loyalty scheme or be affiliated with one.
Can they look after your bags after you check out?
Yes, they are happy to do so.
The Damage
Low season rates start at around EUR 90 per night for advance booking with breakfast. A quick price search suggested that an average nightly rate of GBP 130 was about right for the heights of summer – still a good deal.
The verdict please your honour...
The Good
Quiet location. Modern and clean property. Great beds. Excellent breakfast. Lovely gardens. Superb pool.
The Bad
Well the shower could have been protected with a better curtain or screen. But that's hardly unusual in hotels, is it?
The Ugly
Nothing at all.
Closing comments:
This is an excellent property and a good base for exploring Lloret and its surroundings. It comes highly recommended.