It's probably best to start this article by making it clear that this is not going to be a regular hotel report, because this is not a regular hotel. When you stay here – and stay here you should – you are getting so much more than a roof over your head and a bed to sleep in. La Rectoria de Sant Miquel offers guests a complete experience – one which deserves a thorough review.
For the record, I stayed here way too briefly on a press trip to the Catalonian Pyrenees last February. Due to the fact that we were running late we didn't arrive until way after dark. As if this wasn't bad enough we had a just-after-dawn hot air balloon ride booked for the next morning. However, we did have time for a sumptuous dinner and some whisky-tasting, so it wasn't all bad…
Those few hours spent at La Rectoria in the company of Roy and Goretti, its hosts, convinced me that I had to return and spend more time at this property.
It took me some time, but when we decided that this year's family summer holiday would be spent in Catalonia, La Rectoria was the first place I contacted for accommodation.
By the way, you'll see me using both 'Catalonia' and 'Spain' on the blog and social media; I try to respect both the individuality of the region and the political reality – at least at this point in time – I'm not taking sides.
Luckily they had a room for us and generously offered a discounted rate for three nights in return for an honest review of the guesthouse here on the blog. We confirmed immediately and planned the rest of the three weeks around our stay here in La Garrotxa.
I was deliberately vague when telling my wife and daughter about La Rectoria as I wanted it to be a surprise; this proved a good move as both Mari Anne and Rebecca were bowled over by the hotel.
So what makes this place so special? There are so many reasons, but let's start with the building itself.
The guesthouse is a 12th-century rectory – hence the name – which has been exquisitely restored by the owners. With the help of an enthusiastic and expert architect the building has kept many of the original features and where modernisation has taken place it is in keeping with the old design.
Materials have been re-used in creative ways; some rooms feature bed-heads fashioned from old doors and lamp stands made from wine barrels.
The love and care taken by Roy and Goretti is evident throughout the property and was thoroughly appreciated by the locals who had seen the building essentially abandoned since the last priest left in the 1980s.
I recommend you check out Roy's blog which contains photos documenting the restoration process – it's really something.
Then there's the Romanic church next door which is quite an attraction in itself. The villagers take care of this historic place of worship but there are no regular services these days. Roy and Goretti see themselves as custodians of the church for future generations and will gladly open the doors for you to visit.
You may already have noticed a common theme here – Roy and Goretti. The best reason to stay at La Rectoria is the hospitality of its hosts. Managing always to find the right balance between attentiveness and allowing guests privacy – no mean feat when living in the same house albeit on a separate floor.
This article will will address all these extra aspects to La Rectoria as well as the usual points covered in Grown-up Travel Guide reviews.
There's a lot to cover, so we better get started then…
La Rectoria de Sant Miquel de Pineda, Veinat de Sant Miquel de Pineda

,

17174 Sant Feliu de Pallerols,

Spain

(34) 518 80 85 01
When?
Mid-July 2015. Also a flying visit in February 2014.
Vital stats:
7 rooms over 2 floors.
Location, location, location?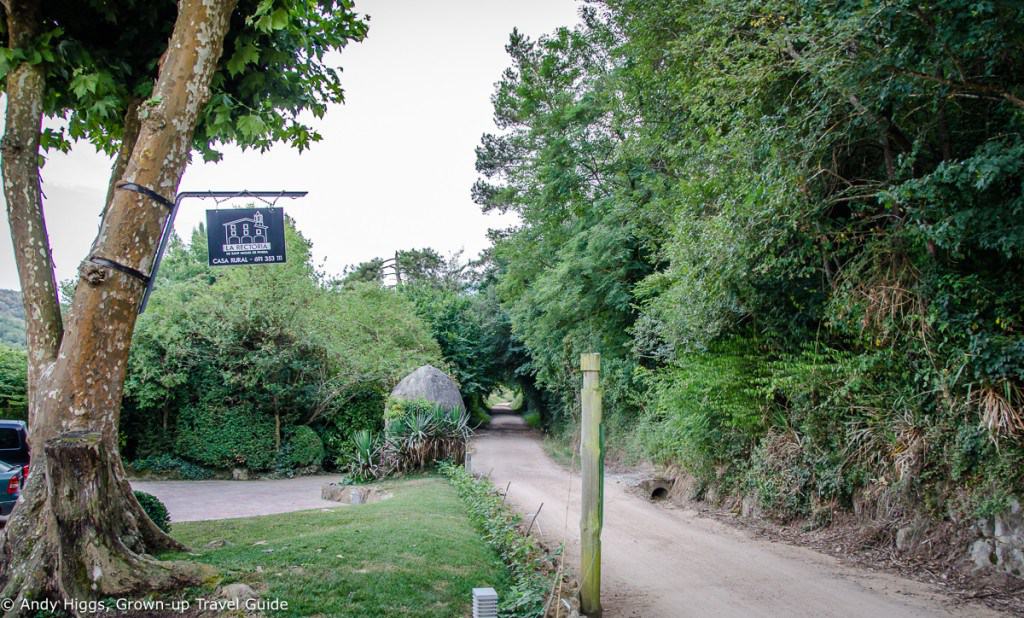 Located in the beautiful volcanic natural park of La Garrotxa, La Rectoria is situated right next to the Via Verda cycle track which follows the course of the disused railway line between Olot and Girona. There are also connecting cycle paths if you want to go further on to the Costa Brava.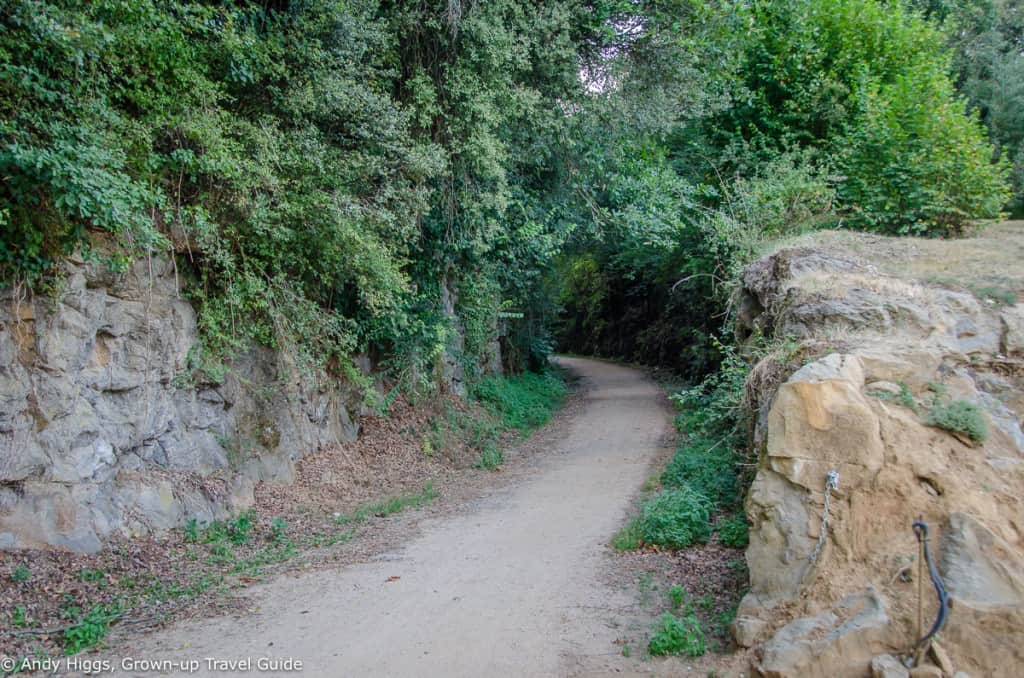 An ideal starting point for riding the track – which is highly recommended and popular with families due to its mostly flat and traffic-free course or walks in the surrounding countryside, the guest house is also perfect for experiencing the volcanic park from the air by hot air balloon. The latter requires an early start but the wonderful Vol de Coloms have their launch site just half an hour away by car.
You can arrange bicycle rental at La Rectoria and the bikes will be delivered to the guest house and collected when you're done.
If you are driving the GPS coordinates are shown on the website – it's easy to miss the turning from the main road on your first attempt.
What about parking?
There is car parking space on the property which is free of charge.
Why choose this place?
Where to start…if you are looking to get away from it all but wouldn't say no to comfort, gourmet food and expertly chosen wines, this is your place.
Often touted as a rural getaway or remote hideaway, La Rectoria is in fact just 40 minutes drive from Girona and only 90 from Barcelona. You could use it as a base to visit the Spanish capital and the coast, rather than the other way round. Whatever you decide, one night isn't going to hack it – the majority of the scores of 5-star reviews online have a single, common gripe – the guests wish they had stayed longer.
Your hosts – Roy and Goretti
Roy is originally from Scotland and Goretti hails from the local area. The couple met at The Balmoral Hotel in Edinburgh where Roy was working as a chef and Goretti was working for a whisky distillery.
They had a dream of opening a B&B together and spent some time looking for a suitable property – until finding La Rectoria.
I would go as far as to say that these two are the perfect hosts. It's not easy to get this right, either. Most readers will probably have experienced an over-zealous guest house owner or pushy B&B manager. From the moment you arrive and are greeted with friendliness and a genuine enthusiasm, you feel at home. What I mean is that you feel at home in their home – like you are visiting family friends.
How much interaction you want to have with your hosts is up to you – but they are great company and have so many interesting stories to tell about the project and daily life in rural Catalonia that you will wish they had more time to share them. But the other guests need attending to as well and make no mistake, they work hard and work long days. You won't begrudge them a little alone time…
Goretti's knowledge of and interest in whisky is quite something and one of the optional activities at La Rectoria is an introduction to the spirit with a tasting session (for which guests must make an advance reservation). I wasn't a big fan of the stuff but last year she managed to convince me that this was because I had been trying the wrong whisky. You should definitely sign up for this too…
Roy's cooking is just incredible – much more on this later.
Both Roy and Goretti are a mine of information about the local area and can help you plan activities in the region.
The church
There can't be many guest houses with their own church a few metres beyond the front door. But La Rectoria isn't you average guest house, as you are probably getting bored of hearing me say.
Try to make time to be shown around as it's a beautiful place.
The cross leads you into the church.
This internal door is a relatively modern addition if the date here is anything to go by…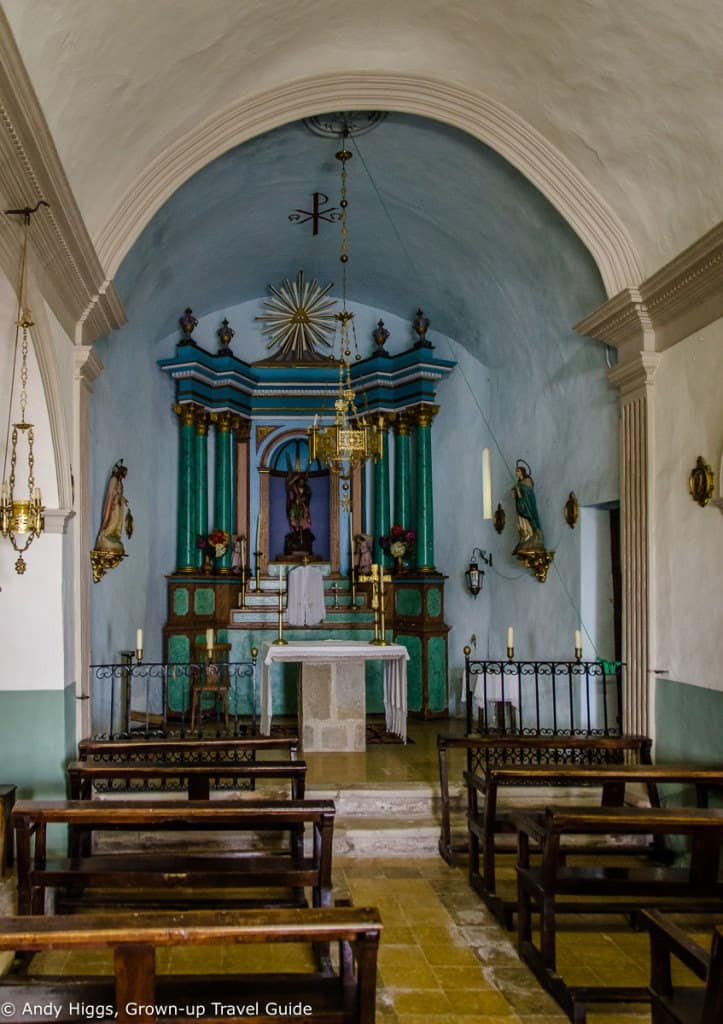 Once inside you have a fully-functioning miniature Catholic church.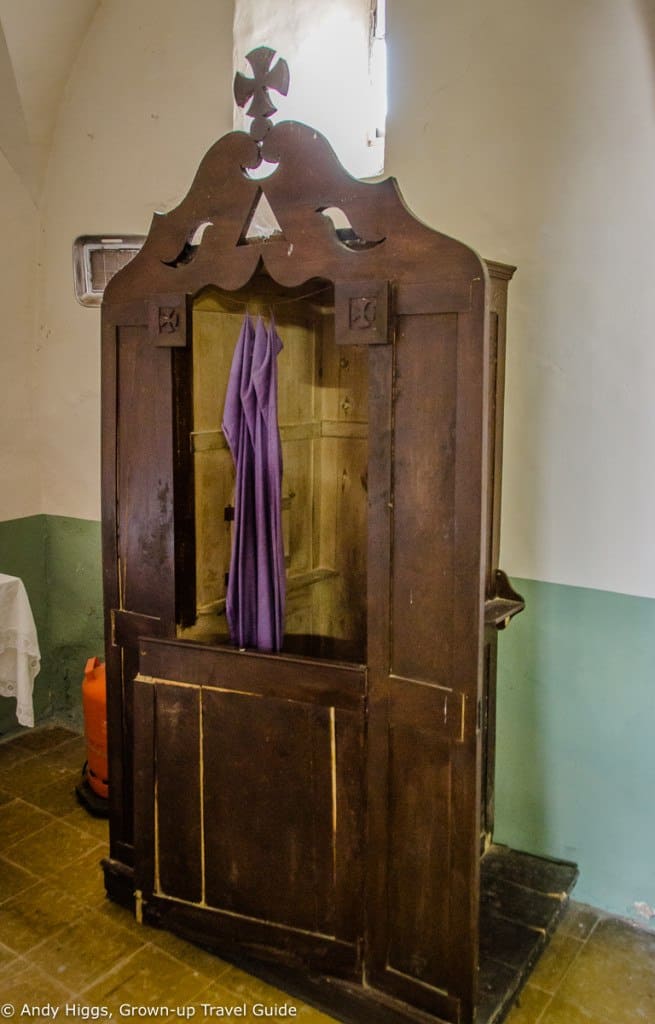 It would hardly be complete without a confession box, now would it?
Even though it is barely used it is kept in excellent condition by Roy, Goretti and the villagers.
At the back of the church are a number of well-tended graves. Slightly disconcerting at first, these above-ground burial chambers are visited regularly by relatives.
The Property
This next section is basically a photo walkthrough of the main parts of the property. A few shots of our room would not do the place justice.
From the pool area you can see the guest house, the church and of course the pool. Car parking space is provided on the other side of the lawn to the right of the picture.
The owners live with their son in the lower floor of the building (with the arched windows) while the guest rooms are on the two upper floors.
The entrance to the guest house is up the steps here on the right, just across from the church.
The door on the right leads into the hall.
There you are. Now in you go…
The hallway with its gorgeous old wooden floor and visitors book (which we managed to forget to sign. Grr!)
As you venture further into the hall the dining area is on your left. There are two lounges on this floor as well as two guestrooms. One of the lounges has a TV if you can't live without the tube.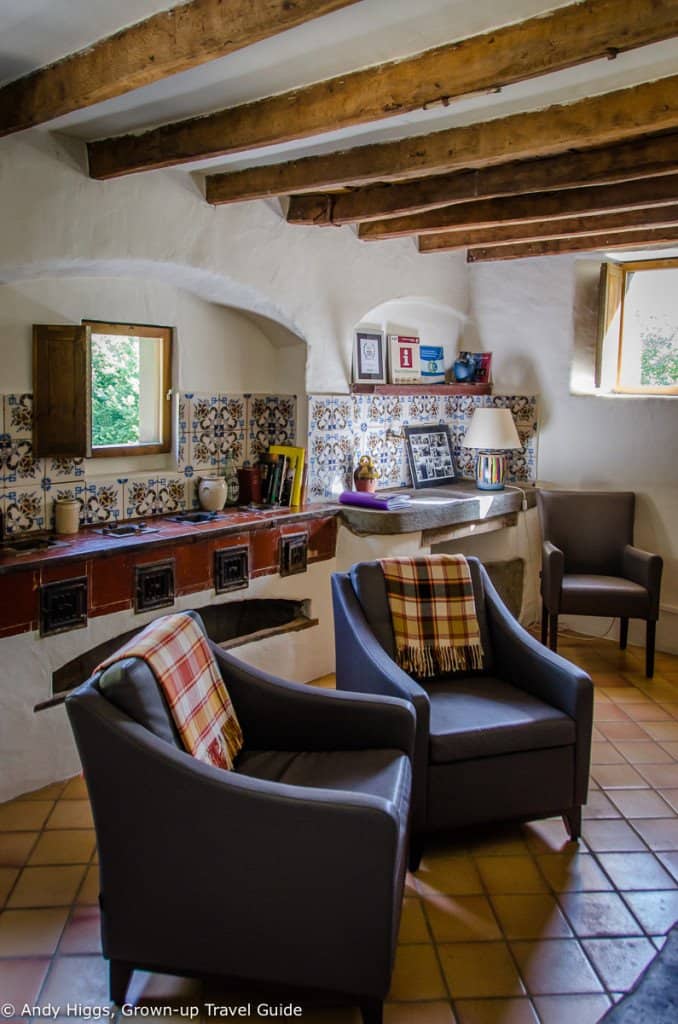 The other, shown above, has comfy leather armchairs and a fireplace for when the temperature drops.
The other five rooms are upstairs.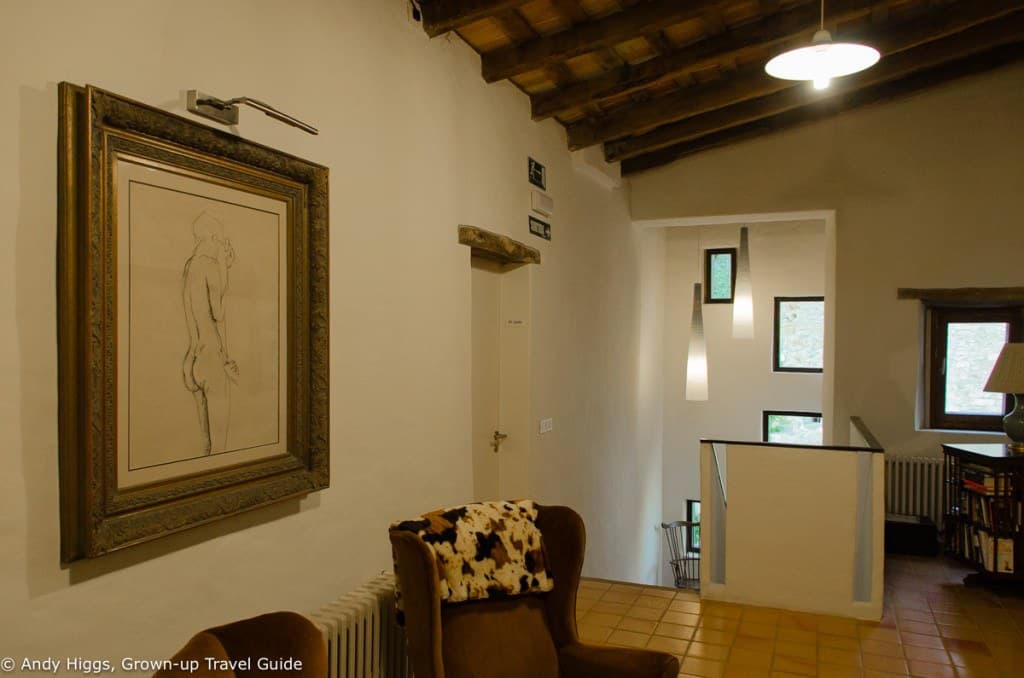 The landing has armchairs for slumping into after a hard day in the saddle – or even an easy day in the pool.
There's a good selection of books here too as well as some nice artwork and furnishings.
Room
As mentioned there are just seven ensuite rooms at La Rectoria. These have all been given names and we stayed in El Plataner which is the largest and can be used as a family room with one or two extra beds added. Two other rooms can be used as either doubles or twins, the remainder are doubles only.
All can be used for single occupancy for a reduced rate – how refreshing is that? Instead of paying extra for travelling alone, you get a discount.
Each room is unique – and uniquely stylish.
Here's a video overview of El Plataner so you get the full picture:

See what I mean? First and foremost the rooms are cosy and comfortable, but also light, fresh and featuring some lovely authentic touches.
We loved the wooden window shutters and original tiling. There are plenty of power sockets and modern lighting fixtures too.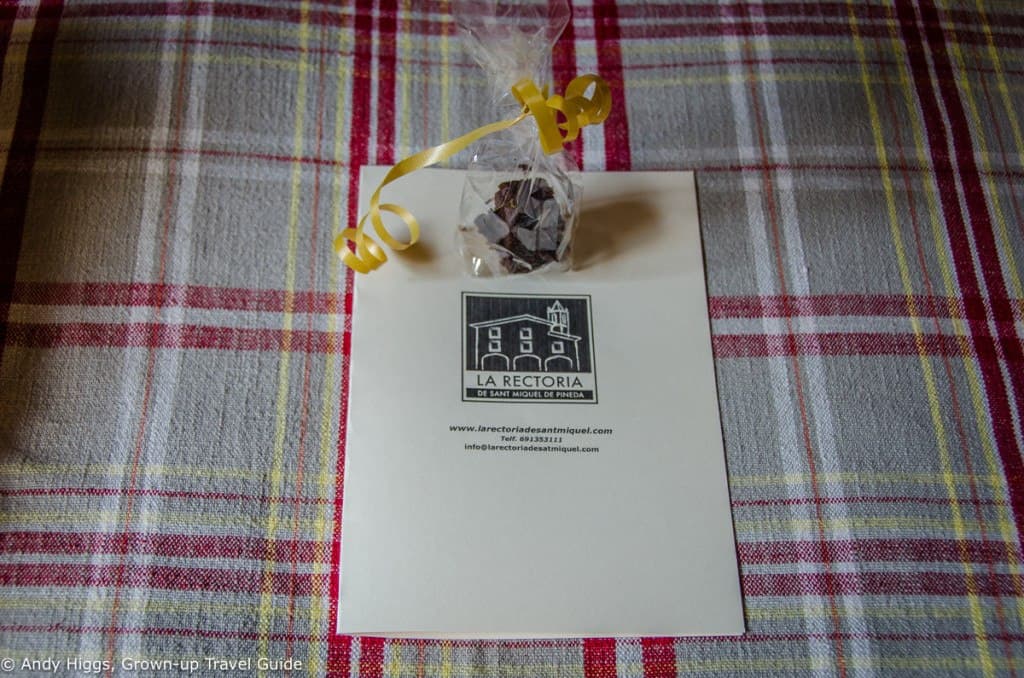 Chocolate is always welcome, right? A personalised information sheet is an excellent way to make guests feel special, too.
Rebecca slept like a log on the extra bed here and gave it a big thumbs-up.
Carpets?
Oh no – lovely tiled floors that blend in perfectly. Just what we like.
Bathroom
The bathroom was also great – very modern fittings such as a rainfall shower head were complemented by locally-produced toiletries. In environmentally-friendlier large bottles for re-use rather than throwaway mini-bottles. Good call.
Loved the stone shelves and the trendy – but functional – basin.
While a heated towel rail is more useful in the winter months than in the hottest week of July when we were there we still made use of it.
It was extremely hot when we stayed and Roy and Goretti provided us with a standing fan for the room which was a bit of a life-saver. It's rare for it to get quite as hot as it did for our visit, however.
Free internet I hope?
Yes, free and and good quality wi-fi is available all over the property. We had a number of devices online at the same time without issues.
Restaurant?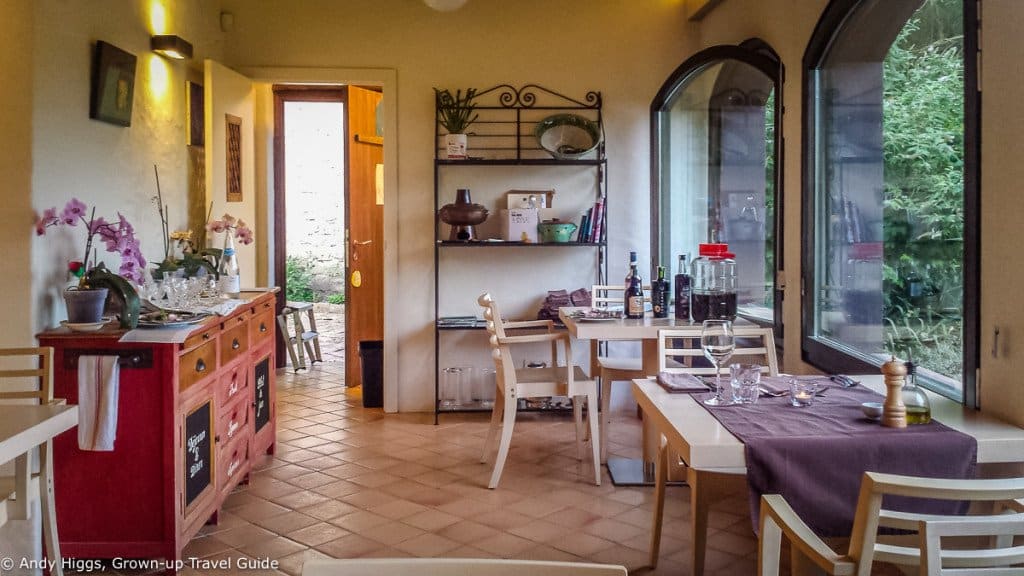 Oh yes.
Rather than a restaurant in the traditional sense, dinner is served at one sitting each evening at 9 p.m. And dinner is one of the highlights of staying here, believe me. If you are not on the half-board option (bed, breakfast and evening meal) you must reserve dinner in advance.
But seriously, you want the half-board option…
During the day the evening menu will appear on the chalkboard in the hall – Roy cooks up something different each day using the produce available in La Garrotxa. A seasonal menu, with both Scottish and Catalan influences – all from local suppliers. We were amazed by the quality of the meat which is going to be an awakening if you're used to supermarket fare. Special mention must also go to the artisanal cheeses we sampled for breakfast, too – wow.
For the fixed three course menu you will be charged the princely sum of EUR 24 per person excluding wine. Just take a look at one such menu:
No, I don't recall the exact translation but I'll let my photos speak for themselves: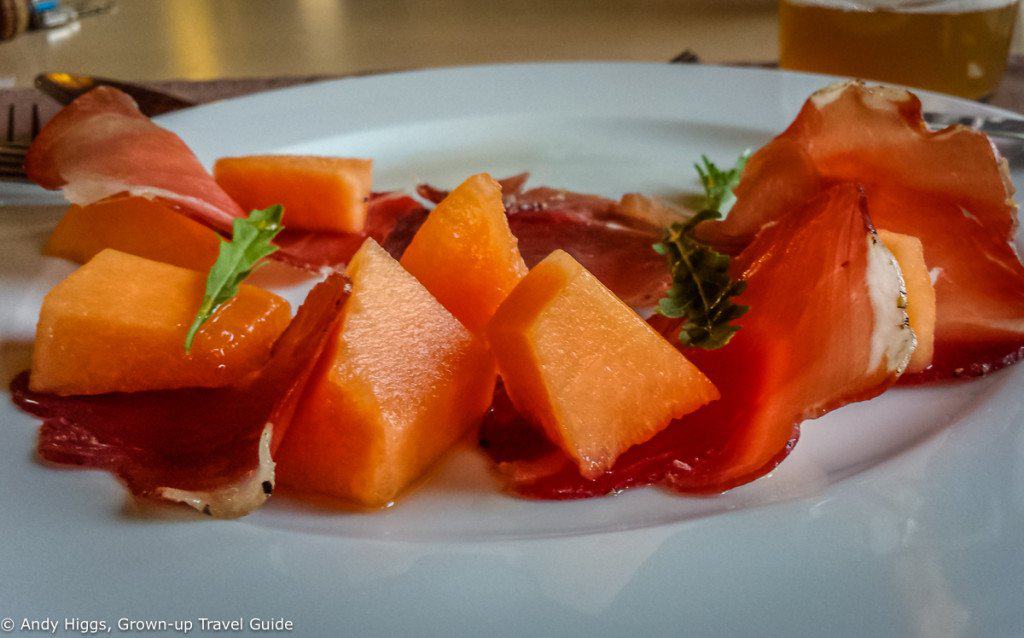 Local Bayona ham and melon – delicious!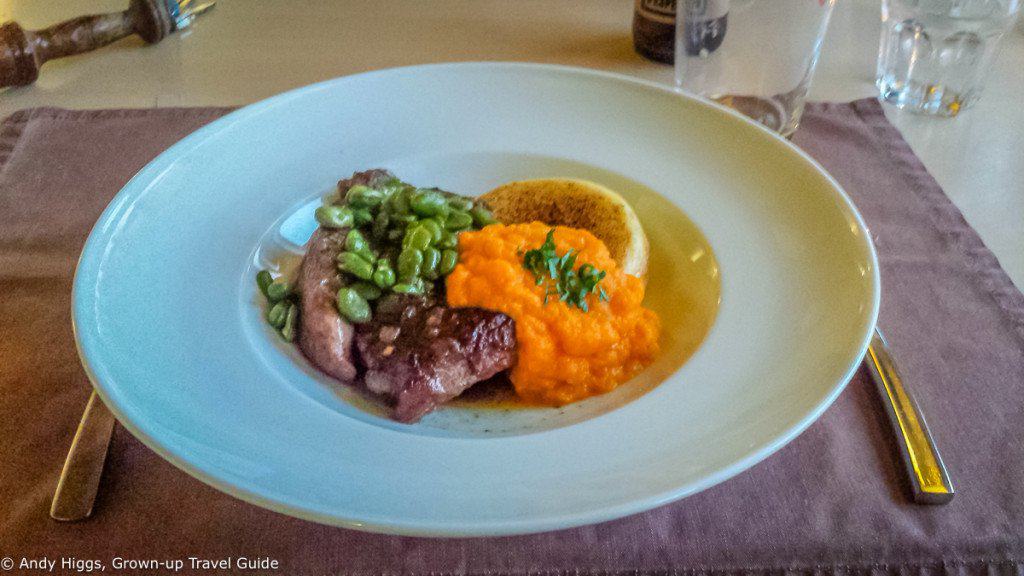 The tenderest cut of meat with local beans and trimmings.
Sticky. Toffee- Pudding. 'Nuff said.
We let Goretti choose a suitable wine each night – also a good move. She is not just a whisky expert, she knows a thing or two about wine too. If you like something stronger after – or before – your meal then of course La Rectoria has a wide selection of Scottish malt whiskies. I also enjoyed three different craft beers for the GUTG Beer Diary during our stay, too.
You get the picture – the food is reason enough to stay here, simple as that.
Guests can also order a packed lunch in the evening which will be waiting for you after breakfast if you want to have a picnic. Refreshments, aperitifs or digestives can also be ordered throughout the day if your plan is of the less active variety.
Note that between May and September dinner is not served on Thursday nights. I don't think anyone will begrudge Roy and Goretti one night out of the kitchen a week and they have plenty of recommendations for restaurants in the La Garrotxa area.
Pool?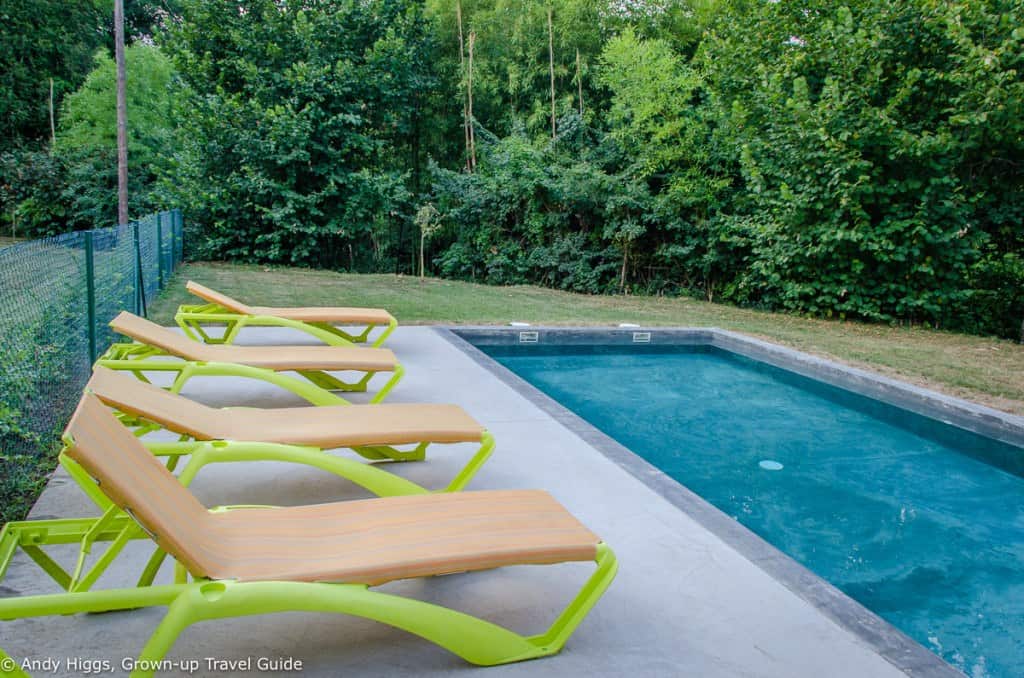 Well you know the answer to this already – a salt-water pool is found in the garden and there are sun-loungers here too.
It's perfect for a refreshing dip and while clearly not Olympic sized, is big enough to get a little exercise in. You know, to ease your conscience after all that incredible food, wine and whisky…
The breakfast was included, right?
Breakfast is indeed included in the room rate. Guests help themselves from a buffet while coffee, tea, juice, toast etc. is brought to the table.
Should you fancy something cooked you can order from the menu for a supplementary – but very reasonable – charge.
Service
Service was just perfect, as you've gathered by now. Anyone working in the hotel industry could learn a lot from staying here.
Any points/miles to earn?
Er no, this is a proudly independent place.
Can they look after your bags after you check out?
Yes, I'm sure they will be happy to do so.
The Damage
Rates start at EUR 90 for two people including breakfast on a weeknight and from EUR 100 for two at the weekend. As mentioned before, single occupancy is rewarded with 25% off. Children between 2 and 12 can be accommodated in El Plataner for EUR 5 extra. Yes, EUR 5.
Dinner is EUR 24 plus wine for adults, EUR 10 plus wine for children between 2 and 12. Just joking…but yes, EUR 10.
Children of all ages are welcome.
The verdict please your honour...
The Good
It's all good. Really good. The property itself, the hosts, the food, the wine, the surrounding area, the cycle path and local villages, the gastronomy of the area, the peacefulness of the countryside…
The Bad
Nothing at all.
The Ugly
Come on! Of course not.
Closing comments:
Look, you may feel I am being a bit over-the-top here but staying at La Rectoria de Sant Miquel de Pineda is simply one of the best experiences I've had, an opinion shared by the rest of the family too. There is so much to enjoy both at the guest house and in La Garrotxa and its environs; you can be as active or as sedate as you wish but either way you'll have a wonderful time.
Combine this with a few days in Barcelona, Girona, on the coast or up in the mountains and you'll have a trip you'll never forget.
Just go, you'll soon see what I mean.