Another year, another Easter break in London. On this occasion we would be spending three nights in the capital and due to this trip being very much a last-minute decision – and peak time for hotels – it was not so easy to find accommodation for the entire duration of our stay.
Next time perhaps you'll plan things a little better…
Well, it's good to be spontaneous too now and again. But yes, it makes it more difficult, especially when travelling as a family. With Rebecca now 12 years old and considered an adult by most hotels we needed space for three, which can often mean two rooms or a suite.
But you pulled a few strings, I take it?
It all came together a couple of weeks before we left for the UK; two hotels offered a discount in return for impartial reviews of their properties (all reviews on Grown-up Travel Guide are always impartial, as you know.)
The first night, which was Good Friday, we checked into an iconic and historic property on Lancaster Terrace, directly overlooking Hyde Park…
Lancaster London

Image (c) Lancaster London
Lancaster Terrace, London W2 2TY, ENGLAND +44 (0) 207 551 6000
Email: info@lancasterlondon.com
When?
Late April 2014
Vital stats:
Four stars. Opened in 1967, last renovated 2011, 416 rooms over 18 floors
Location, location, location?
Image (c) Lancaster London
The hotel is in central London and overlooks Hyde Park. There is a Tube station round the corner (Lancaster Gate) which is in Zone 1; if you are planning to spend most of your time in the heart of the city then this will save you both time and money.
Kensington Palace, the Albert Memorial and the Royal Albert Hall are close by as is Notting Hill to the west and Oxford Street to the east. In other words, the location, location, location is perfect.
What about parking?
You're driving in London? Really? Well, if you have some genuine reason to do so then Lancaster London has a car park with 40 spaces but I hope it's important – you'll pay GBP 35 per 24 hours when staying.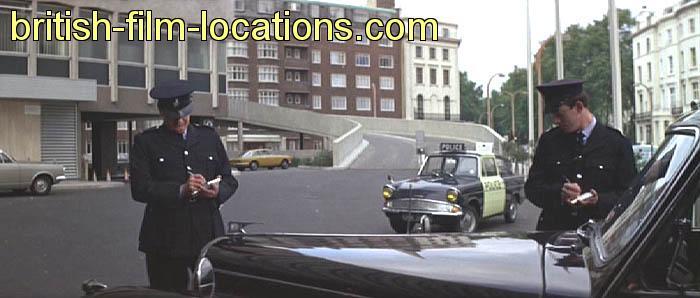 Image © British-Film-Locations.com
In fact it has a rather famous car park – one that featured prominently (as did the hotel, albeit as the 'Royal Lancaster' back then – in the classic British film 'The Italian Job' from 1969.)
If you haven't seen it then you haven't lived and I suggest you rectify this as soon as possible.
Why choose this place?
There are many good reasons to choose this hotel – as mentioned before the location is perfect for exploring London; you can start your day with a walk through the beautiful Italian Gardens (ironic, huh?) in Hyde Park before strolling to Marble Arch if a bus seems unnecessary.
Having an underground station on the same block and night buses almost passing its doors adds to the convenience. The views from the upper floors are spectacular no matter which way you look and there is of course the iconic status of the place with film fans – but also with music fans: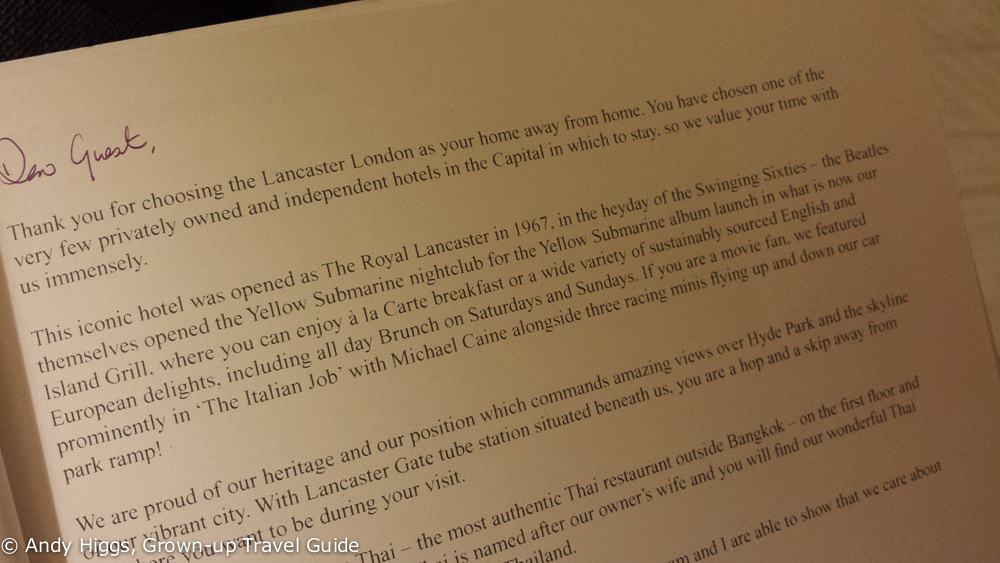 Room
There are four types of room – Superior, Deluxe, Executive and Executive Club as well as two types of suite – Embassy and Luxury Royal. Rooms overlooking Hyde Park attract a premium over the city view – I'm not sure this is justified as London skyline is just as appealing.

We certainly had no complaints about the view from the 17th floor,  We had two interconnecting Deluxe rooms for our stay – each with king beds and approximately 18 square metres in size.
Flat-screen TV, pay TV (excellent, up-to-date movie selection, chargeable), work desk.
Universal power sockets at desk – including 110V supply for US equipment, LLK London toiletries, customized mini bar (chargeable – empty on arrival), in-room internet – both wired and wireless (GBP 12 per 24 hours), direct dial telephone, bathrobes and slippers, portable hairdryer, laptop-sized safe, tea and coffee making facilities. All rooms are non-smoking.
Here's a quick walkthrough of one of our rooms:

Carpets?
Yes. As you'll see from the video, Lancaster London is very much a traditional London hotel in terms of style, furnishings and, well, attitude. It could be argued that wooden floors would spoil this so even though I'd prefer them we'll let it go.
The carpet was clean and did not extend to the bathroom, which would have stretched this acceptance way past breaking point. Bizarre as it may sound, in England it is in fact quite common to have carpet in the bathroom…
Bathroom
Our bathroom was small and a little crowded – there was a bathtub with shower as well as toilet and bidet and not a lot of floor space left over. I'd love to obtain statistics on how often bidets are actually used as I think most guests would rather benefit from a little more room. Anyway the shower pressure was excellent as were the toiletries, so no complaints here.
Free internet I hope?
Yes, Lancaster London has recently changed its policy and now offers free WiFi throughout the hotel so I have updated this review accordingly. As mentioned the wireless connection was very strong so thumbs up to the hotel management for listening to criticisms and abandoning the paid access which was standard when we visited.
Bar and restaurant?
As well as somewhat plain hotel bar the lower level of the property holds a secret. Here you will find a major reason to stay at Lancaster London; Nipa, one of the UK's best Thai restaurants.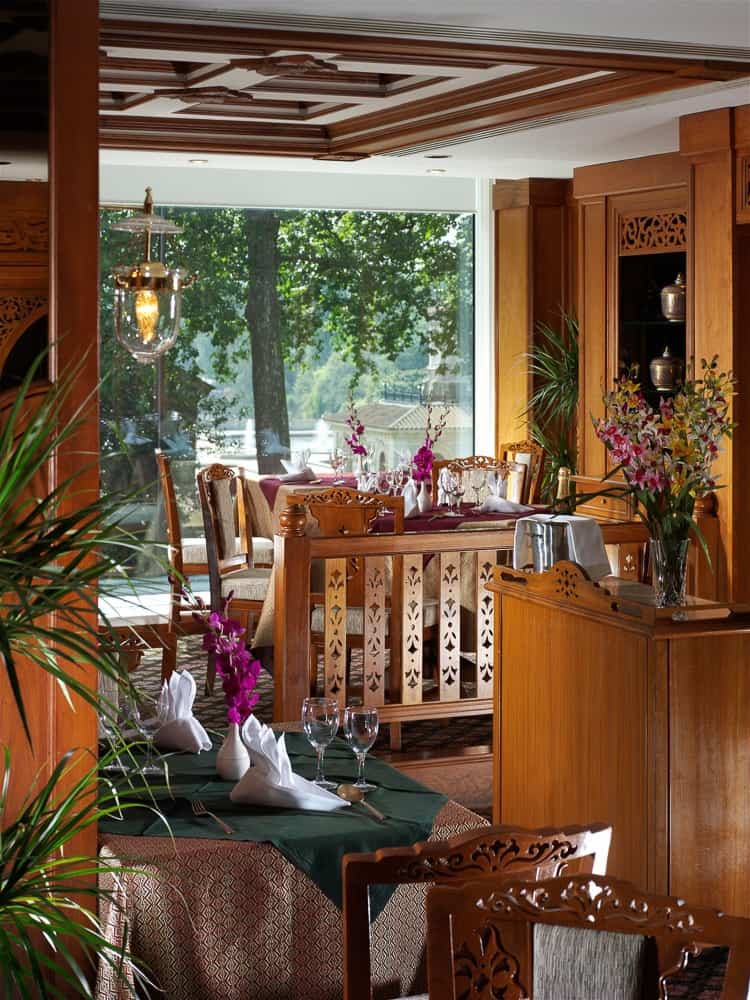 Image (c) Lancaster London
In fact it is one of a small number in the country officially approved by the Thai government and awarded a place on its 'Thai Select' list. We secured a booking at Nipa and I can tell you that it was the best Thai food we've tasted outside of Bangkok.
The ingredients used are of the highest quality and service was impeccable; a dish that was ordered by mistake on our part was replaced at no charge and with no questions asked.
Prices were not excessive either and it is clear that the hotel's Thai owners wanted to create something special and bring their cultural influence to Lancaster London. They had succeeded and even if we are not staying at the hotel next time we're in town we'll be back to eat here.
Pool, sauna?
No, but guests at Lancaster London can use the spa facilities of the hotel's sister properties – the Landmark London which is about twenty minutes' walk away or the superb K West Hotel & Spa. The latter entails a journey to Shepherd's Bush but the facilities are amazing.
The breakfast was included, right?
No; you can choose between a la carte at the Island Grill or the regular buffet for GBP 15.50 (GBP 13.50 if ordered in advance when booking on the hotel's website). We decided on the buffet after one of the staff advised us it would be better value for money if we were hungry.
I thought the breakfast was disappointing and the service was poor – we had our plates cleared and even half-full coffee cups removed while we were serving ourselves from the buffet! As if this wasn't enough, it happened twice and the breakfast area wasn't even busy – we were only ten feet away and I can't believe the staff thought we had finished or left.
Furthermore I disliked the fact that the employees stood around chatting and only moved up a gear when there were less than 10 minutes before the buffet closed. The buffet was not replenished in the last 30 minutes and I don't believe that latecomers should have a worse experience than guests who get there at 7am.
Last but not least the already expensive breakfast buffet is subject to a 12.5% service charge per person. This is apparently optional but I'm willing to bet the majority of guests feel awkward in asking for it to be deduced on checking out. And it should be deducted – paying an additional service charge for a self-sevice buffet is ridiculous, quite frankly.
Service
Apart from the breakfast experience service was excellent; the reception staff were very friendly and helpful and the concierge desk had plenty of good advice. Check-in was fast and efficient and check-out was problem-free.
Any points/miles to earn?
Lancaster London is a member of the iPrefer scheme for the Preferred Group of Hotels. I'm not familiar with it (it was only launched last year) but have of course joined and will let you know how it works out. The loyalty programme is quite unusual in that the participating hotels are independently run establishments rather than a single chain.
Can they look after your bags after you check out?
They surely can.
Green or mean?
Lancaster London scores big in this department. As well as comprehensive energy and water saving measures, food is locally sourced as far as possible and donates soap, bed linen and lost property to The Passage, a day centre for the homeless.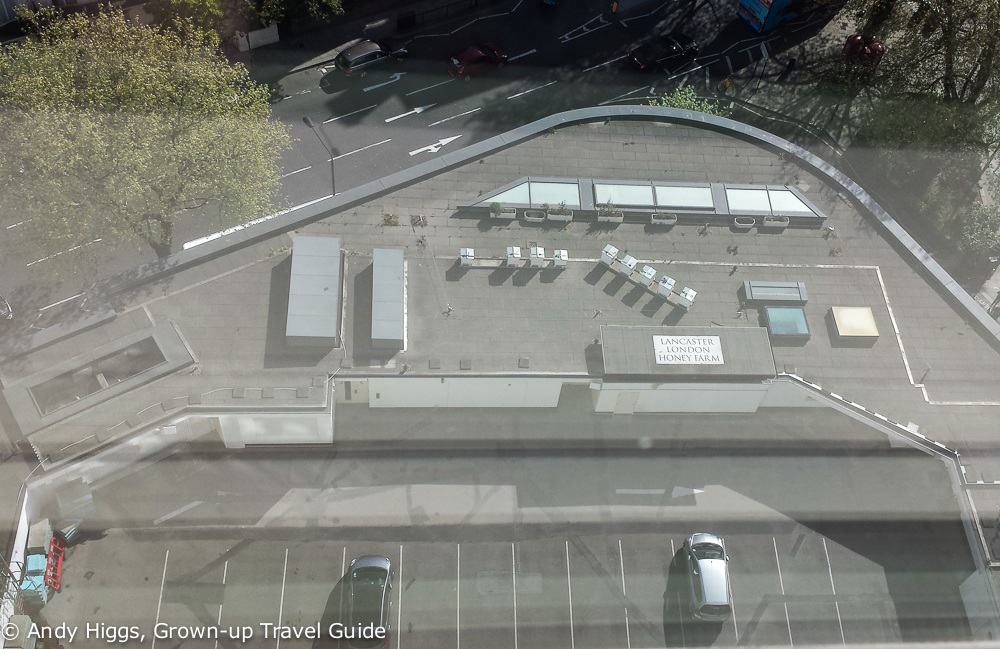 The hotel also has its own honey farm with beehives on the roof of the car park producing honey and safeguarding urban bees.
The Damage
A search for random dates reveals that rooms cost between GBP 135 and GBP 199 a night but do vary considerably depending on supply and demand. Check the Lancaster London website for some good package deals too.
The verdict please your honour…
The Good
Perfect location, clean room, quiet despite being very central. Superb transport links. Incredible Thai restaurant. Wonderful views from upper floors. Enough power sockets and the universal sockets are a great idea. No smoking. Very comfortable beds. Relaxed atmosphere, friendly service. Interesting history. Fast and free WiFi.
The Bad
Breakfast could have been better in terms of both food and service.
The Ugly
Nothing anymore – Lancaster has abandoned its policy of charging for the internet and thus removed the only real negative in this review 🙂
Closing comments:
Lancaster London is an iconic hotel in an enviable location. It's old-fashioned in a good way but has most of the amenities you'll need and a restaurant you'll be raving about for years to come. Highly recommended for anyone visiting London – make sure you get an upper floor for views that don't get old, too.
Please note: The author received a media discount for accommodation in return for an honest review. As always, all opinions are my own and are never influenced by a reduction on a room rate.