My first trip to Bangkok – indeed my first time in Asia – was last June (2013), but I've been making up for lost time ever since.
Having now stayed in the Thai capital on four different occasions, I've also been able to try several hotels and have yet to have anything less than a great experience. I already knew that Bangkok was a city where visitors can splurge on hotels of a standard that would be unaffordable in Europe or the USA. Indeed, coming from Norway where I now live the rates for deluxe accommodation are such that I initially thought I had performed the currency calculation incorrectly when converting prices from Thai Baht…
These days – following the coup earlier this year – bargains are even easier to come by. As regular readers well know, at Grown-up Travel Guide we look for affordable luxury and unique experiences – not just low prices. All of the hotels I have stayed at and reviewed in Bangkok (and there are more to come) tick these boxes but there is one place that remains my favourite – and after keeping it to myself for over a year I guess it's time to let others in on the secret.
Okay, it's hardly a secret – the Oriental Residence (not to be confused with the Mandarin Oriental) was the number one hotel on Trip Advisor when I stayed last year and as I write this is currently in second place – out of 756 – and ahead of the more famous competition. Here's why I fully expect it to regain that top position in the future…
Oriental Residence, Bangkok, Thailand
Image (c) Oriental Residence
110 Wireless Road, Lumpini, Pathumwan, Bangkok 10330 THAILAND +66(0) 2125 9000
When?
Mid-June 2013
Vital stats:
Five stars. Opened in January 2012. 145 rooms over 21 floors (private residences from 22nd to 32nd floor)
Location, location, location?
The Oriental Residence is situated in a swish neighbourhood – right between the US and Netherlands embassies on Wireless Road close to Lumpini Park. You can walk to the BTS station at Ploenchit (ten minutes max.) or use the hotel's free shuttle bus service to Chidlom station. Despite being so close to the chaos of the Rama/Loenchit/Sukhumvit Road, the snazzy 32-storey skyscraper is a peaceful oasis of calm and the perfect place to recharge after sightseeing and shopping.
The Embassy of the Netherlands next door (the US Embassy is on the other side and shown in the first picture in this section.)
This is the view looking east over Wireless Road.
What about parking?
You're not really driving in Bangkok, surely? Blimey, rather you than me mate. The Oriental Residence offers a valet parking service but you'll have to find your own crisis counsellor to deal with the post-driving stress disorder.
Why choose this place?
First and foremost people stay here to be pampered – this is a true luxury hotel without being over-the-top; suitable for single travellers and families alike. It has more of the feel of a small boutique hotel in its quiet understated elegance and personal service. The location is central yet quiet with a BTS station within walking distance and the swimming pool is heavenly, but we'll come back to that.
Room
The Oriental Residence has four types of room – or in fact one type of room (Executive Deluxe) and three types of suite (one, two and three Bedroom).
I booked a one-bedroom suite and was offered the choice between a park view, city view or corner suite. I decided to pay a little extra for the latter which had both views and a balcony – which was nice.
This walkthrough video will show you what to expect:

As you can see the suite is more like a proper apartment – mine was around 70 square metres which is actually a lot bigger than the first apartment I rented here in Norway.
Image (c) Oriental Residence
The living and kitchen area is large, well-equipped and beautifully decorated. I loved the light, bright colour scheme and the contrasting dark floors. A flat-screen TV with domestic and international channels and a DVD player can be enjoyed from the sofa and films can be rented from reception.
The kitchen area has everything you would need to prepare meals yourself, should you so desire – a stove, refrigerator and microwave oven as well as a washing machine and all utensils. There is also a mini-bar here.
The proper desk and sizeable work area is a bonus for business travellers and the wall sockets allow the use of both two and three pin plugs – and if you have a US connector an adapter is provided.
They seem to have thought of everything – just about every lead and cable you could need is provided.
This was the first time I'd actually seen a pillow menu – I always wondered if these were in fact a myth. Hey, if you're going to have a pillow menu, go big – here you can choose from 9 different ones!
It seemed like every drawer or cupboard contained something cool – I liked the low-profile safe which was still large enough for a laptop and a Rolex or two.
Image (c) Oriental Residence
The bedroom was large and the bed superbly comfortable – as well as huge. There was way more storage space than I could fill and I am a chronic over-packer. A second flat-screen TV with DVD player is perfect for watching movies in bed in the middle of the night if your body clock is still on European time.
Other amenities include: Free in-room internet (wired and wireless), direct dial telephone, multi-lingual voicemail, bathrobes and slippers, hairdryer, iron and ironing board.
Carpets?
Oh no. Gorgeous hardwood floors and rugs – just what we love.
Bathroom
Image (c) Oriental Residence
Yes, the bathroom was that big. With both a powerful rain shower and a full-sized bathtub, I was spoiled for choice. I loved the high quality toiletries and comprehensive amenity kit containing everything you might have forgotten.
This thing here is just genius – I am definitely getting my own beer and book holder for my bath at home 🙂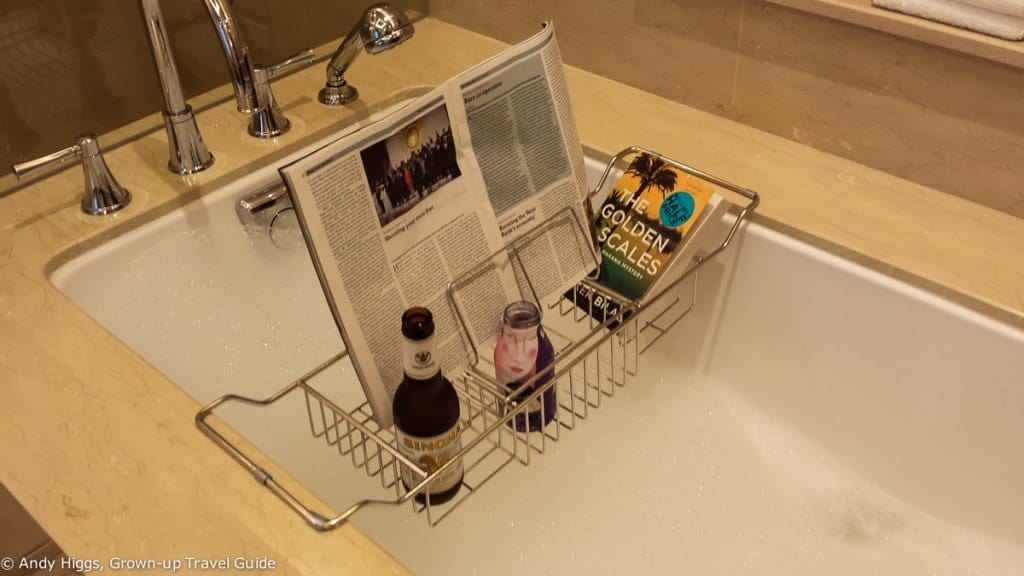 There were plenty of fluffy towels and enough space to store toiletries etc. A large dressing area with chair and mirror was a nice touch.
Free internet I hope?
Yes, free and very fast Wi-Fi as well as wired internet in the room and all through the hotel.
Bar and restaurant?
Image (c) Oriental Residence
Cafe Claire on the ground floor serves breakfast and 'gourmet comfort food', and Mandopop is the hotel's contemporary Chinese restaurant. I ate breakfast at Cafe Claire each day and it was perfect; an ample selection of a la carte dishes as well as a buffet. Mandopop was also excellent and has a very good reputation in Bangkok in its own right – which is well deserved. You can also have cocktails at the bar here before (or possibly after) hitting the town. They serve a mean G&T, too…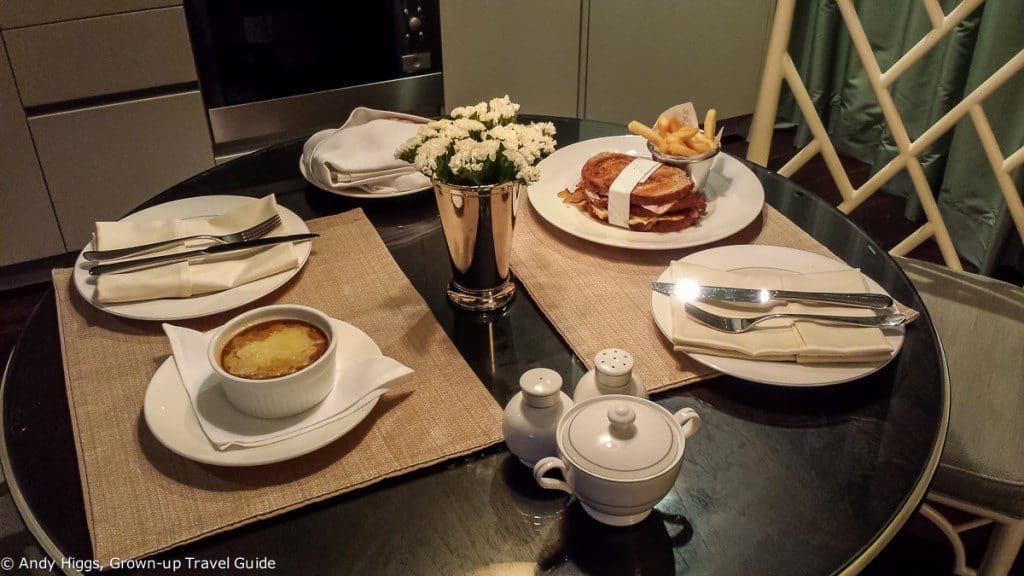 The pool area has a bar as well, and I also tried room service as I was exhausted one evening – this was a little different at the Oriental as I had a proper eating area to enjoy my meal instead of having to sit on my bed or at my desk and have dinner. Service was impeccable, with a 'butler' setting the table and this was definitely a cut above the usual experience.
Pool, sauna?
Oh yes. One of the highlights of the Oriental Residence is the partially-covered swimming pool on the fourth floor.
Taking in the Bangkok skyline after ploughing a few lengths of the beautiful pool takes some beating.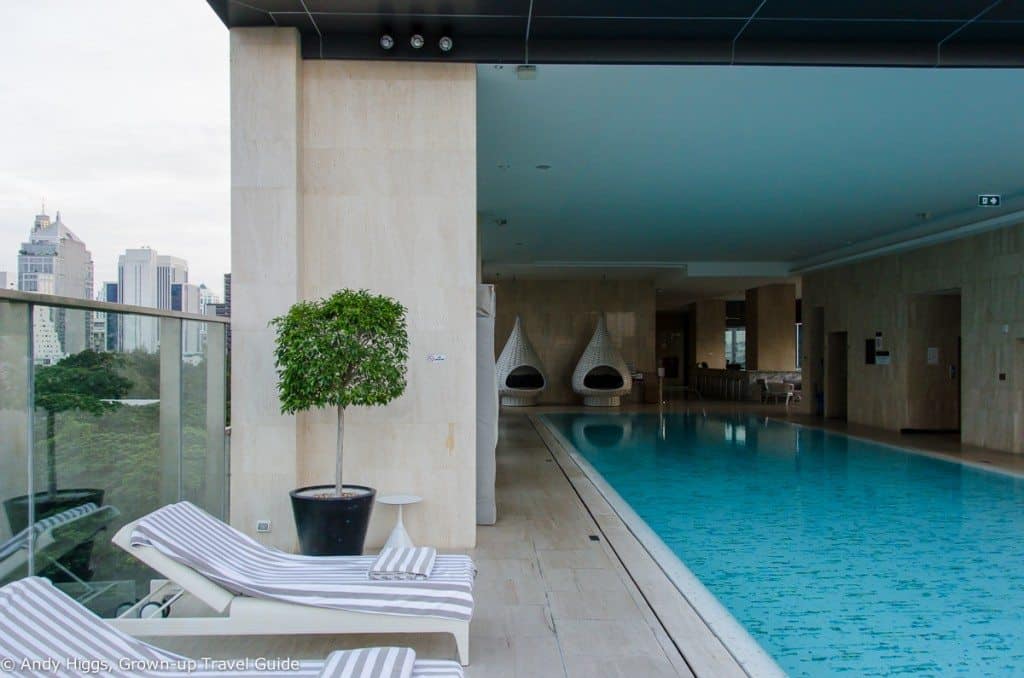 With cabanas and 'pods' in which to relax and escape the sun, it's not easy to drag yourself away – so make sure you factor in some downtime to your schedule so you can enjoy it. There is a tiny children's pool for the youngest ones but most kids should be fine in the main one.
There is a well-equipped fitness room just down the corridor from the pool too, if you feel the need to work out. If you get up early enough to beat the heat you can also exercise with the locals in Lumpini Park which is just a few minutes away,
The breakfast was included, right?
No, it costs extra but is good value starting at around THB 220. A lot of non-residents were here for breakfast each morning, which is a good sign too.
Service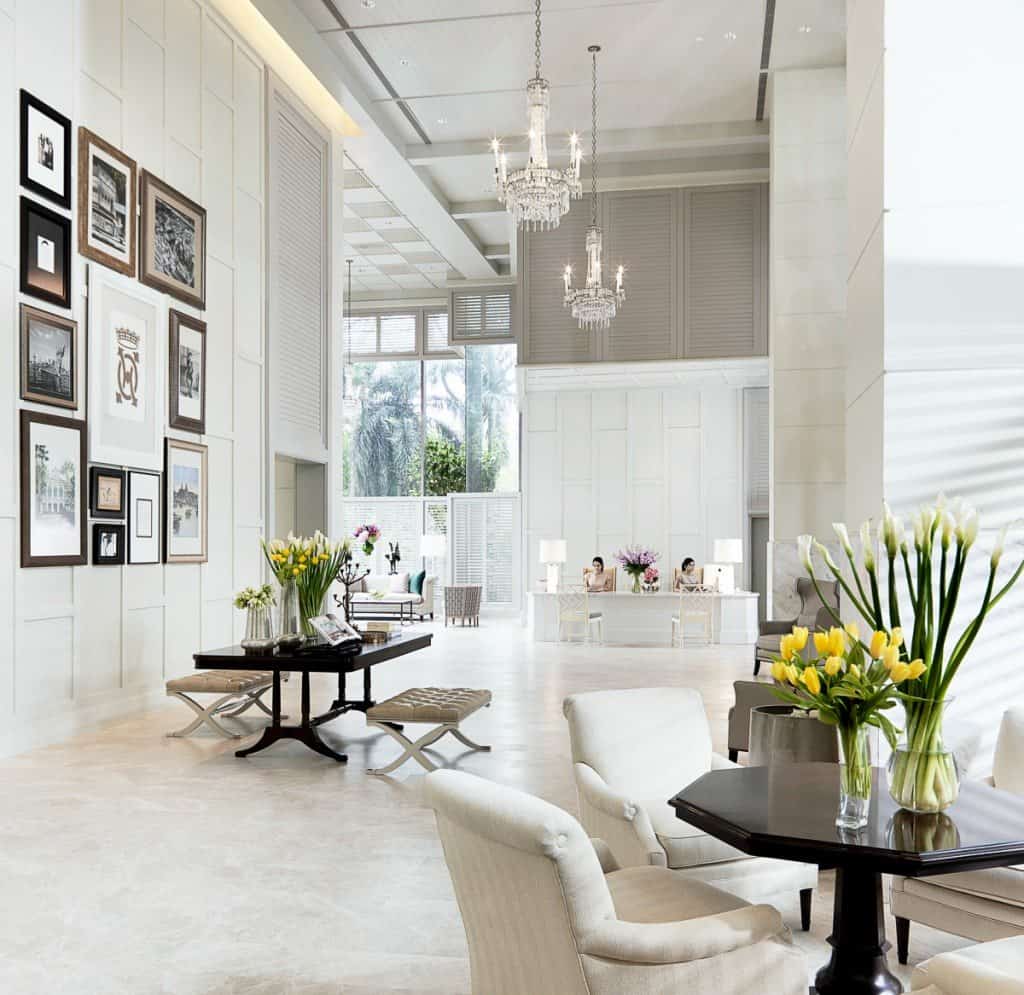 Image (c) Oriental Residence
Service was faultless. From arrival to departure, the staff at the Oriental Residence were fantastic.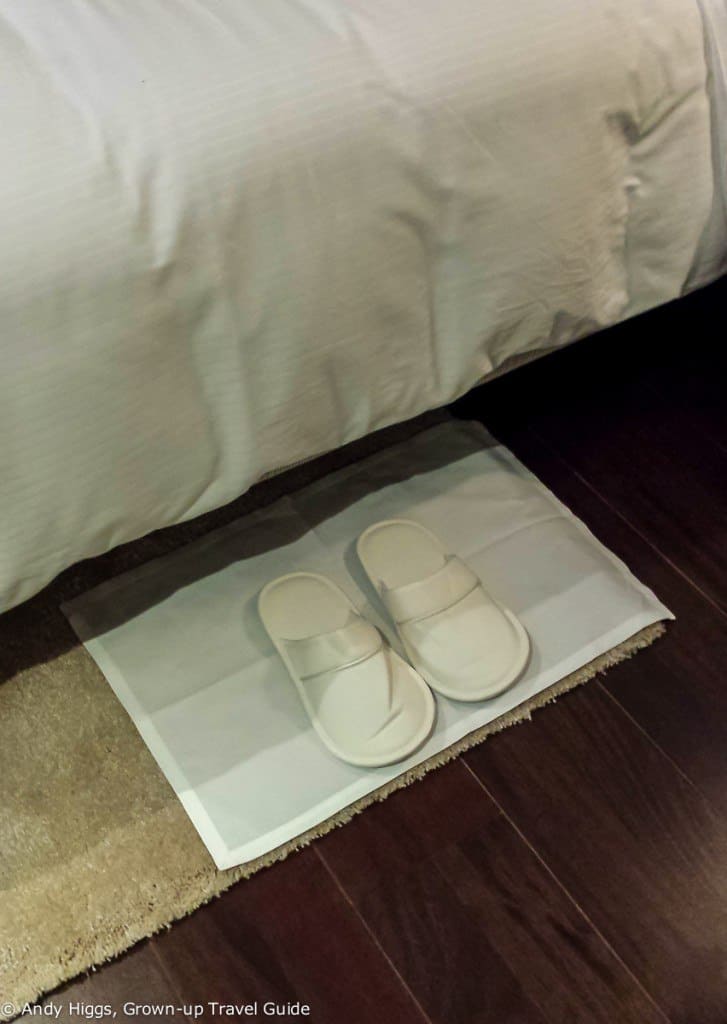 I experienced 'turndown service' for the first time in my life here too – coming back from an afternoon in the city to an immaculate suite with freshly-made bed and slippers waiting for me and an inspirational quote on my night table.
I always wondered what that was, so now I know. File under 'unnecessary but rather nice', obviously 🙂
To finish my unforgettable stay in style I decided to pay for the hotel's special airport transfer – in a Jaguar. Yes, it was another indulgence but why not, eh?
Any points/miles to earn?
No, the Oriental Residence is part of the Onyx Group and as far as I am aware they do not have a loyalty scheme.
Can they look after your bags after you check out?
Absolutely, you can also ask for late check-out for an extra charge.
The Damage
I paid a little over THB 5,500 per night for the one-bedroom corner suite excluding breakfast – a quick check shows prices are not much changed this year.
I am on the hotel's mailing list and see that the Oriental Residence has regular special offers and packages that bring the rate down considerably – and of course an Executive Deluxe is cheaper too.
The verdict please your honour…
The Good
Excellent location offering easy access to transportation but also peace and quiet. Huge, well-equipped suites with proper kitchen and working areas. Fabulous pool area. Fast and free WiFi. Impeccable service. Amazing value for money.
The Bad
I can't think of a single thing I didn't like about the Oriental Residence. Seriously.
The Ugly
Are you joking? Nothing.
Closing comments:
The Oriental Residence is the best value hotel I've ever enjoyed – not just in Bangkok but anywhere. Indeed it is the perfect example of what we aim to highlight here at Grown-up Travel Guide; affordable luxury and a unique experience – I cannot wait to return.
Please note: The author travelled as a regular tourist – no mention was made of the fact that a review would be written, the establishment was not informed of the author's intentions and no special discounts were enjoyed.