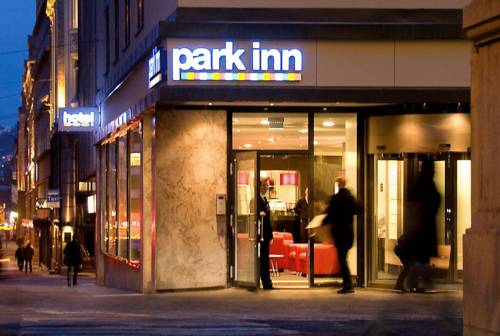 Image (c) Park Inn Oslo
Carrying right along from our last review of a Norwegian hotel, this time we turn our attention to the capital, Oslo. If you are looking for high quality central accommodation at a surprisingly reasonable price you should pay attention too; this could be the best hotel bargain in Oslo at the moment. Park Inn is a Radisson brand and positions itself as a mid-range hotel chain.
Is that central in your own words or those of the usually rather unrealistic hotel people?
My words. It's about a ten minute walk from Oslo S (the central station and junkie hangout) and a little less from the closest airport bus stop.
This must be the most up-to-date hotel review yet I guess?
Yes, I checked out six hours ago so it beats my personal best by some margin. I also stayed here last summer and was equally impressed so it wasn't just a one-off. One of my alterior motives for this stay was that it was a mattress run.
Get you with your jargon! Okay, I'll humour you here. A mattress run being?
Well it's like a mileage run for frequent fliers – basically travelling purely to earn points. In this case I needed to stay at a Park Inn to earn a bonus 44,000 Club Carlson points by the middle of July. Since there are no Park Inns in Trondheim and I was visiting Oslo anyway, it made good sense to stay here. Having said that I would have chosen the hotel anyway based on my previous experience.
Park Inn Oslo, Øvre Slottsgate 2c, 0157 Oslo +47 22 40 01 00
Email: info.oslo@rezidorparkinn.com
When?
Last night. In other words late June 2012.
Vital stats:
Three stars (unofficial rating as Norway does not use the international star system). Opened 2010, 118 rooms over 7 floors.
Location, location, location?
As mentioned above the hotel is only a short walk from the station and airport bus stop. Given that the (expensive) airport express train is only running as far as Lillestrøm with a bus replacement for the last part of the trip, it probably makes sense to use the airport bus service instead in which case the stop is even closer to the hotel. It's also just a couple of blocks from the waterfront and city hall. All in all, central but quiet, which is basically what I look for in a city hotel.
What about parking?
Parking is of course ridiculously expensive in Oslo as in the rest of the country; the hotel has no facilities but there are paid options nearby in a couple of indoor car parks. Bring a couple of credit cards if considering this…
Why choose this place?
My search criteria are for a peaceful but central location, as far as is possible. Oslo is not a huge city so this isn't so difficult to achieve either, but at this price/service level I think the Park Inn is the hotel to beat in the Norwegian capital. Buses and trams pass by the door too.
Room
Image (c) konferanse.no
As far as I can tell all the rooms are similar but if you are lucky (ask when booking as I don't think they cost more) you can get a room on the top (seventh) floor with a large balcony. Otherwise singles and doubles are about the same size and have the same facilities; the double I had was large enough not to feel cramped. Room features were as follows: LCD flat-screen TV, kettle, writing desk with chair, iron, telephone, wireless internet. No mini-bar.

Image (c) Park Inn Oslo
The double bed was large and comfortable, which is always good.
Carpets?
Strangely there were carpets which was the main negative point about the hotel. They were clean, but it's generally only a question of time before they get worn out and eventually a little nasty. The Park Inn at Heathrow, London is a classic example of what can happen later on in the life of a property, which I will be reviewing soon. Let's just say that place won't be scoring a 6/6.
Bathroom
Image (c) Park Inn Oslo
The bathroom was small with a shower and toilet but modern, light and very clean. Instead of individual bottles of shampoo, conditioner et. al. there was a dispenser by the washbasin and in the shower. These were filled with some sort of own-brand all-in-one gel which is okay (and better for the environment) but probably not the best for your hair. Minimalist glass shower door but the slope of the floor was adequate to avoid pools of water outside the shower zone.
Free internet I hope?
Yes, free to guests who use their room number and surname to get online. You can access the internet via a PC and a smartphone simultaneously without any issues. The service worked fine in all areas of the hotel as far as I could tell.
Bar and restaurant?
Image (c) ysa.no
Yes – there is a bar in the lobby which is okay but unlikely to be somewhere you spend the evening; as a starting point for a night out it's a decent option though, or to relax after a long day walking the city. There is also a restaurant on the ground floor which I have yet to try.
Pool, sauna?
Neither.
The breakfast was included, right?
Yes, and it was okay. Plenty of options, a little crowded due to the limited space though. Hot food was hot and everything was refilled efficiently. It would have been nice to have more choices of bread and coffee but at this price level I had no real complaints.
Service
All good here; pleasant staff made checking in and out smooth and easy, as mentioned those in the breakfast room worked well too.
Any points/miles to earn?
Yes, Club Carlson points can be earned for each stay (the same programme as for Radisson). It's a decent scheme so join up when staying here if you are not already a member.
Can they look after your bags after you check out?
Yes, they certainly can, and did. Bags are labelled and checked when you removed them so nobody can take yours by mistake (or not).
Green or mean?
A decent green profile, extra kudos for the dispensers instead of individual bottles.
The Damage
I paid NOK 845 for a double room but with advance payment you can get a room even cheaper. A guy turning up for the night had to pay NOK 995, which isn't too bad for a rack rate either.
The verdict please your honour...
The Good
Excellent value, great location, quiet. The balcony was a n ice touch this time too.
The Bad
I'd have liked a mini-bar and wooden floors instead of carpets.
The Ugly
Nothing to report here.
Closing comments:
I once again enjoyed my stay at the Park Inn Oslo, and will definitely return. In my opinion it's the best option for the money in the Norwegian capital.
Final score: 5/6
Please note: The author travelled as a regular tourist – no mention was made of the fact that a review would be written, the establishment was not informed of the author's intentions and no special discounts were enjoyed. This is a vital part of our aim to provide impartial and comprehensive advice.