I've said it before and you can bet I'll say it again – Chicago is my favourite city in the USA and a place I could happily visit on a monthly basis for years and still discover new delights. Unfortunately the reality of living over 6000 km away most certainly bites, and following my first time in the windy city in 2012 it took me over two years to get back.
You'll be able to read more about Chicago in upcoming articles but first of all let's look at my choice of accommodation. There is no shortage of hotel rooms in town, but if you find somewhere you love why reinvent the wheel?
Back in April 2012 I decided to try the newly-opened Radisson Blu Aqua. I thought it would be interesting to see how such a familiar brand in Scandinavia was relaunching itself in America. The rates were reasonable, the location perfect and the facilities looked great – it was an easy sell. I paid the regular rate for my stay back then and found the Aqua fantastic value for money.
Most of the information in the original article remains the same, but I have included all the usual points in our slightly updated hotel review 'template' that we now use on the site. While there will be some duplication, I suggest you read both reviews for the complete picture.
When planning for my return I contacted the hotel's PR team and was kindly offered a reduced rate in return for an updated review. I had originally considered staying at two or three hotels to reduce costs (I could hardly expect a free stay for six nights at one property no matter how good I was at selling Grown-up Travel Guide) but soon dropped the idea. Better to pay for the convenience of staying in one location and really making the most of the Aqua – especially as the outdoor pool would be open and this was one of the few things I missed out on last time 🙂
So I had high expectations when I stumbled out of the taxi from the airport and into the lobby – but I hadn't expected them to be exceeded to quite the degree that they were…
Radisson Blu Aqua Hotel, 221 North Columbus Drive, Chicago, IL 60601 (01) 312 565 5258

Image (c) Radisson Blu Aqua Chicago
When?
End August – Early September 2014.
Vital stats:
Four stars. Opened November 2011. 334 rooms over 18 floors.

Image (c) Radisson Blu Aqua Chicago
Location, location, location?
The Aqua is within walking distance of many of the main sights in central Chicago. The river is five minutes away, Michigan Avenue five more. In the other direction, Millenium Park is a few blocks down the street and you can walk to the closest L-train stop in under a quarter of an hour.
There are two bike stations for the Divvy cycle hire scheme within easy reach too. This is a superb way to get around town during the warmer months (the bikes are removed in winter).
What about parking?
If you have a vehicle there is a secure car park underneath the hotel. Either park it yourself (US$47 a day) or pay extra for valet service (US$61 for 24 hours). The latter option affords you the wonderfully-sounding "in and out privileges" whereas if you park it yourself you'll have to leave the car or face paying again if you return to park.
With the excellent public transport system in Chicago you'll be fine without your vehicle while here.
Why choose this place?
The Aqua has an excellent location, is stylish yet laid-back and has superb facilities. The pools are a big draw; the outdoor one is pure heaven on hot days to cool down after some serious sightseeing. Rates are very reasonable for such a classy hotel – this is a shining example of affordable luxury and has some amazing touches.
Image (c) Radisson Blu Aqua Chicago
This amazing wall of fire in the lobby is complimented by the hand-made ornaments hanging above it the length of the lobby area.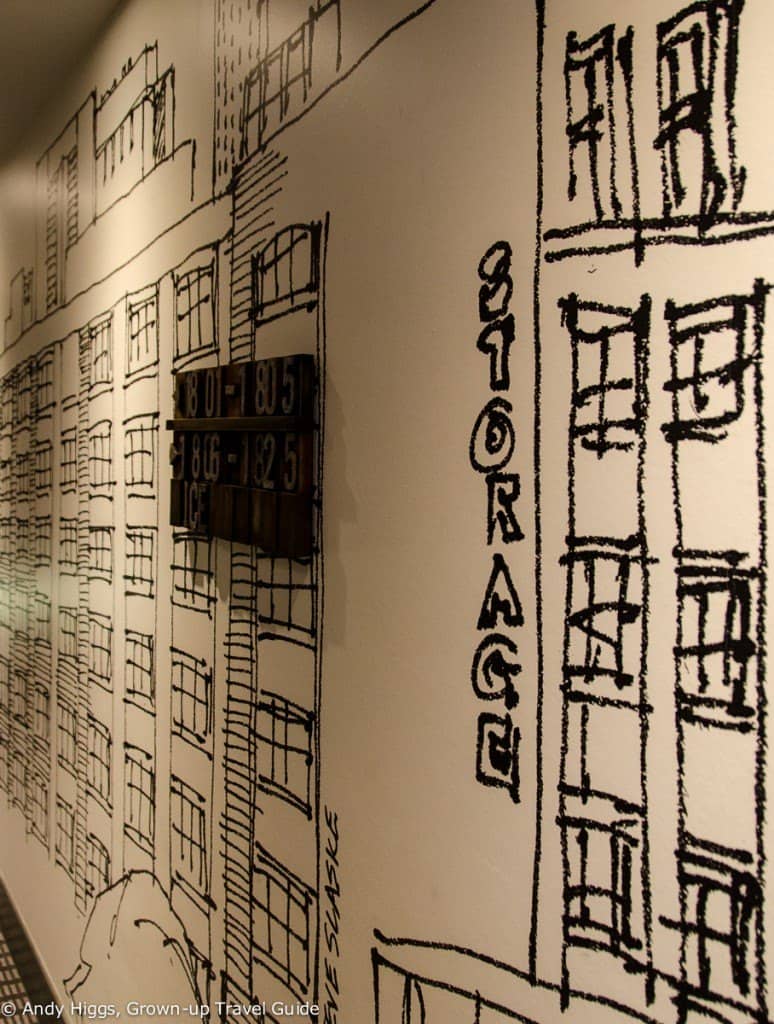 Art and design is everywhere – in the corridors a local artist was commissioned to decorate the walls with local scenes and signs are made as if from the printing presses for which the city was famous.
Image (c) Radisson Blu Aqua Chicago
The Aqua even has its own art gallery on the lobby level and exhibits stunning photos of Chicago in its public areas.
Room
Something that passed me by last time was the fact that there are two completely different styles of room at the Radisson Blu Aqua – this time I got to see both. Actually it is a feature of the hotel that is barely mentioned on the website, which is odd – I think it's good to have a choice and the variety of accommodation on offer separates the property from more anonymous, 'cookie-cutter' establishments. Furthermore, due to the remarkable wavy design of the building there are few identical rooms at all – each has a slightly different layout to fit within the decidedly non-symmetrical architecture.
The main choice is between a 'Naturally Cool' or a 'Mansion House' room.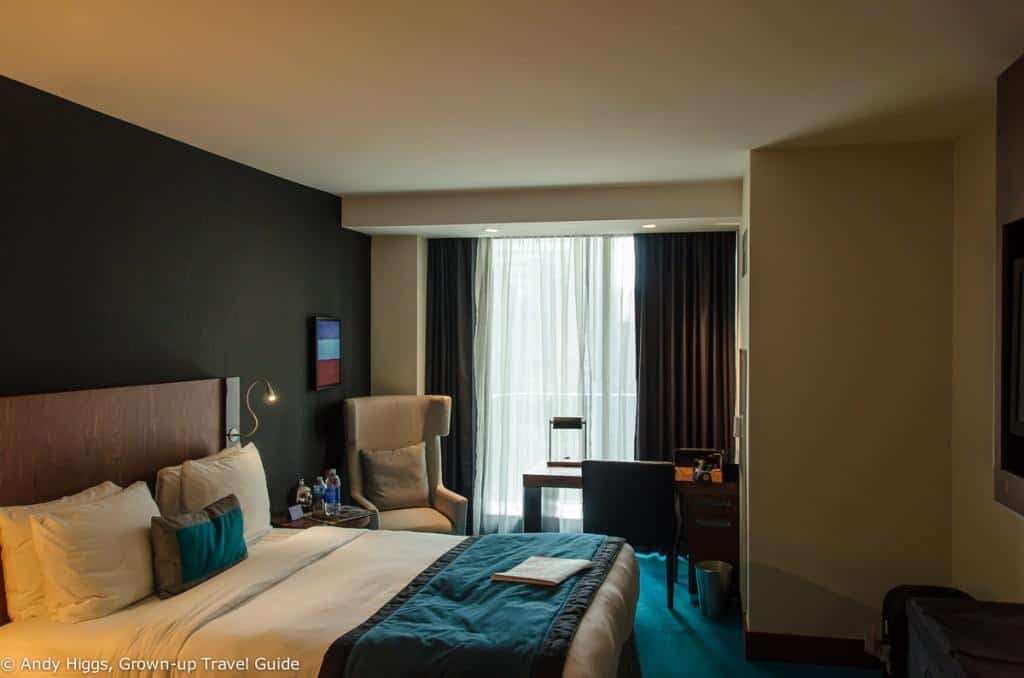 On both occasions I have stayed in the Mansion House style, which is darker in tone, features carpets and is perhaps a little more homely.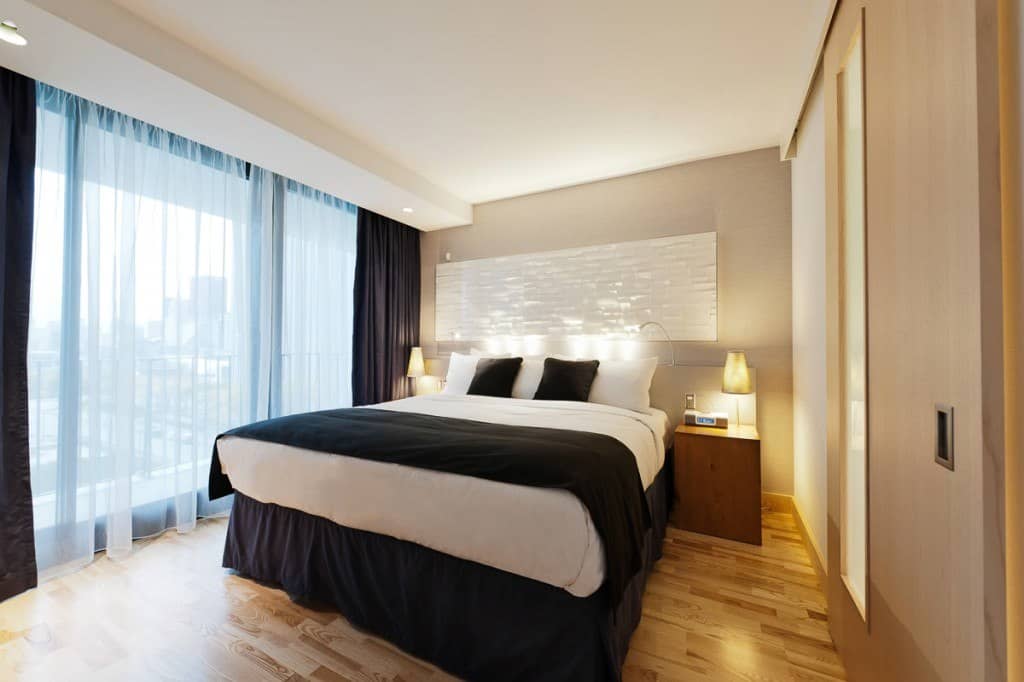 Image (c) Radisson Blu Aqua Chicago
On a tour of the hotel I got to see the Naturally Cool rooms (above) which are more like those we are used to from Radisson in Scandinavia – light colours and wooden floors.
It comes down to personal taste – and availability – but I like both. The Mansion House bathrooms are extremely cool with sparkly tiles on the floor providing a bit of a disco effect. Facilities in both are of course identical – flat screen LED television with a huge choice of cable channels, writing desk with chair, private safe big enough for a laptop, telephone, iron & ironing board, blackout curtains, Nespresso coffee machine, mini bar, radio with iPad dock.
Within each style are three different types of room – City and Park View, Business Class and Suites, with and without balconies. There are a range of different suites but these only have one bed in the main bedroom – so good for families but less so for friends travelling together.
This time I was on the 17th floor with a balcony – a nice bonus when the weather is good. The view over Millenium Park was the icing on the cake, too.
The bed was really comfortable as were the selection of pillows.
Carpets?
Yes, or no – the Naturally Cool rooms don't have them, Mansion House do. Mine were perfectly clean on both occasions.
Bathroom
The bathroom was large, modern and practical with a rainfall shower, separate toilet and washbasin. Hair dryer provided.
Free internet I hope?
Yes, free and fast. No complaints here.
Bar and restaurant?
Yes, both – the bar remains a popular hangout for office workers and the Italian restaurant Filini has a fantastic reputation. Once again I missed out on eating dinner here, but it's good to have an excuse to return, right?
Pool, sauna?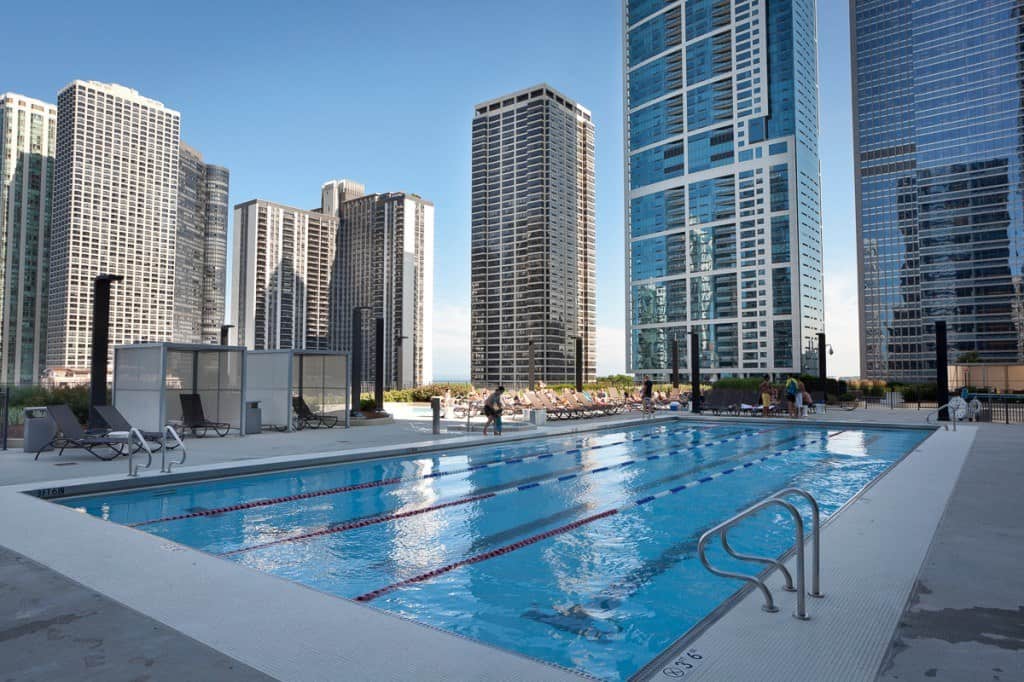 Image (c) Radisson Blu Aqua Chicago
Oh yes. The outdoor pool is on the third level and is an oasis of calm away from the street level noise. I swam almost every day and it was the perfect way to start the day.
I also used the indoor 'lap' pool which is a good poor-weather alternative.
Here's a film I put together which shows the exterior of the hotel, views from my room and also includes the pool and outdoor areas:

This time I managed to find the changing rooms (not sure what went wrong in 2012 🙂 ) but lockers would have been a good idea. It seemed an oversight that there were no clothes storage areas and guests have to take their gear with them to the poolside. It's not a big deal but it is a good idea not to take too much with you when swimming.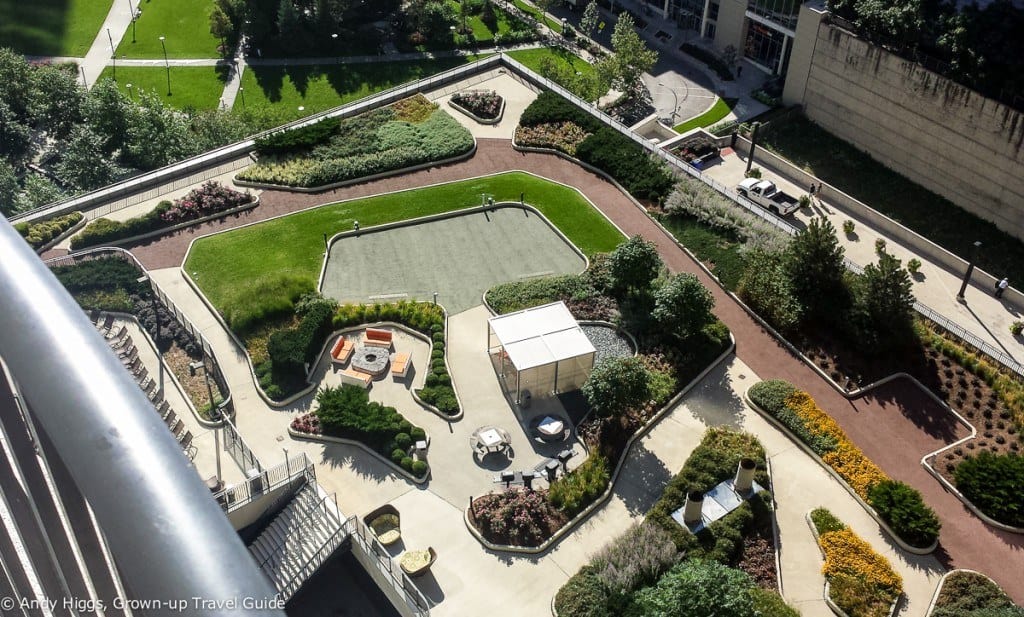 There is a spectacular landscaped area on the pool level with a jogging track circling the entire building. Fitness fanatics will love the huge gym, which seems as well equipped as my local training studio.
There is a steam room and sauna too, and even a half basketball court. Other diversions include a games room and even a fully-equipped movie theater room that can be booked for special occasions.
The breakfast was included, right?
Image (c) Radisson Blu Aqua Chicago
Breakfast is extra – this remains the norm with American hotels and I suppose it's fine to save by opting out and paying on those occasions you feel like eating in. With taxes it was around US$30 which is a little expensive although it was exceptionally good – great coffee, a wide buffet selection of high quality produce and pastries and eggs, pancakes, waffles and all that jazz as required included in the price.
On the occasions I took breakfast in the hotel I noticed several non-residents there for the food, which is a very good sign…
Image (c) Radisson Blu Aqua Chicago
Business Lounge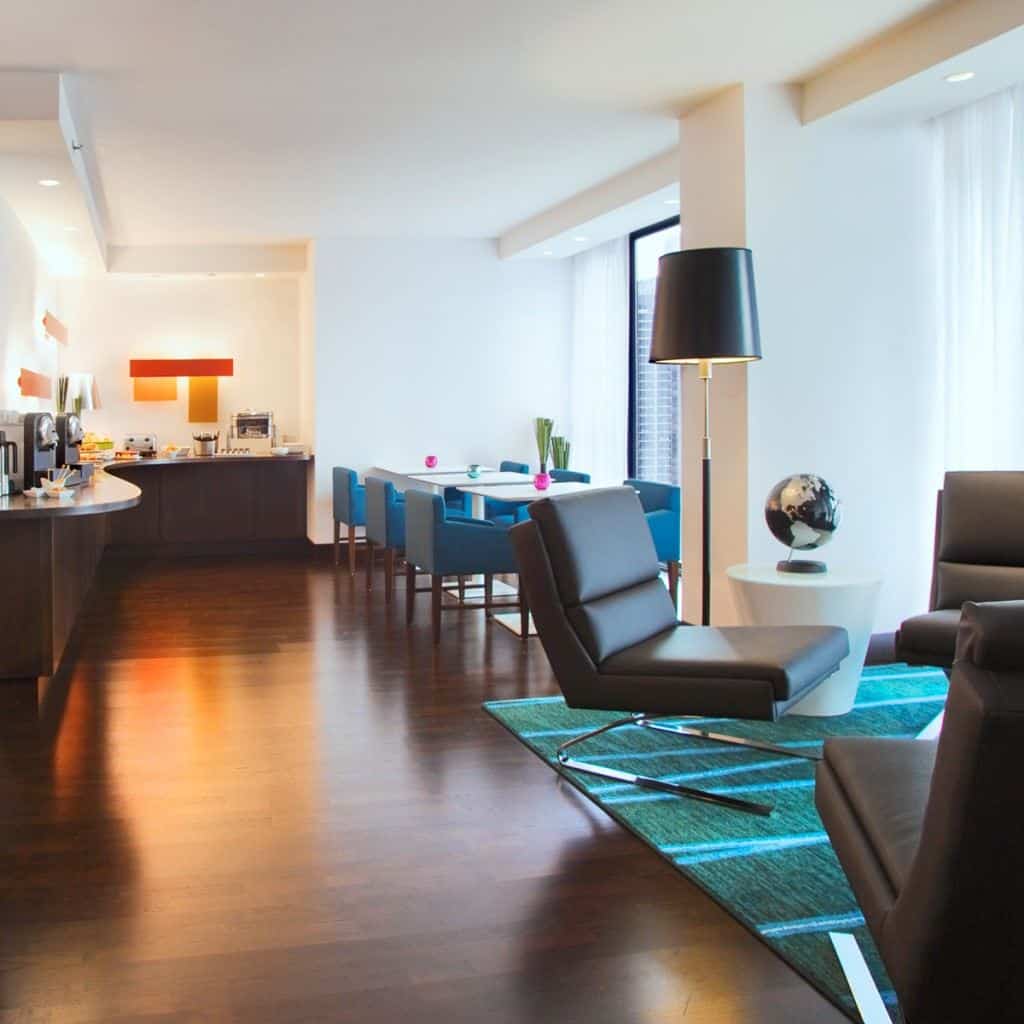 Image (c) Radisson Blu Aqua Chicago
On this occasion I stayed in a Business Class room, which means that I had access to the Business Lounge on the same (17th) floor. This is a nice bonus as free breakfast is offered here each morning and was enough for me most days. Complimentary drinks were also available each evening although I never managed to make it there in time. Otherwise it's a quite place to relax, watch the TV or read the newspapers and magazines provided. If you have work to do it would be a good way to break the monotony of sitting in your room, too.
Service
Excellent service from check-in to check-out; the concierge had excellent local knowledge and staff were helpful in obtaining taxis etc. All staff were friendly and helpful and clearly take pride in their work – the hallmark of a well-run hotel.
Any points/miles to earn?
Yes, you can earn Club Carlson points here. You can also use your points for your stay or combine points and cash.
Can they look after your bags after you check out?
Yes, they are happy to do so.
Green or mean?
Very, very green. The hotel has come even further in this regard since I was there last. In the summer of 2013 the Radisson Blu Aqua officially received LEED® Silver certification.
As per the press release at the time, "the LEED rating system, developed by the U.S. Green Building Council (USGBC), is the foremost program for the design, construction, and operation of high performance green buildings. It remains the only published LEED-CI full service hotel in Chicago and achieved its status by implementing practical and measurable strategies and solutions aimed at achieving high performance in areas such as sustainable site development, water savings, energy efficiency, materials selection, and indoor environmental quality.
The hotel was awarded its LEED certification after passing a third party certification review process that incorporated hundreds of checkpoints designed to ensure a high level of eco-friendliness.
Mindful of its environmental impact from day one, the hotel ensured that more than 92 percent of all construction waste was recycled while the hotel was being built. In addition to efforts during its construction, the Radisson Blu Aqua's day-to-day operation also includes environmental elements such as 20 percent reduction in water use; 31 percent reduction in light power; 100 percent of materials used have a low VOC content; zero use of chlorofluorocarbons (CFCs); and many other initiatives.
Green-minded guests can take advantage of LEED-related amenities such as the hotel's extensive recycling program, an 80,000 square foot green roof with native plants, and enhanced thermal controllability."
The Damage
Rates start around US$199 plus taxes. Shop around for advance deals – as usual if you are happy to pay fully in advance you will always save more.
Right now the Aqua has a good deal for football fans: Indulge in food and football—Chicago style! Book the Chicago Football Package and enjoy a daily US$50 food and beverage credit to use for dinner the night before the game or breakfast on game day. Also, get 15% off hotel valet parking prices. Rates for this package start at USD 234.
The verdict please your honour...
The Good
Well-designed, comfortable rooms. Great beds and funky bathrooms. Superb fitness and leisure facilities. Excellent location. Plenty of power sockets. No smoking. Superb service. Well-stocked mini bar. Good value.
The Bad
Like I said, the only niggle was the lack of lockers in the changing room. Hardly a game changer, I'm sure you'll agree…
The Ugly
I still can't think of anything truly negative to say about the Aqua; I had a great time once again and continue to recommend this hotel to anyone visiting Chicago.
Closing comments:
Like I said in 2012, I can't see you finding much better value for the price in Chicago – the hotel overdelivers, plain and simple.
As stated in the introduction, I received a reduced rate per night for this stay. My review is based on paying the full rate, as I did previously and would gladly do in the future