Image (c) Radisson Blu Plaza Hotel
I've certainly clocked up a few stays in Helsinki now, and last month I was back in Finland to participate in the third Nordic Bloggers' Experience and the MATKA travel trade fair. Once again, Radisson were a main partner and offered NBE participants rooms at their hotels in the capital.
After enjoying the
Radisson Blu Seaside
 on both previous occasions I was very keen to see how the group's flagship property in Helsinki, the Plaza, would compare.
As mentioned before, Radisson Blu has three hotels in Helsinki city centre with a total of over 900 rooms – all are excellent but I have to say that the Plaza rules the roost.
Radisson Blu Plaza Hotel, Mikonkatu 23
, 00
100 
Helsinki, 
Finland (
+358) 20 1234 703
Image (c) Radisson Blu Plaza Hotel
When?
Mid-January 2016
Vital stats:
Five stars. Opened April 1999. Last renovated 2012. 302 rooms over 7 floors.
Location, location, location?
The Radisson Blu Plaza is located just off the railway station square in Helsinki – making it ideal for those arriving by train from the airport. Even with a big case I was able to be at reception less than ten minutes after leaving the platform.
Most of the main sights in the city are within walking distance and public transport links from the square are excellent.
What about parking?
Helsinki's public transport system negates the need for driving, but if you are arriving by car you can leave it in a public parking garage a few blocks from the hotel. This costs extra, naturally. You can drive in between 6 a.m. and midnight and leave at any time.
A limited number of parking spaces are also available on-site for an additional fee.
Why choose this place?
The central location and high standard are the main reasons. The hotel is also renowned for providing one of the best breakfasts in town and has a lively bar and good restaurant, too.
Despite its central location you won't be disturbed by noise from the street and it's hard to find better value for money in Helsinki.
Room
There are three different styles of room at the Plaza as well as a selection of suites: Standard, Business Class and Executive Business Class.
The first two styles are also available in both Classic and Modern versions – Classic features wood panelling and carpets over most of the floor, whereas Modern is all snazzy colours and parquet floors.
For my stay I was allocated a Business Class room (number 626) in Modern flavour.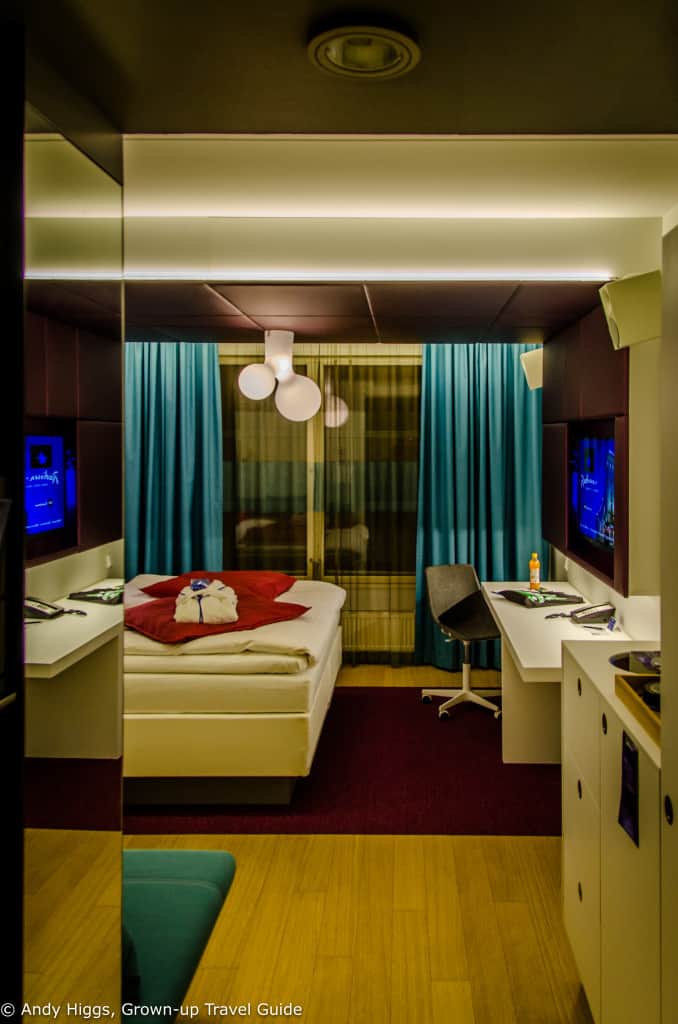 Here's a video walkthrough for you:

You'll notice that the room is spacious and well designed, with a funky colour scheme.
Many television channels were available including a good number of English-language broadcasts. The desk was a reasonable size and the chair very comfortable, making this a good option if you have stuff to do.
There were plenty of power sockets under the desk too.
The bed was superb – big and extremely comfortable with a good choice of pillows. A robe and slippers are a nice touch and an extra perk for the Business Class rooms.
The sofa was large and comfortable too, providing another area in which to relax.
Tea and coffee making facilities are always welcome and a Nespresso machine makes life easy. The minibar selection was extensive and not overly expensive for those late night nibbles and nightcaps.
In the entrance hall was a panel where guests can control the electronic "Do not disturb" sign to keep Housekeeping at bay.
If you watch the video you'll see that this changes the colour of the illuminated room number on the hall floor outside from green to red. Nice.
It also has lighting controls and a second panel was to be found by the bed – all very stylish.
Image (c) Radisson Blu Plaza Hotel
Another perk of having a Business Class room is access to the Plaza Lounge which overlooks the main restaurant area. As well as free snacks and beverages all day the Lounge has a special wine and appetizers selection between 5 and 7 p.m. each night.
In addition, guests can choose to have their breakfast in the Plaza Lounge if they prefer.
Carpets?
No – wood floors and tiling throughout, with a rug in the main room – just what we like.
Bathroom
The bathroom was compact but included a good size bathtub and shower unit. Water pressure in the shower was excellent and the proper heavy-duty shower curtain prevented water flowing onto the floor.
Why do other hotels find this so difficult?
A range of quality toiletries and amenities are also provided.
The mirror held a secret – an inbuilt TV screen. Since this was only visible from the toilet and not the bath I guess this is for those guests who cannot afford to miss a thing while answering the call of nature.
Anyway, it's a fun gimmick and I guess a godsend for the constipated…
Free internet I hope?
Yes – Radisson led the way in offering free wi-fi to its guests and the connection was fast and stable. I had no problems remaining online in all areas of the building.
Bar and restaurant?
Image (c) Radisson Blu Plaza Hotel
The Plaza has both – a beautiful bar called 7 Blings with stained glass windows and a towering drinks cabinet.
Image (c) Radisson Blu Plaza Hotel
An additional cozy lounge style area is located in the next room and is a lovely place to relax.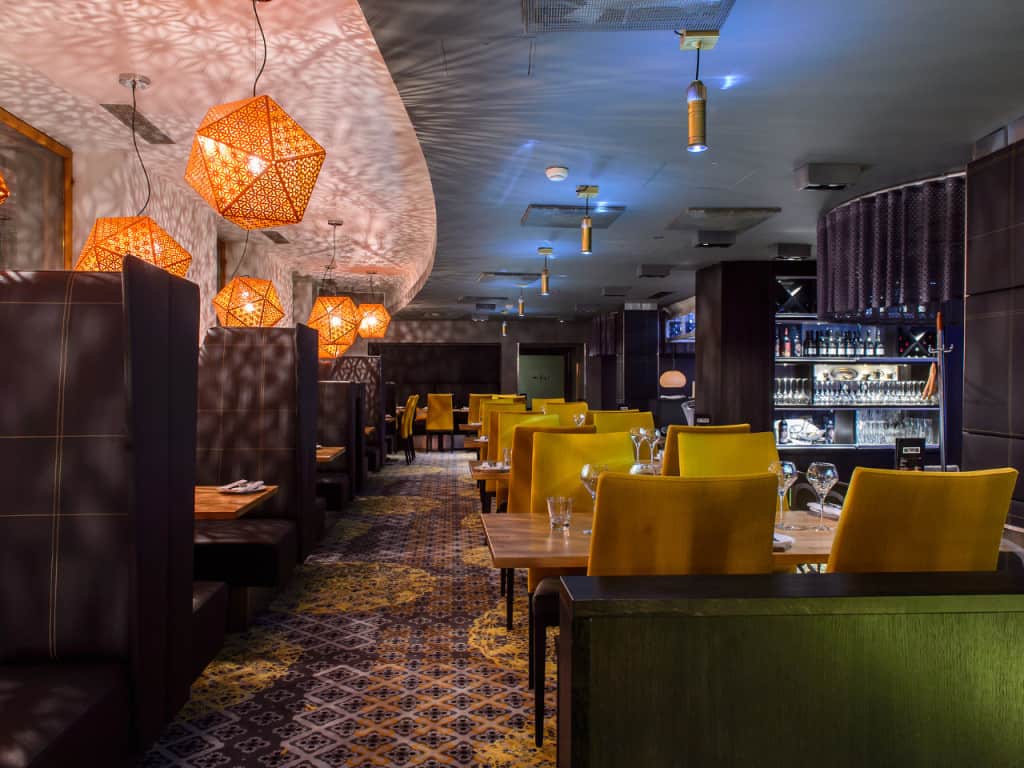 Image (c) Radisson Blu Plaza Hotel
I didn't get a chance to try the Kitzens Restaurant but did get a tour of the place on my last visit to Helsinki. Guests are provided with iPads on which they order from the menu – very cool indeed.
The restaurant has an excellent reputation for contemporary Finnish cuisine so is on my list for my next trip to Helsinki.
Pool, sauna?
There is no swimming pool but they do have the obligatory sauna – one for the gents and one for the ladies. And if you book a suite or Executive Business Class room you even get your own sauna – how cool is that?
You will find a fitness room on the second floor if you are trying to keep in shape.
The breakfast was included, right?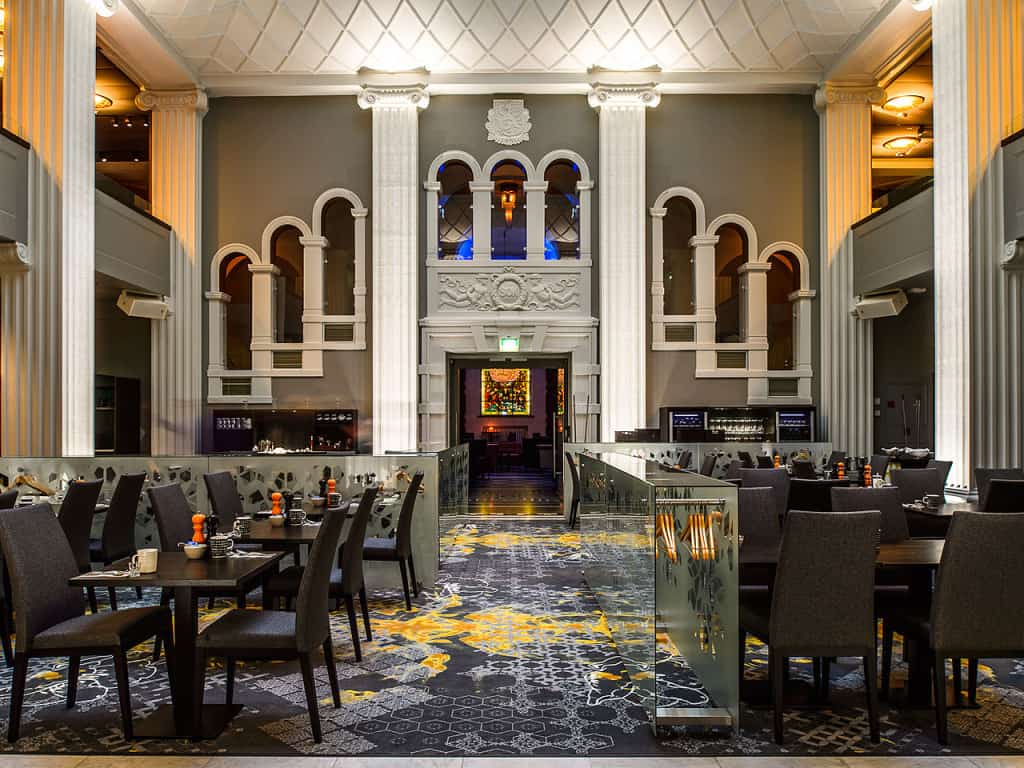 Image (c) Radisson Blu Plaza Hotel
The cheapest rates do not include breakfast but I would strongly recommend paying the extra for it. Not only is it the most important meal of the day, the 'super breakfast' at the Plaza is known as the best one at any hotel in the city.
Image (c) Radisson Blu Plaza Hotel
There was a fantastic variety on offer and extra touches like being able to press your own juice certainly raise the standard.
As well as the large buffet guests can order from a menu of egg-based dishes and the chef will make your dish for you.
Service
Service was superb – attentive and friendly on every occasion.
Any points/miles to earn?
Yes – you can earn Club Carlson points here and should definitely sign up to join the programme if you haven't already done so.
Can they look after your bags after you check out?
Yes, they are happy to do so.
The Damage
Rates start at around EUR 128 per night at the weekend including breakfast for a standard room. Advance deals with full prepayment are generally the cheapest and midweek will cost more than the weekend – as they do at every hotel.
For the Business Class room expect to pay about EUR 70 more per night.
The verdict please your honour...
The Good
Stylish and modern rooms with good range of amenities. Fantastic bed. Superb location. Plenty of power sockets and storage space. Excellent service.
The Bad
Er, nothing.
The Ugly
Nothing at all here, either.
Closing comments:
The Plaza deserves its place as the crown jewel in the Radisson Helsinki crown. It's more expensive its sister properties for a reason – the location, dining and bar are a cut above.
I'll finish with my usual plug – you might not have realised that the food is going to be one of the highlights of your trip to Helsinki. Indeed we've already crowned the Finnish capital as the best city for food-lovers in the Nordics…