Image (c) Radisson Blu Seaside Hotel
In the middle of January I returned to Finland – this was my third time in Helsinki and my second stay at the Radisson Blu Seaside. Just as for my first stay at this harbourside property I was in town for Nordic Bloggers' Experience and the MATKA travel trade fair, and Radisson were kind enough to offer participants in the former rooms at their various hotels in the Finnish capital.
Having said that, last year I extended my stay for an extra three nights at my own expense so I have paid my own way here and would do so again.
With that out of the way, let's get on with the review…
To say that the Radisson Blu brand is well-represented in Helsinki is something of an understatement: they have three different properties in the city as well as one in Espoo which is within easy reach.
These are not small places, either – the Seaside, Plaza and Royal each have over 300 rooms, with the Seaside being the biggest of the lot with 336. In other words, your chances of finding an available room are good despite the well-justified popularity of the chain amongst both leisure and business travellers.
The building now housing the Blu Seaside has an interesting back story which also explains why there are few rooms that are identical:
Alright, so we've established that the Radisson Blu Seaside is a large hotel with an interesting history and a huge variety of room shapes and sizes – but what else can it offer?
Read on…
Radisson Blu Seaside, 
Ruoholahdenranta 3, 00
180 
Helsinki, 
Finland (
+358) 20 1234 707
Image (c) Radisson Blu Seaside Hotel
When?
Mid-January 2015 (and mid-January 2014)
Vital stats:
Four stars. Opened April 1993. Last renovated 2010. 337 rooms over 9 floors.
Location, location, location?
There's a clue in the name. The Radisson Blu Seaside is indeed on the waterfront but this is the harbour rather than the beach. It is ideally located for travellers arriving on the ferry from Estonia as the quay is within walking distance, even with luggage.
Hietalahti Market Hall is close by as is one of Helsinki's best restaurants, A21 Dining.
What about parking?
Helsinki has a fantastic public transport system which is part of an overall plan to try to discourage private car use in the city – but if you arrive in your own vehicle you can park it in the hotel's heated garage during your stay for an additional fee.
Why choose this place?
As mentioned the location is ideal if you arrive by boat as the West Harbour passenger terminal is a few blocks away; if you come from the airport it's an easy bus ride into the centre then a short taxi or tram ride. With a choice of tram stops right outside the building it is extremely easy to get into town – but walking won't take more than 20 minutes even in the snowy depths of winter.
It's a peaceful and scenic part of town, too – just look at the view over the water in winter (yes, those are frozen waves and no, it's not Photoshopped!)
The hotel restaurant has recently shifted to focus on local Finnish food and this is one to watch – it's early days yet but this looks like a very promising newcomer and could be reason enough to stay here, too…
Room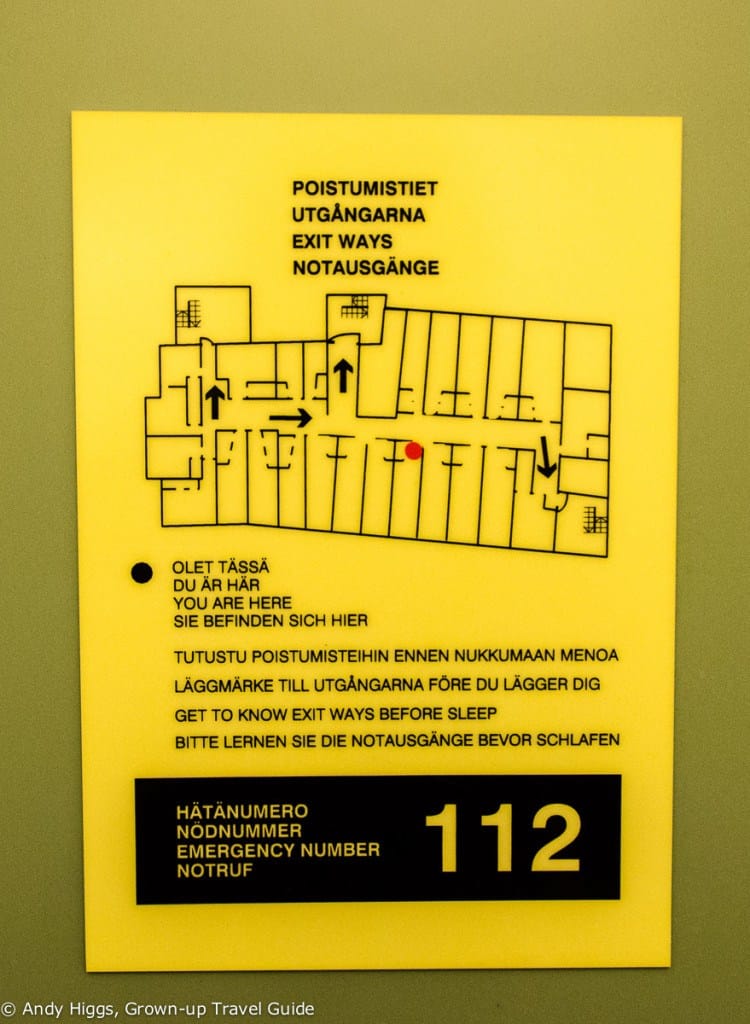 There are a rather staggering 40 different styles of room at the Blu Seaside, so this is not your typical large chain hotel with 'cookie-cutter' lodging. All of them are a good size and about a third have space for four – perfect for those travelling with children.
The hotel offers six categories of accommodation: Standard, Superior, Business Class and Family rooms as well as Junior Suites and Studios for long-term residents.
On this occasion I stayed in room 605 which was a Superior Room.
Here's a video walkthrough for you:

Last year I stayed on the top floor in a Business Class room which had its own terrace – not so useful in the winter but great for the warmer months. The Business Class room was a few square metres bigger but I found the Superior just as comfortable for a solo traveller.
I liked the toned-down decor and relaxed feel to the room; with so many lights it is possible to create the atmosphere you prefer and being able to open the window is always a plus point. The original columns from the former cheese factory were neatly incorporated in the design, too.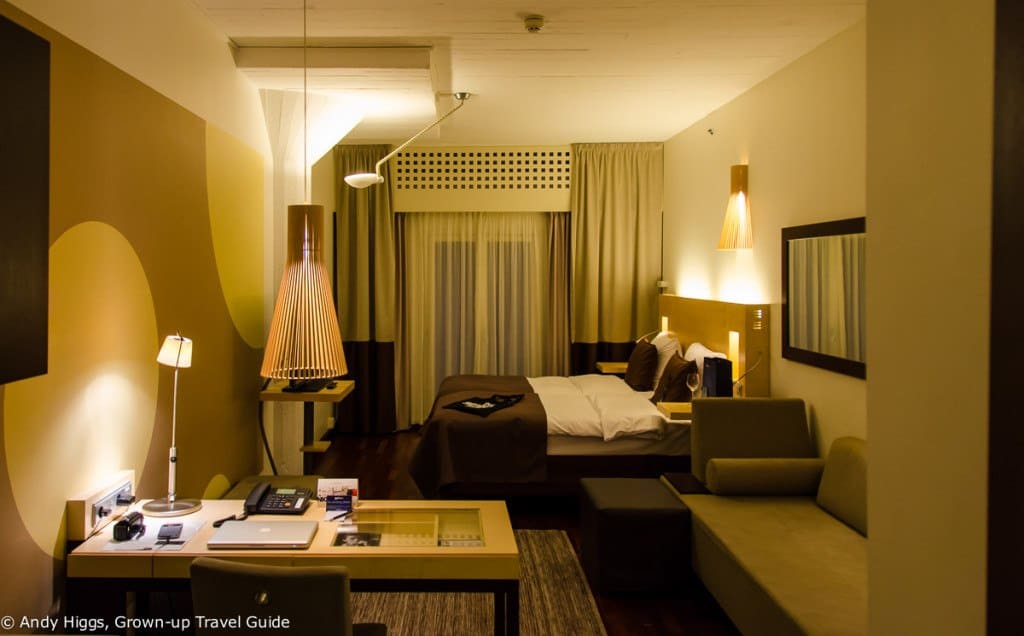 The bed was fantastic – large and comfortable with a choice of pillows. The TV system was newly installed and movies were not yet available but probably are by now. Finnish cable TV offers a number of foreign-language shows too.
There was plenty of storage space even for a chronic over-packer such as myself.
The desk was a good size and the office chair a bonus for those needing to get work done – and the large number of power outlets is always welcome.
Carpets?
No – wood floors and tiling throughout, with a rug in the main room. Very nice.
Bathroom
My room had a separate bathroom and toilet – the former contained a sizeable shower cubicle and a basin with a huge area for all those cosmetics some travellers seem unable to leave home without.
Water pressure was excellent in the shower and there were no leaks. Good work, Radisson!
Toiletries, bathrobe, slippers and hair dryer are all provided.
Free internet I hope?
Yes – Radisson was one of the first big chains to offer free wi-fi to its guests and will always deserve praise for that. The connection was stable and fast, too – which is even better. I had no problems remaining online in all areas of the building.
Bar and restaurant?
My only meal at the Blu Seaside both times I stayed was breakfast, unfortunately. As mentioned the former Italian restaurant has been re-branded and is now offering contemporary Finnish dishes; I have a feeling this will be a very good place to eat in the future. There is also a bar in the lobby area of the hotel. Breakfast is served in a separate area on the ground floor.
Pool, sauna?
No pool but two saunas – one of which is on the top floor and only available during private functions. I was lucky enough to be part of one such function and it is amazing to take a proper sauna and watch the sun come up over Helsinki harbour. There is also a private room for hire on the same floor. I really hope the hotel considers making this part of the building an executive lounge so that other guests can enjoy it. I have dropped a pretty heavy hint about that, so fingers crossed…
The regular sauna is good too though, with separate rooms for men and women as is the norm in Finland.
The breakfast was included, right?
Breakfast is usually included in the rate you pay and is the one area that needs work. It wasn't bad, but with all the fantastic produce available in Helsinki – including just down the road in the market hall – it seems a shame that the Blu Seaside doesn't make more of an effort. Here in Norway we have hotels that compete to offer the best buffet breakfast and I think that Radisson should set their sights to this kind of level too.
Service
Excellent and friendly service from check-in to check-out.
Any points/miles to earn?
Yes – you can earn Club Carlson points here and should definitely sign up to join the programme if you haven't already done so.
Can they look after your bags after you check out?
Yes, they are happy to do so.
Green or mean?
I've asked for some detailed information about the hotel's environmental initiatives and will update this sections in due course.
The Damage
Rates start at around EUR 75 per night at the weekend. Advance deals with full prepayment are generally the cheapest and midweek will cost more than the weekend. Nothing out of the ordinary there, then.
The verdict please your honour...
The Good
Spacious, comfortable rooms with good range of amenities. Great bed. Good location. Plenty of power sockets and storage space. Very good service. The rooftop sauna and bar/function room area is amazing – if you are invited…
The Bad
Breakfast could be better.
The Ugly
Nothing to report.
Closing comments:
This is an excellent hotel and one that I have been recommending privately since I first stayed there last year. Now I'm going public – this is an ideal base for your time in the city.
If you're going to Helsinki – and you should – you might not have realised that the food is going to be one of the highlights of your trip. Indeed we've already crowned the Finnish capital as the best city for food-lovers in the Nordics…