One of the many great aspects of my trip to Cape Town earlier this year was the opportunity to stay in three very different areas and in three very different hotels. After being in the centre of town at the Grand Daddy on Long Street, and then in the quiet yet happening suburb of Tamboerskloof, I spent my final night in the city at the Romney Park All Suite Hotel & Spa in Green Point.
Green Point is home to the stunning stadium that was built for the football World Cup and close to the increasingly popular Sea Point promenade and the V&A Waterfront. In other words, an ideal base for exploring this part of Cape Town.
Let's get into this then, shall we?
Romney Park All Suite Hotel & Spa, Corner of Hill Road and Romney Road, Green Point, Cape Town, 8005, South Africa +27 21 439 4555
When?
Early April 2016.
Vital stats:
Five stars. Opened 1997, renovated 2010. 30 suites over 5 floors.
Location, location, location?
Romney Park is situated right om the edge of the Green Point area of Cape Town. Bordered by Signal Hill to the south and extending almost to the sea, it's an affluent and attractive, if hilly, area. As well as a large number of hotels and guest houses, Green Point is mostly residential although there are some shops and restaurants nearer the sea. The very popular V&A Waterfront is an easy 20 minute walk or quick taxi ride from the hotel, and the slightly less polished but increasingly 'in' Sea Point is about the same distance in the opposite direction. Cape Town's excellent bus system includes several routes through the district so you will have no problems getting around by public transport.
What about parking?
Secure garage parking is available for a very reasonable ZAR 70 per day, with direct access to the hotel.
Why choose this place?
As the name implies, this property is ideal for those looking for a bit more space than your average hotel room. Indeed each of the 30 suites is self-contained with everything you could need including a full kitchen. The restaurant scene in Cape Town is amazing, so it's unlikely you'll be spending much time over a hot stove, but the option is there.
For families with children old enough to want their own room and demand privacy, Romney Park is a superb option and rates are far cheaper than paying for two rooms at a regular hotel.
That's not all, though. The hotel is luxurious yet understated, has an excellent pool and a spa with a good reputation. Secure covered parking and exceptionally friendly service are the icing on the cake.
Room
There are five types of suite: Luxury (17), Senator (10), Governor (1), Ambassador (1) and Presidential (1). The email from the hotel kindly offered me a complimentary stay in a 'single' in return for a review. It seems I was upgraded on arrival though as I was given the keycard to a two-bedroom Senator suite…
The entrance hall is a decent size (the main door is on the right of the picture with the poster on it) and features a large closet (the double doors). The kitchen is on the left.
This is the main living and dining area with which you are greeted on entering the suite. It's tastefully decorated with rather typical solid African furniture. The balcony doors allow plenty of light to flow in.
There's plenty of space for a family to relax here.
The cabinet in the corner hides a flat-screen TV, DVD player and music system.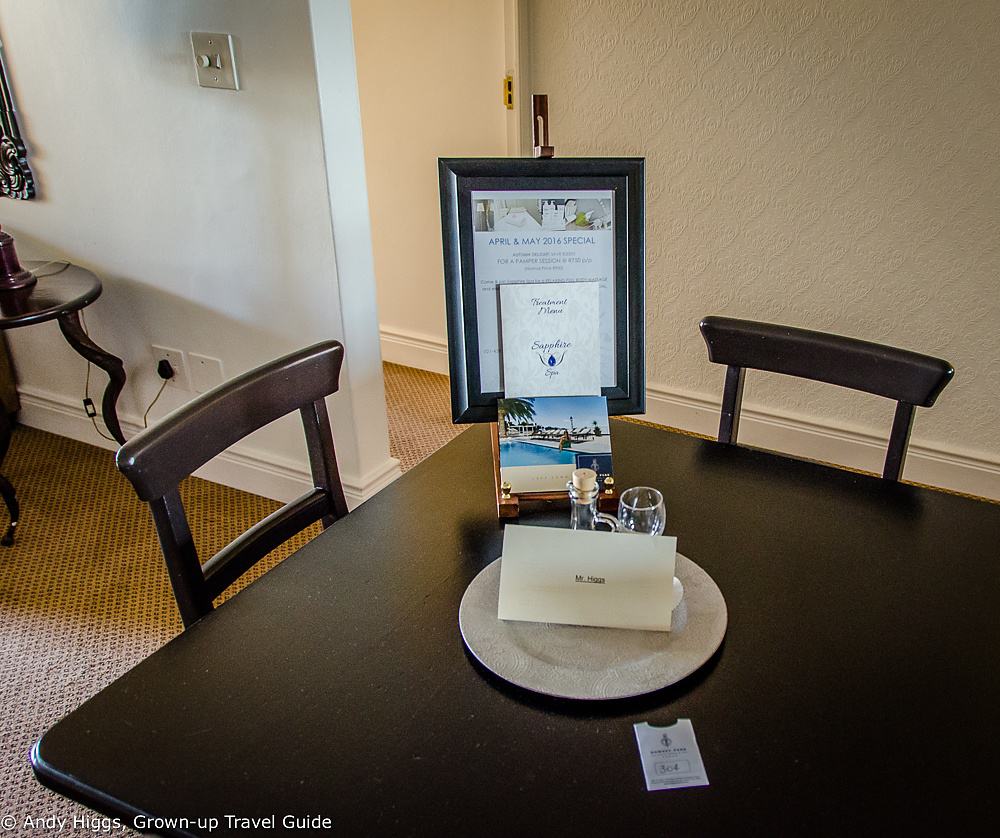 Another South African tradition in the hotel industry seems to be the provision of a complimentary bottle of sherry. It's not my tipple of choice, but I'm not complaining, either. And I seem to be developing a bit of a taste for it now, too…
If you need to work there is a proper desk and plenty of power sockets.
The sofa was extremely comfortable – I liked the modern touch with the colourful cushions too.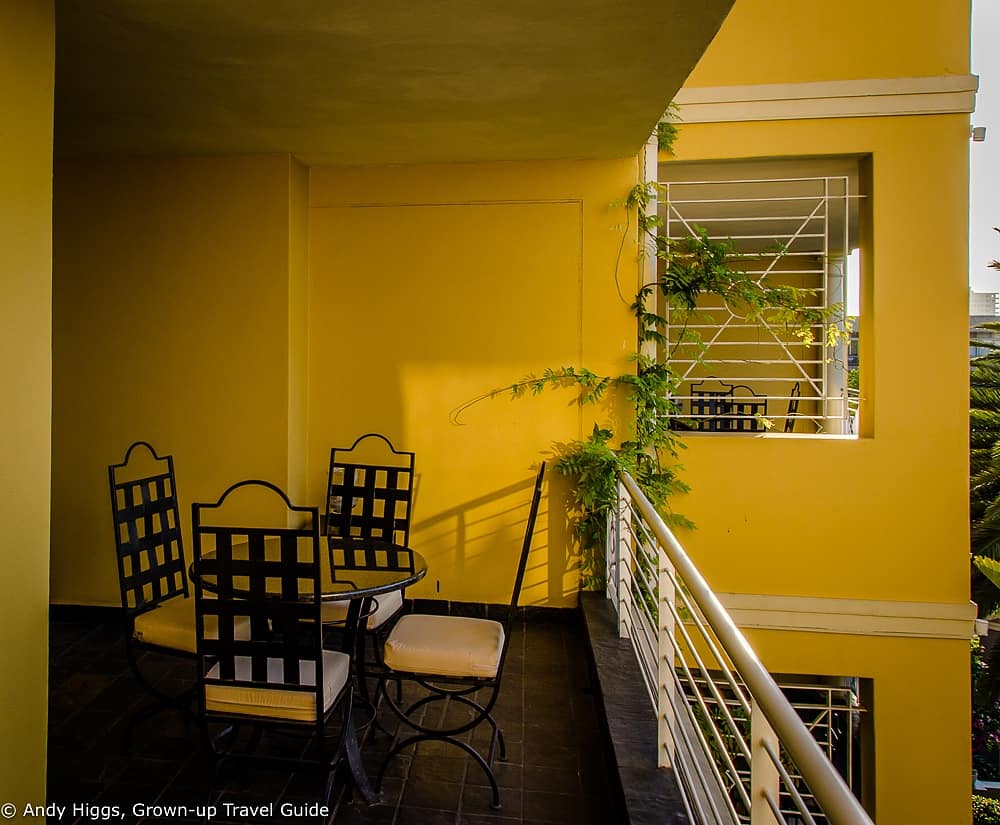 The balcony was large, private and the place I spent most of my time.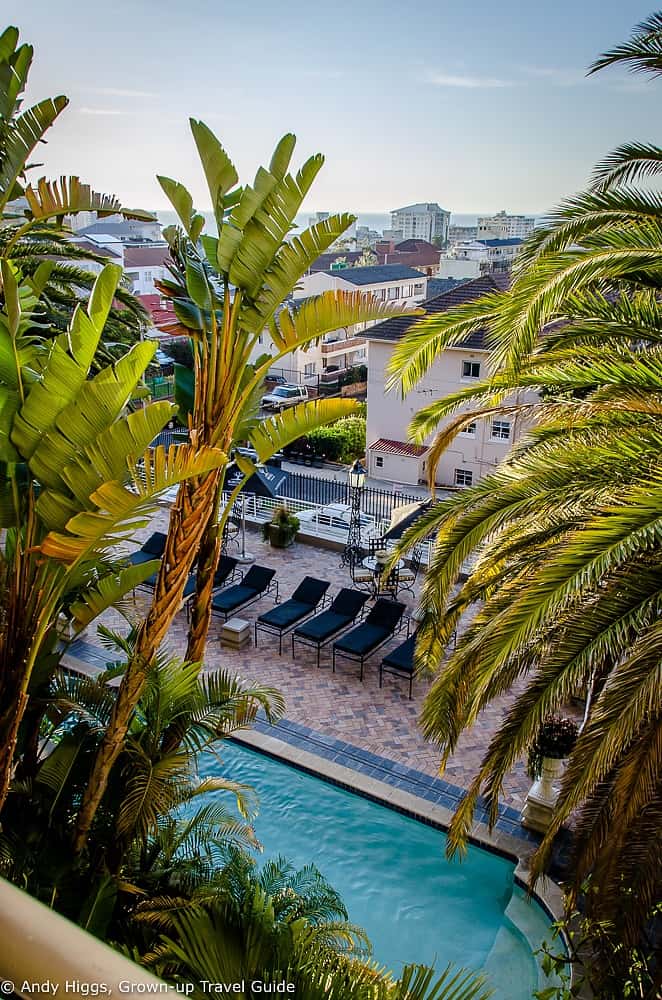 The view wasn't half bad, either.
Enjoying another beautiful Cape Town sunset with a cold beer. Well you would, wouldn't you?
There are two bedrooms – this is the second one, which is separated from the master bedroom by two bathrooms – so there is a good level of privacy for all concerned.
This one was a decent size and featured a full wardrobe so storage space was not an issue.
Following the corridor from the smaller bedroom past the two bathrooms leads to the master bedroom.
A huge and superb double bed awaits here as well as the major bonus of direct access to the balcony.
There is also an additional TV here.
Again, substantial storage space is provided and the closet contains robes and slippers, an iron and board as well as a safe for your valuables.
Carpets?
Yes, carpets throughout the bedrooms and living room. Rather cosy when the AC was on and very clean, so no complaints there.
Bathroom(s)
As mentioned, the suite contained two bathrooms. This is the smaller one, which contained a basin, toilet and shower cubicle.
The pressure in the shower was excellent and there no leaks from the cubicle either, which is absolutely not always the case…
There wasn't room for much more but the layout was good enough to ensure that it didn't feel claustrophobic.
The bigger bathroom was a bit of a step-up, though…
As well as the basin with its large mirror and toilet, this bathroom had a bath. And not just any old bath…
Wallowing in here after a hard day's sightseeing was a huge pleasure. The amount of room around the tub allowed me to keep a couple of beers and books handy, too. Which I am sure was the intention, right?
Kitchen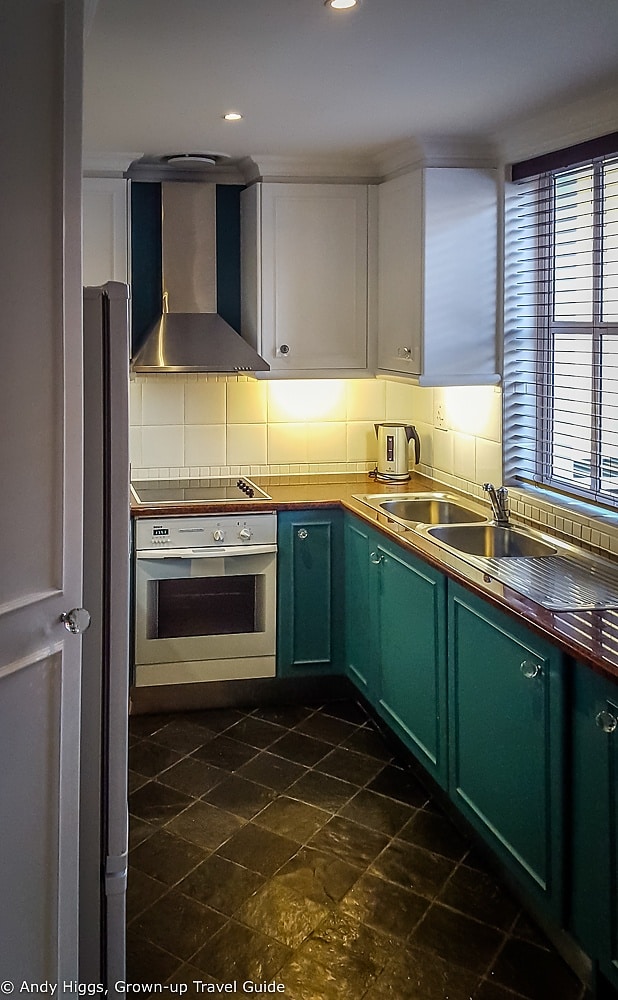 Last but not least, the suite includes this fully-equipped kitchen.
There are plenty of provisions you can use at a nominal cost, if you don't feel like walking to the supermarket.
As well as an oven with hob, a microwave is also provided.
Instead of a mini-bar, there is a well-stocked full-size fridge.
Most of the contents cost extra but prices are reasonable (a detailed list is provided).
What could be more of a required item in South Africa than biltong?
Oh yes, that's right – wine. This is a variety bottled specially for the hotel, too.
For a better idea of the layout of the suite, check out this video:

Free internet I hope?
Yes – internet access is free and fast – the wifi signal was very strong throughout the property and I was able to run multiple devices without any problems.
Bar and restaurant?
The George Restaurant is open for breakfast, lunch and dinner but unfortunately I only got to try the former. I didn't even get to have a drink in the bar, either, which certainly seems like ample justification to return…
Pool, sauna?
Romney Park has a lovely swimming pool with adjoining bar but again, I missed out on taking the plunge.
And of course I also had no time to test the Sapphire Spa, which has a full range of treatments and looks like a great way to relax.
The breakfast was included, right?
Yes, and it was excellent – a full buffet as well as hot options that could be ordered from a separate menu. I filled up for the whole day here.
Service
From my arrival to departure I experienced nothing but friendly and efficient service from all concerned.
Any points/miles to earn?
No – this is a privately-owned hotel.
Can they look after your bags after you check out?
Yes, they are happy to do so.
The Damage
Here too, the year is divided into low, high and peak seasons. A Luxury suite with one bedroom costs ZAR 1900, ZAR 2700 and ZAR 3500 respectively. The Senator suites like the one I had cost ZAR 2950, ZAR 4150 and ZAR 5150. The other types cost increasingly more, see the current rate information here.
The verdict please your honour...
The Good
Everything. Loads of space and all the amenities you could need. The location is good and service is superb.
The Bad
Nothing I could think of.
The Ugly
Nope.
Closing comments:
Romney Park All Suite Hotel & Spa is a perfect option if you require more space yet enjoy the luxury of a hotel. It is definitely the best value for families of the three properties in Cape Town which I tested and comes highly recommended. One night was far too brief a stay and I will absolutely be returning next time I am lucky enough to be in this wonderful destination.