Image (c) San Remo Hotel
The story so far: I managed to secure an amazing award redemption flight to San Francisco on SAS Business Class in the early autumn. Next it was time to find a place to stay. I asked a few friends who warned me that San Francisco was difficult – and expensive – pretty much all year round due to conferences, the proximity of Silicon Valley and a general lack of affordable accommodation. My travel blogger gang also told me that getting a hosted stay was next door to impossible.
Well, I love a challenge…
First of all I checked options for my dates online, and sure enough there were few rooms available and the ones that were cost a small fortune. I then contacted the local tourist board for advice, and things began to look up. After checking out my blog they sent me a media kit with links to hotels that were keen to work with travel writers. I had a few turn me down because they had no space but then I got lucky – the San Remo Hotel would not only offer me a room in return for a review, but they would offer me a room for my entire five-night stay in the city!
This is almost unprecedented and I did not hesitate on taking them up on their offer. I had envisioned having to change hotel two or three times which wastes a lot of precious time, so this would be perfect. Also, the location of the San Remo is ideal for sightseeing and it looked like a quirky place to stay – and is renowned for offering the best value in the city.
Let's get straight into the review, then…
San Remo Hotel, 2237 Mason Street, San Francisco, California, 94133 USA Tel +001 (415) 776 8688
When?
Late October 2016.
Vital stats:
Opened 1906, 64 rooms over 3 floors.
Location, location, location?
The San Remo Hotel has an excellent location for visitors – North Beach. This is a neighbourhood in the northeast part of the city bordering Chinatown, Fisherman's Wharf and Russian Hill. Historically, North Beach was the Little Italy of San Francisco and many Italian Americans remain, but in recent years they have been joined by a younger professional crowd as well as a booming Chinese population which is outgrowing Chinatown.
Just a few blocks to the north is the famous Fisherman's Wharf – which is a bit of a tourist trap but still a must-see for all first-time visitors. Boats for Alcatraz and harbour tours leave from here too. In the opposite direction lies Washington Square, the lively centre of North Beach with a range of bars, cafes and restaurants.
You can also walk to the world-renowned Lombard Street – I recommend getting there at sunrise if you want to capture it in all its glory.
Perhaps best of all, you can catch the cable car from just a block away which will take you all the way to Union Square. This is the best way to get around – or at least the most fun.
What about parking?
The hotel has secured a preferential rate for parking with a local company. You can leave your care for USD 24 a day, which is a great deal considering that rates of USD 12 per hour are common in downtown San Francisco.
Why choose this place?
I would say there are three main reasons for choosing the San Remo – first of all its location is superb; you can reach all the city's attractions with ease – many by walking. Yet it is a quiet area and you won't be disturbed at night either, which is not always the case with central accommodation.
Secondly, you will definitely struggle to find anything comparable for the price, so value for money is a major draw.
Last but not least, the San Remo has character by the bucketload – it's a fun, quirky and lively place to stay in this wonderful city.
Room
All rooms are decorated and furnished in Victorian style which is both quirky and charming. Think homely rather than hyper-modern, maximalist rather than minimalist. Rooms vary in size but are very compact – I wouldn't recommend swinging a cat. Not that you should try that, in any situation…
Most have a double bed apart from those meant for three guests which have a double and a single.
The majority of rooms also have a hand basin, and all share toilet, bath and showers facilities down the hall. All that is apart from the family room which is en-suite and great for those travelling with children.
I was allocated room number 37 on the second floor of the hotel which had a double bed and a hand basin. The room itself was airy and light, too, with a window onto the street outside. The cheapest rooms have no windows which might be a little claustrophobic, but equally the drop in the rate might make it worthwhile.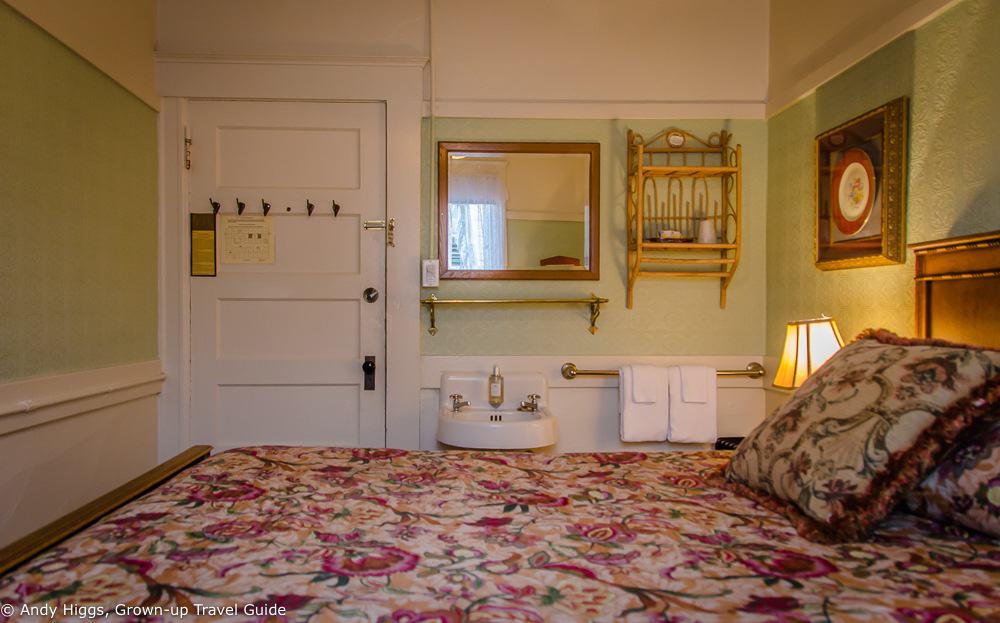 The bed was very comfortable but could have been longer – given the headboard and frame I ended up sleeping on a slight diagonal which could have been an issue for  a tall couple.
Having a wash basin in the room was a bonus, especially for a contact lens wearer like myself.
I had no need for earplugs, but having them provided was a nice idea.
I would choose a ceiling fan over AC any day of the week, so was pleased that the room had a powerful one.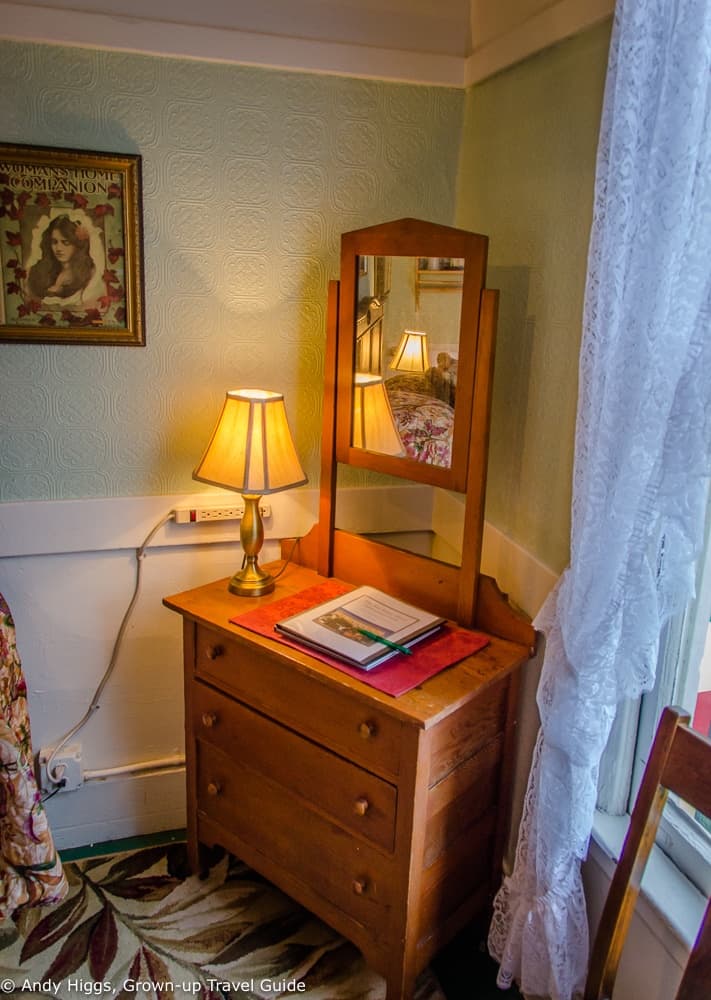 You couldn't really work at this desk – well, it is a chest of drawers, after all – but the row of power points helped me to keep all my equipment charged and I put in several hours working while lying on the bed. Perhaps not the most ergonomically correct position to do so but I met my deadlines.
Californian raisins made a nice welcome snack.
Storage space was adequate for a couple and more than enough for me.
Carpets?
Yes, the Americans love their carpets almost as much as the Brits but these ones were clean and well cared-for; both in my room and in the shared areas of the hotel.
Bathrooms
I was a little apprehensive about sharing bathrooms but need not have worried.
Within easy reach of all rooms, the showers, baths and toilets were spotlessly clean no matter what weird time of the day or night I visited.
Water pressure in the showers was excellent, heated towels, shower gel, shampoo and conditioner are all provided as are disposable paper mats to stand on.
The bathtubs were large and inviting, although I didn't get the chance to give one a test.
Here's a video of the room and bathrooms to give you a better idea:

Free internet I hope?
Yes – wifi internet access is free and fast – the signal was very strong throughout the property.
Bar and restaurant?
The San Remo boasts American's oldest Italian restaurant, Fior d' Italia, located on the ground floor next to the hotel entrance. It originally opened in 1886, which is almost prehistoric by US standards and has a colourful back story. The restaurant originally provided sustenance to customers of the nearby brothel but became popular with other locals before burning down in 1893. It then reopened at a new location before becoming victim to the great earthquake and fire of 1906.
The very next day Fior d'Italia was serving again from a tent, where it remained for a year while the city was rebuilt. The restaurant found a more permanent location on Broadway and grew in size until it was able to seat some 750 guests. In 1930 it moved again, this time due to problems with the landlord of the premises and settled on Washington Square Park until – believe it or not – it was ravaged by fire once more in 2005.
Fior d'Italia then found its way to Mason Street in the San Remo building in North Beach, where it is frequented by hotel guests and locals alike. There is also a full bar here which is a popular place for a drink and to meet friends.
I had dinner on my first night and greatly enjoyed the meatballs and spaghetti, tiramisu and excellent wine. Service was friendly and the atmosphere cozy and welcoming. I highly recommend that you eat here at least once durng your time at the San Remo.
Pool, sauna?
No, but there is a public pool within easy walking distance.
The breakfast was included, right?
You will need to go out for breakfast but there is no shortage of options. Indeed there is an excellent cafe on the other side of the street and many more in the surrounding area.
Service
From the moment of my arrival until my reluctant departure the staff really made me feel at home. Service was efficient and the guys and gals at reception are keen to share their knowledge of this wonderful city, so don't hesitate to ask for insider tips.
Any points/miles to earn?
No – this is a privately-owned hotel.
Can they look after your bags after you check out?
Yes, they are happy to do so.
The Damage
The San Remo is exceptional value: room rates vary according to the season of course but the fact that a room like mine with double bed and wash basin can be had for as little as USD 129 a night is quite amazing. Furthermore, if you forego the sink and put up with a window onto the hallway you can stay for even less. For more space and luxury – as well as an ensuite bath – the penthouse suite includes a rooftop patio and deck with amazing views and even a television…
The verdict please your honour...
The Good
The location, for this price, is just unbeatable. Service is excellent and staff friendly. The shared facilities are clean and welcoming, even if you are not used to this kind of arrangement at hotels.
The Bad
I realise that the San Remo may not be for everybody, but if I can handle shared bathrooms, you can. Other than that, which is not 'bad' but just different, I can't put my finger on anything.
The Ugly
Nothing.
Closing comments:
In my opinion there is no better value option in San Francisco than the San Remo. It's a quirky property with bundles of character, and a far cry from the anonymity of one of the major chain hotels. If you really can't live with having to share bathrooms, splurge on the penthouse suite which is still cheaper than a regular room at most other places in the city. I wholeheartedly recommend staying at the San Remo Hotel and cannot wait to return – I am already planning to do so later this year.