Earlier this year I booked flights using airline miles to get me to Johannesburg where I would meet up with the rest of the Sunway Safaris group for our trip to Botswana. Don't worry, you'll be hearing all about that adventure very soon – you have probably noticed one or two posts on our social media accounts too…
Anyway, one of the perks of this redemption was that I would have a couple of nights in 'Jozi' (that's what the cool kids say, apparently) before flying to Maun. This would give me a chance to experience a little of what the big city had to offer but naturally I needed to secure a place to stay. After doing some research online and in guide books one place kept coming up – The Peech Hotel. Every review was glowingly positive and all suggested that this was the perfect Grown-up place to stay. And our sister operation The Grown-up Travel Company uses the Peech for many of the custom itineraries we offer in South Africa.
This impression was further strengthened by looking at the hotel website and it took me about three seconds after arriving on the home page to decide that I needed to check this place out.
I contacted the hotel and received a reply shortly afterwards from the owner, James Peech himself. He was kind enough to offer me one night free in return for the review you are reading here (I should point out that I paid all other charges such as the second night, airport transfers, the hire of a driver, the cost of a city tour and my restaurant bill myself). As always my thoughts and opinions on the experience are my own.
So it was that I was collected from Johannesburg Airport by one of the hotel's drivers and 30 minutes later the found myself walking into this chic city hotel. Here's what I found…
The Peech Hotel, 61 North Street, Melrose, Johannesburg, Gauteng 2076 South Africa +27 [0] 11 537 9797
When?
Mid-April 2015.
Vital stats:
Four stars. Opened 2004, last renovated 2011. 16 rooms over 2 floors.
Location, location, location?
Image (c) Peech Hotel
The Peech Hotel is located in the Melrose suburb of Johannesburg; an affluent and relaxed part of town. I've not checked but I am sure that the most common phrase used in reviews of the property is "an oasis of calm" – and rightly so. Yet the blissful tranquility belies the fact that the major business centres and shopping malls of Sandton, Melrose Arch and Rosebank are no more than ten minutes drive away.
Not that you'll necessarily need a car – there are plenty of interesting cafes, restaurants, bars and shops in Melrose itself. I was particularly pleased to find that the Griffin, one of Jozi's best gastropubs, was just a comfortable stroll away which yielded an entry in the almost famous Grown-up Travel Guide Beer Diary.
Should you be in need of transport the hotel can arrange a driver for a reasonable fee – I took advantage of this service when I needed to buy some safari gear at a store that was some distance away.
Despite the fact that I don't buy in to the hysteria about the dangers of Johannesburg the public transport system – with the notable exception of the superb new Gautrain – is not recommended for visitors nor easy to navigate. Rosebank Gautrain station is just five minutes by car and provides super-fast connections to the airport.
If you are laden with luggage as I was you can arrange for an airport run which in normal traffic takes about 45 minutes – I avoided the rush hour on both journeys and made it in 30 or less, but your mileage may differ, as they say. In any case a transfer costs ZAR 525 and is money well spent – I would have paid that just for the friendly and illuminating conversations with the drivers and the warm welcome.
The James Gray Park is across the road from the hotel and a popular place for a walk with good views. One of JoBurg's swishest new malls, Melrose Arch, is an easy walk away. Here you will find plenty of restaurants (the hotel provides excellent information about the local area in the rooms and the staff are extremely knowledgable) including the legendary Moyo's with its theatrical dining experience, African style. You'll need to book in advance for this but I'm told it's well worth it.
One of the biggest fitness centres in South Africa is right next door and the Wanderers International Cricket Stadium is also around the corner.
What about parking?
Should you be driving you can park in the secure front yard for free.
Why choose this place?
To see the world's coolest clock behind the reception desk?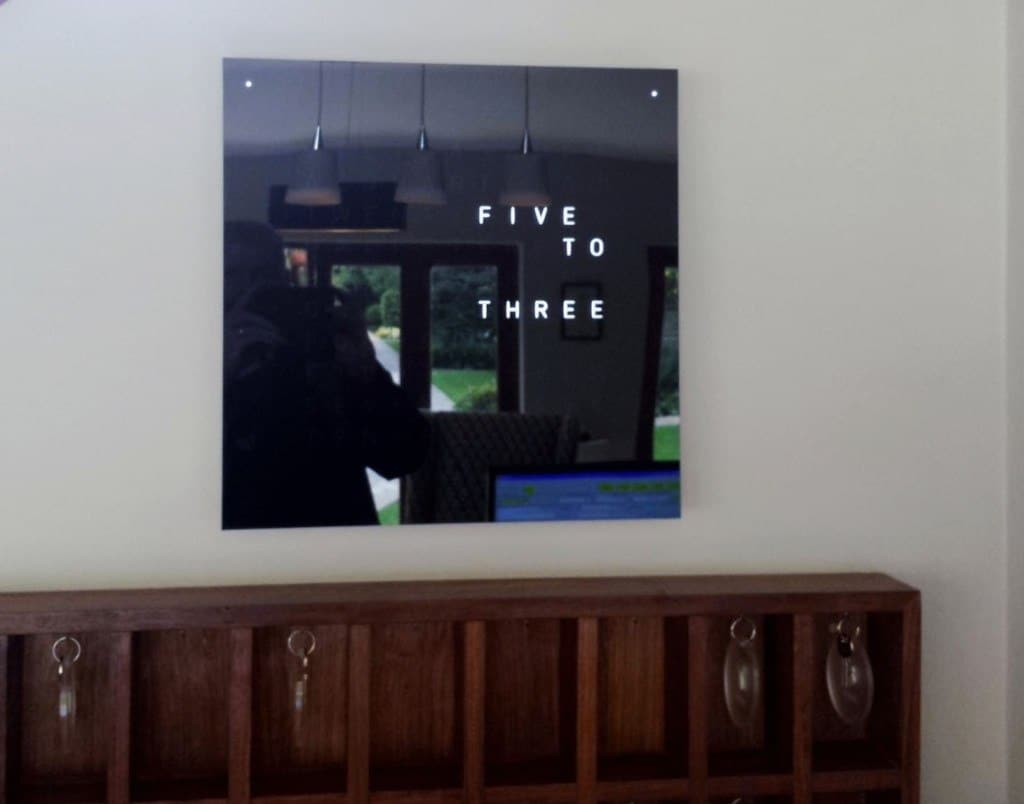 Well perhaps, but as will soon become clear there are many more reasons to choose the Peech Hotel.
In my case it was the desire to stay somewhere relaxed to ease myself into my first time in Johannesburg. I could have barricaded myself in at some anonymous airport hotel for two nights but that's not my style. Everything I read about this property sounded interesting and I am a sucker for smaller, more intimate hotels – if they are run well. Let's face it, 'Fawlty Towers' was a small, intimate hotel and Basil would probably have rebranded it as 'boutique' these days…
This is where the Peech excels – superb service. From the very beginning, you know that guests come first. Take the booking experience – the website is attractive and easy to navigate with instant access to prices and availability. Emails are answered swiftly and professionally and as mentioned my welcome at the airport was warm and friendly.
On arrival it felt more like I was visiting friends than checking into a hotel; indeed The Peech was originally a private home built in the 1950s. After countless times standing in a line in a huge lobby for a key card to one of hundreds of identical rooms it is truly refreshing to pick up a real key for one of sixteen at the blink-and-you'll-miss-it front desk.
I felt that I was "Mr Higgs" or "Andy" because they remembered my name and cared what I thought about my stay rather than because my details flashed up on the screen when they saw my three digit room number.
A benefit of smaller properties is that guests should not need to feel hurried but efficiency is also essential; the Peech gets this balance exactly right. On several occasions the desk staff remembered details I had myself forgotten regarding my schedule and transfers – I was able to relax in the knowledge that everything was under control.
Room
Three types of room are available: the main building pictured at the top of this article was the original residence house and contains two House Rooms (I was in one of these). The annex buildings feature Garden Rooms and Garden Suites. All rooms look out over the immaculate hotel gardens.
Here's a video overview of room number 1 so you get the full picture:
As you can see the room is tastefully decorated and spacious – the huge double bed was also one of the most comfortable I've ever slept in.
A lot of guests will be arriving after long flights and looking for a hotel where they can sleep undisturbed during the daytime – look no further. Not only is the Peech situated in an extremely quiet area the blinds and curtains block out all light so you can doze to your heart's content.
Bathrobes and slippers are provided as is a laptop-sized safe.
Having a proper desk and chair is always a plus, even if I was hoping not to have to use it for work (I did, unfortunately).
A flat-screen TV allows you to become addicted to South African soap operas (you have been warned) or watch news and movies on a wide selection of national and international satellite channels.
A high quality coffee machine allows you to feed your addiction to caffeine (they have decaf too though). It's worth noting that the tap water in Jozi has won awards for the best quality urban supply, so you have no need to worry on that front. Bottled water is provided too though – in case you find the piped version tastes too clean for your palate 🙂
African art adds a local touch.
Both air conditioning and heating are installed so you are covered no matter what the season.
If you are wondering about the Garden Rooms and Suites these have separate work and relaxation areas and benefit from a private patio or balcony facing onto the one acre of gardens.
The suites are the biggest rooms in the hotel – over 60 square metres to be exact. These boast even larger bathrooms and living spaces.
Carpets?
Yes – perfectly clean and admittedly nice to walk on barefoot when the air conditioner is on. Wooden floors would be a little cold and I doubt those with allergies would suffer from these short-pile carpets, but then I'm not one so am not qualified to comment.
Bathroom
The bathrooms are very large with and well-appointed, with both a shower and separate bathtub.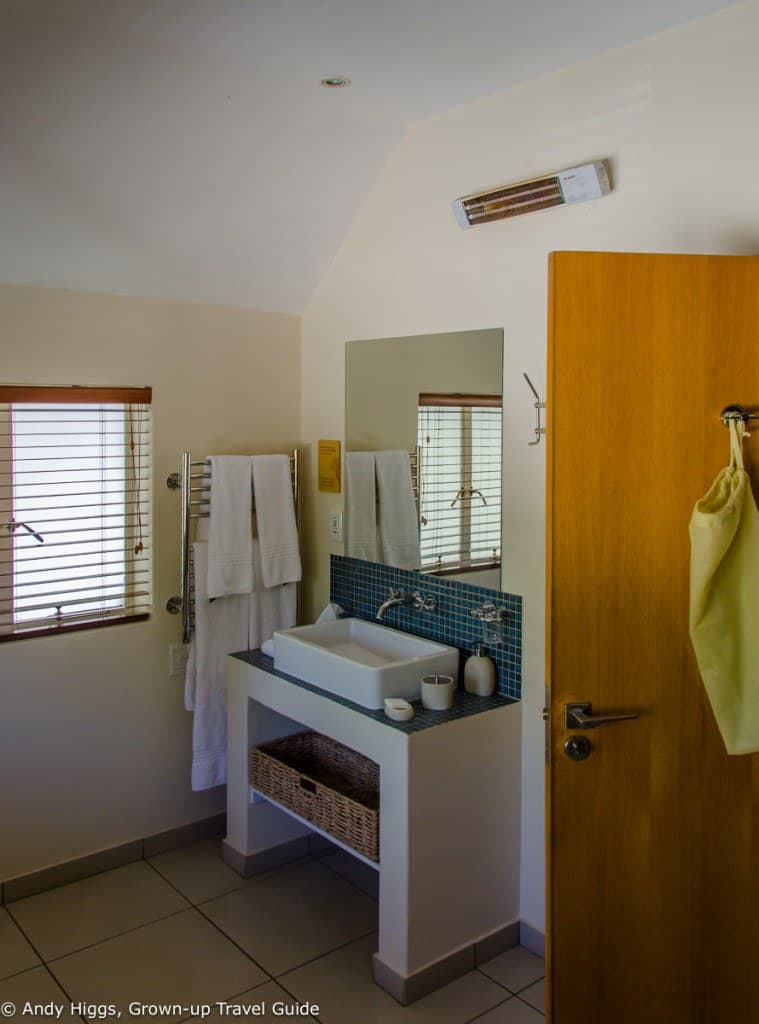 Lots of storage space beside and under the basin, too.
The "raindance" shower was fantastic and the solar panels kept a full supply of hot water flowing at all times. The pressure was wonderful as well.
So many 'trendy' hotel bathrooms feature cool-looking but tiny bathtubs that are all about design not function – a full size, deep tub is a welcome feature. And you don't need to have a bad conscience about wallowing in there either – all 'grey' water (i.e. except that from the toilets) is recycled and used to keep the garden so lush.
Free internet I hope?
Yes – the Peech provides free and fast wi-fi throughout the hotel and the signal strength was excellent. I had multiple units connected simultaneously without issues.
Bar and restaurant?
Oh yes.
The bistro restaurant offers tables indoors and out and is advertised as serving simple, laid-back and chic food. This does it a bit of a disservice – laid-back it most definitely is, but this is a gourmet experience and I can honestly say that I have seldom enjoyed better food; especially in a hotel restaurant.
Whereas at other hotels 'eating in' is often a last resort, here it is a sensible choice – even with the excellent dining scene in the city.
The menu focuses on using fresh ingredients sourced locally or indeed from the hotel's own vegetable garden. Wine pairings are suggested for each dish should definitely be followed – the wine cellar at the Peech Hotel contains a wealth of high quality bottles.
I chose the beef the first night and the lamb the second. Both dishes were perfectly prepared, lovingly presented and utterly delicious. Both went straight in to my top ten dining experiences of all time.
And one night I even managed to squeeze in dessert – words could not do this justice so I won't bother trying: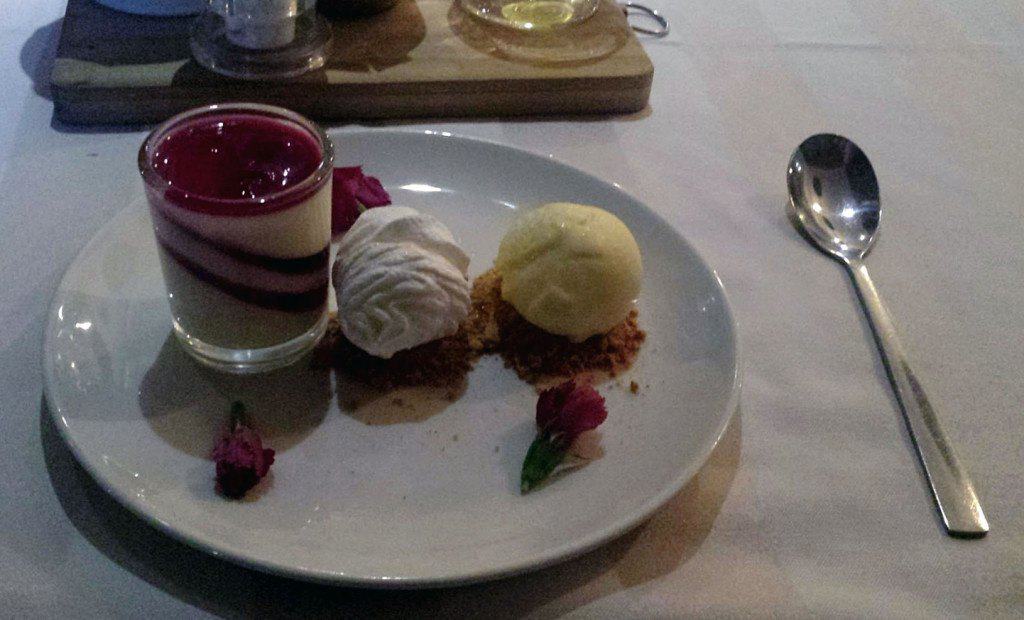 Even an out-of-focus, poorly lit photo says more than I could…
In addition there is a bar which I missed out on but looked like the perfect place for a nightcap – and also has the most extensive range of Veuve Cliquot champagne in the country.
Pool, sauna?
Image (c) Peech Hotel
There is a small outdoor swimming pool which I sadly did not get to try out but must be glorious to cool off on a hot South African day.
If you feel the urge to work out (possibly as a result of completely understandable over-indulgence in the restaurant) the hotel has a private entrance to Planet Fitness next door for a small fee.
The breakfast was included, right?
Full breakfast is included. By now you'll not be surprised to hear that it was wonderful, will you? As well as cereals, yoghurt, fresh fruit, juice and pastries you can choose from an extensive hot breakfast menu, cooked with the same care and style as lunch and dinner.
Service
I've already waxed lyrical about how good the service is at the Peech Hotel, but let me just emphasise that this applies to all areas of the hotel too – from reception to the restaurant, drivers to cleaners. Efficient, excellent service with a smile and genuine friendliness – what more can you ask for?
Something I really liked was that it seems as though everyone at the hotel was happy and proud to work there – many of the staff have been there since it opened its doors.
I think that the fact the hotel is run in a very 'hands-on' style by its owner has a lot to do with its success. The fact that James Peech is such a nice guy who genuinely cares about his staff, the guest experience and the environment can only help, too.
Any points/miles to earn?
No – this is a one-off, no chains involved here.
Can they look after your bags after you check out?
Yes, they are happy to do so.
Green or mean?
Oh believe me, the Peech Hotel is in a class of its own in Jozi on this front – rather than try to tell you in my own words here are the full details from the information kit:
"RESPONSIBLE TOURISM
The Peech aims to have as small an impact as possible on the environment and as big an impact as possible on the community.
We bring this to light through a responsible tourism policy that is centered on recycling, energy conservation and community support. A range of initiatives have been implemented, some high impact such as solar water heating, others low impact such as using only rechargeable batteries. Both ensure the hotel's footprint is kept to a minimum. The hotel also supports Little Eden and Pack for a Purpose and is certified by Fair Trade Tourism.
FAIR TRADE TOURISM CERTIFIED
The Peech is proud to be a Fair Trade Tourism certified hotel. They acknowledge establishments that adhere to specific criteria including fair wages and working conditions, fair distribution of benefits, ethical business practice, and respect for human rights, culture and the environment. The hotel was first awarded the certification in 2010. The hotel is also a proud signatory to The Tourism Child Protection Code of Conduct. This is a global initiative that provides increased protection to children from sexual exploitation in travel and tourism. The Peech was one of the founder signatories when the code was brought to South Africa.
LITTLE EDEN & PACK FOR A PURPOSE SUPPORT
We aim to put something back into the community by supporting Little Eden. Based about 25 minutes from the hotel, Little Eden cares for persons with intellectual disability, most of whom are children. Having been involved since 2008, we know the work Little Eden does is invaluable and that 100% of the support we give is put to the benefit of the children.
We support Little Eden through monetary donations, where hotel guests are invited to add R5 per night to their room bill. We then match all donations on a rand for rand basis. We also encourage guests to support the Pack for a Purpose initiative, which co-ordinates travellers bringing supplies for Little Eden from overseas. We ourselves also donate relevant items (linen, crockery etc) and allow the organisation to award a staff member a stay at the hotel every month as an incentive for top performance.
ECO-PEECH RECYCLING
Recycling is a priority and with a Bokashi wet waste facility and recycling bins for pretty much all waste, little waste leaves the hotel for landfills.
The hotel has an on-site probiotic waste facility that enables all food waste to be processed and recycled into garden fertiliser for the hotel.
The hotel has an on-site water bottling facility that provides drinking water for the bistro & rooms. This cuts out waste from plastic bottles and energy in transporting bottled water.
The hotel has a non-biodegradable waste recycling facility and policy paper, plastic, glass, tin & metal are all recycled.
GREEN DESIGN, ENERGY & WATER CONSERVATION
The hotel has solar water heating throughout the hotel – guest rooms, kitchen and laundry.
We only use rechargeable batteries in our appliances.
We use timers, day-night sensors and movement sensors where possible
The Garden suites have grey water recycling. This provides water for garden irrigation cutting down on use of chlorinated municipal water.
We have water-efficient dual-flush toilets
We water only in early morning / late evening (to stop water being evaporated)
The hotel uses ecological detergents and cleaning agents in the laundry and kitchen
All the rooms have double-layer insulation to reduce heat in summer and heat-loss in winter
The hotel has over 90 square meters of green space per hotel guest. Our building's footprint has been kept to a minimum with expansive green space for guests to relax in."
See what I mean?
The Damage
Room rates start at ZAR 2600 per night for two persons sharing. Weekend packages including accommodation and a three course meal in the restaurant start at just ZAR 2675 so are a major bargain. Note that prices are per room but exclude a 1% Tourism Levy which is charged by the government.
The Peech Hotel offers a number of excellent tours with a private guide and driver – I took a three hour tour of Johannesburg which was one of the highlights of my time in South Africa but others include visits to SOWETO, the Apartheid Museum etc. Email the hotel for details and prices.
The verdict please your honour...
The Good
Where to start? The location, the level of comfort, the food!
The Bad
Nothing. Apart from the hotel being so far away from my home; but I can hardly hold that against it.
The Ugly
Don't be silly.
Closing comments:
The Peech Hotel deserves a place in the dictionary as the definition of a boutique hotel. If you are stopping over in Johannesburg, make sure you stay here. Oh and stay a little longer or you'll only regret it – one night before or after a safari is not going to cut it.
If you hadn't already realised, I will be returning…