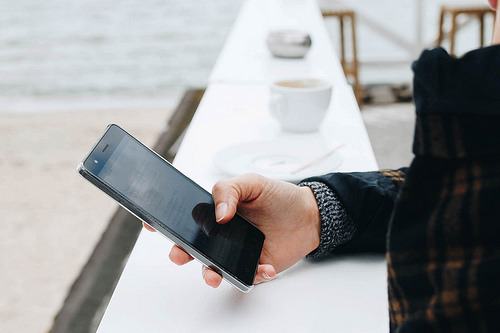 Photo credit: marcoverch Junge Frau verwendet draußen ein Smartphone via photopin (license)
Whether you are traveling for recreation or business, it is likely that you'll want to bring along devices like your smartphone, tablet, laptop and digital camera for your trip. As well as making it much easier to make travel arrangements, check directions and find places to visit on the go, having your internet enabled devices will also mean you don't feel too out of touch with the people back home, no matter how long you are away for!
Naturally, taking your expensive tech devices on planes, keeping them in hotels, and having them with you in unfamiliar places puts them at greater risk of loss, theft or damage than they usually are when you are just going through your usual routine, so it makes sense to do a few things before you go to make sure you are as well protected as possible.
Learn About and Activate the Highest-Level Security Features on Your Devices
Some people are always very security conscious when using their devices, and always have things like code locks on their phones and on the resting screens on their computers. However, for a lot of people, these feel like unnecessary measures to have on at home, and only have the bare minimum like a PIN or password to unlock their SIM or computer when the device is turned on. Even if you tend to use most security features on your devices, it can be well worth learning what the highest level of security your device has is and making sure you have all the features possible enabled before you travel. You may also want to do things like clear saved passwords from your browser, so if your device falls into the wrong hands, another person won't be able to access your accounts on websites.
Set Up Secure Back Ups to a Cloud Service
If your device is lost or stolen, you don't have to lose all the important files and data you had on it. Arrange for a good back up service that uses the cloud, and make sure you know how to recover data from it securely from another device. You can learn more about this at Secure Data Recovery. This will mean you won't lose work, but also that things like your photos and media collection won't be lost.
Consider Separate Insurance for Expensive Devices
Your travel insurance may not have adequate provisions for your devices, so if you have expensive devices you can't live without, it is a very good idea to look into gadget insurance policies that cover taking your items on trips with you. These policies are generally made specifically to help people who are concerned that their home or travel insurance isn't comprehensive enough to cover the full cost of replacing or fixing devices in exactly these kinds of situations.
Once you have made these provisions, you can travel with your technology essentials with much greater confidence, every time you go away!