For wine lovers, France is the ultimate travel destination because it's home to some of the world's most iconic vineyards. France is where five of the world's most notable grapes come from, which are used to make many of the world's most popular wines, from Chardonnay to Pinot Noir, France is the producer of many of our favourite wines.
So, if you're someone who loves wine and is interested in learning more about where it comes from, then taking the time to explore France's wine culture could be the perfect getaway for you. What could be better than immersing yourself in French culture, visiting vineyards, tasting wines, and learning more about where your favourite drink comes from and how it's made?
Mad about wine? Then these places and activities that should be on your itinerary the next time you're in France.
Head to Bordeaux to explore

Bordeaux is famous for its Cabernet Sauvignon and Merlot wines, making it an incredible place to visit and explore if you're a wine lover. Here there are six wine territories, which means that you can tailor your trip to your favourite types of wine, whether that's dry wine or sweet wine, it doesn't matter – there's a wine for everyone. Here you can test out a range of grape varieties and learn more about what gives different wine types their distinct tastes.
Take a river cruise
Love wine but don't fancy spending every second of your trip talking about it? Then why not take a river cruise that incorporates vineyards and wine tasting as well as other activities? That way you will get to learn more about wine and what goes into making it, without your whole trip focusing on it. There are plenty of river cruises in France to choose from, however, not all of them offer wine tasting and vineyard exploring, so take your time picking the perfect one. Ideally, you want to pick a cruise that goes through one of France's most famous wine regions, such as Burgundy, Bordeaux, or Provence.
Visit Ma Cuisine Bistro
Located in Beaune in the region of Burgundy, Ma Cuisine is a bistro that is renowned for its impressive wine list, as well as its spectacular food. The wine list on offer has around 700 of the world's best wines on it, making Ma Cuisine a popular eatery with wine lovers from across France. One reason that this eatery is so popular is because of the prices it charges – when you get the bill you will be pleasantly surprised.
Explore the famous Champagne Houses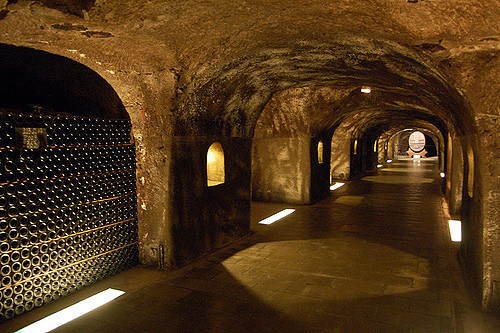 Located in France's Champagne-Ardenne region, Reims is a city packed full of surprises, one of which being the sprawling chalk cave network beneath it, that's packed full of champagne. In this maze of caves lays millions of bottles of champagne, slowly ageing and fermenting. To visit these amazing caves, you may need to make an appointment, so make sure to research the houses that you want to visit and book your tour before you arrive. Some of the tunnel networks span for miles, with the longest reaching a whopping 17 miles in length.
For wine lovers, France really is the most amazing destination.