For many people, the US is the place to have a trip of a lifetime. The country offers so much no matter what your tastes. And it is truly continental in size, meaning that you can spend months exploring all its treasures. Stateside getaways include world famous attractions, national parks, mountains, and cities.
Planning a long break is never something that is easy. You have to make sure your finances are in order. And, depending where you are from, you may have to consult with a local immigration attorney. But getting the planning right in the early stages can pay off big. Here's where you should go on your ultimate stateside adventure.
Vail, Colorado
Vail is a small skiing location nestled between the Gore and Sawatch mountain ranges. But don't let its small size fool you. This is the perfect haunt for those looking for winter sports adventure. The Vail Valley is littered with different skiing resorts. And the icy peaks are regularly maintained by legions of ski resort staff. This means that they have some of the best powder in the US. Like so many other great ski resorts in Colorado, Vail has manicured slopes. And it has facilities that rival some of the best in the world. Celebrities, like Justin Timberlake and Will Smith, make regular visits to the area.
There's just one caveat. Vail is not the place you want to go if you're on a tight budget. The celebrity clientele and the fantastic facilities come at a cost. If the prices are a little on the steep side, you can avoid the main skiing areas in the winter. Paying a visit in summer means lower prices, although it also means you avoid the powder. However, the area is host some great hiking and horseback riding.
Boulder, Colorado
Boulder is a town just a hop, skip and jump away from Denver. But it's character couldn't be more different. The city is famous for its 1960s ethos. It's a city that loves to embrace trends, from fad diets to rollerblading. But one thing underlies it all: a strong sense of liberalism. The people that live here love taking their bicycles instead of their cars. And they enjoy their quality education. But that's not what brings in the adventurers.  What brings in the adventurers is the city's far broader public appeal. It's got a thriving arts scene, lots of interesting shops and its fair share of breweries. What's more, Boulder sits at the hub of a network of hiking routes that go on up into the local mountains. If you visit, make sure you check of Boulder Creek Path and the trails that lead up to the Flatirons.
Sedona, Arizona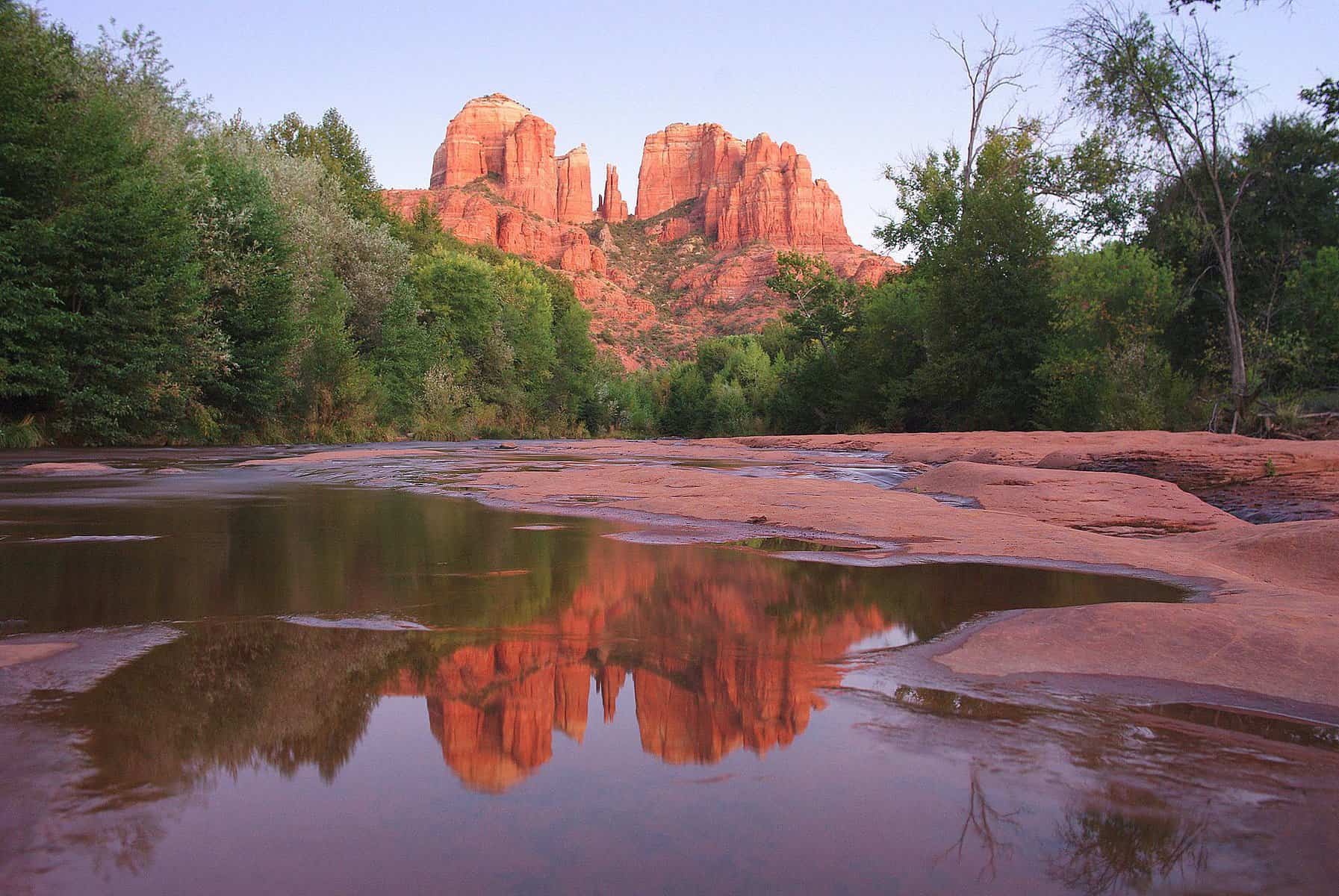 Arizona is a state well known for its vast wilderness. But it's not a state particularly well known for its beauty. That is, of course, unless you pay a visit to Sedona. Sedona is almost unique for its jagged pillars of red rock, and it's beautiful sandstone hills. And it's been the inspirations for many an artist. No scene on Earth can quite match the contrast of the Mars-like landscape against the deep-blue of the sky. Sedona has also provided the set for a bunch of movies, including Midnight Run and Broken Arrow.
But what about those looking for adventure? Well, the Sedona area has become about more than just geology. It's also become a sort of spiritual location, thanks to its "vortexes." It's an area that's popular with New Age-types, in search of spiritual enlightenment. And given the beauty and majesty of the area, nobody would be surprised if they actually found it.
Sedona is also a place for chilling out too, after a long hike through its amazing scenery. You can check out its many spas, which offer bespoke treatments unique to the area. And you can visit the local wineries for some great drink. With over 100 trails to choose from, Sedona is one of those places that you'll want to stay a long time.
Adirondacks, New York
Most people don't think of New York as an adventure destination. But the state harbors an interesting secret: the Adirondacks. The region is located about 250 miles from both Boston and New York City, and about 100 miles from Montreal. As a result, it's far enough away from the major cities to feel as if you're really in a wilderness. In the winter the region plays host to dog sledding, skiing and snowshoeing. In the summer, it swaps those activities for canoeing, biking, fishing and rafting. No matter what time of year you decide to visit, the park has something to offer. It's home to some of the best lakes in all of New York state, including Lake Placid and Tupper Lake.
The Adirondacks are also an area steeped in history. You can follow the trails to the site of the Winter Olympics and see the old sports complexes and Olympics museum. Or you can also check out the John Brown Farm State Historic site, resting place of the anti-slavery campaigner, John Brown. The area is littered with interesting gastropubs too, as well as some of the best restaurants you'll find anywhere. Accommodation is varied too. Most people opt to camp or for a bed-and-breakfast. But you can stay in one of the region's many upscale resorts too.
Juneau, Alaska
For many adventurers, Alaska is a fantastic frontier. The state is home to some of the most challenging terrain in all of the US. Juneau is very much the entryway into Alaska's interior for travelers. Cruise ships regularly pull up to the harbor area and dump thousands of tourists into the town. Juneau was originally a town that thrived on its fur and mining trades. Those trades are now long gone, and the city is dedicated to its adventurous clientele.
Hardcore adventurers soon leave Juneau behind and head to the Glacier Bay National Park. But there's also less challenging destinations for those who don't have the requisite level of experience. Folks who want a more relaxed trip can visit the Tracy Arm Fjord or the Mendenhall Glacier.