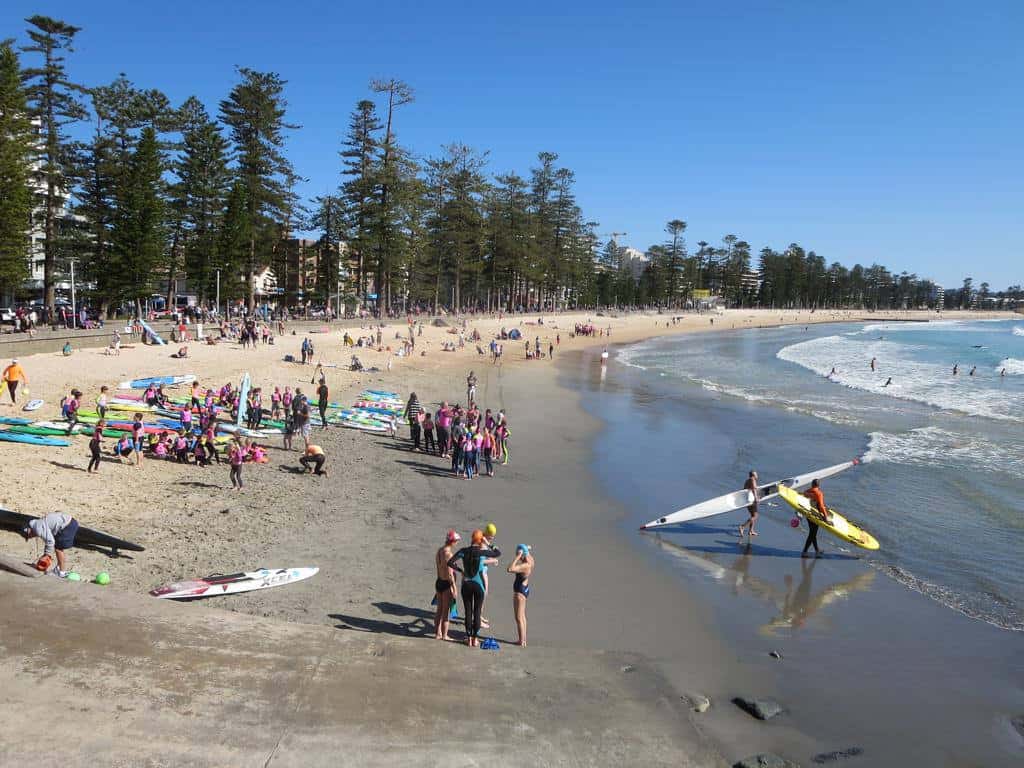 Photo credit: D-Stanley Manly Beach via photopin (license)
Sydney has plenty of great beaches within easy distance of the city centre, but perhaps the most famous is Manly Beach. Like so many other place names in Australia, this one is as literal as it sounds – Captain Arthur Phillip was impressed by the indigenous people living in the bay area, writing that "their confidence and manly behaviour made me give the name of Manly Cove to this place".
Manly was also one of the first seaside resorts to allow daylight swimming and surfing back in 1903, and these days it is a famous surfer's paradise.
An easy 30-minute ferry ride from Circular Quay and a brisk walk along the promenade brings you to the sand and there is enough to do both here and nearby to pass an enjoyable day or two.
The beach itself has all the facilities you could need such as toilets, showers, a picnic area, playground and barbecue area, as well as ample parking and a kiosk. It is also patrolled, which gives an extra degree of safety too.
But it's not just the golden sands that have pulling power. There are plenty of great cafes, bars and restaurants in and around the town itself.
Manly Corso
Perhaps the best place to start is the Manly Corso – a mall containing a wide range of retail outlets (not only surf stores!) as well as places to eat and drink. It's the focal point of the town of Manly and within easy reach of the beach, too.
By the way, you won't need a car here, either – so don't bother driving.
Lagoon Park
Where the Corso ends you can either head north or south. As you might expect, there is little embellishment of the names here either – you have to decide between North Steyne and South Steyne.
If you elect to turn north you can visit the wonderful and very family-friendly Lagoon Park. A diverse selection of fish, birds and other animals breed and live in Manly Lagoon. The reserve runs from Pittwater Road on one side, to North Steyne Road on the beach side.
There are plenty of grassy areas throughout the park where you can relax, play frisbee or enjoy a picnic. Children can make use of the playground and everyone will enjoy biking the pathway along the Lagoon. In fact, hiring a bicycle is the best way to discover all that Manly has to offer. More options await visitors in Keirle Park, at the edge of the reserve, including a skate park and outdoor gym.
At the other end is Queenscliff Beach, which is accessed by following the footpath northwards. You can return to Manly along the path under Queenscliff Bridge and continue along North Styrene – bringing you right back to Manly Corso.
Shelly Beach and the Cabbage Tree Bay Eco-Sculpture Walk
A fifteen minute walking south from Manly Corso will take you to Shelly Beach. Starting at South Steyne, walk past the Manly Surf Club at the south end of Manly Beach. The Cabbage Tree Bay Eco-Sculpture Walk follows the coastline all the way to Shelly Beach, passing Fairy Bower Rockpool and a number of beach cafés.
Learn about Cabbage Tree Bay's marine life, animals, plants, history and attractions through eleven unique sculptures along the way to Shelly Beach. There you'll find another fine strip of sand loved by snorkelers and surfers.
Little Manly
If you walk for about 15 minutes from Manly Cove's East Esplanade you will reach Little Manly. It's a scenic walk, too – you'll see paddle boarders sharing the waters with kayaks and boats. Turn onto Stuart Street at the yacht club and head towards Little Manly. Little Manly is a fine alternative to its larger cousin Manly Beach, especially for families with younger children. There are no waves here to speak of and there is a park in which to play. The view of the harbour are amazing, too.
North Head
Continue past Little Manly to reach North Head. This is part of the Sydney Harbour National Park and is one of the best locations in the area to watch the sunset behind stunning views of Sydney Harbour and the city skyline. It only takes about 25 minutes to walk from downtown Manly and is a must-do when you visit.
These are just a few options for visitors and those wishing to venture a little further afield will find even more attractions – so why not spend a few days exploring Manly Beach and its surrounding areas? Or better still, find some Manly accommodation and stay right in the heart of the action!