Dubai forms part of the United Arab Emirates, and is a predominantly Muslim country. As such, it is very important to check the rules and guidelines when visiting.

Photo credit: M.A.J Photography via photopin cc
Dubai Tourism
There's no doubt about it: as the hub for business, wealth and technology, Dubai brings in plenty of rich visitors.
However, Dubai's huge boom has seen a vast range and choice of flights to the UAE, including cheaper options: lots of new hotels, activities and clubs now exist for those who want to visit Dubai on a budget. Online travel sites such as Travelbag are a great place to check for bargain package deals.
Photo credit: .Bala via photopin cc
The local markets and souks of downtown Dubai are a fantastic haven for a wide range of products including spices, dyes, carpets, and jewelry. They are also a great way of grabbing a bargain: dust off your best haggling skills and take home some great gifts.
Culture
Behavior considered perfectly normal here can cause great offence in Dubai.
In particular women are reminded to dress modestly-clothing that displays a woman's stomach, shoulders, dress or legs is frowned upon, and there are some establishments were you must cover your head.
Photo credit: turbotoddi via photopin cc
Kissing or touching in public is also expressly forbidden. Loud behavior, swearing and aggression are also punishable by law.
Alcohol is forbidden in Dubai: hotels can obtain a license so that guests can drink in their establishment, but drunkenness is also frowned upon and can potentially land you in hot water.
If you are planning on staying longer than just a week or two, it is worth mentioning that non-married couples are not permitted to share a hotel room or live together.
Dubai also has extremely tight guidelines on medications. Many medicines used outside of the UAE are considered a controlled substance, and possessing them could result in having them confiscated. If you are found in possession of illegal drugs, there are extremely serious consequences; all of which involve a lengthy prison term and in some cases a death sentence. If you are concerned about your own medication, it is worth checking with the Dubai Customs and your Airline.
Cuisine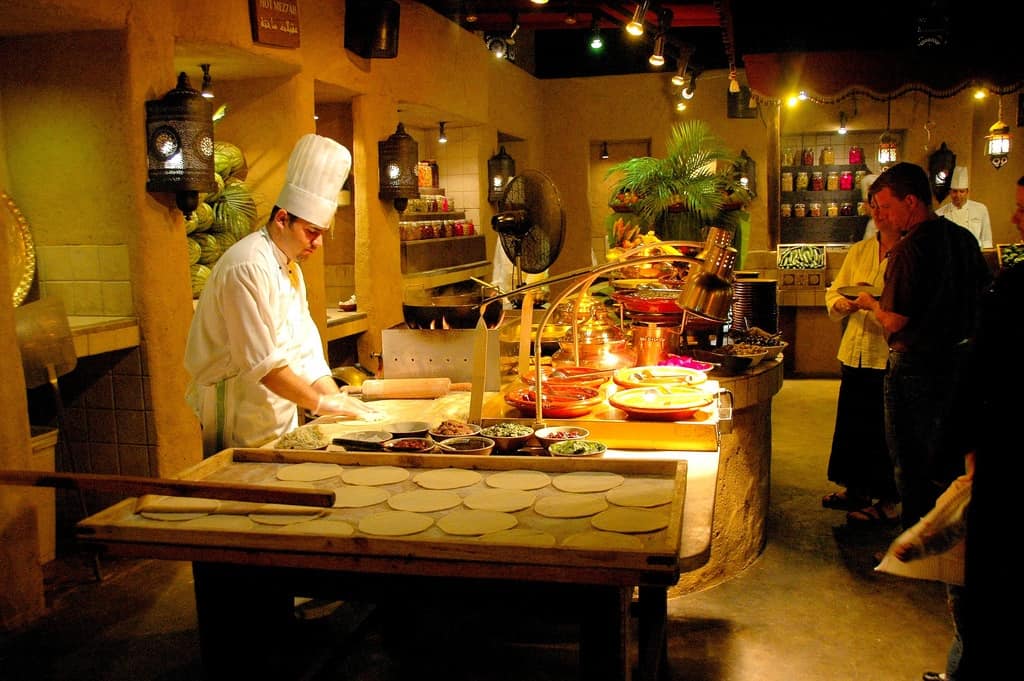 Photo credit: daarkfire via photopin cc
As one of the most culturally diverse, cosmopolitan places in the world, Dubai is home to a dizzying array of cultures and influences, each with their own dishes and cookery. Therefore sampling the different dishes in Dubai is fantastic experience.
With influences from China, South Asia, India, Pakistan and Persia, dishes are diverse and often a mixture of spicy, or sweet and sour. Try the most popular side dish, Falafel, made from a combination of chickpeas, spices and wheat. Often served as a side dish, it can be combined with the world-famous Hummus, or Shawarma: probably the most popular of foods eaten in Dubai, this predominantly Asian dish is made from Lamb or Chicken and served with a wide range of vegetables, potato, pickles and garlic.
For something a little more filling, Ghuzi is often described as the taste of Dubai: very popular in restaurants, the Ghuzi dish is a whole roasted lamb served with rice, vegetables and nuts. Delicious!
Many of the beach clubs are also home to a wide range of restaurants and cafes displaying a staggering range of cuisines. A vast range of the larger hotels and spas also serve more western food including pizza, burgers and fries.
Pork is a forbidden food in Dubai. Tourists can obtain a special license to purchase it, with select supermarkets and diners in Dubai serving to visitors.
A small number of restaurants also serve seafood and there are loads of delicious vegetarian options.
So now you know – as always you should take heed of local customs and culture when you travel so that you can enjoy all your destination has to offer.
This article was brought to you by Travelbag