Photo credit: Fort Jefferson, Dry Tortugas National Park via photopin (license)
Greetings from Finland! I'm here for the Nordic Bloggers Experience and MATKA travel trade fair for the third time. I love Helsinki and Finland and am staying in a fantastic city centre hotel – expect a review on my return.
It's -15 degrees Celsius here today and the forecast is for even colder weather, but that's going to change for me on Sunday when I set off on my next trip – I'm off to the Florida Keys!
You'll be able to follow me on social media with the #SeizeTheKeys hashtag and I'll be posting comprehensive articles here when I get back.
Here's what I'll be getting up to:
Sunday 24 January
I fly from Trondheim to Amsterdam at dawn again (grr!). Then on to Paris where I have a three hour layover before my flight to Miami with Air France (first time on the airline for me). From Miami I pick up a connection to Key West and arrive late in the evening to check in at the Ibis Bay Resort.
Monday 25 January
9:45 a.m. Breakfast at Blue Heaven
"Home to the most heavenly breakfast in Key West, this shuttered blue building has a century-old history of entertaining islanders on Petronia Street in the historic Bahama Village neighborhood. Through the years the property has hosted cock fighting, gambling and Friday-night boxing matches refereed by Ernest Hemingway."
11 a.m. – 5 p.m. Free day to explore Key West with VIP pass
5:10 p.m. Take shuttle back to Ibis Bay from Divers Direct, 535 Greene Street
6:15 p.m. Nightboarding Experience at Ibis Bay Resort
"Explore Key West's undersea wonders after dark with Ibis Bay Paddle Sports' Nightboarding excursion. For the nighttime tours, the kayaks and paddleboards are equipped with waterproof, LED lighting that illuminate the water."
8:15 p.m. Dinner at the Stoned Crab at Ibis Bay
"The Stoned Crab restaurant offers some of Key West's freshest seafood and specializes in their most famous and most delectable local seafood — stone crab. Located adjacent to Ibis Bay Beach Resort, the restaurant has two private fishing boats that deliver daily catches of stone crab, lobster, Key West shrimp and a variety of local fish."
Tuesday 26 January
10 a.m. Breakfast at the Stoned Crab
11:30 a.m. Depart hotel for airport
12 p.m. Seaplane Excursion to the Dry Tortugas National Park/Fort Jefferson with Key West Seaplane Adventures
"Discovered by Ponce de Leon in 1513, the Dry Tortugas were named after the large population of sea turtles living in the waters surrounding the group of tiny islands. Located 70 miles from Key West in the Gulf of Mexico, Dry Tortugas National Park encompasses history and natural wonders.  It is home to a multitude of unique birds, and has the only regular U.S. nesting site of sooty terns on Bush Key. Visitors to the Dry Tortugas can discover vibrant coral reefs, nesting sea turtles and unique tropical fish.
The park's awe-inspiring centerpiece is Civil War–era Fort Jefferson, one of the largest brick structures in the Western Hemisphere. During the Civil War Fort Jefferson served as a Union military prison for captured deserters and others. Its most famous prisoner was Dr. Samuel Mudd, convicted of conspiracy in President Abraham Lincoln's 1865 assassination but subsequently pardoned."
4 p.m. Arrive back in Key West and return to hotel
5 p.m. Depart on Ibis Bay shuttle to Old Town
5:30 p.m. Sunset Celebration
"Sunset Celebration is a nightly "street carnival" at Mallory Square overlooking Key West Harbor. It features arts and crafts exhibitors, street performers, food carts, psychics, musicians and more. Crowds of visitors from around the world flock to the celebration each evening to observe and applaud the setting of the sun over the water."
6:15 p.m. Dinner at Latitudes at Sunset Key
"Executive Chef Brendan Orr takes full advantage of his tropical surroundings at Sunset Key's Latitudes, located on a unique resort island in Key West Harbor. His ever-evolving menu incorporates ingredients such as locally sourced fish and tropical fruits, with dishes prepared using classical techniques." 
Wednesday 27 January
8:30 a.m. Breakfast at hotel
9:35 a.m. Check out of Ibis Bay and depart Key West
11 a.m. Education Tour of the Turtle Hospital
"Opened in 1986, the Turtle Hospital treats injured sea turtles and, when possible, returns them to the wild. Educational tours introduce visitors to the resident sea turtles and the hospital's curative programs for loggerhead, green, hawksbill and Kemp's ridley turtles. The hospital is believed to be the world's first state-licensed veterinary hospital dedicated solely to the treatment of sea turtles."
1 p.m. Bike the Old Seven Mile Bridge
"The Old Seven Mile Bridge, better known as "Old 7," was built over a century ago as the centerpiece of Henry Flagler's Florida Keys Over-Sea Railroad. In 1938 the bridge was converted for automobiles and in 1982 the Federal government built a new span paralleling the historic one. "Old 7" was retired and became a fishing pier and walking area.
In March 2014, the Florida Keys government and Florida Department of Transportation officials ratified a 30-year, $77 million agreement that will fund a restoration and maintenance program to ensure the preservation of a portion of the historic Seven Mile Bridge."
2:30 p.m. Lunch at Sunset Grille & Raw Bar
"Overlooking the historic Seven Mile Bridge, Sunset Grille offers oceanfront dining in a casual atmosphere."
4:30 p.m. Check in to Ocean Pointe Suites
"Located in Key Largo, Ocean Pointe Suites is a secluded waterfront hotel featuring 170 spacious suite style rooms. The hotel features private marina, private beach, and recreational activities including tennis and basketball courts, bocce ball, nature trails and more."
7:30 p.m. Dinner at the Fish House
"The Fish House specializes in fresh local seafood including yellowtail snapper, mahi-mahi, grouper, Florida lobster, and stone crab. All dishes are served in a fun, friendly, and casual "Keys style" atmosphere."
Thursday 28 January
9:15 a.m. Breakfast at Ocean Pointe Suites
10:15 a.m. Indian Key Tour Kayak Tour with Brad Bertelli of Historic Upper Keys Walking Tours
Departs from Robbie's Marina
"Author of four books including "Snorkeling the Florida Keys," "Snorkeling Florida," "Images of America: Islamorada" and "Images of America: Key Largo," Upper Keys local Brad Bertelli runs Historic Upper Keys Walking Tours. He is also the museum curator of the new History and Discovery Center in Islamorada."
12 p.m. Lunch at The Hungry Tarpon at Robbie's Marina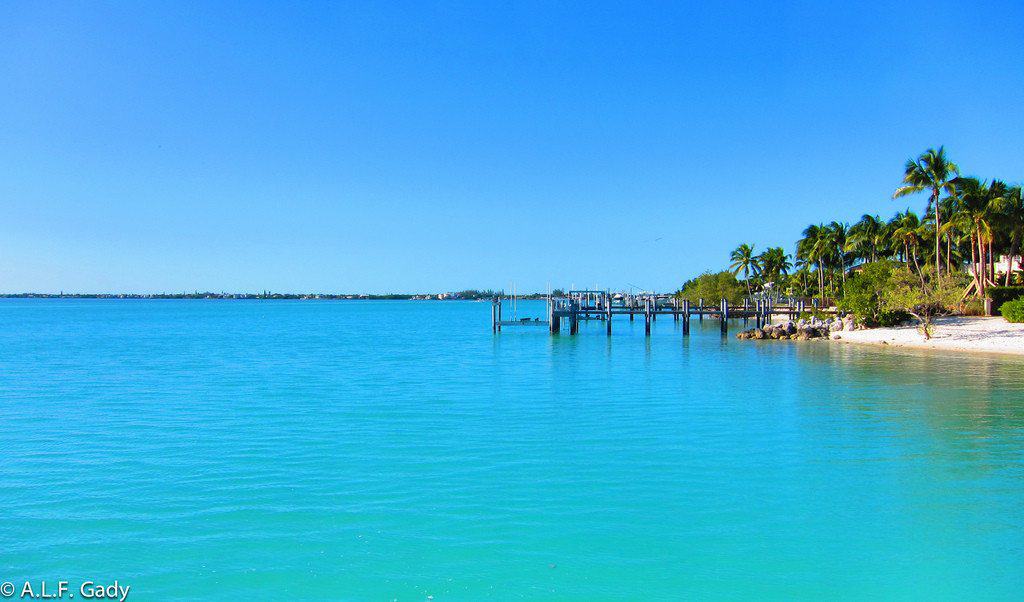 Photo credit: Florida, just how I pictured it… via photopin (license)
"This Islamorada landmark has been operating for 18 years on Lower Matecumbe Key. The marina has everything from fishing charters to snorkel trips, kayak rentals, shops and their famed restaurant, The Hungry Tarpon."
1:30 p.m. Depart Robbie's and return to hotel to enjoy property
3:50 p.m. Meet in lobby and depart hotel for night's activities
4:15 p.m. Visit Michelle Nicole Lowe's Art Gallery
"Michelle Lowe's gallery contains original paintings, prints and gifts including clothing items, stylized smartphone cases and more. A native South Florida resident, Lowe spent her childhood snorkeling and fishing in the Florida Keys, hence her artistic focus on ocean life. After a successful stint in the corporate world, she has returned to the Keys to focus on her art."
5 p.m. Tour of the Florida Keys Brewing Co.
"Brewing up tasty beers in Morada Way's Arts & Cultural District is the new Florida Keys Brewing Co. Opened in March 2015, the brewery and taproom infuses local flavors such as Key limes, citrus flavors, and local honey into their brews."
6 p.m. Dinner at Marker 88
"Marker 88 is owned and operated by Upper Keys chef Bobby Stoky. Stoky also owns four other Upper Keys restaurants. Marker 88 has been open since 1967 offering beachside dining and some of the Keys' freshest seafood."
Friday 29 January
9:45 a.m. Meet in lobby for departure
10 a.m. Breakfast at Mrs. Mac's Kitchen
"Decorated with license plates donated by guests, this Key Largo eatery is a local's favorite spot, featuring dishes ranging from biscuits and gravy to fresh fish straight off the dock."
11:15 a.m. Return to hotel and check out
Noon: Visit the African Queen
"The iconic original vessel from John Huston's classic 1951 film "The African Queen," starring Humphrey Bogart and Katherine Hepburn, is now traveling Key Largo's near shore waters and canals again."
12:30 p.m. Visit Key Largo Chocolates
"The brainchild of Kristie and Bob Thomas, the emporium features truffles handmade from natural ingredients including the best chocolate from around the globe. Kristie is also known for specialty chocolate bark with Key lime and pistachios, and "chocodiles" — whimsical 9-inch-long crocodiles made of white or dark chocolate."
1:30 p.m. Depart Florida Keys
3 p.m. Arrive at Miami International Airport
I then fly home in the evening.
Sounds good, right? 🙂