Photo credit: Hanse Sail 2013 via photopin (license)
Ouch. I know, I'm sorry about the title but sometimes the cheesiest of puns are also the most irresistible.
Right, you're probably wondering whether this means that I am going to be travelling round Germany eating sausages for a week, and rather amazingly you'd be right.
This is the first major campaign organised by the Nordic Travel Bloggers collective. As one of the representatives for Norway, I will be journeying from Berlin to Munich testing plenty of different types of 'wurst' along the way.
Photo credit: Englischer Garten via photopin (license)
And there will be beer, naturally…
With over 1500 types of sausage available in Germany we'll only be scratching the surface of what's out there, but we will be learning about the history, production and traditions behind each one.
Our sponsors for the #WurstAdventure (yes, that really is the hashtag 🙂 ) are the German National Tourist Office, Deutsche Bahn (we will get around by train) and Best Western who will provide us with somewhere to rest up each night.
The entire programme runs over a two-week period with the travel bloggers split into two groups, one for each week. I am in the second group and will fly to Berlin on Saturday 10 October, leaving home ridiculously early as per usual.
From there on, the schedule is packed with activities and as this trip is taking place in Germany, everything is organized with the usual Teutonic precision. The whole 14 day programme arrived as a 28 page document and that's not including some extra material for one of the cities. Having said that, probably half of the document consisted of links and hashtags for each day…
As you might have guessed, this is going to be a campaign with a lot of social media coverage – as well as the main #WurstAdventure hashtag we will be posting regularly on the social media accounts of all the sponsors and participants as well as creating blog content for our own websites.
We will also be creating live reports to be broadcast on Periscope – a video app which I have downloaded in preparation but never used, so I will need to get up to speed here.
For full details of the campaign, the route and the bloggers check out the brand new website at www.wurstadventure.com
An online travel journal will be updated as we go and the campaign website has a social wall where all posts from all participants will be displayed.
Here's the route for my part of the sausage adventure:
Saturday 10 October
Fly Trondheim to Berlin
Meet up with other group and of course try currywurst…
Stay at Best Western Hotel Kantstrasse (in my favourite part of the city, yay!)
Sunday 11 October
We take the train to Weimar
Onion market and Thurigian sausage tasting
Travel to Erfurt
Stay at Best Western Plus Hotel Excelsior
Monday 12 October
Travel to Arnstadt
Visit German Bratwurstmuseum
Visit and beer tasting at Statbrauerei Arnstadt (nice!)
Stay in Erfurt again
Tuesday 13 October
Photo credit: Domplatz Erfurt via photopin (license)
Tour of Erfurt
Travel to Nurnberg
Stay at Best Western Hotel Nurnberg City West
Wednesday 14 October
Guided tour and meeting with top 3 sausage restaurants
Stay at Best Western Hotel Nurnberg City West
Thursday 15 October
Travel to Coburg
Guided walk and sausage tasting
Stay at Best Western Hotel Blankenburg
Friday 15 October
Train to Munich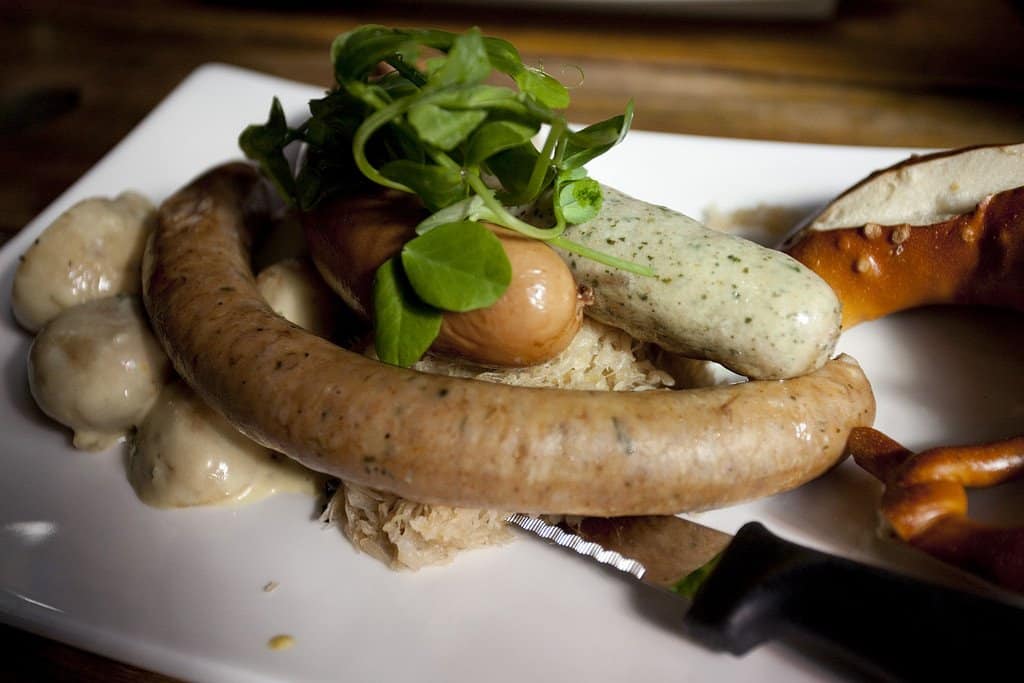 Photo credit: Wurst via photopin (license)
Guided tour and weisswurst tasting
Stay at Hotel Cristal Munchen
Saturday 17 October
Tour of butcher's quarter
Fly Munich to Trondheim