This article is part of the series "The German Wurst Adventure"
"Teaser" with original itinerary
The German Wurst Adventure: Part One – Berlin
The German Wurst Adventure: Part Two – Weimar
The German Wurst Adventure: Part Three – Erfurt
The German Wurst Adventure: Part Four – Nuremberg
The German Wurst Adventure: Part Five – Coburg
The German Wurst Adventure: Part Six – Munich
The sausage adventure begins…
If you've reached this page with no prior knowledge of what on earth this is about I suggest you read the introduction and itinerary first. The term "sausage adventure" will then sound at least slightly less odd. Everyone up to speed? Okay, let's get going then.
My participation in this pilot project by the Nordic Travel Bloggers collective was for the second stage of the trip; the first team of bloggers finished their wurst-eating extravaganza on the day we started and flew home from Berlin as we were flying in.
You can find all the details on the official German Wurst Adventure website.
The entire project was sponsored by the German National Tourist Office for the Nordic region, with help from Deutsche Bahn and Best Western Hotels. However all opinions are most definitely my own, as per usual.
Also as per usual, I had to get up ridiculously early to fly out of Trondheim and connect in Oslo for the onward journey to Berlin. We do actually have direct flights to the German capital but they are inconveniently timed, so a pre-dawn start was called for.
It all went fine, though. After leaving the car at the off-airport parking I was soon boarding for Norwegian's flight to Oslo and after about an hour was on my way to Berlin.
The weather was perfect, allowing for great views from the window – including this of the Øresund Bridge between Denmark and Sweden, made famous by the "Broen" TV series.
The major disadvantage of flying Norwegian into Berlin was the fact that like most other airlines (with the notable exception of SAS) they serve Schonefeld Airport, which is miles out of town in the middle of nowhere. Tegel, one of my favourite airports in the world, is just 20 minutes from the city centre by car.
On the other hand, it did allow me a chance to check on progress on the shiny new airport next to Schonefeld. Already an unbelievable embarrassment to the country since it was supposed to open five years ago, I can report that nothing seems to be happening. I did catch sight of two live workers behind the fence but they were yawning and smoking a cigarette respectively.
It's unlikely to open before 2017 and Willy Brandt is surely spinning in his grave. It's still going to be in the middle of nowhere so as far as I'm concerned the longer Tegel remains open, the better.
I met two of my fellow bloggers, Annette from Travelling Munk and Maria from Reisetid and we made the rather epic journey to Charlottenburg on the S-Bahn, changing at Ostkreuz and spending over an hour on the rails.
At the Best Western Hotel Kantstrasse we met Janicke from Norske Reiseblogger, who was leading the project and had the honour of spending the entire two weeks in Germany with both groups eating every single sausage. Henriette, from Coffee in a cup, had a late flight out of Berlin so was also there and informed us that they had got through around 24 different types of wurst since last Monday.
After checking in and grabbing my camera gear we met back in the lobby and received our travel cards from Visit Berlin. It was time for work.
Appropriately enough our first stop was the Deutsches Currywurst Museum located near Checkpoint Charlie which celebrates this Berlin staple. It's well worth a visit and the ticket price includes a taste of three different types of currywurst after you've been through the exhibits.
It's a small but comprehensive museum with everything you could possibly want to know about currywurst under one roof. For example you'll learn that thus particular type of sausage snack was invented by Herte Heuwer in 1949 – a fact which other cities naturally dispute.
The most virulent complaints come from Hamburgers who insist currywurst originated there but there is no doubt that these days it's very much a Berlin thing.
If you've never tried this delicacy, currywurst is a sausage that is smothered in tomato-ish sauce and dusted with curry powder. Each place has its own recipe for the secret sauce but in truth many taste very similar.
For the full Berlin experience it is best eaten from a paper place, accompanied by french fries with mayonnaise and enjoyed standing outside the snack bar in the biting wind with a beer surrounded by surly locals. Rude service is part of the deal. I'm only half-joking about this, really.
This map points out a few famous places to scoff a sausage in the city – look through the telescopes for a close-up view.
Yet you don't have to forego currywurst simply because you find yourself somewhere else in the world – you can grab one in an impressive number of countries.
The exhibits document the role of the snack bar in post-war Berlin and there are some amazing photographs showing the destruction and the restoration of the city. Most of the museum is interactive and the whole experience is good fun – I definitely recommend you go.
It was now time for a taste so we exchanged our voucher at the museum snack bar.
I was hungry and had finished mine before I remembered to take a photo, but at least you can see what I had:
From left to right that was a regular currywurst with skin (only weirdos ask for it without the skin), a skinless one for the weirdos and then a spicy variant which had quite a kick – I liked that one best.
All three were very tasty and the snack definitely makes the entrance fee a real bargain – you can buy extras such as french fries and drinks for a reasonable price too should you so desire.
Deutsches Currywurst Museum, Schutzenstrasse 70, 10117 Berlin www.currywurstmuseum.com
Suitably satisfied, we returned to the U-Bahn to travel to Prenzlauer Berg (just up the road from where I used to live, actually) and meet our guide from Berlin on Bike at the Kulturbrauerei.
Provided the weather allows, there is no better way to explore Berlin than on a bicycle, and it's even better on a guided tour so you don't miss any of the sights. Our tour was a special wurst-oriented one, but included a lot of interesting non-food places on the way.
Sascha, our guide, equipped us with bikes, locks and gloves and we had a quick test ride round the courtyard. Most of the bikes are traditional sort with a few gears (which is all you need for a city as flat as this one) and a basket which is handy so you can stow your bag. They also come equipped with lights.
We set off for Kreuzberg, stopping at Volkspark Friedrichshain to check out this amazing statue from the DDR times which commemorates its citizens' bravery during the Spanish Civil War. Quite what any solder would achieve in that anatomically baffling position is debatable; but it's a shame most of these monuments have disappeared from Berlin.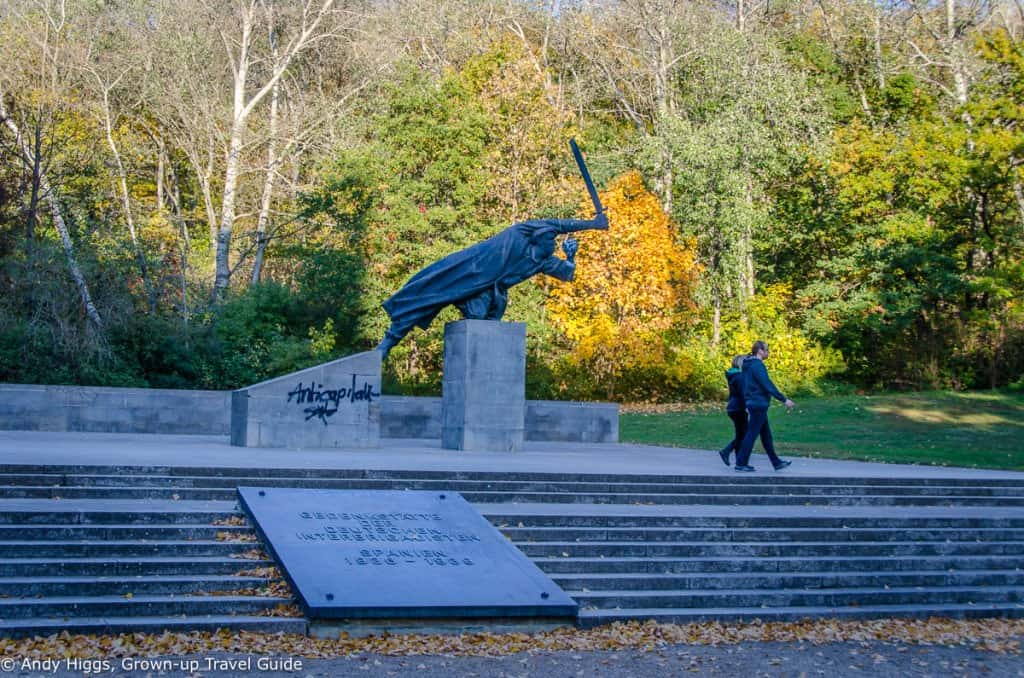 Just what is going on? Never mind, it's a curious hangover from Communist times.
On that subject, a little further down the road you can still see this neon sign that was one of the only ones in East Berlin, erected to try to compete with the flashy West and its colourful KuDamm illuminations.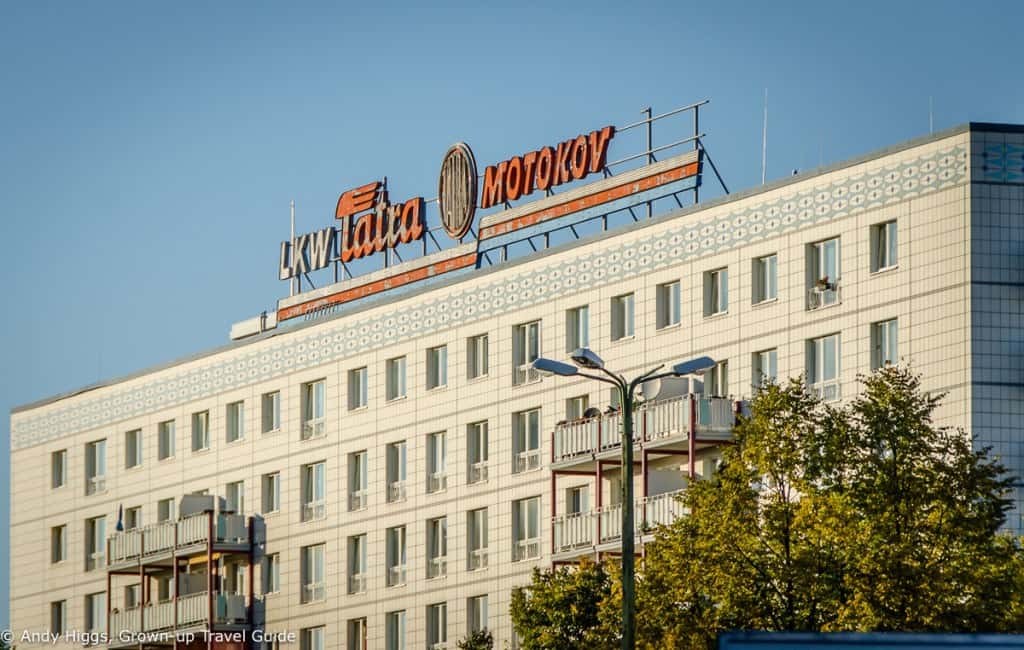 Needless to say it wasn't really a match for its capitalist neighbour.
The third new sight for me on this trip was this beautiful outdoor area at Engeldamm. Formerly this whole area was in no-man's land between the West and the East; now the lake has been filled and flowers planted.
There's a lovely cafe with outdoor seating and I'm sure Sascha is right in saying that it's one of the best places in the city on a hot summer's day.
As always in this kind of area in Berlin it's worth taking a minute to appreciate that you would have been shot dead here before 1989…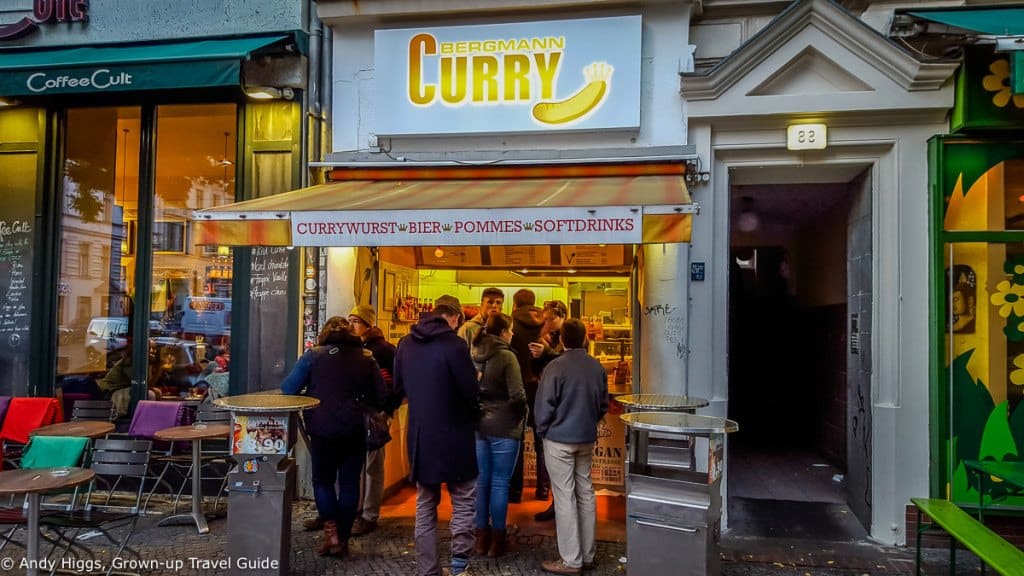 After passing into Kreuzberg it was time for our first wurst. Hah!
This being Berlin, and Berlin being obsessed with the 'next big thing', we had to try vegan food, which was apparently what the hipsters were raving about. Vegan versions of regular snacks were especially cool, so we got to taste a vegan currywurst.
Well, it was edible. Why any vegan would insist on copying meat dishes kind of baffles me, but I'm not really in the target market for this stuff. They also sell proper currywurst but we were only interested in the screwball variety today.
Bergmann Curry, Bergmannstraße 88, 10961 Berlin-Kreuzberg, http://www.bergmann-curry.de 
We headed off for Mehringdamm and one of Berlin's truly legendary currywurst places.
Curry 36 (anyone else remember this area used to be SO 36 in the old postcodes?) is perhaps THE currywurst place in former West Berlin. Open very late, there is always a queue no matter what time you show up but service is bewilderingly fast. And suitably rude, too, so there's that.
While loved by the inebriated when staggering home, it's just as good for lunch.
I've lost count of the times I've eaten here over the years but Curry 36 is consistently good. This was our favourite by far at this stage – but we had one more to go…
Curry 36, Mehringdamm 36, 10961 Berlin Kreuzberg http://www.curry36.de
You can't realy talk about currywurst without mentioning the legendary Konnopke's. This was East Berlin's pride and joy and continues to attract visitors from all over the city. It's not a night place, though – you need to get here before 7 p.m.
Again, I've eaten here many times and again, the food is always good. The service here is actually very friendly, so that kind of pulls down the experience a little. Only kidding.
Konnopke's – Imbiss, Schönhauser Allee 42, 10435 Berlin (Prenzlauer Berg) http://konnopke-imbiss.de/Home.html
The sausage was fantastic, but we marginally preferred the sauce at Curry 36.
So the conclusion of the first day of the Wurst Adventure was this: for the best currywurst in Berlin, take the sausage from Konnopke's and mix with the sauce from Curry 36. Not exactly practical, but scientifically researched. Ahem.
But either place is a good choice so it really comes down to where and when you get hungry.
It was time to return our bikes and head for Charlottenburg.
Let me give a further shout-out to Berlin on Bike – despite the gramattical problems I have with their name this is a great company and you should join a tour when you visit Berlin. They have something for everyone and service is excellent.
As we'd burned off a few calories on our bikes and only really sampled most of the wurst, we were ready for a proper meal so I introduced the rest of the group to the wonders of Ali Baba – and took my traditional Diabolo pizza and a weissbier before we walked back to the Best Western. a few blocks away.
Best Western Hotel Kantstrasse
This was an excellent discovery in Berlin. Perfectly situated round the corner from the U-Bahn at Wilmersdorfer Strasse and the S-Bahn at Charlottenburg, the Best Western Kantsrasse puts you right in the centre of the action in the former West.
Any hotel in walking distance of all my favourite places to eat in the German capital is going to win my praise, but this one also delivered on comfort and facilities.
I was given a twin room with two single beds. Light, bright and modern – and without nasty carpets – there's everything you need for a comfortable stay.
If I was to pick nits I guess the desk was a little small for serious work, but I certainly coped.
Bonus points for the number and variety of power sockets and AV inputs for the TV.
Lovely laminated floors – they always make me happy.
As you can see there was enough space for two people and adequate storage space in the double wardrobe too.
I found the bed very comfortable and the room was extremely quiet at night despite being on a busy street – I slept like a log.
The bathroom was very compact but well designed. The shower was absolutely fantastic – proper water pressure and adjustable flow; what else do you need?
The shower cubicle was basically leakproof too – well down Best Western. There was just some water on the floor after opening the door but no biggie.
Here is a video of the room:

There is a very basic bar in the lobby that does have the advantage of being open 24 hours a day; breakfast is served on the ground floor and was very good. There was a wide selection of hot and cold food as well as good coffee.
I've added this one to my list of great places to stay in Berlin – and definitely believe it should be on your shortlist next time you visit.
Best Western Hotel Kantstrasse Berlin, Kantstrasse 111, 10627 Berlin www.hotel-kantstrasse.bestwestern.de
Berlin: Total wurst tasted – 4
We've been strict here, as we actually sampled 6 but a couple were basically the same type. So to start things off we got through the following:
Berliner Currywurst with skin
Berliner Currywurst without skin
Curry Bratwurst
Vegan Currywurst
The winner: A draw between Curry 36 and Konnopke's (Curry 36 had the best sauce, Konnopke's the best sausage.)
Stay tuned for the next instalment of the Wurst Adventure, when our brave sausage-tasters head to Weimar in Thuringen 🙂